Valentine's Day present
By
Ken N.

(Fernandina Beach, FL) - February 11, 2012 (
See all reviews by this customer
)
I'm giving these boxers to my partner for Valentine's Day. I'm sure he will enjoying wearing them around the house.

The boxers seem to be made of a very high quality material. The embroidery is well done and the red looks great against the black background.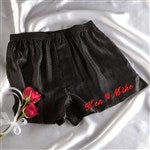 Happy Valentine's Day!
By
Lauren M.

(West Hartford, CT) - February 16, 2010 (
See all reviews by this customer
)
my boyfriend really loves these, they came out very nice. The embroidery looks just like it did in the example. I thought they were going to be silkier, but they are a pretty good quality regardless.

Pleased with boxers
By
Lisa R.

(Glen Allen , VA) - February 19, 2010 (
See all reviews by this customer
)
The engraving looked nice and boxers were cute.

boxers
By
Erin M.

(raleigh, NC) - October 25, 2010 (
See all reviews by this customer
)
Everything was great but the material of the shorts. they were silk they reminded me alot of soccer shorts and my boyfriend thought so as well.. but he sure did love they anyway! it was a great buy but you should be warned that the material is not what you think

so sexy
By
Tanya B.

(Naugatuck, CT) - February 15, 2010 (
See all reviews by this customer
)
these shorts were an awesome valentines gift but i would have bought them any other time of year if i had found them. they quality is great!! and he loved them

Very Nice Gift
By
Tyisha T.

(Williamstown, MA) - October 14, 2009 (
See all reviews by this customer
)
Got them for my boyfriend and he loved them. Comfy, very nice embroidery, size matched, but we wish they came in XXL. Overall, great item!

Pretty good stuff
By
Angela D.

(Jamesport, MO) - January 13, 2010 (
See all reviews by this customer
)
Seem to be made well, haven't used them but once or twice, so have no idea how they'll hold up.

Silk Black Embroidered Boxers
By
Viviana G.

(Tulare , CA) - February 11, 2010 (
See all reviews by this customer
)
My boyfriend liked the boxers and i like how the names came out.! The boxers them self wasn't was i was looking for because they were kind of short on him, but the shipping was fast and the product was close enough how it looks in the picture. i will purchase from this website again.

Great Quality
By
Lacey C.

(Tallahassee, FL) - October 2, 2009 (
See all reviews by this customer
)
I received the boxers in the mail about a week after I ordered them and was very impressed with the quality. The embroidery looks great; it looks just like the example picture did. I haven't given the boxers to my fiance yet, but I'm sure that he will love them.

Exactly as described and shown
By
Shopper

(Charlotte, NC) - February 24, 2012
After reading the positive and negative reviews, I decided to order these boxers in the next larger size. My fears of rough seams and fabric were instantly asuaged upon receiving the merchandise. I found the fabric to be indeed, silky soft, and the seams to be enclosed, French seams - NOT open finished or ragged as some had stated in the negative remarks. However, as some others had stated, I found the stiff embroidery backing to be a detraction form the overall quality of the product. It took me approximately 20 minutes to carefully trim away the excess backing from the embroidery. My guy, who normally wears a medium, loves the way the size large fit him, and adores the feel of the light weight, soft silk on his skin.

Very Cute
By
Shopper

(Levittown, NY) - January 14, 2012
I bought these boxers for my boyfriend for Valentine's day this year. I got them in the mail and they are adorable. The only thing is that they aren't the best quality of silk that I thought they would be. The writing was good, but there's a little pull in the heart, hopefully, I can get it out. I think the price should be a little cheaper than what it is now. Otherwise, the boxers are cute and a great little thought.

Perfect Gift!
By
Jamie Jo B.

(Indianapolis, IN) - October 9, 2009 (
See all reviews by this customer
)
I gave this gift as a fun gift to my husband for our wedding day and he loved it! I had our full names on it and he wore them for the wedding! It was something fun that only we knew about. They are great quality, fit really well and the embroidery was beautiful. I would definitely reccomend this item

silky boxers
By
Lesa C.

(Liverpool, NY) - October 8, 2009 (
See all reviews by this customer
)
The style & quality of the silk boxers are perfect. They wash and wear great.

Very nice
By
Deidre R.

(Sahuarita, AZ) - October 3, 2009 (
See all reviews by this customer
)
I was very pleased with the quality of this product. I washed it like the directions said, and it was still very soft and silky (sometimes silk doesn't feel as nice after washing). My husband liked it very much and thought it was very comfortable.

Glad
By
Alycia M.

(Cincinnati, OH) - February 14, 2011 (
See all reviews by this customer
)
After i bought the boxers, i read the reviews that were bad and got worried that the material would be cheap, but was happy to find out that this was not true. The fabric is soft and the writing was pretty..too bad it goes to waste now that my boyfriend broke up right before valentines day.

Good gift, embroidery a little small
By
Shopper

(Davis, CA) - February 14, 2011
I really liked these, they were shipped quickly and pretty nice quality. The only thing is that since the embroidery is cursive some of the letters are a little hard to read, like capital "J" looks funny so I did lower case letters on mine which were a little small. But in some ways that's nice too, since it's just a small personal touch and not too obvious or cheesy. Anyway, hopefully the bf likes them :) we'll find out soon!

not bad
By
Shopper

(FAR ROCKAWAY, NY) - February 4, 2011
I like it but I am waiting for valentine's day to give it to him, hopefully he loves it.

Nice Valentines gift
By
Shopper

(Saint Leonard, MD) - February 17, 2011
size was off

satisfied
By
Simone R.

(Savannah, GA) - February 17, 2011 (
See all reviews by this customer
)
The quality and material of product was good. My boyfriend liked them.

My boyfriend loved them
By
Kathy B.

(West Friendship, MD) - February 16, 2011 (
See all reviews by this customer
)
Very cute gift for a boyfriend that just lost his other pair of beloved silk boxers. Not the best quality silk, but I should have expected that given the price. They made for a successful Valentine's Day.

they run very small
By
christine C.

(Cedar Grove, NJ) - February 16, 2010 (
See all reviews by this customer
)
These silk boxers run very small...If I would've known I would've ordered an extra large.. :(
My husband has a 34-35 waist and they are skin tight on him....! and he's not a big boy....5'7" and skinny legs!
Help!

Too small
By
Toni D.

(stuart, FL) - February 3, 2010 (
See all reviews by this customer
)
I ordered the size 42 and they are very small and only actually is a 36 measured yet says it is 42 on the tag so i am now stuck.

Quality
By
Shopper

(Bentonville, AR) - February 22, 2013
Was not impressed with quality of these boxers for the price that was paid. Not sure why it would be considered 100% silk.

Bad Sizing
By
Shopper

(Oregon, OH) - February 20, 2011
The product was very small for a 32-34. It didnt fit, and obvioulsy once embroidered, I was unable to return. Wont be purchasing anything again due to same fear.

Disappointed Receiver
By
Robert P.

(Little Rock, AR) - April 1, 2010 (
See all reviews by this customer
)
My wife ordered these boxers for me for Valentine's Day after making a purchase with this same site for her best friends babys' Christening gift that she was very satisfied with.

Anywho, the boxers ran small as far as size and I only wore them twice before they started ripping down the side. They were washed as instructed (by hand...cold water) and air dried.

For me this was a little on the high end for some boxers, but since they were advertised as 100% silk and all of the reviews were good ones; my wife decided to order them and boy was that a waste.

Nice thought/idea, but not good quality or true to size.

Not What I Expected...
By
Sommer C.

(New Port Richey, FL) - February 18, 2010 (
See all reviews by this customer
)
I was not totally satisfied with this product. I expected soft, silky feeling boxers that felt nice to the touch and instead received rough, scratchy boxers. For the price, they weren't the type of silk boxers I wanted or thought I was buying.

Big mistake
By
Shopper

(Saratoga, CA) - July 3, 2012
I got this for a one year present for my boyfriend. Hes always wanted silk boxees and i thought it would be perfect because i could engrave them with our initials. When he opened the package on our one year, we were both shocked. You could see through the material. It felt scratchy and like mesh. It deff was not silk. I was embarrased to give him these. I will never buy another product from this web site. Good ideas on here, but very poorly made.

Actual product received did not match display picture and description.
By
Joyce W.

(Orlando, FL) - April 22, 2010 (
See all reviews by this customer
)
The silk boxer received has a different material from the picture displayed, it doesn't have a smooth and shiny surface as the display picture.

this is NOT silk
By
Julia S.

(Houston, TX) - March 29, 2010 (
See all reviews by this customer
)
See the smooth, flowing fabric in the picture? That's NOT what you'll get; what a scam! The fabric has an awful ///\\\/// pattern to it, and it's scratchy and rustles like swim shorts. If you are looking for a sexy gift, do not get this!
The embroidery is ok but not as clean as I'd like it to be. The backing is scratchy and I had to trim it. Hopefully after a couple of washes it will dissolve. (Although I put the pieces that I trimmed off in water, and they're still as stiff as ever)
I find it hard to believe that there are so many people satisfied with this product...Maybe they've gone cheap and changed the materials recently...but don't let them get away with it!

very misleading
By
Oliva C.

(New York , NY) - February 17, 2010 (
See all reviews by this customer
)
This product is awful. It says silk, but the material is so starchy and coarse. These shorts feel like soccer shorts. I was VERY disappointed. DO NOT BUY.

Can't be worse!!! Totally not as discribeb!!
By
Shopper

(MIAMI, FL) - February 24, 2012
(b4 u make the decision, see my review and other low ratings, im so regret i did it after i have the boxer, they all true)
I was so expecting this gift, but so disappointed!!! This was my Vday gift to my bf!! Our first!!
First of all, the material is not silk at all, like fiber!!!!so cheap!!!!( I really doubt those good ratings saying its silk?!!!! Unbelieveable!!) I was so mad!!!
Second, they do personalized the name or words on it, but when u flip over the boxer, the words is sewd on a piece of fabric, and the crapy fabric is sewed on the boxer, it's white, and edges come out, which is really ugly!!!! My bf and I are totally not picky ppl, he doesn't even touch the box after I gave it to him. I'm sad, and he was disappointed, our first valentine was ruined by this one!!!
I'm telling 100% truth, and I can't return it, cuz it's personalized!! A 40 bulks boxer like this?!!! Believe me or not, hope u r not the next victim.

Poor Quality
By
Shopper

(Aliso Viejo, CA) - February 21, 2012
I purchased these boxers for my husband for Valentine's Day. I must admit the embroidery was lovely, but that was the only well crafted element of these boxers. The silk is extremely thin, there were two snags in the fabric where it appeared the boxers had been clamped for embroidery, every seem has small fabric threads that have pulled loose (not just sewing threads that could be trimmed, but actual fabric threads that have shredded). While my husband was still glad to have the unique gift, I was very disappointed with the poor quality of these boxers.

OK Quality
By
Kelly W.

(Lakeland, FL) - May 16, 2010 (
See all reviews by this customer
)
The shorts were very low quality... the stitching around the edges of the legs were uneven and the material is not close to "silk."

The Black Silk boxers
By
Shopper

(Boyd, TX) - February 23, 2011
Ok, so they got to my boyfriend when they were promised and he loved them. He said they were the most comfortable pair of boxers he's ever had. Then they ripped. The same day he got them...Not the greatest quality.

Valentine Boxers
By
Shopper

(Piscataway, NJ) - February 17, 2011
The actual print of the boxer doesn't show up very well in the photo. It has little checkers on it. And the embroidery is a bit tacky because of the big piece of white cloth they use to do it on the inside. It is not discrete.

Good quality; size a problem
By
Audrey P.

(Bradenton, FL) - May 13, 2010 (
See all reviews by this customer
)
Some of the reviewers had written about shoddy fabric quality; the fabric is fine, and the monogram is really nice. Based on reviews, I ordered these a size larger and they are still too small - the waistband is more like 2 sizes too small. Since there is no XXL size available for my normally size L guy, looks like I'll be wearing them instead.

shoddy worksmanship
By
Julia A.

(Fort Lee, NJ) - February 18, 2010 (
See all reviews by this customer
)
I decided to get this for my boyfriend on Valentines Day and I was really excited for this. However the product was disappointing and not what I expected. The stitching on the side was poorly done and was already getting fuzzy. While the embroidery was very nice and well done, behind it was some rough material that stuck out. Overall, I was not thoroughly pleased with this product.

okay
By
Shopper

(Los Angeles, CA) - February 14, 2012
The material isn't all that. The personalization is nice

nice, exactly as preview image, a bit too small - get a size larger than normal
By
Shopper

(United Kingdom) - June 22, 2011
Attractive, well made, unique product.

The size was a bit too small. I got a medium, my boyfriend's usual size and they were too tight. Otherwise they looked good. I opted to use mine and my boyfriend's first names in lowercase lettering instead of initials in capitals & when they arrived they looked pretty much exactly as the preview image when I made the order. I got a red pair as well and I did notice the black was of a smooth silk without the herringbone effect that the red pair had - or maybe I just didn't notice it on the black pair, but the black silk was much much nicer. Because of this, the red silk felt to me like a lower quality, more everyday product which should be cheaper.

There was a large rectangle of white backing material (like thick paper) behind the entire embroidery, which gave it a more budget feel. I cut most of this away so that the backing was only around the lettering so that it didn't spoil the great movement and luxury feel to the silk too much. Overall 3/5

Nice but not comfortable
By
Rebecca G.

(Kansas City, MO) - February 28, 2011 (
See all reviews by this customer
)
I bought these for my boyfriend in a Medium since 34s are roomy on him. I thought there were smooth silk but are a squared pattern that took away from the look in my opinion. Also my honey could not move in them since they are NOT stretchy whatsoever. Since these are personalized and non returnable you may want to order larger to be safe.