Cheap
By
Shopper

(Irmo, SC) - January 26, 2014
This robe is very poor quality. The stitching is defective with long strings of thread hanging along it. When you cut them, the stitching is uneven and bunches up. The monogram pulls the fabric - I'm guessing because of the poor quality of the material itself. My recommendation is do NOT purchase this robe. Thankfully I bought this robe for myself for a trip instead of for a gift. I would not have given this robe to anyone.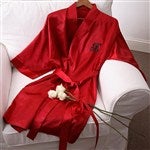 red satin
By
Shopper

(baton rouge , LA) - January 25, 2014
my wife loved it the robe was beautiful ,fit perfect and delivery was fast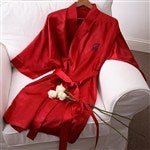 Good service
By
Shopper

(Lubbock, TX) - January 13, 2014
My order was sent timely and in good condition. The Company was in communication with we all the way. The product was as described and the monograming was lovely. Total satisfaction.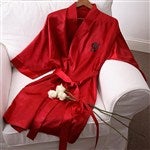 Nice!
By
Shopper

(Houston, TX) - October 21, 2013
The robes were a perfect Bridesmaids gifts. The only problem was the initial "S". It doesn't look like an "S" but more like an "L". So I will have to add a broche on top to hopefully cover the L.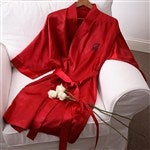 beautiful personalized robe
By
Shopper

(Charlottesville, VA) - June 14, 2013
great gift idea for a bridal shower!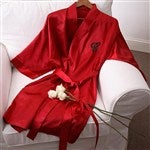 Impressed but runs very big!
By
Melissa O.

(Eagle Mountain, UT) - June 3, 2013 (
See all reviews by this customer
)
I ordered 5 of these for myself & my 4 bridesmaids and they vary from my Jr Bridesmaid at 4'9 to my other at 5'11 and a small drowns myself 5'0 at 108 lbs ajd especially my jr bm. I am very satisfied with the quality and I love the pockets but definitely suggest getting about 2 sizes smaller than normal.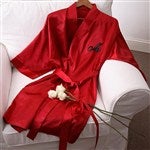 Beautiful robe.
By
Janet H.

(Sugar Land, TX) - May 31, 2013 (
See all reviews by this customer
)
I am very pleased with these robes. I purchased 6 of them for bridesmaids for my daughters wedding. They are very silky and nice feeling and the embroidery letter is very nice too. Very nice robe for the money.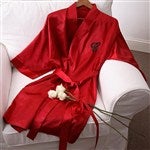 Better than advertise
By
Christopher F.

(Garnet Valley, PA) - February 23, 2013 (
See all reviews by this customer
)
Very nice. She was very excited when she saw it especially with the engrave.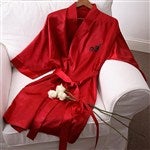 San valentines
By
Shopper

(lajas, PR) - February 16, 2013
Just what she deserved... No pads on shoulder, high quality & texture... She will love it to the bones.. Wont ever take it off!!!!! Super nice super good super quality... The letter looks awesome...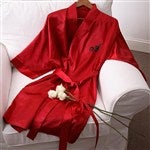 True red robe!
By
Michelle Z.

(Henderson, NV) - February 6, 2013 (
See all reviews by this customer
)
This robe was very good quality. Beautiful apple red with nice embroidery. Gift for a bridal shower and she loved it!!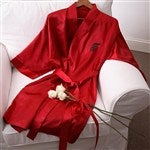 good for weddings
By
Shopper

(Pine Grove, CA) - August 9, 2012
I purchased this item for myself and my bridesmaids for my wedding and we all wore them the morning of the wedding as we got ready. They looked great in bridal prep pictures and was a fun gift for the girls. The fabric is very nice and it is a comfortable robe. It tends to slip open because of the silky fabric so take that into consideration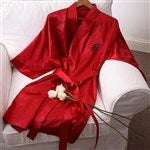 great bridesmaid gift
By
Shopper

(NEW YORK, NY) - May 2, 2012
I ordered these robes for my bridesmaids and they were just as they are described on the site. The red is lovely (not an ugly orange-red but a proper fire-engine red). Fun having my girls get ready in their satiny robes. As other reviewers mentioned, they run large, so get a size down from what you think you need. Enjoy!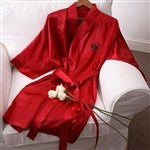 great bridesmaids gift
By
Shopper

(Alexandria, VA) - February 18, 2012
Nice soft and well made robes. Not sure what other reviews meant by shoulder pads but I just got the 9 I ordered and they didn't come with shoulder pads. The size small is a bit large, so order a size or two smaller than expected.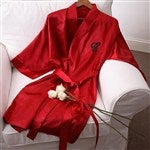 Red Satin robe is nice
By
Shopper

(Hamden, CT) - February 19, 2011
Very nice robe!

sizing innaccurate, pads in the shoulder? really?
By
Shopper

(Rapid City, SD) - February 27, 2011
i bought a medium for my wife for valentines day. FAIL. a medium for a fat person. sizes are HUGE. and shoulder pads in a robe? really? nice fabric, that's it.

Valuable Inputs
By
John S.

(Greer, SC) - February 16, 2014 (
See all reviews by this customer
)
Great Gift. My wife loved color and texture.

Red kimona personalization less than expected.
By
Lance L.

(Houston, TX) - October 18, 2010 (
See all reviews by this customer
)
While the robe met my expectations, the personalization was less than expected. I purchased another set that was personalized with rhinestones that was nicer & what I expected on the robe.

Komino Robe
By
Kathy F.

(Whiting, NJ) - January 26, 2013 (
See all reviews by this customer
)
The quality of the fabric was great, the only thing I did not like about the robe was how the letter was inserted. Instead of the initial being embroidered on the robe, the initial was cut out and sewn onto the robe leaving the white material showing where the initial was cut from and that took away from the robe making it look tacky.

cheap ,thin ,no lining, may last up to 3 washes
By
Shopper

(gahanna, OH) - August 24, 2013
Cheap thin no lining.. may last up to 3 washes. Company has good service. But I expected better quality. Monogram backing is crude and ruins the impact of the sexy robe. Cheap.

as advertised
By
James A.

(Montgomery, AL) - February 1, 2010 (
See all reviews by this customer
)
came as advertised

Great gift, looks very classy
By
Rebecca S.

(Sherman Oaks, CA) - August 20, 2010 (
See all reviews by this customer
)
I ordered this gift for a bridal shower and was very happy when it arrived. I had the bride's "new" last initial embroidered. The robe is really a bright red, much brighter than the picture and looks very well made, not cheap at all. The only thing I didn't like and that was not mentioned anywhere is that this robe comes with shoulder pads. I'm not sure why since it's a robe and the shoulder seams hang down kind of low. The pads rest on your arms. So, I just cut them out before giving the gift. It would also be nice if you could put more than one initial on the robe, so it could be a monogram. Overall thrilled with the price and the quality of the robe. I was very excited to give this gift.

A big hit with my wife!
By
Jonathan P.

(Lockhart, TX) - September 24, 2010 (
See all reviews by this customer
)
My wife really appreciated this gift. She wears it almost every night as it is the softest and most enjoyable to the touch robe she has. The Personal initial inscription makes it that much more of hit.

Great Day!
By
James S.

(Arlington, TX) - February 11, 2010 (
See all reviews by this customer
)
I couldnt be happier with my order, when i have it to my girlfriend, her face was priceless. It is a great gift, and would recommend this gift to anyone.

Beautiful Robe
By
Tyler S.

(Tucson, AZ) - May 9, 2010 (
See all reviews by this customer
)
Beautiful robe, and fast processing/shipping! Thanks!

Great item, fair price
By
Shopper

(Arvada, CO) - June 10, 2014
Good quality, fair price. The personalization is only one letter, so you can't go nuts with it. Would have liked more, but at the asking price I won't quibble.

Received as a Gift
My little sister married her best friend in Hawaii and I was unable to attend. She left a present for me behind and it included this robe. ABSOLUTELY LOVE IT! The fabric is perfect and feels great against freshly washed skin. The robe is also amazing to lounge in. I would HIGHLY recommend this item when shopping for someone close to you. The small is what I would have expected for medium, so select a size smaller then you would normally order. 100% Satifaction. :)

Lovely Robe
By
Shopper

(Kent, WA) - October 22, 2012
This gift cannot look any more perfect. It's silky, smooth, beautiful. The ideal present for any romantic girl.

Great gift
By
Kim D.

(Scottsdale, AZ) - May 8, 2012 (
See all reviews by this customer
)
Really comfy robe with nice embroidery. There is the white patch as anchor for the personalization, but you can't feel it while wearing the robe. It DOES run big: s=6/8; m=8/10; L=12/14 or so. Great buy.

wife loved it
By
Shopper

(Cooper City, FL) - February 14, 2011
got it a few days before valatines day wife really loved it ,,
the service was great. thanks jim

Nice
By
Christopher J.

(St Petersburg, FL) - February 15, 2011 (
See all reviews by this customer
)
Nice packaging, presentation.

Great satin robe!
By
Shopper

(Shoreacres, TX) - June 28, 2014
I bought this robe for my step daughter's 21st birthday. It is really a high quality robe and the monogram makes it extra special. Her father and I both think she will love it. I would buy this robe again!

Great quality
By
Shopper

(vacaville, CA) - August 25, 2014
This was a wedding shower present for my Granddaughter.............she loved it! The material is very nice and, of course, the personal touch is the initial. My only suggestion would be to have the initial be in red instead of black.

red satin kimono
By
james J.

(wyoming, MI) - February 9, 2014 (
See all reviews by this customer
)
What a wonderful gift for my wife. The embroidered letter was done very professionally. Thanks again.

Love the Robe
By
Shopper

(Houston, TX) - October 23, 2012
I received my robe a couple of days ago and I was surprised by the quality. Love it! This robe should last me years!

It is lovely
By
Shopper

(Ellicott City, MD) - November 1, 2013
The product arrived earlier than expected. Every thing appeared just the way it was on the website. The products quality was great and the inscription is lovely. My wife loved it.

Beautiful
By
Leon B.

(Oakland, CA) - February 13, 2010 (
See all reviews by this customer
)
The robe is beautiful and fits well as a set with the Boxers

Classic!
By
Rhonda P.

(FLora, MS) - April 14, 2010 (
See all reviews by this customer
)
Classic elegance! This beautiful and personal robe was just perfect as a wedding shower gift for my daughter.

Satin Robe
By
Shirley B.

(New Carrollton, MD) - January 27, 2010 (
See all reviews by this customer
)
This item was received in a timely fashion, in excellent condition and beautifully presented. My only complaint is that slippers were not included with the robe to make it complete.

Red Kimono with M
By
Melvyn K.

(Cupertino, CA) - October 12, 2009 (
See all reviews by this customer
)
Great transaction and lightning fast delivery. Thanks

Special Gift!!
By
Catherine E.

(Tucson, AZ) - January 22, 2010 (
See all reviews by this customer
)
My older sister was due to turn 60 years old. She doesn't "need" anything- so I thought a luxury item would be appropriate. I chose the "Personalized Red Satin Kimono Robe". I was VERY happy with the way it arrived- presented SO beautifully in a special "bag". She LOVES it!