Wonderful as an Engagement Gift
By
Nicole G.

(Pomona, NY) - May 5, 2011 (
See all reviews by this customer
)
A+ product!!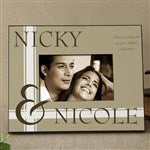 Frame
By
Shopper

(Gorham, ME) - May 1, 2011
There was a line on my frame that shouldn't have been there. It was almost like a small scratch but very noticeable. I was surprised that they didn't make me a new one.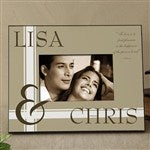 Personalized Frame
By
Kelly S.

(Topeka, KS) - April 25, 2011 (
See all reviews by this customer
)
Frame is so cute. it was perfect for an anniversary gift.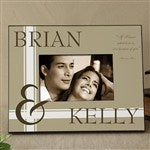 Gorgeous!
By
Harry T.

(New Eagle, PA) - April 24, 2011 (
See all reviews by this customer
)
I got this for a wedding gift and the happy couple said this was the best wedding gift of them all!!!!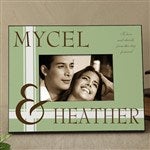 too commercial
By
Mary V.

(Carmel, NY) - April 23, 2011 (
See all reviews by this customer
)
I was very disappointed in the 2 frames that I purchased. I have done so in the past and they were beautiful. this time, they were too gaudy and no room for the picture to shine.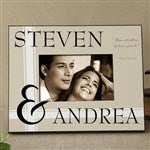 bridal shower gift for my sister in law
By
Shopper

(Rehoboth Beach, DE) - April 15, 2011
I wanted to find something small to go along with the main gift she wanted because I felt that I needed a special gift for this day. When she opened the frame and saw her and her fiance's name she really did tear up. Some of the women in the room told me that she was touched by my gift. I couldn't believe how nice this gift was considering the very low price tag and the fact that I received it in 48 hours. I am now a shopper for life! Thank you so much! The quality of the frame is very nice. It has a shiny,hard laqer finish which I wasn't expecting, but it made the frame look and feel expensive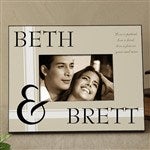 wedding gift
By
Shopper

(gallipolis, OH) - April 10, 2011
Bought this for my nephew and his wife.I loved it and so did they. Would recommend to others.Great gift.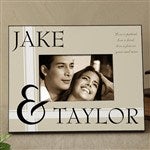 Personal touch that won't go unnoticed on this frame
By
Angela W.

(Gastonia, NC) - April 8, 2011 (
See all reviews by this customer
)
I purchased this frame as a wedding gift. I knew the couple's colors, based on their registry, and of course I knew their names. It was a no brainer. We all get picture frames for wedding gifts, and sadly, many remain unopened or regifted due to their color/size etc, but this frame will most certainly be prized and displayed. I'm sure when this couple has visitors, this frame will not miss the eye of admiration. I highly recommend. I am going to write a message on the back so that they can always remember it was selected in love with my blessing on their happy union.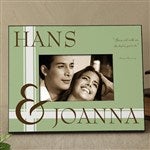 Very pleased once again!!
By
Debra T.

(Pawtucket, RI) - April 3, 2011 (
See all reviews by this customer
)
Beautiful frame. The color is almost the same as the color incorporated in my daughter's wedding gown and that of her bridal party. Can't wait to give it to them for their upcoming June wedding. Highly recommended...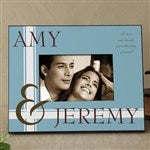 MY NEICE AND HER FIANCEE LOVED THIS FRAME!
By
Shopper

(Tucson, AZ) - April 2, 2011
I PURCHASED THIS FRAME FOR MY NEICE AND HER FIANCEE. I HAVEN'T SEEN THE FRAME AS THEY ARE LOCATED IN A DIFFERENT STATE THAN ME. THEY LOVE IT! I'M VERY HAPPY WITH THIS PRODUCT.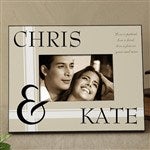 To have and to hold frame
By
Amanda G.

(Weaverville, NC) - March 28, 2011 (
See all reviews by this customer
)
Fabulous!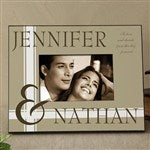 cute
By
Shopper

(Royse City, TX) - March 28, 2011
Although this design is geared towards a couple, my sister & I are expecting our first babies. So I customized this frame using the 2 names we've selected & a verse from the Bible regarding children (Mark 10:14). I bought 3: one for each of us plus one for mom. We love them & can't wait to put the babies' picture in them!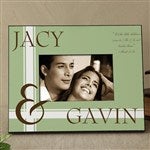 She loved it!
By
Brian B.

(Hilliard, OH) - March 27, 2011 (
See all reviews by this customer
)
It is a nice study frame and the final product looks just like what I expected. She loved it.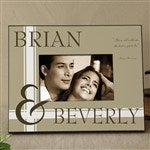 Very Pleased!
By
Sara B.

(Lobelville, TN) - March 27, 2011 (
See all reviews by this customer
)
I ordered this for a wedding gift and was pleasantly surprised at the cost, the quality, and the speed of delivery! It is a lovely picture frame that the coupld will treasure for years!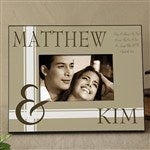 love it!
By
Shopper

(Kimberly, ID) - March 20, 2011
I ordered this, it came quickly for a bridal shower. I placed it on top of my cupcake tree and it turned out beautiful. Everyone commented on it!

I thought it was more of a "wooden" type of frame, but it is more plastic, but still very nice.

Happy Couples!
By
Deborah P.

(Katy, TX) - March 19, 2011 (
See all reviews by this customer
)
I absolutely love the frame and the personalization makes it extra special. I ordered 3 for young couples getting married. They loved them! The are modern, yet classic.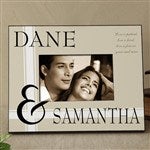 very pleased!
By
Karen S.

(Burbank, CA) - March 11, 2011 (
See all reviews by this customer
)
What a darling frame! Perfect for an engagement gift. Very easy to order and it came quickly.

Just what we ordered!
By
Kristen T.

(West Sacramento, CA) - March 10, 2011 (
See all reviews by this customer
)
We ordered two of the khaki frames with our own personalized quote as wedding gifts for our parents. They were perfect. Quick shipping and exactly what we ordered. We will definitely be return customers.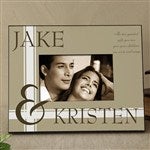 Pleasantly Pleased
By
Veronica C.

(Bakersfield, CA) - March 10, 2011 (
See all reviews by this customer
)
I bought this as a bridal shower gift for my cousin (in khaki) and was a little worried with the quality, but when I read the other reviews I decided to just go for it, when I received the item I was really surprised with the quality of this product, it was absolutely elegant and homey at the same time. It came out so much better than I thought it would. I would definitely recommend this product to anyone - and i'm not one to recommend things easliy.

Great gift item
By
Tracy K.

(Germantown, WI) - September 21, 2014 (
See all reviews by this customer
)
Very nice frame for a Wedding gift. Impressed with quality.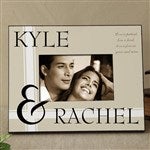 Perfect announcement
By
linda V.

(Seabrook, NH) - September 11, 2014 (
See all reviews by this customer
)
Such a lovely frame...very well made....just love it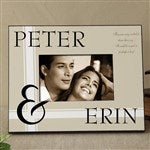 How you use the product
By
Shopper

(La Quinta, CA) - July 22, 2014
I'm very pleased with the products and the good quality. I have ordered from Personalization Mall many times. It's very easy ordering and it gives you the opportunity to see the personalization. What a special gift to send and have it personalized. I highly recommend PersonalizationMall.com.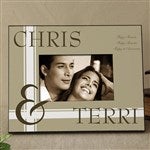 Great gift
By
Lori M.

(Martinez, CA) - May 30, 2014 (
See all reviews by this customer
)
Such a wonderful gift to give and to receive. The newly wedded couples love it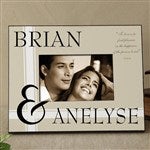 Perfecto!
By
Shopper

(Jacksonville, FL) - May 20, 2014
Bought the sea green frame and it was absolutely a perfect match in our bedroom. Love this item!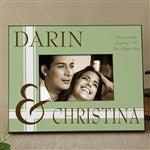 Truly Wonderful!
By
Shopper

(Saint Joseph, MN) - May 19, 2014
The colors of the frame are vibrant and beautiful! The frame is of great quality! SO happy with this gift!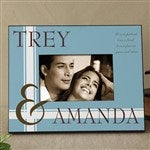 ITS A NO BRAINER
By
Shopper

(Corpus Christi , TX) - April 19, 2014
This frame is perfect for all couples out there. I have bought this for all the closest people in my life and plan on continuing to buy it as anniversaries come up. The frame is GREAT quality and the printing is as well. Everyone I have given one too displays it right away and the excitement they get is awesome. Usually I pit the husband name first and the wife name second and then for the four lines i use Matthew 19:6 Therefore what God has yoked together let no man put apart.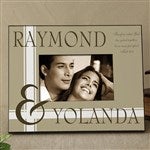 Perfect Present
By
Shopper

(Baltimore, MD) - April 7, 2014
This is very pretty. I got it as a gift for my brother & his wife for Christmas, from my children to their aunt & uncle. They loved it!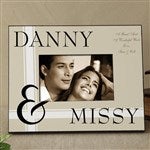 They Loved It
By
Shopper

(Boise, ID) - April 2, 2014
Me and my boyfriend got this gift for my aunt on her wedding day. The couple absolutely LOVED it and we were so happy with the result. Just like we planned it! Thank you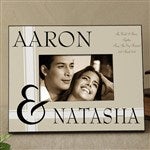 Perfect Gift
By
Shopper

(Kingsland, GA) - March 4, 2014
I purchased this for a relative's wedding gift....It was super cute.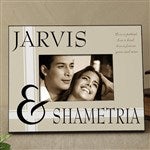 Sweet
By
Shopper

(Hunt Valley, MD) - March 3, 2014
Looks great--Valentine's Day gift so personalization is fabulous.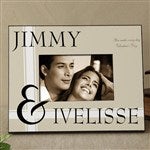 Love this frame!
By
Shopper

(Rochester, NY) - February 24, 2014
Lettering is very professional. Love the personalizaiton of it. Will put a recent vacation photo in it to remind us of great times!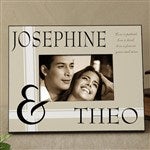 Absolutely Fabulous
By
jeffrey G.

(orlando, FL) - February 20, 2014 (
See all reviews by this customer
)
This was such an awesome gift! Not only will it last forever but it will hold our memories forever too!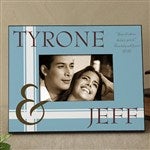 Happy customer
By
Shopper

(Silvis, IL) - January 20, 2014
Got this for my mother-in-law and she said it was one of the most best gifts she has ever gotten, it is really sturdy too i dropped it and it didn't break or chip.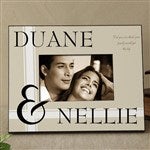 Engagement frame
By
Shopper

(Manassas, VA) - January 3, 2014
The perfect gift for our grandson and his fiancé.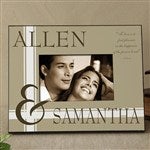 LOVE IT
By
Teresia B.

(hollywood, FL) - November 12, 2013 (
See all reviews by this customer
)
This looks so much bigger and better in person. The quality is extraordinary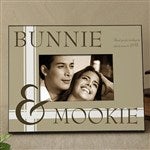 Better than picture
By
Shopper

(Carrollton, TX) - October 20, 2013
Used my own verse and it looks great. Website very easy to order from and I love the preview of the order. The frame is very good quality and it was received as promised. Will use again.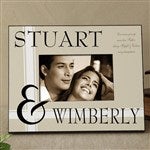 Good frame
By
Melissa F.

(Otsego, MN) - October 20, 2013 (
See all reviews by this customer
)
I'm pleased with the frame. I never doubt I will be with this website. However, I will say I was disappointed in shopping. The wedding I purchased for was a gay wedding. Now not to make a political comment, but most frames are predesigned for husband & wife. Maybe this can be an option verses predesigned. Gay marriage is legal in my state and this was the second time I had to search through the limited options to find a frame that would work. (I always buy personalizationmall frames as wedding gifts, because they're awesome!)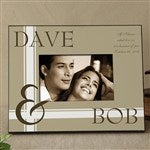 love it
By
Shopper

(Santa Ana, CA) - September 30, 2013
perfect and great quality!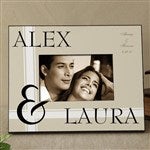 Frame
By
Shana B.

(Frisco, TX) - July 14, 2013 (
See all reviews by this customer
)
Happy with product and shipped on time. Great gift! Color was just slightly different from my expectation but I only saw it in my moms iPhone pic...could be her phone.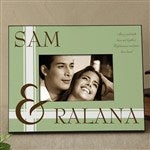 Very happy that I've found this item
By
Shopper

(McLean, VA) - June 18, 2013
This is my 4th purchase of this same item. Many weddings this season and this item makes a great wedding gift along with a check. Two of my weddings this summer are overseas and it was easy to mail them in the boxes in which they arrived saving me time and money.