fleece robe set pink and black
By
Becky B.

(Bull Valley, IL) - October 22, 2013 (
See all reviews by this customer
)
Well again I have ordered these for a wedding gift and they absolutely love them. I also purchased a wedding card to go along with the gift and it is so great because you are able to personalize.. Way to Cute!!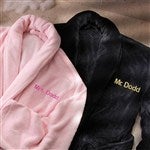 Even my husband said, "wow!"
By
Jessica T.

(Greendale, IN) - September 20, 2013 (
See all reviews by this customer
)
Lovely, I had been looking at many websites and couldn't quite find two with the "it," factor. I was super excited when I found them, since it is a his and her set. I was a little bit worried when I got them and it said onesize for both males and females. (My husband is a XL). But when he tried it on he loved everything about it. This coming from a prior Eagle Scout, who loves to rough it outdoors. I loved the fact that I could personalize them, even with different writing styles. When they arrived it was better than I thought. When they say fleece they mean comfortable, warming, and luxurious to put on and live in. I am glad I found this purchase and look forward to buying more from Personalzation Mall.com in the future.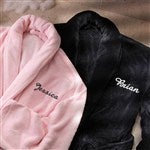 luxury fleece Robe
By
Becky B.

(Bull Valley, IL) - July 22, 2013 (
See all reviews by this customer
)
I have purchased at least 15 of these robes for gifts... I am so happy with them that I continue to purchase them for gifts.. They are "Excellent" and so warm and comfortable... You will not be disappointed with these I have never been! Personalization does a wonderful job and I love the feature that you can view what they may look like prior to you submitting your purchase... 5 Stars for Sure and worth EVERY PENNY !!!! This particular robe was purchase for a very good friend of mine that is having a 70th Birthday!!!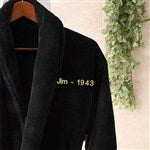 Great Quality
By
Shopper

(flushing, NY) - July 6, 2013
Excellent Quality. Great Product.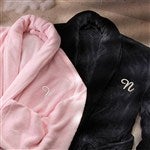 My grandmother loved it
By
Shopper

(New York, NY) - March 31, 2013
She loved the quality of the fabric and the feel of the material. It was her 87th birthday and I think I out did my other relatives in getting something that she loves.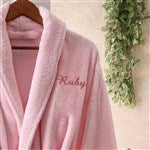 Embroidered Luxury Fleece Robe
By
Shopper

(CLERMONT, FL) - March 25, 2013
The softness an the quality of the materials used really got an eye on my. Absolutely surpass my expectations. Now I looking forward to make my own one.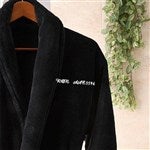 Awesome
By
Shopper

(San diego, CA) - March 9, 2013
the material is very silky and soft
i liked it so much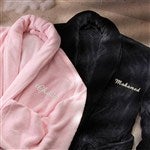 Wedding shower gift
By
MONIQUE L.

(AURORA, CO) - March 5, 2013 (
See all reviews by this customer
)
The quality of these robes are just outstanding and the embroidery added a awesome richness. I purchased these robes for my brother and his fiance who absolutely loved them!!! Thank you for providing such an exceptional product.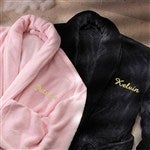 Good robe
By
Shopper

(Philadelphia, PA) - February 23, 2013
Warm and comfortable. A downside is that the fleece generates some static electricity.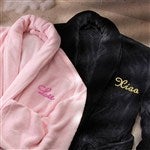 Robe
By
Shopper

(pearland, TX) - February 23, 2013
Overall unhappy with this purchase! It sheds black fuzz everywhere! It was a pricey robe and I expected much more!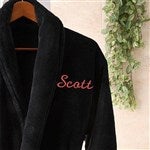 Sized smaller than identified
By
Cassandry K.

(Richmond, CA) - February 21, 2013 (
See all reviews by this customer
)
The robe is smaller than advertised. It is made for men size 40-42 chest. Since it was a gift the recipient was grateful for the gesture but I am so dissatisfied.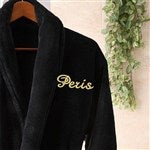 My Wife loved it!
By
Shopper

(Phoenix, VA) - February 19, 2013
I bought this as a Valentines gift for my and she loved it. I initially was a little concerned about size because my wife is a plus size woman but it fit perfectly! Came right on time for Valentines day too. Couldn't be more pleased.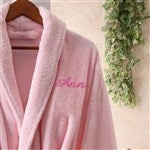 Ladies Robe
By
Donald T.

(Independence, OH) - February 18, 2013 (
See all reviews by this customer
)
Soft, comfortable and a real hit for my lady friend. Enjoyable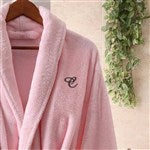 Excellent product
By
Teri L R.

(Arlington, TX) - February 14, 2013 (
See all reviews by this customer
)
Item is exactly as I expected. Good quality material and lightning-fast service!!!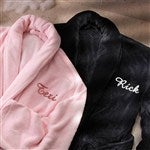 Retirement Gift
By
Constance B.

(Bladensburg, MD) - February 13, 2013 (
See all reviews by this customer
)
I gave the robes to my co-workers as a retirement gift and they loved it. They said they're so soft an comfortable. And the price was so reasonable, I will definitely be ordering this item again as well as other items from this website.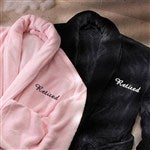 bridal shower hit
By
Cathryn T.

(Carmel, NY) - January 15, 2013 (
See all reviews by this customer
)
Purchased for my daughters bridal shower."Groom to be" was there and slipped robe on to model ! He is a tall man 6" 2", 180 lbs. Room to spare both in height and width. My daughter is 5'8'' 160 lbs. and she wrapped robe around herself with room to spare. Fell mid-calf on her. Haven't been washed yet, the fabric is soft as silk. A big hit! a good value for the price.
Shipped in time promised. Cathryn T.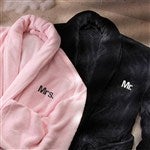 Plush Robes
By
Shopper

(Brookline, MA) - January 2, 2013
My husband and I are moving to a new house so I'm in the process of buying new stuff. I'm tired of towels that cover me halfway. I decided to buy us robes. Overall,Quality is great , the pink and black are nice colors,very plush robes, the engraving is well done Will use them not only after shower but also around the house.The only thing is the shipping for whatever reason took too long not sure why, couldn't track my package etc...Anyways I'm satisfied and will order again from this site.

Very nice
By
Shopper

(Palmdale, CA) - December 30, 2012
Out of all the three items I purchased from Personalized Mall this one was the best. The engraving and quality of the robe was very nice. Wished the other two items measured up to this one.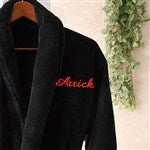 awesome robe
By
Mellanie S.

(Kearny, NJ) - December 29, 2012 (
See all reviews by this customer
)
i got this for my stepfather, its super soft and he loved it!!!!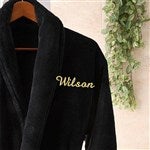 Excellent service and product!
By
Shopper

(lansdale, PA) - December 27, 2012
Nice plush robes and speedy shipping. Will buy again!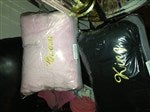 Beautiful!
By
Shopper

(Crete, IL) - December 11, 2012
I got my monies worth, then some.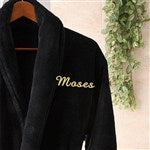 The Perfect Anniversay Gift
By
Chanda O.

(Carlsbad, CA) - November 19, 2012 (
See all reviews by this customer
)
I purchased these for my husband and I as our second year anniversary gift. (Cotton is the traditional 2nd year gift) It also happens that I'm 9 months pregnant and thought these would be nice and cozy for the family to cuddle up in the hospital. They arrived a couple days before the estimated arrival date and they are not only beautiful, but the softest and most luxurious robes I've ever owned. The only thing that I wish is that they had an option for silver embroidery on my husbands, but the gold on black does look very nice. I definitely recommend these and I can't wait to wear mine around the hospital in a few weeks. I'm sure the baby will love it too.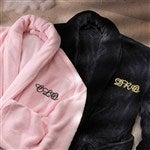 Large Monogram
By
Tuyen N.

(Mobile, AL) - November 16, 2012 (
See all reviews by this customer
)
The monogram was a lot bigger than I expected!!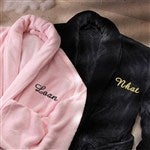 Fast, quality, and reliable
By
Shopper

(South Jordan, UT) - November 9, 2012
The embroidery was flawless, the quality of the robes wonderful, it was fast and shipping reliable. I will use personalizationmall.com many times to come.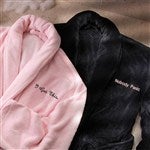 Beautiful & Luxurious
By
Cheryl D.

(Lake Forest, CA) - November 4, 2012 (
See all reviews by this customer
)
When I opened the box I couldn't believe how rich, plush and luxurious the robes looked. They felt so soft. The embroidery was also classy looking and perfect. These are for Christmas gifts and I know my relatives will absolutely love them. This is my second time ordering personalized items and I'm never disappointed. I will be coming back. The ordering process was easy, previewing your item before purchasing is great, and I received my item in less than two weeks. Thanks for a great company and website.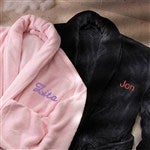 Matching Sweetheart Robes
By
Teri C.

(Houston, TX) - October 23, 2012 (
See all reviews by this customer
)
I purchased these for me and my husband for "Sweetest Day" and I couldn't be more pleased. I own about 15 robes and this is by far the softest I have ever owned. I love the personalization of our names and the shipping was incredibly fast.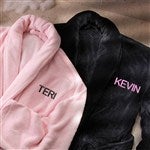 Great unique gift
By
Shopper

(Mason, OH) - October 21, 2012
Very nice and unique gift. loved it!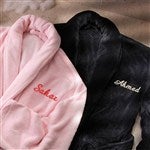 Fabulous Luxury Fleece Robe!
By
Shopper

(Potomac, MD) - September 29, 2012
This Robe is a Fabulous Gift for any occasion! The quality of the material is really thick, soft,& warm, without being too heavy. It is a very well made robe! The embroidery was beautiful addition to make it very personal! I have given this robe as a gift for Birthdays and Graduations, and I have always had compliments how comfortable it is! I finally had to buy one for myself, and its great!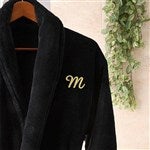 My client loved this gift
By
Tabitha R.

(Owings Mills, MD) - September 10, 2012 (
See all reviews by this customer
)
Bought this item as a closing gift for my clients and they loved it. The quality was good, embroidery was good and it arrived quickly....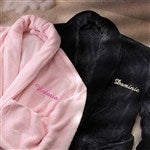 Another Quality Purchase
By
Lee K.

(Canada) - September 5, 2012 (
See all reviews by this customer
)
I absolutely LOVE the embroidered luxury fleece robes. They are exactly what I was hoping for and my daughter and her husband will love them this Christmas! I have always received quality products in a timely manner.

This is my "go to" place for unusual, special, on-of-a-kind gifts!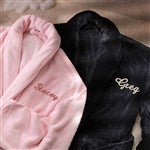 Exceeds expectations
By
Shopper

(salem, MA) - July 8, 2012
Excellent quality, fast shipment, beautiful craftsmenship.

Very Soft
By
Betty M.

(Cherokee, AL) - June 18, 2012 (
See all reviews by this customer
)
I bought this for a young couples 2nd anniversary. It was well received. So soft, nice deep pockets.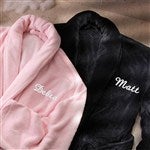 Great product :)
By
Marta S.

(Irvine, CA) - May 23, 2012 (
See all reviews by this customer
)
I offered this set to my parents, they loved it! :)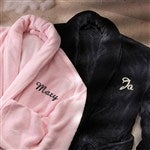 MY SISTER WAS ALMOST SPEECHLESS!
By
LINDA M L.

(willsboro, NY) - May 18, 2012 (
See all reviews by this customer
)
Sent this set to my sister and brother-in-law for their 12th anniversary. She called after receiving and said it was just so wonderful and they were so luxurious and they don't have robes, so it was also a perfect gift. Also advised they fit perfectly. Thanks for the perfect present.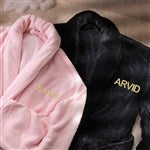 Beautiful bathrobes
By
Virginia G.

(Clinton Twp. , MI) - May 6, 2012 (
See all reviews by this customer
)
The bathrobes and inscriptions were beautiful. It was one of the shower gifts for their wedding. Very nice quality and very speedy delivery.

Thank you so much.

Virginia G.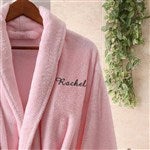 Far to big
By
Shopper

(Plant City, FL) - May 6, 2012
I was soo disapointed with this robe.It IS lovely & soft,but it would fit a 300 pound man with room to spare. The sleeves are sooo huge.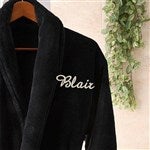 Best Wedding gift!!!
By
Shopper

(Garfield, NJ) - February 20, 2012
I gave the robed as a wedding.gift to my cousin and her.husband, which they both absolutely love and stated that the robes were so.comfortable and was the best gift they both received!!! Thanks,.also the delivery.was.perfect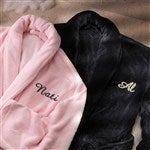 Monogram Robes
By
Deborah T.

(Lima , OH) - February 14, 2012 (
See all reviews by this customer
)
I bought the Set of 2 Embroidered Luxury Fleece Robes to give to my husband& myself for Valentines Day. My husband usually doesn't say much but he really loved the Monogram letter on it for his robe He said the quality was really nice. I Love Mine as well! I don't want to take it off. It is so soft & luxurious! The Robe is of the best quality. You couldnt go wrong with this Robe.. The stitching is flawless. I will be shopping more on Personalizationmall.com Love your prices & Love your product lines!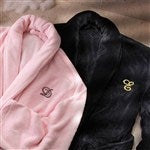 Nightmare after wash
By
Zhengyu M.

(New York, NY) - February 13, 2012 (
See all reviews by this customer
)
After machine wash the robe is just a nightmare, all furs become hard and rollup in small fur balls. Just a nightmare.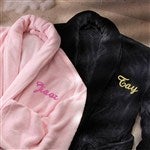 SUPER SOFT
By
Shopper

(Bakersfield, CA) - February 13, 2012
I bought this for my husband for valentines day and the embroidery turned out great. I definitely recommend this robe!!!!!