Awesome
By
Jason L.

(Minneapolis, MN) - December 30, 2013 (
See all reviews by this customer
)
My wife loves her new robe, the material and the personalization of it.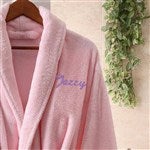 Nice Robe
By
William N.

(Canton, IL) - December 30, 2013 (
See all reviews by this customer
)
The robes are nice and soft
with the lettering well done.
My only complaint is that after ordering 10 robes for offspring and spouses I ordered one for my wife at a later date.
I made the mistake of having it gift wrapped so she would not see it , But the gift box has the company name plastered on it. I wish now I had not wasted my money on the gift wrap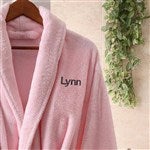 LOVE it!
By
Soriena C.

(Clarksville, TN) - December 27, 2013 (
See all reviews by this customer
)
I bought this robe as a gift for my husband for Christmas. We both love it and he looks great in it!! I'll be ordering another soon for myself.

White Embroidery
By
Shopper

(Largo, FL) - December 25, 2013
The robe is great and my sister loved it. The only comment I would make and it is more of a caution. The white embroidery on the light pink robe is hard to see. This is not a knock on PM it is just an observation, and the embroidery color was my choice. Again the robe is great!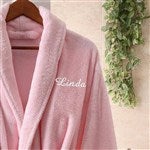 Super soft and comfy
By
Shopper

(Pocahontas, IA) - December 2, 2013
Great quality product. I've been happy with every product I've ordered from here. The robes are soft, comfy, and have beautiful embroidery. Worth the money!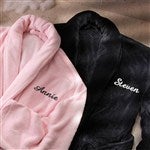 fleece robe set pink and black
By
Becky B.

(Bull Valley, IL) - October 22, 2013 (
See all reviews by this customer
)
Well again I have ordered these for a wedding gift and they absolutely love them. I also purchased a wedding card to go along with the gift and it is so great because you are able to personalize.. Way to Cute!!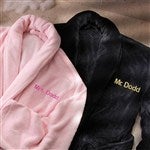 Great Anniversary Gift
By
Shopper

(Mcdonough, GA) - October 21, 2013
My husband really like the robe. The fleece felt really nice. He thought the embroidery of his name was really cool! I might purchase me one to match, as well. Only note is that it can not be worn year around. A little too hot for the summer.

These products are gifts
By
Belinda G.

(Woodbridge, VA) - September 30, 2013 (
See all reviews by this customer
)
Nice and work done quickly

Even my husband said, "wow!"
By
Jessica T.

(Greendale, IN) - September 20, 2013 (
See all reviews by this customer
)
Lovely, I had been looking at many websites and couldn't quite find two with the "it," factor. I was super excited when I found them, since it is a his and her set. I was a little bit worried when I got them and it said onesize for both males and females. (My husband is a XL). But when he tried it on he loved everything about it. This coming from a prior Eagle Scout, who loves to rough it outdoors. I loved the fact that I could personalize them, even with different writing styles. When they arrived it was better than I thought. When they say fleece they mean comfortable, warming, and luxurious to put on and live in. I am glad I found this purchase and look forward to buying more from Personalzation Mall.com in the future.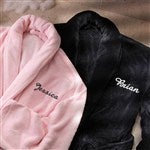 Great gift!!
By
IRINA F D.

(Boston, MA) - September 14, 2013 (
See all reviews by this customer
)
Strongly recommend it!

Fleece Robes
By
Shopper

(Keswick, VA) - July 28, 2013
The robes are wonderful- much softer than I thought. The embroidery I ordered was perfect and looked very pretty.

luxury fleece Robe
By
Becky B.

(Bull Valley, IL) - July 22, 2013 (
See all reviews by this customer
)
I have purchased at least 15 of these robes for gifts... I am so happy with them that I continue to purchase them for gifts.. They are "Excellent" and so warm and comfortable... You will not be disappointed with these I have never been! Personalization does a wonderful job and I love the feature that you can view what they may look like prior to you submitting your purchase... 5 Stars for Sure and worth EVERY PENNY !!!! This particular robe was purchase for a very good friend of mine that is having a 70th Birthday!!!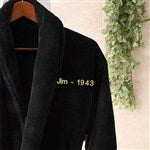 Great Quality
By
Shopper

(flushing, NY) - July 6, 2013
Excellent Quality. Great Product.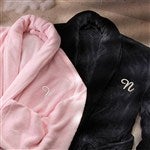 My grandmother loved it
By
Shopper

(New York, NY) - March 31, 2013
She loved the quality of the fabric and the feel of the material. It was her 87th birthday and I think I out did my other relatives in getting something that she loves.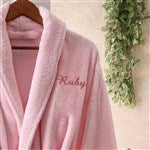 Embroidered Luxury Fleece Robe
By
Shopper

(CLERMONT, FL) - March 25, 2013
The softness an the quality of the materials used really got an eye on my. Absolutely surpass my expectations. Now I looking forward to make my own one.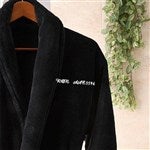 Awesome
By
Shopper

(San diego, CA) - March 9, 2013
the material is very silky and soft
i liked it so much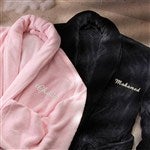 Wedding shower gift
By
MONIQUE L.

(AURORA, CO) - March 5, 2013 (
See all reviews by this customer
)
The quality of these robes are just outstanding and the embroidery added a awesome richness. I purchased these robes for my brother and his fiance who absolutely loved them!!! Thank you for providing such an exceptional product.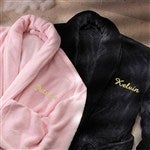 Awesome
By
Shopper

(RIVERSIDE, CA) - February 24, 2013
Great robes great quality. Very pleased!

My Wife loved it!
By
Shopper

(Phoenix, VA) - February 19, 2013
I bought this as a Valentines gift for my and she loved it. I initially was a little concerned about size because my wife is a plus size woman but it fit perfectly! Came right on time for Valentines day too. Couldn't be more pleased.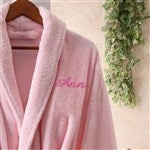 Excellent product
By
Teri L R.

(Arlington, TX) - February 14, 2013 (
See all reviews by this customer
)
Item is exactly as I expected. Good quality material and lightning-fast service!!!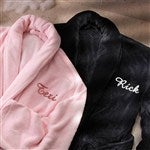 Retirement Gift
By
Constance B.

(Bladensburg, MD) - February 13, 2013 (
See all reviews by this customer
)
I gave the robes to my co-workers as a retirement gift and they loved it. They said they're so soft an comfortable. And the price was so reasonable, I will definitely be ordering this item again as well as other items from this website.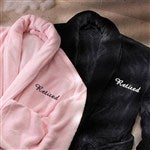 bridal shower hit
By
Cathryn T.

(Carmel, NY) - January 15, 2013 (
See all reviews by this customer
)
Purchased for my daughters bridal shower."Groom to be" was there and slipped robe on to model ! He is a tall man 6" 2", 180 lbs. Room to spare both in height and width. My daughter is 5'8'' 160 lbs. and she wrapped robe around herself with room to spare. Fell mid-calf on her. Haven't been washed yet, the fabric is soft as silk. A big hit! a good value for the price.
Shipped in time promised. Cathryn T.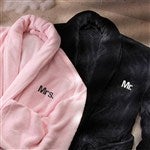 Husband Loves It!
By
Sonya B.

(Spring, TX) - January 4, 2013 (
See all reviews by this customer
)
My husband loves this robe! I purchased this as a gift for Christmas and I am so happy I did. He wears it faithfully and I enjoy seeing him putting it on first thing in the morning and first thing after a hot shower and a hard days work. I like the robe so much that I plan to by my "Pops" one for his birthday! This was a great buy!

Very nice
By
Shopper

(Palmdale, CA) - December 30, 2012
Out of all the three items I purchased from Personalized Mall this one was the best. The engraving and quality of the robe was very nice. Wished the other two items measured up to this one.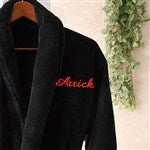 awesome robe
By
Mellanie S.

(Kearny, NJ) - December 29, 2012 (
See all reviews by this customer
)
i got this for my stepfather, its super soft and he loved it!!!!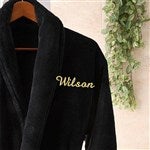 Excellent service and product!
By
Shopper

(lansdale, PA) - December 27, 2012
Nice plush robes and speedy shipping. Will buy again!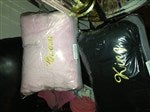 Beautiful!
By
Shopper

(Crete, IL) - December 11, 2012
I got my monies worth, then some.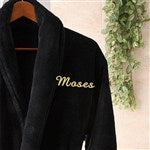 luxury
By
Shopper

(Ironton, OH) - November 27, 2012
soft snuggly perfect

The Perfect Anniversay Gift
By
Chanda O.

(Carlsbad, CA) - November 19, 2012 (
See all reviews by this customer
)
I purchased these for my husband and I as our second year anniversary gift. (Cotton is the traditional 2nd year gift) It also happens that I'm 9 months pregnant and thought these would be nice and cozy for the family to cuddle up in the hospital. They arrived a couple days before the estimated arrival date and they are not only beautiful, but the softest and most luxurious robes I've ever owned. The only thing that I wish is that they had an option for silver embroidery on my husbands, but the gold on black does look very nice. I definitely recommend these and I can't wait to wear mine around the hospital in a few weeks. I'm sure the baby will love it too.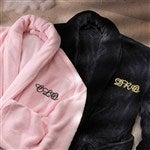 Beautiful!!!
By
Shopper

(El Paso, TX) - November 19, 2012
I bought this gift for a Xmas present and it is better than I expected! The material is so soft and embroidery looks amazing. I will b ordering one for myself soon :)

Totally Yummy robes
By
Jerrold H.

(San Jose, CA) - November 12, 2012 (
See all reviews by this customer
)
I bought two robes, one for my brother and one for my sister-in-law, as their birthdays are just 2 weeks apart. I used their monogram initials instead of embroidered names. The monogram was bigger than I expected, but was still executed very nicely. I originally thought the gift was out-shined by a pair of Waterford crystal champagne flutes given as another present. However, 3 weeks later, my bro and sis tell me they are in the robes EVERY day, and the glasses are sitting in the dining room cabinet. They say the robes make them feel like they are wrapped in clouds. Scored a big hit with these yummy robes!

Fast, quality, and reliable
By
Shopper

(South Jordan, UT) - November 9, 2012
The embroidery was flawless, the quality of the robes wonderful, it was fast and shipping reliable. I will use personalizationmall.com many times to come.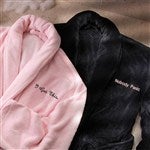 Beautiful & Luxurious
By
Cheryl D.

(Lake Forest, CA) - November 4, 2012 (
See all reviews by this customer
)
When I opened the box I couldn't believe how rich, plush and luxurious the robes looked. They felt so soft. The embroidery was also classy looking and perfect. These are for Christmas gifts and I know my relatives will absolutely love them. This is my second time ordering personalized items and I'm never disappointed. I will be coming back. The ordering process was easy, previewing your item before purchasing is great, and I received my item in less than two weeks. Thanks for a great company and website.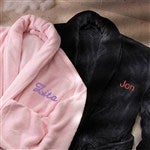 Matching Sweetheart Robes
By
Teri C.

(Houston, TX) - October 23, 2012 (
See all reviews by this customer
)
I purchased these for me and my husband for "Sweetest Day" and I couldn't be more pleased. I own about 15 robes and this is by far the softest I have ever owned. I love the personalization of our names and the shipping was incredibly fast.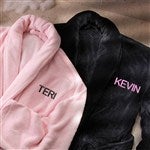 Great unique gift
By
Shopper

(Mason, OH) - October 21, 2012
Very nice and unique gift. loved it!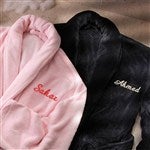 Anniversary Gift
By
Shopper

(Belleville, MI) - October 16, 2012
I bought these as a gift for my cousins 10 year anniversary. PM had fast turnaround time, and the embroidery looked really good. The robes were nice, big, and super soft. My cousins really liked the gift! Very pleased with the purchase.

Fabulous Luxury Fleece Robe!
By
Shopper

(Potomac, MD) - September 29, 2012
This Robe is a Fabulous Gift for any occasion! The quality of the material is really thick, soft,& warm, without being too heavy. It is a very well made robe! The embroidery was beautiful addition to make it very personal! I have given this robe as a gift for Birthdays and Graduations, and I have always had compliments how comfortable it is! I finally had to buy one for myself, and its great!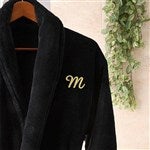 My client loved this gift
By
Tabitha R.

(Owings Mills, MD) - September 10, 2012 (
See all reviews by this customer
)
Bought this item as a closing gift for my clients and they loved it. The quality was good, embroidery was good and it arrived quickly....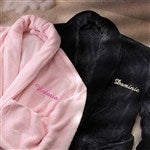 Another Quality Purchase
By
Lee K.

(Canada) - September 5, 2012 (
See all reviews by this customer
)
I absolutely LOVE the embroidered luxury fleece robes. They are exactly what I was hoping for and my daughter and her husband will love them this Christmas! I have always received quality products in a timely manner.

This is my "go to" place for unusual, special, on-of-a-kind gifts!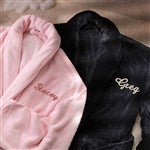 Black robe for hubby
By
M F.

(Atlanta, GA) - August 14, 2012 (
See all reviews by this customer
)
Very nice gift