Gift for Hubby
By
Di'Onne A.

(Slidell, LA) - February 19, 2011 (
See all reviews by this customer
)
I was pleased with the softness of the robe as well as the embroidery. My husband loves it b/c it's long enough & it's plush. I think I want me one now, I probably should have ordered the set

big and fluffy
By
Shopper

(Northport, NY) - February 7, 2011
I got the set of two robes as a present for my boyfriend.He hasn't seen it yet. The robe which supposed to be for me is definitely too big. I'm 5`2 and 113, so it's not wonder.
Very soft and nice looking. Probably too hot for the Summer time though. For winter is perfect.
Hope you'll enjoy it!

Good Value
By
Shopper

(Decatur, AL) - January 5, 2011
Good value for the price, actually a little better than local retail for the money. Monograms were really nice and the gift was a hit! Size was true.

No complaints
By
Binu D.

(Elmont, NY) - December 20, 2010 (
See all reviews by this customer
)
I ordered a set of Embroidered personalized Luxury Fleece Robes and they are as good as I thought they would be. The personalization came out very good with no errors on the spelling or color of thread. Item was as stated in the description and feels very soft. The deal was very good also. I searched on several websites and this price of $95.00 was the best. Great gift item for the couple. My wife loved it!

Embroidered Robe
By
Wayne Z.

(Anamosa, IA) - September 14, 2010 (
See all reviews by this customer
)
Very nice, embroidery is exactly what I wanted. Recieved the robe within 1 week.

Personalized Robes reivw
By
Peg D.

(Pensacola, FL) - July 20, 2010 (
See all reviews by this customer
)
Robes were for friend's 40th anniversary - as they use robes on cruises, lazy Sundays and the like...they were quite cute and personalized nicely....only comment I'd make is wider selection of type of robes would be nice...lighter weight..white for both male/female and black for both as well. Quickly done and shipped...

Lov'em
By
nicole B.

(newark, OH) - July 9, 2010 (
See all reviews by this customer
)
I bought these for our upcomming wedding and they are gorgeous! The only thing I would change is, I wish they were longer an more roomy.(we are both very tall) They got here very promptly! I am very satisfied and will return for future purchases!

Very Pleased
By
Melissa B.

(Mansfield Center, CT, CT) - April 29, 2010 (
See all reviews by this customer
)
These robes are very nice! I did have a problem with the embroidery on one of my robes. I contacted the customer service department and had to issue resolved very quickly. This is going to be a wonderful gift. I recommend this product.

Fleece Robes
By
Elizabeth P.

(Rochester, NY) - March 5, 2010 (
See all reviews by this customer
)
Bought these robes as a wedding gift for my daughter and her future husband. Their wedding is in a black and pink theme and these of course were perfect! The quality of the robes and embroidery were excellent. Shipping was very quick!! I look forward to buyiny future personalized items!

Cosy & Warm
By
Theresa C.

(Shelton , CT) - February 12, 2010 (
See all reviews by this customer
)
Good Material and Timing was great. I will use this site again in the future.

Big and tall, please.
By
Lisa M T.

(FPO, AP) - December 25, 2009 (
See all reviews by this customer
)
My sister reports that the robes are well made and very soft. Wtihout size information I was worried about the fit of the robes when I ordered them. My sister is of average height and weight (5'4", 130-150 lbs.)and she reports that the size of the robe is still very roomy for her. My future brother in law is very tall (6'4" or so with an average build), so even though the robe fits well across his shoulders the sleeves are a bit short . I would have gladly paid a bit extra for a big/tall version of the men's robe.

Very Cozy Robes
By
Kerry W.

(Downers Grove, IL) - December 17, 2009 (
See all reviews by this customer
)
I purchased several sets of these robes for Christmas presents and they are really lovely. I'm very satisfied with this purchase. Top quality fabric, warm and very soft without being bulky. Delivery was fast for being a personalized order.

Nice Robe
By
Lizet O.

(Chicago, IL) - December 9, 2009 (
See all reviews by this customer
)
It's a very nice robe, only I expected it to be a bit thicker for the price. But other than that, no complaints. Still feels and looks like good quality.

Nice robes but...
By
Margo J.

(Lansing, IL) - October 16, 2009 (
See all reviews by this customer
)
The robes are very nice. I bought the set for my husband and myself as a sweetest day gift. I am a little disappointed with the quality however. The fleece sheds on everything. Other than that, the delivery was fast.

SIZE THE MENS ROBES INSTEAD OF ONE SIZE FIT ALL
By
Shalva C.

(BRONX, NY) - October 2, 2009 (
See all reviews by this customer
)
ON THE MALE ROBE THE SLEEVES ARENT LONG ENOUGH BECAUSE OF THE FOLD AND THE LENGTH OF THE ROBE IS SHORT FOR A ONE SIZE FIT ALL. IT IS NOT SUITABLE FOR A 6FT+ MAN ESPECIALLY ON THE ARM LENTH,THIS TYPE OF ROBE IS A COMFORT ROBE WHICH SHOULD REACH AT LEAST YOUR CALF, NOT YOUR KNEE. I RECOMEND ON THE VARIOUS SIZES OF MEN THAT IT SHOULD COME IN SIZES FROM SMALL -XXL TO SIUTE THE MEN. THE WOMANS ROBE IS FINE MOST WOMAN ARE AVERAGE WHETHER SLIM OR THICK AND THE SLEEVES ON THE WOMAN ARE NOT STITCHED INTO A FOLD SO ITS FINE.

Eh
Received his and hers robes as a bridal shower present back in November. Loved how my pink robe looked, and wore it for the first time the morning of my wedding. Wore it approximately 5 times after that, and 3 of the loops (there's double loops on each side for the tie) have completely detached. It's just poor quality, unfortunately.

nice embroidery, but not as plush..
By
Sue Z.

(Caldwell, NJ) - December 12, 2011 (
See all reviews by this customer
)
I was expecting a plush robe based on the other reviews, but the fleece is pretty standard quality (think 15 dollar fleece throw from Target). It's still a nice gift since the embroidery was done very professionally, but it's not as luxurious of a gift as I was expecting. The robes were going to be intended as a solo gift for xmas, but now that I've seen the quality I'm going to get another gift to go with it. Bottom line: these robes do not look/feel their cost (they look cheap). As a standard, every-day gift these robes would be perfect, but for a special occasion or for important people, I would look elsewhere.

Difficult to read embroidery on fleece.
By
Shopper

(Golden Valley, MN) - June 17, 2011
The robes are nice and very soft but that is the problem. The embroidery has fleece all around it covering up the letters because of the plushness of the robe. Wish I would have ordered another fabric.

Nice robe but check sizing
By
Karen S.

(East Brunswick, NJ) - August 17, 2010 (
See all reviews by this customer
)
Both robes are soft and nicely personalized but the pink robe runs small- fits only a size 14/16 woman. The black robe is very generously sized for even an XL guy.

pretty robes
By
Roseann T.

(derwood, MD) - October 8, 2009 (
See all reviews by this customer
)
I had purchased these for clients that had just purchased a home from me. I thought it was a cute idea now that they had their own master suite, etc. The robes were pretty but not a plush as I would have liked.

Robe
By
Shopper

(pearland, TX) - February 23, 2013
Overall unhappy with this purchase! It sheds black fuzz everywhere! It was a pricey robe and I expected much more!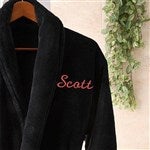 Sized smaller than identified
By
Cassandry K.

(Richmond, CA) - February 21, 2013 (
See all reviews by this customer
)
The robe is smaller than advertised. It is made for men size 40-42 chest. Since it was a gift the recipient was grateful for the gesture but I am so dissatisfied.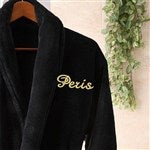 very dissapointed with the pink one
By
Shopper

(fort walton beach, FL) - February 26, 2011
i was very dissapointed when i got my robes. the black one for my husband was good because my husband is tall so the size was good. but the pink one for me it was really big. im 5'0 and skinny. i could it have fit three girls my size in it at the same time.

A little disappointed
By
Neidra H.

(san diego, CA) - November 21, 2009 (
See all reviews by this customer
)
I got the black robe for my husband's birthday. The robe feels very nice. It has a very soft feel to it. I was unhappy with the fact that the sleeves were very short. I'm 5 foot 2 inch and the sleeves were short on me and my husband is almost 6 feet 2 inch so I know it will be short on him. I tried to return it but once the product has been engraved or personalized you can't return it so I will give it to him when he returns from deployment and hope he doesn't mind the sleeves being to short. In my opinion if you order something make sure your satisfied before personalizing it that way you might be able to return the product if your not happy otherwise your going to get shorted, (Literally)...

Far to big
By
Shopper

(Plant City, FL) - May 6, 2012
I was soo disapointed with this robe.It IS lovely & soft,but it would fit a 300 pound man with room to spare. The sleeves are sooo huge.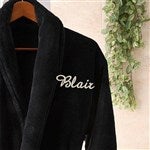 Nightmare after wash
By
Zhengyu M.

(New York, NY) - February 13, 2012 (
See all reviews by this customer
)
After machine wash the robe is just a nightmare, all furs become hard and rollup in small fur balls. Just a nightmare.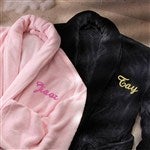 OVER PRICED
By
Shopper

(New Canaan, CT) - February 1, 2012
The robes are beautiful because they are monogramed but other than that, they can be found anywhere and for better value.

Lettering
By
Karen O.

(Newton, IA) - December 7, 2009 (
See all reviews by this customer
)
The lettering was crooked and not evenly spaced.