nice embroidery, but not as plush..
By
Sue Z.

(Caldwell, NJ) - December 12, 2011 (
See all reviews by this customer
)
I was expecting a plush robe based on the other reviews, but the fleece is pretty standard quality (think 15 dollar fleece throw from Target). It's still a nice gift since the embroidery was done very professionally, but it's not as luxurious of a gift as I was expecting. The robes were going to be intended as a solo gift for xmas, but now that I've seen the quality I'm going to get another gift to go with it. Bottom line: these robes do not look/feel their cost (they look cheap). As a standard, every-day gift these robes would be perfect, but for a special occasion or for important people, I would look elsewhere.

Difficult to read embroidery on fleece.
By
Shopper

(Golden Valley, MN) - June 17, 2011
The robes are nice and very soft but that is the problem. The embroidery has fleece all around it covering up the letters because of the plushness of the robe. Wish I would have ordered another fabric.

Nice robe but check sizing
By
Karen S.

(East Brunswick, NJ) - August 17, 2010 (
See all reviews by this customer
)
Both robes are soft and nicely personalized but the pink robe runs small- fits only a size 14/16 woman. The black robe is very generously sized for even an XL guy.

pretty robes
By
Roseann T.

(derwood, MD) - October 8, 2009 (
See all reviews by this customer
)
I had purchased these for clients that had just purchased a home from me. I thought it was a cute idea now that they had their own master suite, etc. The robes were pretty but not a plush as I would have liked.

Robe
By
Shopper

(pearland, TX) - February 23, 2013
Overall unhappy with this purchase! It sheds black fuzz everywhere! It was a pricey robe and I expected much more!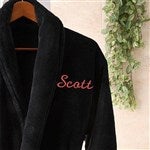 Sized smaller than identified
By
Cassandry K.

(Richmond, CA) - February 21, 2013 (
See all reviews by this customer
)
The robe is smaller than advertised. It is made for men size 40-42 chest. Since it was a gift the recipient was grateful for the gesture but I am so dissatisfied.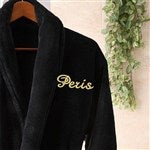 very dissapointed with the pink one
By
Shopper

(fort walton beach, FL) - February 26, 2011
i was very dissapointed when i got my robes. the black one for my husband was good because my husband is tall so the size was good. but the pink one for me it was really big. im 5'0 and skinny. i could it have fit three girls my size in it at the same time.

A little disappointed
By
Neidra H.

(san diego, CA) - November 21, 2009 (
See all reviews by this customer
)
I got the black robe for my husband's birthday. The robe feels very nice. It has a very soft feel to it. I was unhappy with the fact that the sleeves were very short. I'm 5 foot 2 inch and the sleeves were short on me and my husband is almost 6 feet 2 inch so I know it will be short on him. I tried to return it but once the product has been engraved or personalized you can't return it so I will give it to him when he returns from deployment and hope he doesn't mind the sleeves being to short. In my opinion if you order something make sure your satisfied before personalizing it that way you might be able to return the product if your not happy otherwise your going to get shorted, (Literally)...

Far to big
By
Shopper

(Plant City, FL) - May 6, 2012
I was soo disapointed with this robe.It IS lovely & soft,but it would fit a 300 pound man with room to spare. The sleeves are sooo huge.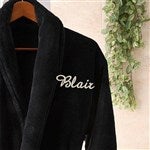 Nightmare after wash
By
Zhengyu M.

(New York, NY) - February 13, 2012 (
See all reviews by this customer
)
After machine wash the robe is just a nightmare, all furs become hard and rollup in small fur balls. Just a nightmare.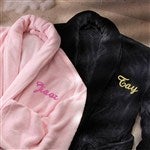 OVER PRICED
By
Shopper

(New Canaan, CT) - February 1, 2012
The robes are beautiful because they are monogramed but other than that, they can be found anywhere and for better value.

Lettering
By
Karen O.

(Newton, IA) - December 7, 2009 (
See all reviews by this customer
)
The lettering was crooked and not evenly spaced.