Ties with pictures
By
Elizabeth J R.

(Severna Park, MD) - April 12, 2014 (
See all reviews by this customer
)
I loved the quality of the tie and the pictures on it turned out beautifully. The recipient of the tie is delighted with it and can't wait to wear it.

Grandmother
By
Shopper

(Cleveland, TN) - April 7, 2014
Bought one of these ties with my granddaughter's picture on it......gave it to my son.......HE LOVED IT! Great and quick service too! Will order more.

Love it
By
Shopper

(North Potomac, MD) - March 30, 2014
Easy to order and came out exactly as I wanted.

Great gift!
By
Shopper

(brentwood, TN) - March 1, 2014
I gave this as a gift to my father for his birthday. He loves it !

Love my dog!
By
Shopper

(Westampton, NJ) - February 23, 2014
Personalize a tie with a photo of your favorite pet!!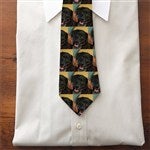 Great quality
By
Lisa S.

(Billings, MT) - February 14, 2014 (
See all reviews by this customer
)
This is an awesome tie. The picture is printed on the front and the back is white (just as an fyi). I got it for my husband for his birthday with our latest family picture on it and he LOVED it. And he got lots of complements at work.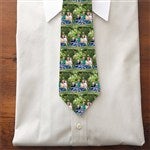 AWESOME
By
Jacqueline J.

(parma heights, OH) - February 11, 2014 (
See all reviews by this customer
)
I bought this for my husband for valentines day and it is great! It really is a normal tie and the quality is just awesome!

Fine material
By
Bradford B.

(Mesa, AZ) - February 6, 2014 (
See all reviews by this customer
)
Got two sets, one for my son and one for myself. Excellent reproduction of the picture and fine material.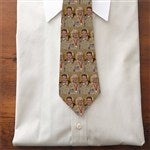 Awesome
By
Shopper

(Wellington , FL) - February 4, 2014
This is absolutely beautiful. You can put any picture and it will look great. My husband loved it!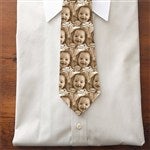 Amazing!!!!!!!!!!!!!!!!!!
By
Shopper

(Bartonville, IL) - January 3, 2014
I'm generally skeptical of gifts like this on the web. However, this tie was brilliantly done! It arrived 3 days sooner than expected as well. The photo was as clear as the one I submitted and the material is not cheap by any means. I am a repeat customer and will continue to do business with the P-mall!

Awesome photo collage personalized ties
By
Kim S.

(Spokane, WA) - December 30, 2013 (
See all reviews by this customer
)
The photo collage of our three precious daughters placed on a tie brought tears of joy to my husband's eyes...especially since our darling youngest daughter went to heaven 6 1/2 years ago. What a treasured gift! Thanks for creating such a quality product and shipping so promptly. Wishing you continued success!

Wonderful gift for the parent or grandparent
By
Denise G.

(New Bern, NC) - December 23, 2013 (
See all reviews by this customer
)
I purchased this tie for a Christmas gift for my boss, with a picture of he and his granddaughter playing. It came out great, and he loved it! I was surprised at the quality of the tie - it was great! I would highly recommend this as a gift for a new grandfather or a new father. Great idea!

Baby tie
By
Cindy B.

(Decatur, AL) - December 20, 2013 (
See all reviews by this customer
)
I had a tie made for my son in law. I used a picture of his newborn baby. This turned out to be so much better than what I expected. It is absolutely adorable. The fabric was nice and the quality better than what I anticipated. I would recommend this for everyone.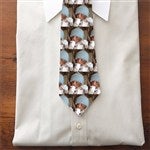 beautiful tie
By
KALI M.

(CARLISLE, PA) - December 19, 2013 (
See all reviews by this customer
)
I get my husband a photo tie every year for Christmas and Fathers Day,these ties are great quality and make great memories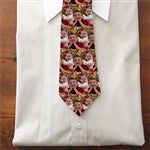 The Perfect Tie
By
Shopper

(Elgin, SC) - December 18, 2013
Fantastic Tie. I have never downloaded a picture to put on a piece of clothing. The process was very easy and the product was ABSOLUTELY PERFECT. When my brother opened the tie with his grandson on it, he laughed and cried at the same time--he said he will cherish it forever.

great gift for dad
By
Shopper

(San Antonio, TX) - December 17, 2013
This is the third tie that I've ordered for my dad and he loves them all!!! Never disappointed by the finished product.

Surprised by the Quality
By
Shopper

(Payson, AZ) - December 16, 2013
This is a great tie and a great gift for my son in law. I am very pleased with the quality and will make for a great conversation piece!

Christmas Smiles!
By
Sherry G.

(Leominster, MA) - December 16, 2013 (
See all reviews by this customer
)
I ordered the tie for my uncle for Christmas...my son is his "little buddy" and they are inseperable! So, he asked for a tie for Christmas, thinking he would get a tie with my son's handprints on it...won't he be in for a surprise?!? We are planning on putting the tie on my son and surprising him! He's only 2 1/2, so it will be quite a sight! The tie looks amazing and got here in no time! I look forward to making more projects with you! It was so easy to do! Thank you so much for helping me make many Christmas smiles come to life!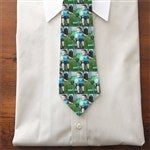 Absolutely perfect!
By
Shopper

(Greenwell Springs, LA) - December 16, 2013
The tie looks awesome! Even better than it did on the screen. My Dad is going to love it!

Photo collage tie
By
Shopper

(Saint James, MO) - December 15, 2013
The tie arrived quickly. It was far better than I expected. It is a unique and perfect gift.

Cute Daddy Gift
By
Mary C B.

(Hollidaysburg, PA) - December 15, 2013 (
See all reviews by this customer
)
The company did a nice job with the photo and the tie looks great.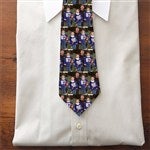 Fabulous gift
By
Thelma C.

(San Diego, CA) - December 13, 2013 (
See all reviews by this customer
)
I get my dad a new photo tie every xmas. He gets so many compliments and asking where he got it. Great gift for grandpa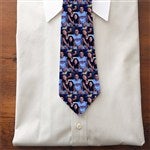 Exactly what I wanted
By
Vivien B.

(Durham , NC) - December 11, 2013 (
See all reviews by this customer
)
I opened the box today to check out my brothers Christmas gift. It looks exactly like I imagined it would. Sometimes you order something and receive another but you did not let me down. It was exactly what I wanted! Thank you!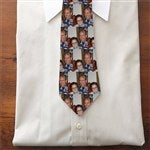 Better than Expected
By
Shopper

(smyrna, TN) - December 10, 2013
It looks great the picture is clear and the tie has a shinny silky material just like a tie you would pay big bucks for...I was suprised...standard shipping was fast as well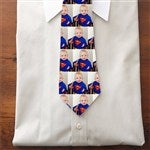 Awesome!!
By
Shopper

(Alexandria, VA) - October 25, 2013
The tie turned out amazing. Lots of compliments & friends wanted to know where we got this unique gift. Would highly recommend.

so cute
By
Shopper

(Baltimore, MD) - October 14, 2013
My friends dog, my "grand dog" is nearing the end of her life so I thought giving something that will always remind them of her would be great. I got a this tie for her husband and the mouse pad for her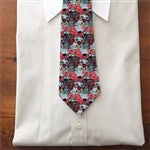 Wonderful tie
By
Doris J.

(Proctorville, OH) - October 1, 2013 (
See all reviews by this customer
)
My husband received many compliments at church on Sunday when he wore his tie of our two granddaughters picture. This is a great idea.

Awesome!
By
Shopper

(Atlanta, GA) - September 30, 2013
At first i was worried this was a legit site, but my Dad's bday was in the next week so I gave it a shot. Not only did the tie come out a perfect fit and with great shipping time, but the material was high quality and the photo as well. Dad loved it. Couldn't have asked for better.

Love it!
By
Shopper

(Morgan Hill, CA) - September 29, 2013
Such a sweet and fun idea!
Grandpa LOVES his new tie!

Excellent gift for the suit and tie man!
By
Shopper

(Las Vegas, NV) - July 20, 2013
Absolutely love it!!! Honestly I was apprehensive. The picture of the finished product looked so amazing but I wasn't fully convinced it would look that great in person! I was wrong! It was even better! Great product! He loved it as well.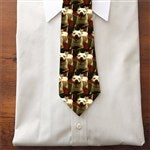 Love this tie!
By
Shopper

(OKLAHOMA CITY, OK) - June 28, 2013
The tie is adorable and daddy wore it for Father's Day and to work the next day.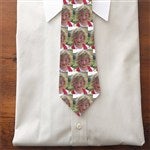 Great Buy
By
Shopper

(Dallas, TX) - June 27, 2013
This was a great buy. The photo was perfect on the tie, my husband just loves it. The price was great and it a day before it was scheduled.

My Husband Loves It
By
Ming Y.

(Dublin , OH) - June 26, 2013 (
See all reviews by this customer
)
It was for Father's Day gift. It arrived just like eye blink after ordering. And it looks even better than web sample. The tie quality is sooo good, beyond my expectation, could not be better. I am totally satisfied. I truly love their creative and unique ideas for personalized items. Will order more in future for sure.

I used a black background photo. It looks more standout and better looking than web sample in white background.

I introduced this web site to my friends, even share this site with friends in China. They all love their products. My nephew in China wants to wear his girlfriend photo tie for proposal.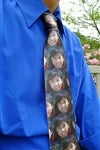 Great quality photo tie!
By
Shopper

(Fayetteville, NY) - June 26, 2013
I was worried about how it would look since the original photo was a little blurry due to being very zoomed in but the quality was great. Gave these as Father's Day gifts for dad and grandpa, who loved them!

Great choice
By
Tanya R.

(Corona, CA) - June 23, 2013 (
See all reviews by this customer
)
I ordered one for my dad and one for my husband and they both loved it! My husband wore it to a family dinner and it was a hit with everyone !

AWESOME!!
By
Shopper

(Calumet, MI) - June 22, 2013
This was a great fathers day present for a first time dad who was still in the first week glory of being a dad. Tie was even more than I expected. Very satisfied!

Perfect!
By
Shopper

(Santa Maria, CA) - June 20, 2013
Delivery on time and awesome products! Love it!

Great gift idea!
By
Cynthia G.

(Floresville, TX) - June 20, 2013 (
See all reviews by this customer
)
Loved the clarity of the tie, fabric was really nice. I have ordered a tie like this years ago and was also very happy with that item. Would definitely recommend it.

Personalized Men's Tie
By
Jacquelyn C.

(Winston-Salem, NC) - June 20, 2013 (
See all reviews by this customer
)
O! MY HUSBAND JUST LOVE IT AND SO DO I, MY BROTHER-IN-LAW JUST LOST HIS WIFE WHOM WAS BATTLING CANCER. AND I HAD HIM ONE MADE WITH THEIR WEDDING PICTURE, EVERYBODY JUST LOVE IT AND SO DID HE!!!!! BEST SIGHT EVERY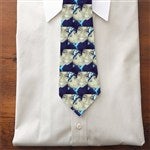 Grandpa loved it!
By
Angela N.

(Rolling Meadows, IL) - June 19, 2013 (
See all reviews by this customer
)
I ordered this item for my stepfather who has four grandchildren, for father's day. He keeps active working a few hours a week at a local grocery store. My mother told me how he takes in pictures of my daughter (8 months) and his other grandchildren to show to his coworkers and customers. He wears a tie as part of his uniform and I thought that this would be a perfect gift for him. He was so pleased with the gift, he told me he choked up a little when he received it in the mail. I can't comment to the quality of the material since I haven't yet seen it in person. All I can say is that his reaction was wonderful and I know he wore it to work his next shift. Definitely a great idea for someone who loves to show off their family! I will probably be buying more as the grandkids age or we add more to the family!