A wonderful gift idea
By
Kimberly F.

(Tecumseh, MI) - November 19, 2011 (
See all reviews by this customer
)
This is a wonderful gift for a person who has everything. I am giving as a Christmas gift and can't wait to hear the reaction to this tie. I had it personalized with a photo of the receivers beloved dog so I know he will love it.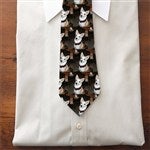 The back of the tie is WHITE!
By
Alan J.

(Maumelle, AR) - November 13, 2011 (
See all reviews by this customer
)
The front of the tie is very nice, but the back is white and really stands out (in a bad way). Wouldn't buy again and wouldn't have bought this one if I had know the back was white. Would be a really nice tie if they made the back with the same pattern or at least the same background color.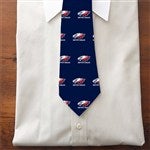 Grandpa' tie
By
Gerald M.

(Bridgeview, IL) - November 4, 2011 (
See all reviews by this customer
)
The engraving on this item did not come out correctly on my original order. I had another one mailed to me and it still was not correct. I just gave up trying to get the engraving correct on this item. I was quite disappointed by this experience. I have ordered numerous personalized gifts from personalizationmall.com and this was the only item they did not get right and i was not satisfied with.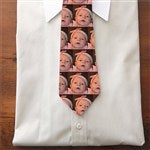 fun tie
By
Stacey H.

(Dayton, OH) - October 31, 2011 (
See all reviews by this customer
)
Ordered two of these last year, one for Daddy, one for Grandpa, with a picture of our twins. It was a huge hit. My husband had started a tradition at his work, called "Fun Tie Thursday", where instead of wearing regular boring ties, they are all supposed to wear something unique and different. This one sure is. Lots of men have asked him where he got it. We've sent them here each time. I have been informed that he now expects a new one each year, with an updated photo...so, will be ordering more this Christmas.

Wonderful
By
Shopper

(Canada) - October 21, 2011
I ordered two of these ties, one in lighter colors and one in darker colors. While they were both great, the darker colors were more vivid and suiting to this item. My husband just loves wearing these at his work, as the school kids get a kick out of seeing his children on his tie and reminding them that they don't lock teachers up in a closet when the school day is completed.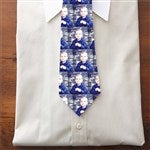 Marketing for Rock Solid Academy
By
Mark D.

(Dallas, PA) - October 16, 2011 (
See all reviews by this customer
)
I purchased this tie to wear as I represent a new Christian School that will be starting in the Dallas, PA area. I used our logo instead of a picture and the tie is absolutely awesome! I did check other online vendors for picture ties, but they would not allow me to see the final product with my logo inserted. Great work PersonalizationMall.com!
Blessings,
Mark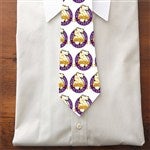 Birthday gift for son-in-law
By
Carlos D.

(San Jose, CA) - October 14, 2011 (
See all reviews by this customer
)
We had a photo of our grandchildren personalized on a tie for our son-in-law. It exceeded our expectation as he was very surprised and thrilled at how it was personalized for him. He wore it to work the next day and received rave reviews by his colleagues.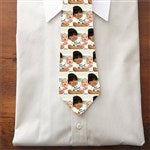 great- hard to upload picture
By
Shopper

(Taftville, CT) - October 8, 2011
it kept telling me the picture was no good and what the measurements had to be to work. and i'd resize it to those measurements and it still wouldn't work! i almost gave up but then a friend somehow figured it out for me. once that was done, it ended up coming out great!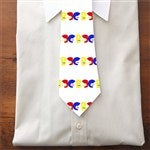 Amazing
By
emilia M.

(bronx, NY) - October 3, 2011 (
See all reviews by this customer
)
This was a hit! Everybody asked me how and where did i do it. Of course i gave them the name of the site. Thanks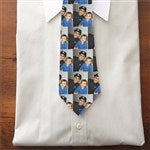 Dad loved it. Color came out well.
By
Fatima C.

(Marion , AL) - September 27, 2011 (
See all reviews by this customer
)
Purchased tie for my fathers birthday. I was out of state and not able to see it, but he said it was beautiful and the color came out really well (something I was concerned about).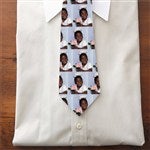 Wonderful Gift
By
John R.

(Austintown, OH) - September 17, 2011 (
See all reviews by this customer
)
We got this tie as a gift for our son. The picture was of his wife and 4 daughters. He absolutely loved it. We were so very impressed by the sharpness of the photo transfer, and of the quality of the fabric itself and the cut of the tie. I highly reccommend this to anyone wanting a unique gift!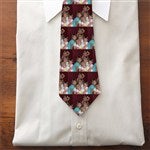 Great Gift!
By
Jeffery H.

(Ramona, CA) - August 16, 2011 (
See all reviews by this customer
)
I ordered this originally for my dad for Fathers Day and used a picture of my daughter (his first grandchild) and he LOVED it. So did my grandfather! So per his request I ordered another one!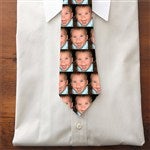 Great gift! Great price!
By
Shopper

(Mazomanie, WI) - August 12, 2011
The tie was great. The colors in the picture were clear and it shipped in a day.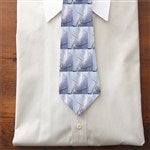 Best tie to have!
By
Stephanie M.

(Yonkers, NY) - June 29, 2011 (
See all reviews by this customer
)
I bought this tie as a Father's Day gift last year for my husband from our newborn daughter, with her picture on it.
I bought another one this year.
It's well made and such a great momento. He adores the gift and is excited to wear it to the office. He gets great compliments on it and is able to show off our little girl too! Highly recommend.
I'll probably buy it again next year - it's becomming a tradition!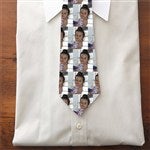 Fabulous Purchase Photo Collage Tie
By
Amy E.

(Travelers Rest, SC) - June 28, 2011 (
See all reviews by this customer
)
I was so excited about this gift for my husband for Father's Day. When it arrived I couldn't wait to check it out. The picture looks great and my husband loves it. He gets lots of compliments when he wears it. I will be purchasing another one in the future.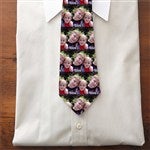 Great Gift
By
Dawn T.

(Midland, TX) - June 28, 2011 (
See all reviews by this customer
)
I got this for my Dad on Father's day and put pictures of his grandkids in it and it was a huge hit. He loved it.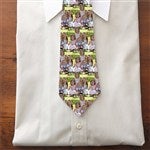 Great Gift
By
Patricia B.

(Carlsbad, CA) - June 27, 2011 (
See all reviews by this customer
)
This gift was a huge hit with my father! He loved it. We went to Fathers Day dinner at Ruth Chris Steak House and my Dad wore it proudly! Thank you so much for such a fun way of celebrating!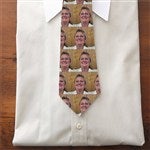 Liked it so much, this is my 3rd!
By
Sonia R.

(Fredericksburg, VA) - June 27, 2011 (
See all reviews by this customer
)
I've used these ties for Father's day the past two years. This year, I used a picture of an ultrasound as a tie, which looks like abstract art for the unassuming eye. Each design/purchase was easy to do. My favorite feature of the page is the simulated finished product you get to review before final purchase. Delivery is very reasonable. I'm sure I'll order it again!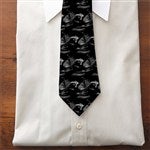 Excellent Quality
By
Tara S.

(Canada) - June 23, 2011 (
See all reviews by this customer
)
Emma's dad now has 3 of these and I plan to order one every year with his daughter's school picture! He has a tie rack started and plans to fill it with these ties. Great quality and fast shipping. Overall service is wonderful!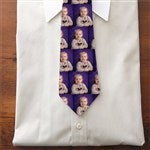 Great gift idea.
By
Shopper

(Salinas, CA) - June 21, 2011
I ordered the collage tie for Father's Day. The tie was a huge hit. My husband got tons of compliments and most wanted to know where they could get one. The website was super easy to use. I was concerned about the photo I wanted to use but the cropping feature worked great. I loved that you showed me the finished product before ordering! Also, super fast service. I think I got my order in less that 5 days.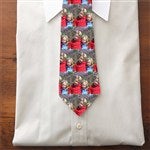 Great Gift Idea
By
Shopper

(La Mesa , CA) - June 18, 2011
I ordered this tie as a gift for fathers day and was so glad I did upon receiving it. This is a wonderful product and the quality of the image and the material of the tie was wonderful. I will definitely be thinking of other occasions when I may give this as a gift.

A timeless treasure
By
Shopper

(Fort Stockton, TX) - June 18, 2011
I purchased this for my boss using a picture of his 6 month old son. The son will grow and change but the tie will forever capture the moment he thought was special enough to take for a photo. The tie looks exactly like the picture I uploaded. Very pleased.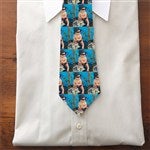 Cute
By
Paula W.

(Fayetteville, TN) - June 17, 2011 (
See all reviews by this customer
)
Love the tie and can't wait to give it to my dad for Father's Day with his grandson's picture on it. Such a cute idea. Wish the tie material itself was of a better quality, but still a nice item.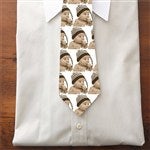 My Ties!
By
Shopper

(Lexington, SC) - June 13, 2011
LOVE the ties I just ordered for Father's Day for my dad, my husband and my father in law - It is a picture of my three daughters from Easter and the colors are so vivid - The quality of the fabric is excellent and I know they are going to enjoy wearing them this summer - The price is right and the service consistent - This is the 5th order I have placed with Personalization.com and each has delivered in a timely manner with email alerts to me during the process. I am VERY pleased with this site and will definitely continue to order for friends and family (who are scattered) in the future. Who doesn't love something with their name or initials on it??? :)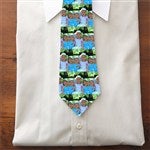 Love this!
By
Shopper

(Texarkana, TX) - June 11, 2011
It has now become a tradition to get a tie for my husband and father-in-law for father's day. They proudly where their ties to church on father's day Sunday and everyone admires them. It is a wonderful Father's day gift. We love it!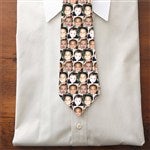 Awesome bragging gift!
By
Shopper

(Ramona, CA) - June 8, 2011
Love this! I am sure my dad ( her grandpa) will love it as well! Very nice quality!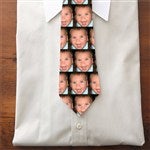 Love it!
By
Shopper

(Glendale, AZ) - May 28, 2011
The only thing I would change would be to have a darker color on the back of the tie. (It is white.) Other than that, I love the ties!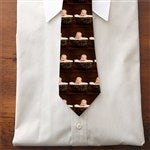 Love your Products
By
Maritza C.

(Chicago, IL) - May 24, 2011 (
See all reviews by this customer
)
I love your items the quality is great and beautiful,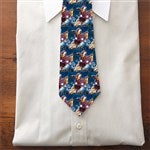 my husband loves it!!!!!
By
Tiffany H.

(Minneapolis, MN) - April 13, 2011 (
See all reviews by this customer
)
I bought the tie for my husband's birthday. He has only one son so I picked a picture of them two to put on it. He loves it and so does his co workers. I will definetly by another one with a newer picture.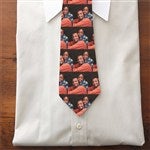 Perfect Party Favor
By
Shopper

(Charlotte, NC) - April 3, 2011
The personalized picture tie was a total surprise for the birthday girl and a great favor for her Thai Birthday Dinner. Completely original! She got lots of attention. I'll definitely keep this in mind for future events.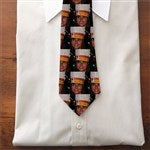 personalized mens tie
By
Rachel W.

(Springfield, OR) - January 14, 2011 (
See all reviews by this customer
)
I ordered 2 ties for my coworkers. I uploaded a company logo phrase. The quality came out pretty good and the tie is thin compared to some synthetic ties which they liked. They actually loved the ties and wear them to company meetings. Good product for price.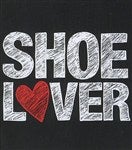 Better than Expected
By
Shopper

(smyrna, TN) - December 10, 2013
It looks great the picture is clear and the tie has a shinny silky material just like a tie you would pay big bucks for...I was suprised...standard shipping was fast as well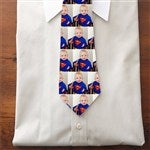 so cute
By
Shopper

(Baltimore, MD) - October 14, 2013
My friends dog, my "grand dog" is nearing the end of her life so I thought giving something that will always remind them of her would be great. I got a this tie for her husband and the mouse pad for her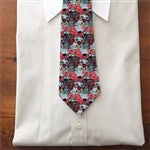 Dont like the white on back of tie
By
Michael M.

(La Vernia, TX) - August 30, 2013 (
See all reviews by this customer
)
I love the tie and the pictures quality is great. However the back of the tie is white and when the front has dark colors the white will over power the picture on the tie and to me does not look good.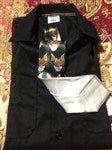 Excellent gift for the suit and tie man!
By
Shopper

(Las Vegas, NV) - July 20, 2013
Absolutely love it!!! Honestly I was apprehensive. The picture of the finished product looked so amazing but I wasn't fully convinced it would look that great in person! I was wrong! It was even better! Great product! He loved it as well.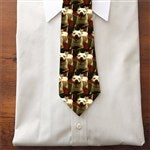 Love this tie!
By
Shopper

(OKLAHOMA CITY, OK) - June 28, 2013
The tie is adorable and daddy wore it for Father's Day and to work the next day.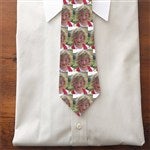 My Husband Loves It
By
Ming Y.

(Dublin , OH) - June 26, 2013 (
See all reviews by this customer
)
It was for Father's Day gift. It arrived just like eye blink after ordering. And it looks even better than web sample. The tie quality is sooo good, beyond my expectation, could not be better. I am totally satisfied. I truly love their creative and unique ideas for personalized items. Will order more in future for sure.

I used a black background photo. It looks more standout and better looking than web sample in white background.

I introduced this web site to my friends, even share this site with friends in China. They all love their products. My nephew in China wants to wear his girlfriend photo tie for proposal.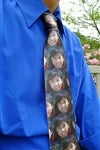 Personalized Men's Tie
By
Jacquelyn C.

(Winston-Salem, NC) - June 20, 2013 (
See all reviews by this customer
)
O! MY HUSBAND JUST LOVE IT AND SO DO I, MY BROTHER-IN-LAW JUST LOST HIS WIFE WHOM WAS BATTLING CANCER. AND I HAD HIM ONE MADE WITH THEIR WEDDING PICTURE, EVERYBODY JUST LOVE IT AND SO DID HE!!!!! BEST SIGHT EVERY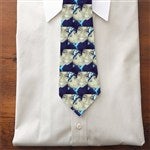 Grandpa loved it!
By
Angela N.

(Rolling Meadows, IL) - June 19, 2013 (
See all reviews by this customer
)
I ordered this item for my stepfather who has four grandchildren, for father's day. He keeps active working a few hours a week at a local grocery store. My mother told me how he takes in pictures of my daughter (8 months) and his other grandchildren to show to his coworkers and customers. He wears a tie as part of his uniform and I thought that this would be a perfect gift for him. He was so pleased with the gift, he told me he choked up a little when he received it in the mail. I can't comment to the quality of the material since I haven't yet seen it in person. All I can say is that his reaction was wonderful and I know he wore it to work his next shift. Definitely a great idea for someone who loves to show off their family! I will probably be buying more as the grandkids age or we add more to the family!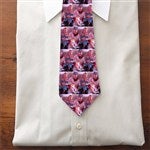 My Father Loves Them!
By
Shopper

(NOLENSVILLE, TN) - June 15, 2013
I bought my father one of these ties with the grandchildren's pictures on it for Christmas. He loves it, and wore it so much that this year for Father's Day, I got him 4 more ties with different pictures on each one. People are always asking him about the tie and he loves the attention. A fun and thoughtful gift.