Heart Locket
By
Shopper

(Fall River, MA) - December 28, 2011
Very pleased with this gift. It is engraved with what ever word's you wish and at the same time fits two nice pictures. Every young girl loves hearts and pictures . She really liked it.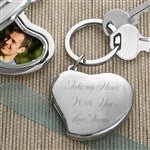 gorgeous
By
Lisa J.

(Mabank, TX) - December 24, 2011 (
See all reviews by this customer
)
this is a gift for my sister and her 2 new daughters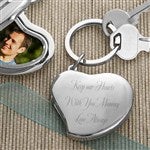 Very Nice
By
Daniel T.

(Grass Valley, CA) - December 17, 2011 (
See all reviews by this customer
)
Good quality, nice gift, easy to put pictures in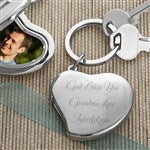 Amazing Gift
By
Megan J.

(Bear Lake , PA) - November 30, 2011 (
See all reviews by this customer
)
I am more than pleased with this item. It was even better than I could have expected. It is amazing.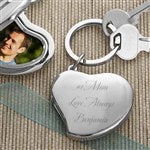 very cute locket
By
Shopper

(Sandy, UT) - November 15, 2011
I have bought many things from personalization mall and I have been impressed with every item I have gotten. I love the fact that I can look up something I would like to buy for someone online, and personalize it for them! It is fast, easy and fun!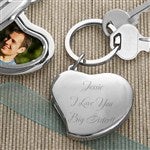 Very happy
By
Kristin V.

(Matthews, NC) - November 14, 2011 (
See all reviews by this customer
)
great gift for the mom friend I got it for. She's very happy.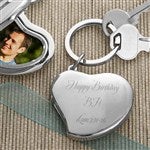 ELEGANT
By
Alice M.

(Concord, NC) - September 20, 2011 (
See all reviews by this customer
)
I was absolutely THRILLED with the elegance of this heart locket key ring!! My doctor friend is retiring to travel and this is the perfect gift for him!! So happy I found this site. THANK YOU SO MUCH!! ALI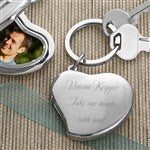 Lovely locket keyring!
By
Doreen M.

(Shepherdsville, KY) - June 22, 2011 (
See all reviews by this customer
)
I purchased this for my Fiance' as a 2 yr Anniversary gift. He really loved it. It comes out exactly how it looks in the picture. Now he can carry us around with him wherever he goes!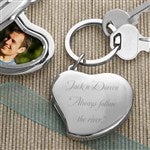 Pretty Great Father's Day Gift
By
Shopper

(Lexington, KY) - June 15, 2011
I was completely satisfied with the quality of the gift EXCEPT for the writing on the outisde of the locket; it looked a little rushed. Not all of the engraving just some on the first line where it said *Dad it seemed like that could have been a little cleaner and at the bottom. I did not have time to really send it back so I didn't. But other than that, shipping was timely; the locket is very nice for the price and to be able to get it engraved; priceless! I put a picture of the children in it for one of my friends who is a father away from his kids right now and I KNOW he will absolutely adore having them close on his key chain, can't wait to give it to him Sunday! Thank you!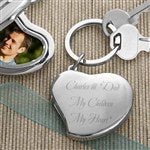 gift
By
Erica H.

(greensboro , NC) - March 22, 2011 (
See all reviews by this customer
)
I gave the the Heart Locket as a gift and was the BEST thing ever..they are able to keep a picture of their love one inside and also you can put on a necklace.I'm really glad I came across the website and will refer it to friends and family..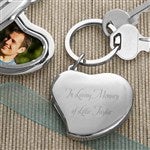 1st Mother's Day
By
Umesh S.

(West Orange, NJ) - May 20, 2013 (
See all reviews by this customer
)
This locket was a gift for my wife on on her 1st Mother's day. The quality is nice and a decent size for a key chain. The engraving came out pretty good... only "1st" was smaller than i expected.

This product was a good deal. Save yourself shipping cost by ordering earlier than you need it... otherwise you'll pay a lot to overnight it.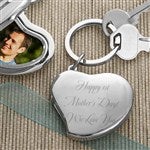 Photo Heart Locket Key Chain
By
Linda P.

(Kathleen, GA) - April 30, 2013 (
See all reviews by this customer
)
This locket is at least 2X nicer I n person than in the photo! It is beautiful an my husband is proud to give it to his daughter for her birthday!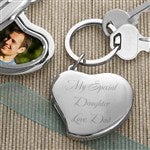 Heart Locket 2-Photo Personalized Key Ring
By
Eustino T.

(Coolidge, AZ) - January 20, 2013 (
See all reviews by this customer
)
I bought this as a Christmas gift for my fiancée, and she loved it!!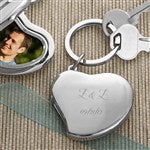 Heart Locket Key Ring
By
Shopper

(Kennesaw, GA) - January 13, 2013
Wife loved this present. Didn't trust me to find something that she would really like in the more expensive jewelry category, nor did she want me to spend much this Christmas. This, however, had more meaning and looked more expensive than it was. Used the "Take my heart with you" message. Big hit.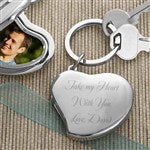 excellent product!!
By
barbara C.

(Oxnard, CA) - January 6, 2013 (
See all reviews by this customer
)
really [pretty, cute, and excellent quality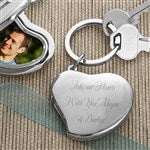 Heart Locket Key
By
Shopper

(LAS VEGAS, NV) - December 31, 2012
Gave it to my daughters' God mothers as a Christmas gift. They absolutely loved it their t and brought tears to, their eyes...i loved it as well that i had to order again as a just because gift for my mother. I loved the engraving and received the products pretty quickly.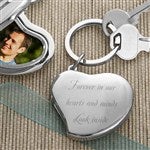 Beautiful.
By
Shopper

(henderson, NV) - December 31, 2012
Mother in law loved this as a Christmas present. Looked very professional( exactly as pictured) and was delivered exactly on time.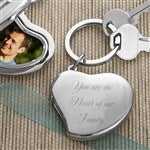 Cherished Keepsake
By
Robin M.

(Windham, ME) - December 30, 2012 (
See all reviews by this customer
)
My daughter ordered this for my husband for Christmas. She loved picking out what it would say and then putting her pictures inside. My husband had a similar one (from another company) that broke.(Hence, buying him a new one). He commented first thing that this one looked like it was good quality and would last. I do wish it were a bit smaller (as it was a bigger than my husband wanted for his key chain). However, my husband will cherish it forever.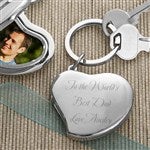 heart locket 2 photo personalized key ring
By
Shopper

(connellys springs, NC) - December 29, 2012
i would recomend this product wonderful quality and beautiful! personalization was perfect.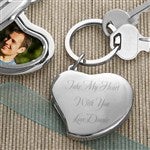 Needs instructions
By
Shopper

(Fulda, MN) - December 18, 2012
I love the locket, but it should have instructions or something to tell you how to insert the pictures because for the life of me, I can't get the framing off. It would be nice if it also came with a template to trace over a picture so you can cut it out and have the picture fit properly. Kinda disappointed with that aspect of the locket, but otherwise I'm satisfied with how it turned out. Thanks.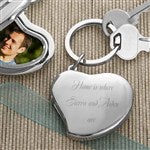 Not completely what I was expecting!
By
Shopper

(Statesville, NC) - December 14, 2012
Don't get me wrong, I love this idea of a personalized keychain locket. It's secretly wrapped under the tree for my husband for our Christmas anniversary (along with some other things too). However I expected this locket to be smaller. The locket is huge and bulky against all the other keys. When I took it out to place the photos in, I was very disappointed with the inside as well. I was under the impression that the whole locket would be full metal but the frames, holding the sweet photos, are made of plastic. The flimsy plastic made it look cheap compared to the whole locket. Gave it a 3 b/c the item is a clever gift but did not meet my expectations.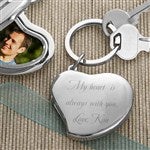 Very Cheap Looking
By
Shopper

(LITTLE ROCK, AR) - November 29, 2012
This item also looks better in the picture. My mom loves hearts and has always wanted a necklace with her kids birthdates on it. I looked on various sites and either the necklaces were to expensive, not engravable, not the right style, etc. This keychain locket I thought would be nice and depending on the size could be used as a locket. While the engraving is nice, its on a cheap to big locket. I'm not impressed, especially since this was going to be her main "big" gift this year since money is tight! I just hope she likes it better than I did!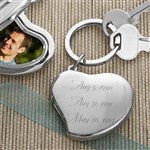 Beautiful 'just because' gift!
By
Karen L.

(Spartanburg, SC) - July 31, 2012 (
See all reviews by this customer
)
I received this from my husband and children 'just because'. I LOVE THIS KEY CHAIN! It says 'Loves of my Life' in French. I love that I can place 2 photos in this key chain and the engraving is beautiful.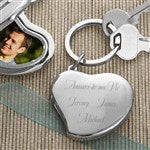 Key chain
By
Shopper

(Durham, OR) - July 28, 2012
Special way for family to remember you from a distance.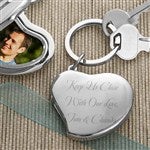 Love It!
By
Kathleen S.

(South Riding, VA) - July 20, 2012 (
See all reviews by this customer
)
This key ring is soooo cute! I got it for my Boyfriends birthday and he fell inlove with it! It is pretty heavy, so if you leave your keys in your pockets all day, you might want to wear a belt with it. But the engraving is precious and its worth alot more than what i paid for <33 and i love how its actually a picture frame, not just sticking a picture in, because if you make the edges a little rough, no one can notice, and the plastic/glass thing is a nice touch as well. So in short AMAZING!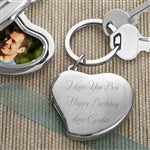 Heart Locket Key Ring
By
Shopper

(Marathon, IA) - May 23, 2012
purchased for a gift would buy another excellent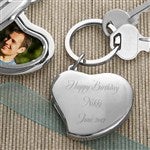 Heart Locket
By
Carmen A.

(Proctorville, OH) - May 9, 2012 (
See all reviews by this customer
)
Loved it...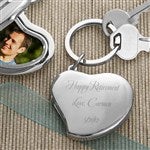 Extremely pleased!
By
Jean S.

(Bessemer, MI) - April 1, 2012 (
See all reviews by this customer
)
First time order and I was extremely pleased with the heart locket key ring. I purchased this for my grand daughters 16th birthday. I'm sure she will love it - now just needs a set of car keys. I will be ordering more gifts.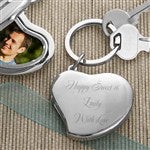 the PERFECT gift
By
Misty W.

(Guthrie, OK) - February 1, 2012 (
See all reviews by this customer
)
my friend lost her husband in a tragic car accident, i bought one of these and put his picture inside and engraved it "you are forever in my heart". She loves it. its a great everyday item, she uses and has it everyday. we also bought a locket but this is the perfect gift.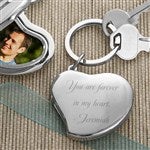 Very pleased
By
Donna S.

(Cedar Hill, TX) - January 23, 2012 (
See all reviews by this customer
)
Locket keychain is beautiful and delivered very quickly.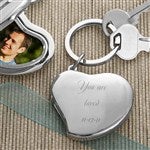 Locket
By
Joy K.

(ElknGrove Village, IL) - January 3, 2012 (
See all reviews by this customer
)
This was a hit with my sister - she loves her family, so I personalized it, "My family... my life" along with her initials. Pictures were easy to put in it. :-)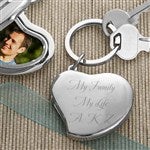 Simply put... I love it!
By
Susan M.

(Chino Hills, CA) - January 29, 2010 (
See all reviews by this customer
)
Bought this for my hubby for "V" day. I ended up using the same verse, but added his name at the end because we always say this to each other when we leave. How perfect this will be when I give it to him!

Just Beautiful!
By
Aimee M.

(San Diego, CA) - January 29, 2010 (
See all reviews by this customer
)
This key chain came out better than expected. It is such a great value. It looks like I bought it at a very expensive store.

Beautiful, Heavy, but frames slightly flimsy
By
Shopper

(Palm Harbor, FL) - April 28, 2012
This locket is very beautiful, looks high quality, and fingerprints are subtle. I love the engraving and the photos inside, and although some have commented that it is too heavy, I think that the weight enhances the quality. My only negative is that the frames are a little flimsy, and I had difficulty getting the one on the right to stay in. Following another reviewer's advice, however, I slightly bent the frame to be a little more concave, and now it stays in fine. My Mom will love it!!

Great stuff -- suggest not to include the DIY packaging
By
Shopper

(Brookline, MA) - December 20, 2011
My friend loved it and I found it very pretty and nicely engraved. Stay away from the DIY packaging -- the boxe looks very poorly made, and it turned out to be a waste of money.

Good product feels solid
By
Shopper

(san diego, CA) - December 11, 2011
Good product, looks very nice. Does not open easily which is good seeing how it is a key chain ring so it wont just be opening up anytime it wants. Size is great and also picture space inside is made well. Good product just a bit pricey for what it is to me thats why 4 stars. Overall very satisfied with the product.

Great Keychain
By
Shopper

(Amelia, VA) - August 31, 2012
The locket is pretty heavy and the latch is tight enough that it isn't likely to pop open easily. I liked that you could put a picture that you could see, not like some that are so small you can hardly make out who it is. I would have liked the writing on the outside to be thicker, the locket is super shiny so it makes it harder to read it.

Christmas present
By
Pete B.

(Wheeling, WV) - December 27, 2009 (
See all reviews by this customer
)
My wife loved it. Perfect for keeping pictures of our family pet.


My love enjoyed this.
By
Lori G.

(Valley Village, CA) - December 25, 2009 (
See all reviews by this customer
)
The perfect gift.

CLASSY
By
Paula S.

(Humble, TX) - January 28, 2010 (
See all reviews by this customer
)
VERY IMPRESSED WITH THIS KEY RING. IT WAS BETTER QUALITY THAN I EXPECTED. EVERYONE HAS REMARKED WHAT A GREAT GIFT.