Pretty-but small
By
Katherine R.

(Menifee, CA) - March 11, 2010 (
See all reviews by this customer
)
I don't think I realized how small this would be. I've purchased many, many items in the past and have loved them all. I was a little surprised when this bookmark fit in the palm of my hand. It's not exactly what I'd intended to receive, however it's very nice looking and the personalization is of course flawless. I would have spent the money on something else however.

engraving
By
Tasha C.

(Holbrook, NY) - December 22, 2009 (
See all reviews by this customer
)
The item is good quality, except that in my opinion, the engraving is too fine which makes it somewhat difficult to read unless you are fairly close to it.

Hard to read
By
Brandi C.

(Cleburne, TX) - December 10, 2009 (
See all reviews by this customer
)
Its a nice gift just wish the engraving was a little easier to read

BOOKMARK
By
melanie K.

(muscle shoals, AL) - December 5, 2009 (
See all reviews by this customer
)
A LOT SMALLER THAN I THOUGHT.NOT WORTH THE COST OF THE ITEM.

A little misleading
By
Michelle A.

(Manalapan, NJ) - November 12, 2009 (
See all reviews by this customer
)
The preview shows a nice big name engraved into the heart, but it's actually quite small. Legible though so no complaints, and done nicely.

Heart bookmark
By
ngoc N.

(santa ana, CA) - October 20, 2009 (
See all reviews by this customer
)
I thought that it is bigger than the real one, but it looks cute, hope that the receiver will love it

Poor engraving
By
Shopper

(Yucaipa, CA) - August 3, 2013
This engraved bookmark is the first item I have ever been disappointed in from Personalization Mall. The bookmark itself is fine, but the engraving is so fine, it can hardly be seen. In fact, my recipient looked at it a while, and then said "oh, it has my name engraved"!...Very disappointing for me!

Very Small
By
Shopper

(Omaha, NE) - December 25, 2012
Cute, but very tiny writing and very smeared up when I got it. A little disappointed.

Way too small
By
Shopper

(Astoria, NY) - April 3, 2011
as pretty it was, this bookmark is way too small. it literraly is the size of my thumb. it looks so much better on my computer, i was so irritated by the size i wanted to take the heart and rip it off and be like this is the gift to my friend. i was so dissapointed with the size and it wasnt even for myself

overpriced
By
Shopper

(Northport, AL) - March 9, 2011
This bookmark is very small for the cost. It's no bigger than my thumb! Very disappointed when I opened the package.

Lettering too small
By
Shopper

(Monte Vista, CO) - January 24, 2011
I was a little disappointed with this item. I needed a magnifying glass to be able to read the engraving.

NOT SATISFIED
By
Sheela T.

(Beaumont, TX) - May 27, 2010 (
See all reviews by this customer
)
I was not satisfied. The engraving could not be seen without a magnified glass. There were only 6 letters. Yet you could not make out what is engraved on the bookmark. Nothing like the picture.

Very nice buy VERY SMALL!
By
Julie C.

(Pickerington, OH) - December 16, 2009 (
See all reviews by this customer
)
This is a nice gift, but for the price (and the high shipping) it is very very very small. I wasn't happy when I got it.

First time to be disappointed with Personalization Mall
By
Shopper

(Springville, CA) - August 26, 2013
I have many NUMEROUS purchases from Personalization Mall, always have been delighted. Not this time - disappointed with size and color. On the web the color appeared to be gold, it is more of a matte silver. The size is super small for a bookmark. The item seems overpriced for its size.

Hard to use
By
Amanda F.

(Pataskala, OH) - March 5, 2012 (
See all reviews by this customer
)
Although the design is cute... I wanted my loved one to know I was always thinking of him when he was reading and it has done just that. However, it is very hard to put the bookmark on the page top like you are supposed to do so now it has been reverted to just another paper weight :(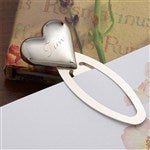 Disappointed
By
Berangere B.

(Orlando, FL) - October 10, 2009 (
See all reviews by this customer
)
The engraved name on the bookmark was entirely too small. It didnt make any impression on me at all. Luckily it wasnt a gift for someone else because I would have had to find something else.

Louissa