Nice Gift Idea I Think
By
Kelley S.

(Cambria Heights, NY) - February 1, 2013 (
See all reviews by this customer
)
I ordered three of these at about $10 each as Valentine's Day gifts for three lovely ladies that I want to feel loved. The cup is a nice size. The "Rhinestones" look much different than that you see in costume jewelry (more like glass maybe) but the initial is still pleasing to the eye and will probably hold up better over time.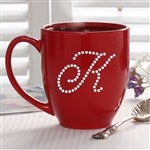 Mixed Feelings
By
Shopper

(Mass City , MI) - December 28, 2012
I have contemplated by this as a gift for awhile now. I finally purchased the item and at first glance was quite pleased. However when I turned the mug to look at it from the side I noticed that the rhinestones were not laying completely flat where at the bottom of the curve leading into the initial. It appears as though the glue has the stones raised up, so it looks kind of funny. I sure hope that they stay secure and don't fall off!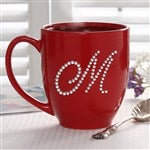 Rhinestone Mug
By
Shopper

(Sugar Land, TX) - June 21, 2012
The mug IS beautiful. I bought several of these for birthday gifts, including one for me. Even though I hand wash this as recommended, the "bling" started to come off in my very hands. I spoke with a Rep in Customer Service about this, and a replacement was immediately sent to me. The CS is ALWAYS superior with PM, but I don't believe the quality of this mug or the bling measures PM's quality. It is a durable, chip free mug, which I love. My concern now is will the recipients of this gift experience the same problem...I hope not!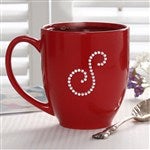 good size mug - worth the price - just not dishwasher proof
By
Jared S.

(Fairfax, VA) - February 19, 2012 (
See all reviews by this customer
)
I thought the quality of the mug was nice, however, I would like to see the mug be designed in such a way that it's dishwasher proof.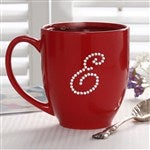 Red Mug
By
Jill L.

(Kapaa, HI) - November 17, 2010 (
See all reviews by this customer
)
I liked these, color was nice and bright, rhinestones seem solid, though some of the letters are hard to identify due to the design of the script.

Disappearing rhinestones
By
Brenda H.

(Lafayette, LA) - April 1, 2010 (
See all reviews by this customer
)
I absolutely love my mug, however, even though it was never put in the dishwasher the rhinestones did not stay on. I was given mine for Christmas; there are 8 rhinestones remaining.

Cute, but rhinestones fall off!
By
Shopper

(Kingman, AZ) - May 2, 2011
It's a pretty mug, and a nice size (med to large sized), but even with hand washing, the rhinestones started to fall off within a few weeks of use.

Not what it appears to be
By
Megan M.

(Houston, TX) - February 16, 2011 (
See all reviews by this customer
)
The mug in the picture make it look a lot bigger than it really is. Also, I got the letter M and the Letter is really small in comparison to the rest of the mug. The letter is just glued on the front of the mug. It is cute yes, will it last long? Probably not. I'm very disappointed in the size of the letter. FYI!!

Expensive!
By
Michelle M.

(Purcell, OK) - December 13, 2011 (
See all reviews by this customer
)
Overly priced coffee mug. I was highly disappointed when I received this mug in the mail. The coffee mug is nice however the "bling" looks like a sticker on it. Save yourself the money and put your sticker on whatever mug you want.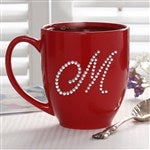 Rhinestone Monogram (Not Happy)
By
Michelle Red D.

(North Hollywood , CA) - January 19, 2010 (
See all reviews by this customer
)
I received the RED Rhinestone Monogram mug as a gift a few years ago and what I received today are two different types of mugs, needless to say,I'm not happy with the Rhinestone Monogram, the initial "M" seems as though its bunched together.

Poor Workmanship
By
Haley S.

(Muskogee, OK) - December 29, 2009 (
See all reviews by this customer
)
I normally love everything i get from personalization mall but the came in with the jewels off center so i am returning them