Gift
By
Shopper

(Dunedin, FL) - January 14, 2014
This makes a wonderful gift.

Very Nice
By
Camille R C.

(Elmont, NY) - December 28, 2013 (
See all reviews by this customer
)
Beautiful afghan! Brought tears to my friends eyes when she received it.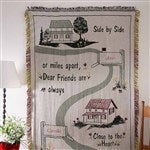 Awesome Afghan
By
Judith B.

(Monterey, TN) - November 23, 2013 (
See all reviews by this customer
)
I have ordered many items from these folks over the years, but of all I really think the Friendship Afghan is the best. I was surprised at how large this afghan is. It is a top quality product for the price. I really love it and know my friends that are receiving it as a gift will love it too.

Mrs
By
Angie R.

(Shelby, AL) - July 27, 2013 (
See all reviews by this customer
)
This was a great present for a friend. She loved it and so did I . Will continue to order from this company. Always great gifts , quick shipping.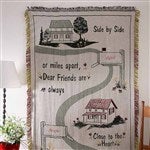 Meaningful 60th Birthday Present Amid the Corny Gag Gifts!
By
Jan J.

(Dallas, TX) - June 4, 2013 (
See all reviews by this customer
)
This was a 60th Birthday present for a friend who was best man at our wedding and his wife. Their birthdays are 4 days apart. We have been friends with him since elementary school, and friends with them as a couple for 40 years. It was a very special gift that they will cherish for a long time. Our kids are friends as well, so it will have special meaning when it is passed down to their children!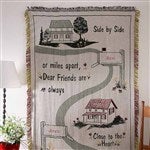 Great Gift for a Great Friend Far Away
By
Shopper

(Laurel, MD) - May 12, 2013
This was a birthday gift for a special lady -- she was my neighbor in an adjoining townhouse, became a close friend, and then she moved away! This was the perfect sentiment for our relationship on this beautifully embroidered and personalized afghan. I am amazed once again by how quickly and beautifully these products are made. I really like the uniqueness and beauty of this afghan and feel it was a special gift from the heart.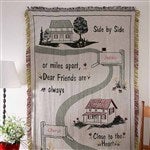 Love it!
By
Frances P.

(Harpers Ferry, WV) - February 10, 2013 (
See all reviews by this customer
)
The afghan arrived right on time and was just as pictured. The colors were vivid and the embroidery was just perfect. My friend loved the gift which made it the perfect ending to a great shopping experience. Would recommend this to all.

great gift
By
kim A.

(forest lake, MN) - February 8, 2013 (
See all reviews by this customer
)
I sent this to my girlfriend and she loved it. Good Quality.

Great Gift
By
Shopper

(Merrimack, NH) - December 6, 2012
I bought this for my best friend (whom I grew up with)since this will be our last Christmas together before I move accross the country and she loved it. It was the perfect gift for her because she was so concerned that we would lose touch over time and I wanted to make sure she knew tha would not happen.

Great gift
By
Shopper

(Virginia Beach, VA) - November 19, 2012
I can't wait to give this gift to my BFF who recently moved away. The quality of this afghan is outstanding and I know she will love it.

One of the best things I've ordered!
By
Eve D.

(Lubbock, TX) - October 1, 2012 (
See all reviews by this customer
)
This throw turned out so amazing and so quickly!
My friend will love it for her birthday!

Perfect for Enduring Friendships!
By
Gayle W.

(Edgewater Park, NJ) - July 24, 2012 (
See all reviews by this customer
)
Very Nice quality .... the perfect gift for a friend .... a cherished co-worker who is retiring ...it's a reminder that the road to friendship is enduring.. I love the pattern and the sentimentality of this afghan .... I have given this item twice - to two different friends - and they both loved it! Highly recommended as a very unique, personalized gift.

Quality
By
Shopper

(Woodbridge, VA) - June 17, 2012
I was not sure what to expect for this blanket but I am pleasantly pleased. This was a gift to my very best friend for her birthday! We have been through many things together to include my 9 years of military service. It was the least I get her but it is great quality and I am very excited to give it to her soon. Would highly recommend to others!

SPECIAL BIRTHDAY GIFT
By Shopper (WEST ISLIP, NY) - May 12, 2012
MY BEST FRIEND FROM HIGH SCHOOL AND I LOST CONTACT WHEN SHE MOVED. 20 YEARS LATER I FINALLY FOUND HER. FOR HER BIRTHDAY I PURCHASED THIS BLANKET. NOT ONLY IS IT BEAUTIFUL . . . SHE LOVES IT! I NOW PURCHASED A 50TH ANNIVERSARY BLANKET FOR MY SISTER/BROTHER IN LAW. THIS IS THE BEST SITE FOR PERSONALIZED GIFTS.

Perfect in every way
By
Lorre A.

(Tyler, TX) - April 6, 2012 (
See all reviews by this customer
)
I loved it and so did my best friend.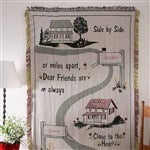 Friends Forever
By
Debbie S.

(Bowie, MD) - February 21, 2012 (
See all reviews by this customer
)
I have purchased many items from Personalization Mall and not once been disappointed. The gifts are always of high quality and beauty. This afghan is pretty all on its own, but to be able personalize it made it all the more precious. The quality of the embroidered names was unbelieveable and delivered ahead of schedule. My friend was thrilled with her special birthday present!

Breathtaking
By
Cathy H.

(Houston, TX) - February 15, 2012 (
See all reviews by this customer
)
I purchased this blanket for my best friend who lives in another state. I am always looking for something extra special and personal to give her and when I saw this blanket I fell in love with it. I recieved it a couple of days after I placed my order. I am so satisfied with it that I have already picked out stuff for Easter and other birthdays.

Wonderful gift
By
Shopper

(West Bridgewater, MA) - January 23, 2012
The quality of this afghan is excellent. I ordered this gift on Sunday evening, Monday I received confirmation that it was shipped, and I actually received it on Thursday. The service and quality are beyond compare.

I Love Your Company...
By
Elisa M.

(Warwick, NY) - January 16, 2012 (
See all reviews by this customer
)
My best friend, Aileen, received the "Close To The Heart" Personalized Friendship Afghan last week, and she said,"It touched my heart, and is the most sentimental and thoughtful gift I've ever received." She loves it and has placed it on her living room sofa.

Whenever I want to send the perfect gift that expresses my sentiments, I call Personalization Mall; your products and your service are great!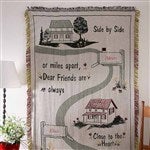 simply wonderful
By
Jana D.

(Boca Raton, FL) - December 26, 2011 (
See all reviews by this customer
)
very reasonably priced, well made, nicely printed, the fabric is soft and durable without being too heavy. Perfect personal gift for a best friend!!

Heart warming gift
By
Kayla C.

(Point Marion , PA) - December 16, 2011 (
See all reviews by this customer
)
I've been purchasing gifts from personalization mall for years now, this is the one of a kind store for gifts, crafts, Christmas, birthday anything your interested in. I'm very happy with the outcome of this blanket, it was delieved before I knew it, the pricing was amazing, overall I'm just very excited to give this as a gift this year for Christmas.. It's warming words make every holiday special. I rated this a 5 stars, but it's worth a 10 all the way.

A gift to dear friends in Denmark
By
Shopper

(Raleigh, NC) - November 27, 2011
The afghan will always be a reminder of how close friends can be no mater where they are.

perfect gift
By
Shopper

(Lexington, KY) - November 8, 2011
Not only was the afghan exactly as described, I asked that it be gift wrapped but had it sent to me for personal delivery to the end recipient. I was very impressed with the obvious care and attention given for presentation of the gift. The only problem for me was that the afghan was folded so the bottom mailbox was seen on opening, and I preferred the top one to show -- so I refolded the afghan which was a bit of a challenge. This makes a great, affordable gift that will express heartfelt sentiments for years to come. I'm extremely happy with my selection.

Excellent purchase
By
Jessica H.

(Canada) - October 31, 2011 (
See all reviews by this customer
)
Afghan was just as it was described! I bought this for my friend's 19th birthday ad I am sure she is going to love it! The quality is great!

Great Product and Great Service!
By
Shopper

(Windsor Locks, CT) - October 4, 2011
The product arrived very quickly, in perfect condition and very well packed. I will definitely order from Personalization Mall again!

Nice gift
By
Shopper

(Ewa Beach, HI) - October 2, 2011
My friend called me on the phone just right then when she opened her birthday present. She really love it . And she was touched how thougthful I am. Thanks for this design which make me more easier to find a great present to a friend.

The Perfect Gift
By
Shopper

(Australia) - September 5, 2011
I am moving at the end of the year and leaving behind my two very dear friends. Though we aren't moving overseas, we are moving interstate and I thought this would be the perfect gift for them. I know there will be tears when they open it but also know that it will be a very treasured present.

Great Gift
By
Shopper

(MONACA, PA) - March 21, 2011
I gave this to my best friend, she really loved it. The colors are bright, the personalization was perfect and the product arrived fast too- a win all the way around. I have purchased from personalization mall before and will certainly continue to do so, I am always pleased with their products.

A throw cover for my best friend Muff.
By
Shopper

(mesquite, TX) - February 21, 2011
My husband and I reunited with our friends of 20 years ago recently.They were in the military and we lost track when they went to germany.
We both worked together year's ago but become such close friends we actually consider them to be family. She is also hard to buy for but the afghan was perfect and know she will use it as well .Love the site and choices and your prices are great. Would reccomend it to all my friends

Great gift
By
Shopper

(New City, NY) - January 24, 2011
Friend of over 50 years was celebrating 85 th birthday --I sent this afghan to her and she is delighted--is legally blind but could see it with no difficulty--loved the quality and especially pleased with beauty of name embroidery--thank you for this product and others I have ordered from you!

As Always..
By
Shopper

(roosevelt island, NY) - January 15, 2011
No need for reviews on individual products.... Personalization.com is the greatest place for shopping on all occasions.
Thank you Personalization.

Awesome
By
Stephanie D.

(Adamsville, AL) - December 28, 2010 (
See all reviews by this customer
)
Christmas Gift was a HIT!!!!!!!!!

Perfect Gift!
By
Abby C.

(Lexington, KY) - December 27, 2010 (
See all reviews by this customer
)
I live 350 miles from my best friend and she loved this gift! Symbolized our friendship!!

Love It
By
Heather S.

(Hornell, NY) - December 22, 2010 (
See all reviews by this customer
)
We ordered this for a co-worker who was moving down South. She had worked at our hospital for many years and finding a gift for her was not easy until we found this afgan. It is huge, soft, colorful, and heavy. Absolutley beautiful! Thank you so much for a lovely gift for our great friend.

blanket
By
Sarah H.

(South Mills, NC) - December 22, 2010 (
See all reviews by this customer
)
I love this!! Can't wait for my friend to open it for Christmas!!

Close to the Heart Afghan
By
Patricia H.

(Katy, TX) - December 21, 2010 (
See all reviews by this customer
)
I gave this my dearest friend in the world for Christmas - as she is retiring and moving away in a couple of days. We were both crying when she opened it. It is just beautiful, well made, the embroidered names are lovely and it will be cherished for many years to come. I love the products on this website and keep returning for great quality, great shipping and great customer service. Thank you!

Afghan is a "WOW"!
By
Delia Q.

(Tampa, FL) - December 9, 2010 (
See all reviews by this customer
)
Prior to placing my order, I read the reviews written by others who have purchased this item. They were all positive, so I proceeded to place an order for 2

I must say the afghans exceeded my expectations! They are of excellent quality, and the names are embroidered, which in my book, adds value to the afghan It is certain to be a keepsake for my two best friends. I can't wait until they open them! they are GORGEOUS!

In closing I must say that I ordered a total of 5 items this Christmas, and it was a wonderful experience. I will return to shop at personalizationmall.com many times over! Thank you for your great products and services provided!

More than I expected!
By
SUE R.

(MC FARLAND, CA) - November 8, 2010 (
See all reviews by this customer
)
The afghan is larger than I expected. The quality is very nice. The names stitched in the mailbox add that extra personal touch. The shipping was extremely fast! I will shop here again and recomend this site to others.

Great Gift
By
Cookie A.

(San Antonio, TX) - September 22, 2010 (
See all reviews by this customer
)
We purchased this afghan for an 80th birthday gift for a wonderful friend who is a minimalist, knows quality and is hard to shop for. She was was touched and grateful for the thoughts and sentiment. This was a homerun!

great choice
By
mary P.

(manorville, NY) - September 16, 2010 (
See all reviews by this customer
)
Iwas very pleased with the afghan. I hope my friend will be as happy. The workmanship on the afghan is beautiful.