Really Large and beautiful piece
By
Shopper

(Herndon, VA) - November 7, 2012
Even I did check the dimensions before purchase, the size still surprised me when I opened the package. It was a big hit in my father-in-law's retirement party.

Quality Product
By
Beth K.

(Avon, OH) - October 8, 2012 (
See all reviews by this customer
)
I was very impressed by the quality of the product and the short amount of time in which Personalization filled the order. The retiree was truly moved by the gift!

Great Gift
By
Zandra P.

(Houston, TX) - October 7, 2012 (
See all reviews by this customer
)
I recently surprised a friend with the Retirement Throw and she really liked it. This is the 3rd Retirement Gift I've purchased for a retirement friend. This is a Great Gift !

absolutamente awesome
By
Shopper

(Hollywood,, FL) - August 15, 2012
Just Beautiful, High quality, Reasonably priced, Fantastic gift, and large! So happy I found this item! I got it for a retirement gift and the couple I gave it to OMG. They love it.
Thank you very much :)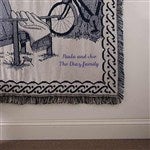 Afghan
By
ELLISA H.

(BROCKTON, MA) - July 23, 2012 (
See all reviews by this customer
)
Co- workers purchased the afghan for a retiree and she loved it...great gift idea. Very beautiful.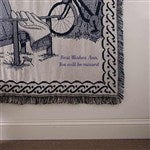 pleasant suprise
By
Kathy G.

(Muskogee, OK) - June 20, 2012 (
See all reviews by this customer
)
I had this afghan shipped to friend. She was suprised and amazed of large size and quality of afghan and personalization showing her name and date of her retirement. My order was shipped 2 days and received 6 days after I placed the order, on line order, on a Friday.

Very pleasing retirement gift
By
Shopper

(Westerville, OH) - May 29, 2012
The quality of the afghan is excellent. I will be very proud to give this to my dear friend to celebrate her retirement from teaching!

VER GOOD
By
Mary C.

(Tonawanda, NY) - May 21, 2012 (
See all reviews by this customer
)
I LOVE THIS SPECIAL GIFT FOR DEAR FRIEND LOVE IT .IT WAS GOOD CHOICE,I WILL AGAIN FROM THIS COMPANY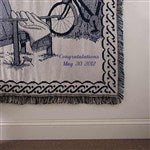 Great vendor
By
Barbara D.

(Chicago, IL) - May 6, 2012 (
See all reviews by this customer
)
Excellent service, received delivery quicker than estimated at order. Afghan was very well done. Recipient was very pleased and impressed with gift.

Absolutely Wonderful !
By
Rosalyn H.

(Decatur, GA) - April 16, 2012 (
See all reviews by this customer
)
Embrace The Future Retirement Afghan is absolutely wonderful. The tapestry and embrodiery is awesome. I am very pleased with the item and I will order it again for the next retirement; what a great retirement gift, personalized and unique.

Perfect Gift
By
Debbie S.

(Bowie, MD) - April 2, 2012 (
See all reviews by this customer
)
This afghan was the perfect gift for a colleagues retirement. The personalization makes it extra special. Very professional embroidery and not just some stamped-on, or painted-on lettering. Love it!

makes a wonderful gift
By
Shopper

(Amherst, OH) - March 21, 2012
Afghan is very large and the colors are beautiful. This is actually the second one I have purchased as a co-worker gift. Quality is high and shipping is fast. Highly recommended, you won't be disappointed.

Much More!
By
Shopper

(Pittston, PA) - March 2, 2012
The gift was for a retiring co-worker, who happens to be my assistnat, so I wanted it to be special and memorable. She and everyone at the retirement dinner loved it. The quality is super and the personalization made it extra special. It's perfect for relaxing under on snowy PA mornings when you don't have to be anywhere!

crowd pleaser
By
Shopper

(Salisbury, NC) - February 29, 2012
This afghan was a gift for a co-worker who had dedicated 25 yrs. to serving the public. The picture represented her well due to her love of outdoors and old things. The day before she retired she made a comment that she was going to take a chair outside and sit and enjoy the beauty that surrounds her. How appropriate. Everyone who saw it, loved it!

product feature
By
Shopper

(Cave Creek, AZ) - February 24, 2012
This product is exactly what I was looking for. My 65 year old friend is retiring from nursing. It is something I hope she would charish and use daily. The personalized touch on this item makes it special. The quality is excellent.

Well Received
By
Barry S.

(Collierville, TN) - February 10, 2012 (
See all reviews by this customer
)
I wanted to order something unique for a customer that was retiring, I found this on the web and ordered it. My customer loved it and it was very easy to drop ship this.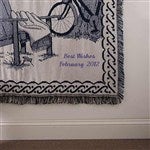 much more than expected
By
Carrie K.

(Mobile, AL) - February 7, 2012 (
See all reviews by this customer
)
Although Ive ordered from this site before, this order was done as a group order for a co-worker. and we all agree its beautiful. well made and larger than expected , also the monogram is sized right and perfectly done. very much worth the price and anyone receiving this for a gift will be satisfied.
I was interesed in a different color for the afghan or monogram color
bue I was'nt disappointed with this one.
I'll let you know how it stands up to washings or stains ..

MORE THAN EXPECTED
By
Shopper

(PASADENA, TX) - February 7, 2012
BOUGHT THIS GIFT FOR ONE OF MY CO-WORKERS RETIREMENT. SHE LOVED IT AS WELL AS THE PHYSICIANS THAT WE WORK FOR. EVERYONE'S QUESTION WAS " WHERE DID YOU GET IT?" GOOD QUALITY, PERFECT WEIGHT, AND LOVED THE COLORS. LOOKS WAY BETTER THAN THE PIC.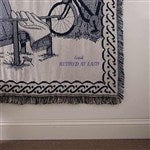 Perfect gift for retirement
By
Shopper

(Sun City Center, FL) - February 7, 2012
Color .... fabric all the best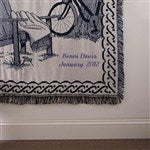 Wonderful Gift for Retiring Employee
By
Cheryl M.

(Amarillo, TX) - January 3, 2012 (
See all reviews by this customer
)
We love these afghans! Have ordered several of these for long-term employees as they retire. The quality is Outstanding. Wondeful gifts!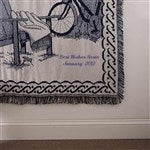 Great Afghan
By
Shopper

(Baltimore, MD) - December 19, 2011
I was pleasantly surprised when I opened the package and saw the afghan, it was beautiful. It was nice and heavy and a good size to put on the wall which I think I will do. I have already recommended this website to a couple of people to do their shopping.

Great retirement gift
By
Steven L.

(Shenandoah Junction, WV) - November 22, 2011 (
See all reviews by this customer
)
This Afghan was the hit of the retirement party. Fast shipping and personalized embroidery made this very special. Although the recipient received several gifts at the party, this was the one mentioned in her thank you card. Great gift. Great value.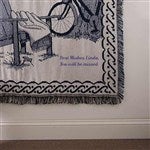 Great quality
By
Joan C.

(Margate, FL) - November 11, 2011 (
See all reviews by this customer
)
Looks better than picture. Nice and soft, definitely navy and cream as depicted. Personalization looks great.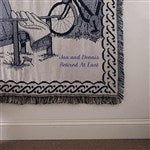 Fabulous
By
Shopper

(Omaha, NE) - November 4, 2011
This is great quality! Great Size! A great gift to give for the occasion!
Hope She likes it as much as I do!!

Beautiful Afghan
By
Lorna Y.

(Shepherdsville, KY) - October 31, 2011 (
See all reviews by this customer
)
It is very hard to find something special for a retirement gift for someone not in an office environment. I found this afghan on the web and thought it would be perfect. When I gave it to the person retiring he was absolutely thrilled. His wife hung it on the wall. Thanks for having something so nice.

Retirement Afgan
By
Tina K.

(Canada) - September 30, 2011 (
See all reviews by this customer
)
This gift was a wonderful afgan made with good quality material as well. My sister worked for 36 years for Defence Construction(Government) in Oromocto,Base Gagetown NB Canada, and everyone loved and admired it. The personalization this company has was fantastic, and the color blue was nice. I would sincerely recommend this gift for anyone who is retiring male or female. Speed of delivery and price can not be beat.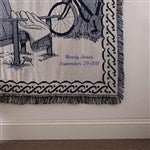 Retirement throw
By
Mary Lou C.

(North Branford, CT) - September 25, 2011 (
See all reviews by this customer
)
This throw exceeded our expectations. It was the perfect retirement gift for a co-worker who was a hard to buy for person. She actually choked up when she opened it and we held it up for review. The quality of the throw is very heavy material and will be used to keep her warm in her retirement years. The personalization with her name and retirement date was an added feature. The size is larger than we had expected. What a great retirement gift.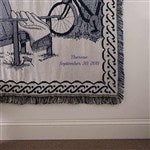 Fantastic Product! More than I expected!
By
Shopper

(Fletcher, NC) - September 2, 2011
I ordered this afghan for my boss who retired after 37 years of service to the state of NC. Everyone loved it and several asked where I purchased it. The theme fit her perfectly..Only comment was that the colors are in "Duke" blue instead of "Carolina" blue..haha... She is an avid Carolina Tarheel fan...Seriously though... she LOVED it!!

GREAT Retirement Gift
By
Shopper

(Dallas, TX) - August 29, 2011
The personaized blanket was a hit as a retirement gift. We may possibly start ordering these for all of our retirees!!

Embrace the Future Retirement Afghan
By
Evelyn S.

(Kansas City, MO) - August 1, 2011 (
See all reviews by this customer
)
This is a wonderful product. The retiree was very moved. All others in the room were amazed at how beautiful this gift was and were asking where they could find it. It was a hit and I was glad I purchased it. Equally impressive was the delivery time. I ordered it on Thursday, it shipped Friday and I received it in the mail Tuesday. Thank you so much.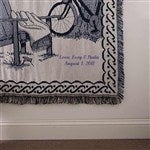 Glad I ordered it
By
Shopper

(West Monroe, LA) - July 22, 2011
Everyone loved it. So glad I decided to order this. The personalization made it special and a great keepsake.

Beautiful Gift!
By
Cindy C.

(La Habra, CA) - July 19, 2011 (
See all reviews by this customer
)
This was a hit! Everyone was in awwwh! Good quality and personalization was really special. I would buy it again! Thank you!!!

Wonderful product
By
Shopper

(Bakersfield, CA) - July 17, 2011
This was a wonderful retirement gift. Very high quality product and embroidery! I would highly recommend.

Excellent Choice
By
Shopper

(Sandusky, OH) - July 16, 2011
This throw was beautiful!! The retiree was so touched by the personalization and loved it. The best part about my ordering process was that is was done in such a short amount of time. I ordered it on a Thursday, it shipped by Friday afternoon...then I received it on Tuesday. Very impressed! I will definitely shop Personalization Mall again.

Great gift. Adds a personal touch by engraving the name.
By
Shopper

(San Antonio, TX) - July 14, 2011
my male coworker loved it. He appreciated the personal touch of his name engraved. He loved it too cause colors are same for his favorite football team Dallas Cowboys.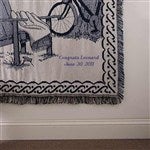 Great Gift!
By
Cindy C.

(La Habra, CA) - July 11, 2011 (
See all reviews by this customer
)
This was one of the Retierment Gifts we gave our boss. All 15 employees loved it!!! Would buy from here again. Totally happy with this purchase!!!!!!!!

Happy in Chicago
By
Shopper

(Wheeling, IL) - July 6, 2011
The retirement afghan was so lovely. It surpassed my expectations, the guality is excellent and the personalization made it so special. It was a big hit at my friend's retirement party and she loved her gift.

Beautiful retirement gift
By
Shopper

(Stormville, NY) - July 3, 2011
I recently purchased this beautiful blanket and the silver fortune cookie for a person retiring at work such a great price and the delivery time was great. The quality of the blanket was great for the price. The person loved the blanket and the cookie. A definite gift for retirement. Very satisfied with this purchase also the first time using this site but not the last. Thankyou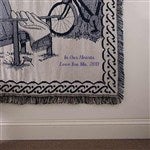 Linda's Retirement
By
Gail B.

(Dade City, FL) - June 25, 2011 (
See all reviews by this customer
)
I purchased this back in November for a friend who had retired, she loved it, she is the type that will use it. Thanks for making this a special gift and the picture on it was perfect, it fit her to a T.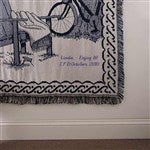 Gift for a friend
By
Rita N.

(Sun Prairie, WI) - June 17, 2011 (
See all reviews by this customer
)
The item was everything I expected and more. My friend just loved it. I could not have been more pleased with the quality and service I received. Thank You