Great housewarming gift
By
Leslie L.

(DeKalb, IL) - October 1, 2009 (
See all reviews by this customer
)
Love this item! It looks great...I actually received a beverage tub myself very comparable to this one, but this one is the same quality at a much better price. I can only say good things about everything that I have ordered from Personalizationmall.com so far!

These are really neat!
By
Heather W.

(Lake Ozark, MO) - October 1, 2009 (
See all reviews by this customer
)
The personalization turned out really good. We got it for my father in law. The hardest person to buy for we are going to fill it with golf balls and beverages for Christmas!

Nice
By
Shopper

(Pico Rivera, CA) - December 18, 2013
make sure to also get the stand, good looking product

Beverage tub - wedding shower gift
By
Shopper

(San Antonio, TX) - October 21, 2013
The beverage tub was really nice. The lettering looked scratched so the company sent me a new one. While I was disappointed at first with the quality of the personalization, customer service responded quickly and sent a new one right way. So, kudos to their customer service department.

Great housewarming gift!
By
Shopper

(Tinley Park, IL) - August 30, 2013
Think this will be perfect for a young couple's house warming!

Party tub
By
Shopper

(Kingsville, MD) - August 26, 2013
Tub was nice, but thought initials could have been a little darker to stand out more!

Beautiful but not insulated
By
Shopper

(Wauconda, IL) - May 7, 2013
I bought this for my husband for our anniversary and it is beautiful. However, it is not insulated at all so the ice we put in melted immediately. The description of the product does say that it is not watertight so I expected some leaking but it conducted heat so the beverages did not stay as cold as I would have liked. I hope Personalization Mall releases the same tub with with an insulated liner. I would definitely buy that.

Great gift!
By
Shopper

(Lawton, MI) - April 22, 2013
We ordered this as a wedding gift for some dear friends of ours. It was beautifully engraved and solid. Would recommend!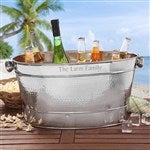 Beautiful, however material thin
By
Shopper

(Island Park, NY) - February 18, 2013
This party tub is beautiful and well-made. I would have loved if the material was a little thicker

Tub
By
Stacey R.

(Mechanicsburg, PA) - December 29, 2012 (
See all reviews by this customer
)
Wish it was a little darker

tub review
By
Reggie B.

(Lake Jackson, TX) - December 21, 2012 (
See all reviews by this customer
)
Great item. Fabulous customer service

Met Expectations
By
Shopper

(Knoxville, TN) - December 18, 2012
I had ordered the item before as a gift and was pleased. The inscription is small as compared to the size of the tub but it was straight and neat. I would liked to have had the inscription on both sides.

Tubs are great!
By
Shopper

(Ipswich, MA) - December 15, 2012
We use these for house warming gifts in the real estate business. Would have gotten 5 stars but one handle fell off....so.....
People really love the personalization.

Great item, website not so great
By
Mark M.

(Davidson, NC) - June 30, 2012 (
See all reviews by this customer
)
I ordered three of these stainless steel tubs for wedding and anniversary gifts. I thought it was a great idea and turned out to be a beautiful item. The problem was when I ordered them I wanted to ship the three of them to three different places as gifts. As far as I could see there was no possible way to do this. I spent 45 minutes trying to navigate around the website to figure this out. I now have three giant tubs at my house that I have to ship out.

great house warming gift
By
cindy O.

(trafford, PA) - May 5, 2012 (
See all reviews by this customer
)
I bought this party tub and stand for friends who recently bought a new home...They were thrilled. I was pleased with the quality and adding their name made it even more special.I am ordering another one for a wedding shower and filling it with party items. I was very happing with the quality.

Just as pictured
By
Nancy Z.

(Maple Grove, MN) - March 23, 2012 (
See all reviews by this customer
)
Super fast process - received order within 3 days of ordering which is amazing. Bought as a wedding shower gift - I am sure they will love it.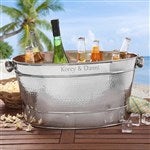 Nice gift item
By
Shopper

(NORTH WALES, PA) - February 26, 2012
I filled this with champagne and other celebration goodies for a great bridal shower gift. It came out quite nice. Would buy again.

Nice Looking Party Tub
By
Jean G.

(Bradenton, FL) - January 4, 2012 (
See all reviews by this customer
)
I am pleased with the look of this item, I only wish that it came with a liner or that the company sold a liner to fit it since it is not water tight.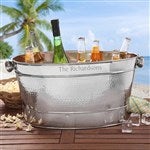 very nice gift
By
Amy G.

(Spicewood, TX) - November 28, 2011 (
See all reviews by this customer
)
shipped on time! party tub is very nice and makes a great gift!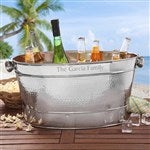 Superb gift
By
Shopper

(Irvine, CA) - October 22, 2011
When the recipient pulled the tub out of the box, everyone ooooo'd and ahhhhhhd! Lots of very fun comments. This gift was a winner. The only comments I have are 1)right above the carrying knobs there is a piece (on each side) that is folded over the edge - it is very sharp and I almost cut myself. We had to use pliers to close it up a little. 2) you don't state how long to ship with personalization and when I emailed asking that question no one got back to me.

Great gift!
By
Abigail M.

(Charlotte, NC) - October 19, 2011 (
See all reviews by this customer
)
I bought this tub as a housewarming gift for a friend's new beach house. They loved it! I can't speak to its performance, but I filled it with beach towels and it looked fantastic!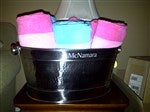 Nice addition to a party or for cute storage!
By
Diana G.

(St. John's, FL) - August 15, 2011 (
See all reviews by this customer
)
I purchased 3 of these tubs for my bridesmaids and one for myself. I like the weight & the look. Now, I need to buy the metal base! Can't wait to use it after the wedding at the family gathering.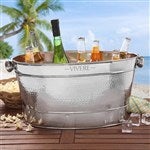 Good Gift, Great Customer Service
By
Christine M.

(mineola, NY) - August 6, 2011 (
See all reviews by this customer
)
I got this tub as a wedding gift and wanted to spice it up by putting some tissue paper and water glasses that were on their registry. The final gift looked great and I was very pleased. Unfortunately the first tub I received was less than perfect, but I called customer service, got a person on the phone after one ring, and we sorted out the problem in one day. They knew when the wedding was (only about a week's notice) and made sure I had the perfect gift just in time...Don't think I have ever dealt with such great customer service, thanks!

Fun Gift
By
Shopper

(Wylie, TX) - July 28, 2011
I bought this personalized tub for my future daughter in law. It was given at her bridal shower. I filled it with other items and felt it was a really nice presentation. I love giving gifts that are different from the others. This was a wonderful gift. Received quickly and nicely made.

Nice Size
By
Shopper

(Plainfield, IL) - July 27, 2011
Not too big, not too small. Love the tub great for parties and good value for money compared to copper ones.

Beautiful
By
Shopper

(Chattanooga, TN) - June 23, 2011
Product is beautiful. Not as sturdy as some others I have seen, but worth the price. I gave it as a gift, so I haven't actually used it.

Good Gift
By
Shopper

(Fort Wayne, IN) - June 17, 2011
Good gift, shipped quickly, got what I expected.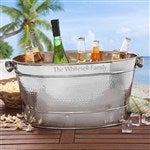 Love it!
By
Shopper

(Mantua, NJ) - June 7, 2011
Looks great!

Great Purchase!
By
Shopper

(Gray, GA) - May 11, 2011
This party tub was everything and more, great look and great quality. The only concern was one of the knobs on the tub was not as sturdy and tight as the others. I haven't used the tubs yet so this may be something to worry about in the future.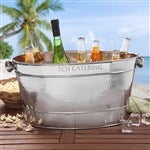 Briday Shower gift
By
Shopper

(Davenport, IA) - April 15, 2011
I purchased this gift for a family Bridal Shower. I was unable to be at the shower and wanted a gift of memories. They loved the gift.

Great product/exceptional service
By
Shopper

(Raleigh, NC) - April 1, 2011
The tub is somewhat shinier than I would have preferred, but otherwise perfect for a "stock the bar" shower gift. The couple loved it. I ordered it on Sunday (needing it the following Saturday)intending to wrap up a picture of the item if it didn't arrive in time. The tub was delivered Wednesday! Great service. Thanks.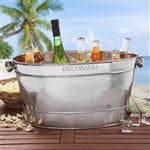 personalized party tub
By
Shopper

(Corwith, IA) - March 6, 2011
This is very nice, and very sturdy, am very happy with my purchase and would recommend this to anyone!!

Unique gift idea
By
Shopper

(East Amherst, NY) - February 9, 2011
I purchased the Hampton Personalized Party Tub because I needed a birthday gift that was unique. Overall, I am happy with the product. It is a nice size. I was a little disappointed that the lettering on the actual product was smaller than shown on-line.

personalized party tubs
By
Shopper

(Le Roy, MN) - January 31, 2011
Very nice, beautiful. heavy duty

great Shower gift
By
Kimberly S.

(Lynn, MA) - June 1, 2010 (
See all reviews by this customer
)
I purchased this item as a shower gift with an outdoor entertainment them for a very social couple and filled it with all the necessaties for outdoor entertaining It looks very classy with their name on it.
I am very pleased with it


Accuracy
By
Allissa A.

(Huntington, IN) - May 1, 2010 (
See all reviews by this customer
)
Looks just like it's presented on the site.

Love it!
By
Lori C.

(Merrick, NY) - February 16, 2010 (
See all reviews by this customer
)
I recently purchased this item because I was having a get together and wanted to place some beverages in it. What a great piece - it looks beautiful! I absolutely love it and would purchase it for anyone as a gift!

A little to the left, please. No! The OTHER left!
By
Pamela M.

(Gerrardstown, WV) - October 14, 2009 (
See all reviews by this customer
)
The party tub arrived in good time and was bigger than I'd hoped, which is a good thing. It's beautiful and shiny. Also a good thing. But the personalization (my last name) was quite a bit off-center. Not such a good thing. I still love it, though.

Item very nice but much negative business sense
By
Shopper

(Brick, NJ) - March 23, 2014
This item was purchased as an engagement gift .. It was a group gift to be given at their party. We ordered the item engraved and paid for two day expedited shipping. The package did not arrive as promised. They said there was a snow event and that they already paid UPS for the delivery and they would not reimburse them. My agreement and payment went to the Personalization Mall, not UPs .. Not my problem . I am in the process of drafting a letter and requesting the shipping to be refunded. We also had to pay extra to ship the gift to the couple since it missed the event. Bad business we'll see what happens, but I would not do business with this company again, just based on what I ve heard from them so far.

Good, not great
By
Shopper

(Chicago, IL) - January 3, 2012
I bought this as a gift and the recipients loved it.
Pros: Really fast service - got it within a few days. Accurate and nice-looking engraving.
Con: The tub itself isn't the highest quality. There were some scuffs and imperfections, but nothing offensive.