Fun Gift
By
Shopper

(Wylie, TX) - July 28, 2011
I bought this personalized tub for my future daughter in law. It was given at her bridal shower. I filled it with other items and felt it was a really nice presentation. I love giving gifts that are different from the others. This was a wonderful gift. Received quickly and nicely made.

Nice Size
By
Shopper

(Plainfield, IL) - July 27, 2011
Not too big, not too small. Love the tub great for parties and good value for money compared to copper ones.

Beautiful
By
Shopper

(Chattanooga, TN) - June 23, 2011
Product is beautiful. Not as sturdy as some others I have seen, but worth the price. I gave it as a gift, so I haven't actually used it.

Good Gift
By
Shopper

(Fort Wayne, IN) - June 17, 2011
Good gift, shipped quickly, got what I expected.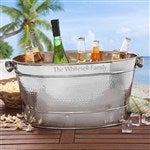 Love it!
By
Shopper

(Mantua, NJ) - June 7, 2011
Looks great!

Great Purchase!
By
Shopper

(Gray, GA) - May 11, 2011
This party tub was everything and more, great look and great quality. The only concern was one of the knobs on the tub was not as sturdy and tight as the others. I haven't used the tubs yet so this may be something to worry about in the future.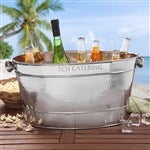 Briday Shower gift
By
Shopper

(Davenport, IA) - April 15, 2011
I purchased this gift for a family Bridal Shower. I was unable to be at the shower and wanted a gift of memories. They loved the gift.

Great product/exceptional service
By
Shopper

(Raleigh, NC) - April 1, 2011
The tub is somewhat shinier than I would have preferred, but otherwise perfect for a "stock the bar" shower gift. The couple loved it. I ordered it on Sunday (needing it the following Saturday)intending to wrap up a picture of the item if it didn't arrive in time. The tub was delivered Wednesday! Great service. Thanks.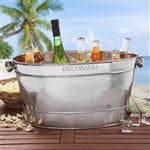 personalized party tub
By
Shopper

(Corwith, IA) - March 6, 2011
This is very nice, and very sturdy, am very happy with my purchase and would recommend this to anyone!!

Unique gift idea
By
Shopper

(East Amherst, NY) - February 9, 2011
I purchased the Hampton Personalized Party Tub because I needed a birthday gift that was unique. Overall, I am happy with the product. It is a nice size. I was a little disappointed that the lettering on the actual product was smaller than shown on-line.

personalized party tubs
By
Shopper

(Le Roy, MN) - January 31, 2011
Very nice, beautiful. heavy duty

great Shower gift
By
Kimberly S.

(Lynn, MA) - June 1, 2010 (
See all reviews by this customer
)
I purchased this item as a shower gift with an outdoor entertainment them for a very social couple and filled it with all the necessaties for outdoor entertaining It looks very classy with their name on it.
I am very pleased with it


Accuracy
By
Allissa A.

(Huntington, IN) - May 1, 2010 (
See all reviews by this customer
)
Looks just like it's presented on the site.

Love it!
By
Lori C.

(Merrick, NY) - February 16, 2010 (
See all reviews by this customer
)
I recently purchased this item because I was having a get together and wanted to place some beverages in it. What a great piece - it looks beautiful! I absolutely love it and would purchase it for anyone as a gift!

A little to the left, please. No! The OTHER left!
By
Pamela M.

(Gerrardstown, WV) - October 14, 2009 (
See all reviews by this customer
)
The party tub arrived in good time and was bigger than I'd hoped, which is a good thing. It's beautiful and shiny. Also a good thing. But the personalization (my last name) was quite a bit off-center. Not such a good thing. I still love it, though.

Good, not great
By
Shopper

(Chicago, IL) - January 3, 2012
I bought this as a gift and the recipients loved it.
Pros: Really fast service - got it within a few days. Accurate and nice-looking engraving.
Con: The tub itself isn't the highest quality. There were some scuffs and imperfections, but nothing offensive.

Not the perfect gift
By
Tianika H.

(miami, FL) - July 20, 2010 (
See all reviews by this customer
)
I ordered one for me and another for a friend. Mine arrived in good condition the gift damaged (side handle didn't screw in securely). After the company shipped another it arrived with a huge dent in the bottom of the tub. The concept is great and I like mine for home but would be skeptical about giving as a gift. Quality 3 out of 5.

Party tub
By
Susan C.

(Germantown, TN) - April 19, 2010 (
See all reviews by this customer
)
I ordered two of the party tubs for wedding gifts. One arrived and was just as it should have been and the other one the metal band where it matches the hammered metal is crooked. It looks as if the right side of the tub is falling down into the bottom metal band. So when you look straight at it it is crooked. I'm surprised that they would send something out that has an obvious defect (and it isn't exactly cheep at 68.95).

Not Happy
By
Timothy P.

(Owensboro, KY) - October 9, 2009 (
See all reviews by this customer
)
The Tub was nice, what wasn't so nice was the engraving was off center, and it was damaged under the engraving, contacted customer relations dept, sent pictures and never heard from the company again, except e-mails to purchase more products. NOT A HAPPY CUSTOMER!!!! I can't believe you would send out a defective product, and then never respond after I sent you proof of your mistake. So everyone out there, I hope you don't have problems with this company, because they don't stand behind their claim of resolving issues especially when it was their mistake.

Disappointed
By
Patty R.

(Sherrill, AR) - October 8, 2009 (
See all reviews by this customer
)
The tub had potential to be quite beautiful but the engraving was not etched into the metal, it was some sort of sprayed etching and the bottom strip of metal had a bow in it instead of being smooth as it should have been.

I need the tub for a gift on this coming Tuesday and do not have time for the hassle of return and exchange.

Probably will not order from here again. Sorry.

engagement gift
By
Shopper

(Mukilteo, WA) - June 5, 2011
disappointed in the tub because it leaks. How can you use a beverage tub that leaks? It looks good but it is not as functional as one I bought at target because it leaks.

wedding gift
By
Shopper

(North Versailles, PA) - May 23, 2011
small for the price.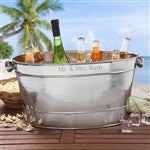 Product not as promissed
By
Jeanne D.

(Far Hills, NJ) - December 28, 2010 (
See all reviews by this customer
)
It says engraved...and it was not. If i knew it wasn't going to be engraved and just painted on, I would have got it somewhere else for cheaper.

Disappointed.

Party "Tin" not "Tub"
By
Kyle S.

(Saugus, MA) - December 22, 2009 (
See all reviews by this customer
)
Very light duty almost cookie tin quality.


Looks cheap
By
Paige R.

(Chicago, IL) - October 11, 2011 (
See all reviews by this customer
)
$90 bucks including shipping and it feels light as a feather. Purchased for a gift, but it looks and feels too cheap to give. Very disappointed.

The Party Tub LEAKS
By
Linda G.

(Vernon Hill, VA) - October 26, 2010 (
See all reviews by this customer
)
What a disappointment! We took the tub to our first wine tasting festival and it leaked all over the table!

Cheaper then expected
By
Abbi B.

(Alexandria, VA) - July 16, 2010 (
See all reviews by this customer
)
I ordered this as a wedding shower gift and was extremelly disappointed with the quality of the product I received. It looks cheap and the lettering looks like rub-on letters that will rub off with the first washing. I am embarrassed to give this as a gift but as it is monogramed what else can I do with it?

Lots of condensation!
By
Yvonne B.

(Estero, FL) - October 8, 2009 (
See all reviews by this customer
)
It is a great gift but I question how practical it is. Once filled with ice and beverages, the tub sweats quite a bit so it should only be used outside and somewhere it can drip without worry. We made the mistake of using inside for a holiday party and placed the tub on a granite counter. What a mess! We had to place a towel under it, so needless to say, it ruined the look we were going for.