perfect gift!!
By
Robin M.

(Maryville, TN) - December 15, 2011 (
See all reviews by this customer
)
Love it, want one for myself next time.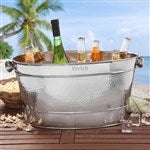 very nice gift
By
Amy G.

(Spicewood, TX) - November 28, 2011 (
See all reviews by this customer
)
shipped on time! party tub is very nice and makes a great gift!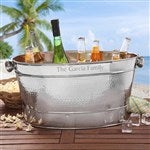 Use it all the time!
By
Elizabeth J.

(HOUSTON, TX) - November 2, 2011 (
See all reviews by this customer
)
I bought this for a friend of mine's wedding shower. I received one for my wedding and LOVE it. I assumed she and her hubby to be will love it too. I use mine all the time. It is great for parties. I have the stand with it as well. It looks very nice, and the personalization is a really nice touch.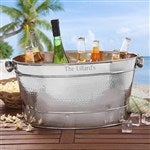 Great gift!
By
Abigail M.

(Charlotte, NC) - October 19, 2011 (
See all reviews by this customer
)
I bought this tub as a housewarming gift for a friend's new beach house. They loved it! I can't speak to its performance, but I filled it with beach towels and it looked fantastic!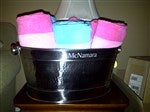 Best gift for bridal showers, weddings, and anniversaries!
By
Helen P.

(Peace Dale, RI) - October 15, 2011 (
See all reviews by this customer
)
The quality, look and versatility of the this tub makes it worth giving. I have bought 10 of them and every recipient has raved about it. I will never rust and is the perfect size. I will continue to purchase this item as long as the quality is not compromised!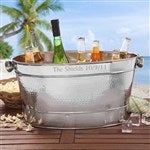 Happy!
By
Alicia A.

(Canada) - October 3, 2011 (
See all reviews by this customer
)
Came exactly as expected and looked beautiful!

A Wonderful Gift!
By
Julie S.

(Lodi, WI) - October 2, 2011 (
See all reviews by this customer
)
This was the second one of these I purchased as a gift. The first one was for a wedding, and they absolutely loved it. This time it was a 25th anniversary and, while I haven't heard yet from the recipients (it was just a few days ago), it was wonderful. It was very well made, perfectly personalized and super fast delivery! I would definitely consider this for another gift giving event.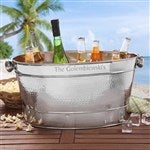 Great gift!
By
Shopper

(Shawnee, OK) - August 29, 2011
I ordered this gift for an engagement party that I am hosting. The beverage tub arrived very quickly, and looks like a million bucks!!! I can't wait to give it to them!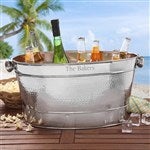 Nice addition to a party or for cute storage!
By
Diana G.

(St. John's, FL) - August 15, 2011 (
See all reviews by this customer
)
I purchased 3 of these tubs for my bridesmaids and one for myself. I like the weight & the look. Now, I need to buy the metal base! Can't wait to use it after the wedding at the family gathering.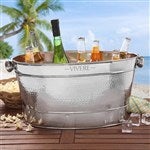 Bridal Shower Gift
By
Mary Ellen S.

(Denville, NJ) - August 2, 2011 (
See all reviews by this customer
)
I ordered the personalized party tub to use as a "wishing well" at my daughter's bridal shower. I received many compliments on the quality of the product. I was extremely happy with the person I dealt with since I ordered the party tub over the phone. I was happy with the quick delivery also. I told the sales person that I needed the tub by Friday (ordering it on Monday). She said they would do their best to have it delivered by that date and she did. I would recommend this company to anyone. Everyone is professional and helpful. I would order from you again.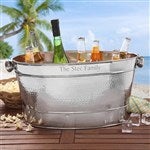 Great Housewarming Gift
By
Shopper

(Wilmette, IL) - August 2, 2011
I purchased two tubs for friends that moved into new homes. The tubs arrived quickly and were very nice looking. I was proud to give them.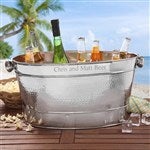 Great wedding shower gift!!!
By
Jacqueline M.

(Singer Island, FL) - August 1, 2011 (
See all reviews by this customer
)
I purchased this party tub for my niece's wedding shower. This tub is of great heavy duty material and the personalization made it just pop. I also purchased some other personalized kitchen items and put it all together for a great wedding shower gift!!!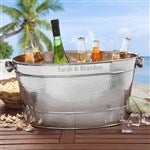 Best Gift Ever!!!
By
Kathy J.

(Downey, CA) - August 1, 2011 (
See all reviews by this customer
)
I have ordered at least 5 Party Tubs for shower, wedding, and birthday gifts. Everyone has loved them. I have one myself and whenever I use the tub, guests comment on how unique and beautiful it is. Our neighborhood gets together often to celebrate special occasions in our families. It is really nice to see all of them put together for the special events we share together as our families grow.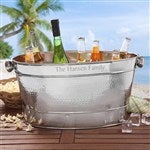 Perfect Housewarming Gift!!!
By
Melinda S.

(Carroll, OH) - July 30, 2011 (
See all reviews by this customer
)
Purchased the Hampton Personalized Party Tub as a housewarming gift as a housewarming gift for our brother and sister-in-law and family and they were very excited to receive it. We noted it has multiple uses, especially with small children, including: beverage tub, ice tub, pool towel holder, toy holder/books for outdoors, baby items when going outside for long periods, and many other uses. They also liked the engraving and I believe it will last for years to come.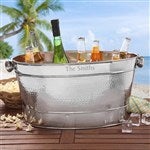 Great Gift
By
Tara M.

(Northville, MI) - July 25, 2011 (
See all reviews by this customer
)
I ordered this for a teacher who was first my daughter's teacher and then my son's. I wanted something she would always have and remember that my kids gave it to her, but didn't want it be another typical teachers gift. This was perfect!! It was much larger then I had expected. It wasn't very thick, but still nice. The only thing I didn't think was perfect was the engraving, I thought it could have been centered better (it seemed too high in the section).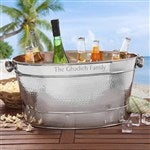 Love it
By
Shopper

(Carmel, IN) - July 25, 2011
I used it at the engagement party as a big ice bucket and put all the drinks beside it. Everyone loved it. The bridal couple were over joyed! Would order again. Maybe one for myself!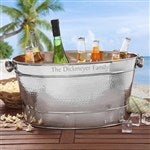 Great Wedding Gift!
By
Brian C.

(Pinckneyville, IL) - July 5, 2011 (
See all reviews by this customer
)
The tub was actually a little bit bigger than I had expected. A few individuals ended up going in for a larger wedding present with me and we added several items by wrapping them up and putting them in the tub like a gift basket for the couple. It worked out great.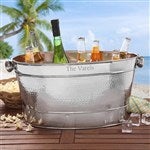 Good Gift
By
Shopper

(Fort Wayne, IN) - June 17, 2011
Good gift, shipped quickly, got what I expected.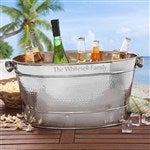 Beautiful
By
Shopper

(Phoenix, AZ) - May 31, 2011
I ordered this for my neice's wedding and had it shipped to her house. When she and her finace returned from their destination wedding, it was waiting for them. They both thought that it was very beautiful and said that it was their best gift! They thought that they'd use it for towels in their bathroom even though it's a beverage tub.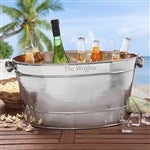 wedding gift
By
Shopper

(North Versailles, PA) - May 23, 2011
small for the price.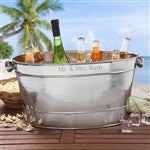 Great Purchase!
By
Shopper

(Gray, GA) - May 11, 2011
This party tub was everything and more, great look and great quality. The only concern was one of the knobs on the tub was not as sturdy and tight as the others. I haven't used the tubs yet so this may be something to worry about in the future.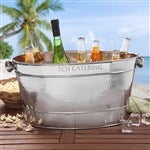 Great Gift
By
Shopper

(Thomaston, CT) - May 5, 2011
I recently purchased the Hampton Personalized Tub with stand for a bridal shower and it was a hit! Tub is exactly as pictured and the monogramming looked terrific. I was pleased at the quality of the tub, especially since we had ordered it on-line and had not seen the item in person. It has a shiny finish and looks rich. It is also a good size. We filled our bucket with outdoor glassware/appetizer plates and Mike's Hard Lemondes and it made a great gift! Many people at the shower had expressed interest in getting one for themselves and I plan to as well. I would definitely recommend this product for anyone... it has a ton of uses and I will probably be giving these as gifts for years to come.. Oh, and the processing time from PersonalizationMall.com is outstanding. We needed this in a hurry and I received the tub in just a few days from my order(less than a week)even with the monogramming. It doesn't get any better than that!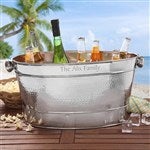 Great Wedding Present
By
Glenda H.

(Ankeny, IA) - April 23, 2011 (
See all reviews by this customer
)
Plan to give this to a family member who is getting married filled up with decorative plastic ice cubes and the new write on bottles of Budweiser Beers with wedding messages. Something unique. Personalization was done nicely. Centered well.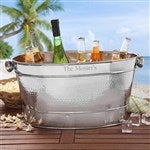 Perfect for couple
By
Shopper

(SAN ANTONIO, TX) - April 11, 2011
We bought this as a couples shower gift and filled it with wine/beer/balloons. It was perfect!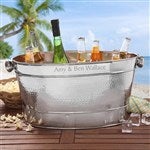 Personalized Party Tub - love it!
By
Sandra C.

(Des Moines, IA) - April 8, 2011 (
See all reviews by this customer
)
I ordered 2 of these for the company I work for as we are constantly entertaining. We use one for pop and one for water. We've received numerous compliments already and inquiries as to where they were purchased. We used tubs similar to yours in the past, but they weren't as large, the quality wasn't as nice nor did they have the company's name engraved. I would highly recommend. Would also make a great gift!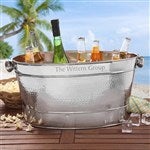 "Style With A Smile!"
By
Jean C.

(Plaistow, NH) - April 3, 2011 (
See all reviews by this customer
)
I'm preparing my daughter and her fiance's wedding in July. One of the few requests she had was for a tub to hold bottled water for the guests at the outdoor ceremony. This tub is attractive and large enough for a lot of mini water bottles and ice cubes. They didn't receive a tub or a chiller at their bridal shower, but even if they do get doubles I'm sure they'll put them to good use. My daughter and her fiance, and their wedding guests will smile at the "extra thoughtful touch".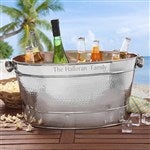 Great product/exceptional service
By
Shopper

(Raleigh, NC) - April 1, 2011
The tub is somewhat shinier than I would have preferred, but otherwise perfect for a "stock the bar" shower gift. The couple loved it. I ordered it on Sunday (needing it the following Saturday)intending to wrap up a picture of the item if it didn't arrive in time. The tub was delivered Wednesday! Great service. Thanks.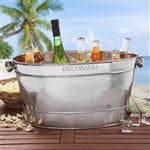 love this product!
By
Shopper

(Houston, TX) - March 25, 2011
I initially purchased this tub for a anniversary gift for my parents. It's great for hosting parties to have beverages out on the patio. I recently purchased another tub for myself and fiance. I like them so much that we plan to set out both party tubs at our rehearsal dinner. Great quality and size!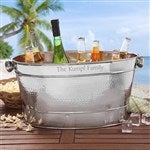 wonderful gift
By
Toni C.

(Monroe, NJ) - March 29, 2014 (
See all reviews by this customer
)
This is my third purchase of the Party Tub.I have filled them with bar related items and wrapped it in clear plastic, what a great gift for the bridal showers that I have attended and house warming party. I just love this piece and couldn't be happier with my purchase and service.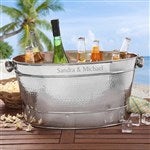 Great gift!
By
Meghan S.

(Bedminster, NJ) - January 13, 2014 (
See all reviews by this customer
)
I have gotten this gift for a bunch of people and everyone has loved it! Great size, great quality, and the engaving is always perfect! Awesome gift or for your self if you're throwing a party!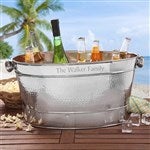 Loved it!
By
Kim B.

(Plano, TX) - July 2, 2013 (
See all reviews by this customer
)
The personalized party tub is perfect. Just what I wanted. Bride and groom loved it. It arrived very quickly. Very pleased!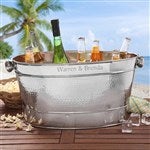 Personalized Party Tub Review
By
Sue M.

(Saint charles, IL) - May 13, 2013 (
See all reviews by this customer
)
I am extremely happy with my purchase (Personalized Party Tub), purchased as an engagement gift for my son and his fiancee. The transaction was perfect from start to finish. The item is a fine quality piece, engraving is perfect and it shipped in less than 48 hours. I will be back for more personalized items! Thank you.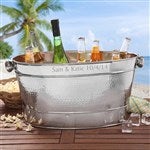 Great gift!
By
Shopper

(Lawton, MI) - April 22, 2013
We ordered this as a wedding gift for some dear friends of ours. It was beautifully engraved and solid. Would recommend!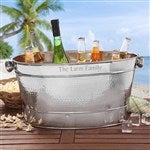 Fabulous Shower Gift
By
Katherine S.

(Galloway, NJ) - April 16, 2013 (
See all reviews by this customer
)
I originally purchased this as the wishing well centerpiece for a girlfriends wedding shower. We did a stock the bar wishing well and filled the tub with craft beers. I fell in love with it and ordered a second one as a gift for a wedding we couldn't make this summer. I am going to order another one for our summer housewarming party!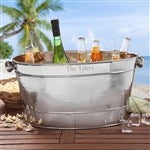 Awesome Party Tub
By
Susan S.

(Pekin, IL) - March 4, 2013 (
See all reviews by this customer
)
I ordered this item for a couples wedding shower gift. It is perfect! The engraving is nicely done. This tub can be used for multiple purposes. I filled it with beer, wine, popcorn and pretzels. It arrived in 2 days! It is very nice quality and came packed in a big box. I would definitely order this item again. The recipients absolutely loved it and thanked us for a personalized gift.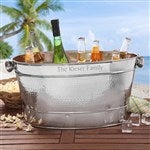 Christmas Gift for couple who have everything
By
Barbara D.

(Charlotte, NC) - December 22, 2012 (
See all reviews by this customer
)
I sent the tub to my daughter and son-in-law for xmas. They have very high standards and called me to tell me they loved it and also the ice bucket I sent them, They loved the quality and personalization of their name. I bought sight unseen so I took a big risk. Thanks for making my job easier!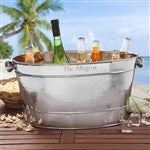 Perfect houswarming gift
By
Heather B.

(Wellington, FL) - December 18, 2012 (
See all reviews by this customer
)
What a great gift! Arrived quickly even with personalization. Our friends love it and say it is of good quality.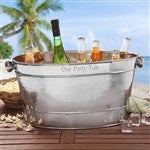 So Glad it's Being Sold Again
By
Julie V.

(Mercer Island, WA) - December 3, 2012 (
See all reviews by this customer
)
For whatever reason during the "wedding season" this year the bucket wasn't available. I was at a loss for what gift to give the newlyweds. After getting a promotional coupon today, I did my search and to my surprise it's back on the site. Gathering addresses and getting it out right away. I've also used it as a closing gift for my real estate clients. I filled it up like you would a basket customizing it to the family.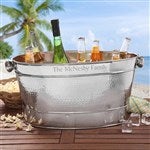 A wonderful gift!
By
Teresa G.

(Ashaway, RI) - November 28, 2012 (
See all reviews by this customer
)
I gave this to my son and future daughter-in-law filled w/goodies as an engagement gift! They loved it! The tub is a nice quality and will get plenty of use in the years to come for these love birds! The engraving was just the perfect touch.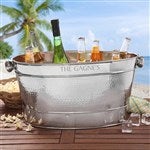 awesome housewarming gift
By
sonjya R.

(freeland, MI) - November 16, 2012 (
See all reviews by this customer
)
The party tub is great--very good quality-a friend of mine ordered one for her daughter as a shower gift-i came right home and ordered one for my son as a housewarming gift--the only thing is -I did not order the stand that is advertized with it--still looking for one-the reviews are awful for the stand-the dimensions quoted are too small for the tub-plus i thought the price of the stand was ridiculas--almost as much as the tub--but i am very excited to get this to my son and his wife!!! I most definately will order more!!!