Great Gift
By
DIANE K.

(HICKSVILLE, NY) - June 11, 2013 (
See all reviews by this customer
)
I purchased this for my niece's first communion. I took a photo at the church and then had it developed before her party. I put the picture in the frame and placed it on the table so when all the guests arrived they could sign it. EVERYONE absolutely LOVED it. What a great gift and it is still on display at my brother's home and looks great. He says people still comment on it when they come over.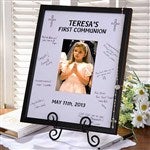 features that would make it better.
By
Shopper

(Chico, CA) - May 30, 2011
The font would be nice to be changed and add more words to the frame.

A slight change...
By
Shopper

(Monroe, CT) - May 12, 2012
The autograph frames are nice, but I would have prefered a little touch of feminine or masculine color. So what I did was to color in the two crosses on either side of the mat, with a pale wash of pink for two nieces Communion frames and a pale blue wash for a nephews Baptism frame. Looks very nice and defines it better. I think!
Maybe it would be nice if they made up the mats in a very pale pink for girl and a very pale blue for boy, and also give the option to have it in white for those who like that. The picture of the mat in the frame on this website looks like the mat in a very pale blue, and it looks nice! It does not look white to me.

Nice gift
By
Shopper

(Smiths Grove, KY) - April 25, 2011
I ordered two of this item and both were very nice and just as I expected. They were shipped very quickly. I had both of them within 4 days of ordering and they came very well packed in bubble wrap.

CMK
By
Christine L.

(Houston, TX) - April 19, 2010 (
See all reviews by this customer
)
I like this but wish it had more color on it. Very plain

Wonderful Momento
By
Veronica S.

(Stratford, CT) - March 31, 2010 (
See all reviews by this customer
)
Great momento for your child's Holy Communion. Family and friends can write messages that can be cherished for years to come with a photo from that special day. Nice quality.
Great price too!

Perfect for the occasion
By
ANGELA Z.

(RICHMOND, TX) - April 14, 2010 (
See all reviews by this customer
)
I graduated from college in May of 2008. I was provided with a frame similar to this at my graduation party. As people walked in, they signed it. I cherish this more than any other gift I received. It makes you feel special that so many people would dedicate their time to you in celebrating joyous occasions.

I bought 2 of these items for 2 children (one boy, one girl) receiving their First Communion this May. I am sure they will love their personalized First Communion frames with all of the signatures of people who shared their day with them, just as much as I enjoy mine.


Communion Frame
By
David & Deena S.

(Hanover Park, IL) - March 12, 2013 (
See all reviews by this customer
)
I just purchased my 2nd communion frame for my other daughter and we love it!!! it's a great memory and seeing all the names of people who have signed it. I love everything about it and got it quick and good packing. would recommend for sure.

Perfect!
By
Shopper

(Bergenfield, NJ) - April 21, 2013
This is the third one of bought! And I will purchase two more for next month!

perfect gift for memories
By
Margaret H.

(Avon, IN) - April 10, 2012 (
See all reviews by this customer
)
I purchased this item for my 10 year old grandson two years ago and he has kept it to remember who attended his first communion. His younger brother who is making his first communion asked if he was going to get one as well. It's a good feling to be able to give them something they will want to keep for a long time.

Great Communion Gift!
By
KATHY J.

(INTERLACHEN, FL) - May 3, 2010 (
See all reviews by this customer
)
This is the third time I've bought this gift as a Communion present. It's very well-received, quality merchandise that is kept for many years.

beautiful memory gift
By
Shopper

(Portland, OR) - May 13, 2011
A very nice high quality autograph photo frame for First Communion! After everyone signed the frame it looked fabulous! I would definitely purchase this again for a gift.