Beach chair and umbrella
By
Nina P.

(Raleigh, NC) - July 14, 2010 (
See all reviews by this customer
)
Very cute! Accurate description. Have a beach trip scheduled and my daughter is very excited about her new chair. Only complaint is tips easily.

Cute set
By
Stacey S.

(Westfield, NJ) - March 30, 2010 (
See all reviews by this customer
)
This item is a great gift. Very cute in person and perfect for a toddler.

Adorable!
By
Jessica T.

(Bridgeport, CT) - March 24, 2010 (
See all reviews by this customer
)
These chairs are so cute! My son received one for his 1st birthday, and I absolutely loved it. I just bought two for two little girls with birthdays coming up. The material isn't very thick, so hopefully they hold up to the toddlers. They definitely look great.

This is the fifth time buying it!
By
Stacy J.

(East Windsor, NJ) - November 3, 2009 (
See all reviews by this customer
)
I have bought it for five of my friends daughters and they all love it. The only reason I did not give it 5 stars is the extra shipping charge on it.

Very cute, but a little lightweight!
By
Amy F.

(Chicago, IL) - October 7, 2009 (
See all reviews by this customer
)
The chairs are very cute and my two little girls love them. I do however feel they are very lightweight and blow over with a tiny wind. When one blew over the umbrella bent because it is so lightweight. It would blow over even if I just was in the back yard with little to no breeze!!

Quality Questionable
By
Shopper

(Lenoir City, TN) - March 24, 2013
The first shipment had poor stitching in several places. Customer service was great after seeing photos of the delivered product. A second chair and umbrella arrived shortly thereafter. The quality of the second shipment was as expected. Rating reflects my perception of the quality control associated with this product.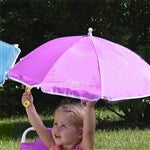 Flimsy Umbrella
I had my mother in law order thid for her 1 year old grand daughter and my niece. The chair is the perfect size, how ever the umbrella is not staying up. So she ordered a new 1 and the umbrella still did not stay up. She was told that this item was going to be removed from the website. This website still have not fixed this problem. Be careful of the purchase. The colors and personalization are beautiful though.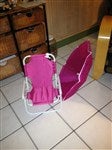 Childrens Beach Chair
By
Shopper

(FORT MYERS BEACH, FL) - July 27, 2012
The first chair we received was ok but the umbrella would not stay in place and would be very dangerous for a young child. It was replaced by customer service and we are keeping this one but the product is very flimsy and will be used with great caution. It is a very cute idea but I would have rather paid more had the product been more sturdy.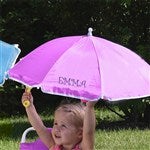 ok
By
Shopper

(Summerville, SC) - May 10, 2011
This was very cute but I think it won't last very long... can see some ripping from the monogramming.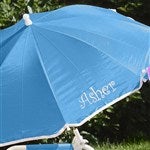 a lot smaller than pictured
By
Susan J.

(Alexandria, VA) - May 11, 2010 (
See all reviews by this customer
)
the engraving was pretty nice but the chair definitely seems a lot smaller than what the picture depicts. def not for up to 5 yr olds, tops at 2-3.

Cute, but somewhat disappointed
By
Adrienne G.

(Clinton Township, MI) - March 16, 2010 (
See all reviews by this customer
)
I bought this gift for my 2 year old niece. Though she and others were excited about it (mostly about the engraving), I was disappointed when I first saw it in person. It's pretty small and the fabric is thin and cheap looking. This chair was not that cheap (especially when you add the shipping and surcharge), so overall it just wasn't what I expected for the money. I will say though, my niece seemed quite pleased with it. Also, I was impressed with the speed of delivery.

Cheaply made
By
Sandra P.

(Hope Mills, NC) - November 14, 2010 (
See all reviews by this customer
)
I have bought several things from this site and have always been happy. I bought this for a gift for a friends' child last Christmas. The umbrella was destroyed in a matter of minutes. I almost apologized for giving it to them. I do however, recommend the folding chair.

Disappointed
By
Cathy M.

(Spring, TX) - May 19, 2010 (
See all reviews by this customer
)
I was very disappointed when I felt the material the chair was made of. The material is not canvas and not very durable. I don't think it will last long with any use at all. My granddaughter will be sad when it tears and I will be too after paying $30 for it!

Made Cheap
By
Shopper

(South Plainfield, NJ) - January 22, 2013
The Chair is very tiny, the quality is cheap, and the umbrella and chair do not match in color. I had to send for a replacement because the umbrella also did not stay up.

Poorly Made
By
Shopper

(Lander, WY) - October 31, 2012
I was so excited to purchase this item and have it for the beach. Upon arrival the umbrella spokes are unstable and continually go off track of the umbrella. The plastic cheap which results in a chair that is not sturdy. The plastic seems it will be breaking off rather soon. In addition the fabric is poorly made and already have small holes forming that are bound to expand with gentle wear. VERY Disappointed for the cost.