Nice item, but small. Customer service was just o.k.
By
Shopper

(Appleton, WI) - December 21, 2011
Very nice flower pot, but it's a bit small. I knew it was small when I ordered it, just wish it was offered in a bigger size. First pot I received had a faint spot where the purple finish looked washed away. They sent me a new one and one of the engraved letters was messed up; the engraver took off too much of the purple finish and you couldn't tell it was the letter r. Customer service was just o.k. I felt like they didn't believe me, because they made me email them photos of the errored spot before they would give me a replacement. I even offered to send the pot back, and they still needed the photos first.

Smaller than Shown
By
David M.

(Menomonee Falls, WI) - May 8, 2011 (
See all reviews by this customer
)
It is nice but much smaller than shown in the picture. The number of flowers shown will never fit in pot received.

Mom's Garden
By
Jerri A.

(Dayton, TX) - December 17, 2010 (
See all reviews by this customer
)
The pot was smaller than expected but it is very cute.

Made well, but small
By
Amy J.

(Fort Wayne, IN) - November 8, 2010 (
See all reviews by this customer
)
Very nice item, but a lot smaller than I thought it would be. I guess I should have looked at the detailed information more before buying!

Fast shipping but Not as described
By
Kelli H.

(Lynch, NE) - May 6, 2010 (
See all reviews by this customer
)
This pot is far from being as big as any other 6" pot I have so that's why I only gave it 3 stars. But it is very pretty and I received it exceptionally fast even with the personalization. I would order again.

Garden of Love Flower Pot - Red
By
Isela R.

(Garland, TX) - May 6, 2010 (
See all reviews by this customer
)
The size of the pot if perfect. The inscription if beautiful. The only problem with this pot is the color is deceived a bit. The color is not actually red, as shown in the picture. The original color is actually a red/orange color. My daughter's favorite color is red and was a little disappointed to see the actual color of the flower pot a red/orangy color.

Vase
By
Lina M.

(Owatonna, MN) - November 22, 2009 (
See all reviews by this customer
)
Like the vase, going to have the kids personalize it with paintings or something, but still unique.

Quality not as expected
By
Shopper

(Mooresville, NC) - May 15, 2012
There were several little chips in the finish and the engraving was not as "clean" as I would have expected.

Cracked then crooked Print
By
Shopper

(Orrville, OH) - December 23, 2011
I ordered 2 and the one was nice. The other one was cracked, I immediately called them and they replaced it, unfortunately the replacement had crooked engraving. I will not request another just disappointed in the QC prior to shipment, especially for the cost. It is still nice but won't order any more of this item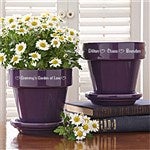 product review ...disappointing
By
Shopper

(Wilmette, IL) - March 20, 2011
Item much smaller than it appeared on website! expensive for size disappointe
positive:arrived on time as promised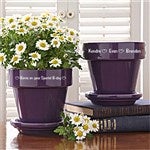 Not Happy
By
Delores J.

(Woodbridge, VA) - December 27, 2010 (
See all reviews by this customer
)
I received the flower pot, I was very excited, and could hardly wait to open it. Then I noticed that the box inside of the delivery box was small... shoot! the flower pot was way too small what I needed it for. I should have read and realize the size, the height fine but the size was not what I needed so I was without a Christmas gift to give and I had to go out shopping... Everything else, color, engraving, the pot was wonderful, but the size not what I needed. Please be careful when ordering and just do not look at picture for it look larger than it is. Other than that the pot is wonderful.

Pot is quite small.
By
Elizabeth M.

(Hellertown, PA) - November 30, 2010 (
See all reviews by this customer
)
Pot is much smaller than anticipated. Color is also more orange than red.

Rip off!
By
Shopper

(Lockport, IL) - May 22, 2013
28.00$ for a small pot!!! Not worth the money! Inaccurate picture of how many flowers can fit into pot! You can maybe plant 2 flowers at the most!! Ridiculous!!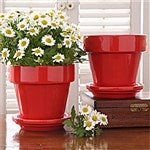 Mrs
By
Michelle A.

(Birmingham, AL) - May 18, 2012 (
See all reviews by this customer
)
I was promised this by Mother's DAy and it never came in --- even now.

Dont waste your money
By
Tracy B.

(Milton, VT) - May 11, 2012 (
See all reviews by this customer
)
For the price of this it's not worth it it's so small and I bought it on sale. If it was cheaper then it would be perfect.

Very small
By
Shopper

(natchez, MS) - April 30, 2012
I was very surprised to see just how small the pot was. For the price, I was definitely expecting something a little bigger. This is the first product from this site that I have not been satisfied with. I should have saved my money!

Not Pleased
By
Shopper

(Burlington, KS) - May 15, 2011
Way too small! I could hardly fit and small plant in this pot.