Great gift
By
Shopper

(Eveleth, MN) - March 31, 2012
My son ordered the treasures box for his girlfriend for her birthday. The order came super fast. The name engraving was very easy to read. Small for the price, but well made and pretty. I am sure she will love it.

Great Present!
By
Ashley C.

(Canada) - March 9, 2012 (
See all reviews by this customer
)
Excellent quality and the monogram looks wonderful! Can't wait to give it to my sister soon for her birthday!

very beautiful
By
Shopper

(Hanover Park, IL) - February 6, 2012
very pretty gift!! wish it was bigger...was not worth $30 for something so smalll. but other than that it was great

great quality
By
Shopper

(oceanside, CA) - November 19, 2011
It is a great gift good quality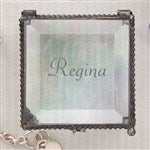 Beautiful
By
Shopper

(ardmore, PA) - February 22, 2011
Very pleased with this beautiful box we purchased as gifts for our flower girls.

Baby gift
By
Violita M.

(Sanderson, TX) - October 29, 2010 (
See all reviews by this customer
)
I bought this jewelry box as a Christmas gift for my baby girl. This will be her first Christmas so I wanted to get her something special that she will hopefully enjoy for many years. The personalization came out very pretty. I am happy with this purchase. It has a very nice vintage look. The little heart that dangles is a little plain but it does not take away from the overall look.

Nice! All but the inscription being too hard to read.
I bought these for my maid of honour and bridesmaid and thought how appropriate to put their necklace and earrings in for the wedding. They're nice, good in size and true to picture. If you like the vintage look then this is a good choice. I would of given this product a 5 star rating but the downside to this gift is the unreadible inscription. It's too light and hard to read. Just as the other reviews stated. Other then that, it's a nice vintage jewelery box.

Very elegant
I got this for my mother, it arrived very VERY fast! This is perfectly beautiful and very cute. My only complain about this item is that the engraved words were not very deep at all, leaving it very hard to read. Overall a great product.

Vintage Treasures© Personalized Jewelry Box
By
damani J.

(san antonio, TX) - February 23, 2010 (
See all reviews by this customer
)
great jewelry box. nice construction. shipping was excellent. i wish the box was bigger. image is a little deceiving. i will definitely use this website again!!

Nice Trinket Box
By
Tamika D.

(birmingham, AL) - December 11, 2009 (
See all reviews by this customer
)
This item is true to it's picture online. I bought it as gift, but think it could have been a bit larger for the price. Overall it is beautiful!

Delicate but small
By
Shopper

(Poughkeepsie, NY) - April 13, 2014
This box is a nice one as a gift, but small in size.


Smaller than expected
By
Shopper

(Heartland, TX) - August 3, 2012
For an expensive keepsake box, it was beautiful & quality made...but a lot smaller than I had expected. A LOT SMALLER.
About the size of a tennis ball.

Beautiful LITTLE Box
By
Sharon B.

(Brandon, MS) - December 21, 2011 (
See all reviews by this customer
)
This box is really pretty and makes a nice gift, BUT it is much smaller than it looks in the picture and the Initial barely shows up unless light hits it just right. All in all, too much money for such a small a box. But beautiful anyway!

Pretty box
By
Shopper

(Bridgeport, CT) - November 21, 2011
The box is pretty and charming. It is however not as big as I had hoped.

Slightly Deceived
By
Gail W.

(Pleasanton, CA) - October 1, 2011 (
See all reviews by this customer
)
When I viewed the Vintage Jewlery Treasure box on line, it appeared to have a rainbow hue in the beveled glass. As you'll note in the "on-line picture" and description of the box, there are flowers placed strategically behind the box creating an optical illusion. When I received the box, there is no color in the glass at all nor does the color illuminate below the engraving as shown in my purchase. I like the box, the engraving looks nice but I feel the advertisment is deceitful. I may or may not visit this web site again.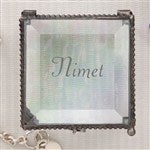 Nice
By
Shanna W.

(Hannibal, MO) - December 8, 2010 (
See all reviews by this customer
)
I think it's a nice trinket box, decent price.

It was okay!
By
Tatiana C.

(Hammond, LA) - December 5, 2009 (
See all reviews by this customer
)
The box itself was beautiful but I sisnt think it would be so small. Other than that it was great!

Delicate & Delightful!
By
Shawn K.

(Pueblo West, CO) - November 14, 2009 (
See all reviews by this customer
)
Such a small intricate piece personalized for a special person must be a keepsake ~ this one looks charming! I'm pleased with efficiency of my order.

Poor Box.
By
William L.

(Boston, MA) - November 22, 2010 (
See all reviews by this customer
)
two of the four legs on the box were bented the wrong way.