excellent
By
Kim G.

(kenmore, NY) - November 15, 2013 (
See all reviews by this customer
)
good quality, nice product. MY daughter had me get for her for my son-in-law, who just joined the Navy- he loves it!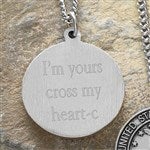 St. Michael Men's Pendant - Army
By
Terrie N.

(Erlanger, KY) - August 24, 2013 (
See all reviews by this customer
)
Just what I expected. PersonalzationMall.com ALWAYS comes thru.
It Beautiful!
I bought this for my Son who just signed up for the Army National Guard. He graduates in a few weeks from Boot Camp and I wanted something special that had a lot of meaning from his Mom. This is perfect, the quality and knowing that someone very special is watching over him in the line of duty. There is never a day goes by a Mother stops worrying over her child. This helps me. I put the day he graduates from the Army on the back. Such a Special Very Liked Gift...

Beautiful Gift
By
MelissaTye W.

(Amarillo, TX) - July 8, 2013 (
See all reviews by this customer
)
This was perfect for a soldier, it wasn't too shiny, but still very nice piece. My brother in law loved it.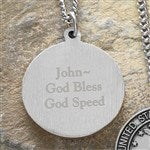 Very nice
By
Shopper

(DEPOE Bay, OR) - June 22, 2013
It was very nice & I was very happy!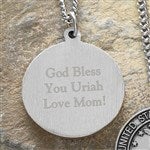 Pleased
By
Terra W.

(Oak Hill, WV) - June 18, 2013 (
See all reviews by this customer
)
I was very pleased with this item. I was everything that was expected from the description that was given. It was given as a gifted and the person loved it.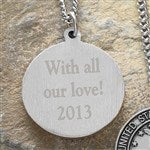 ~~Better then expected~~
By
Heidi M.

(Gastonia, NC) - March 12, 2013 (
See all reviews by this customer
)
WOW! For the price......WELL worth it! At this moment I can't tell you if it will tarnish or not. Just received it today. The piece is heavy enough, and small enough for our son to wear while he is in the Navy. I understand that any religious neck wear has to be smaller than the dog tags. This will work.
Does not feel cheap, arrived quickly and in a very nice box.
Only wish I could have fit more letters on the back of it. But understandable with it being small. Lettering is large enough to read, but you are limited by how many letters you can use.
Would DEFIANTLY recommend.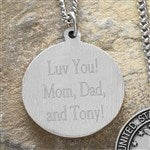 to protect my grandson
By
Corrine M.

(Countryside, IL) - December 12, 2012 (
See all reviews by this customer
)
I was floored when I opened the box this medal is beautiful much more so than the picture shows. I know my grandson will like this and I know this will protect him in his future journeys in the military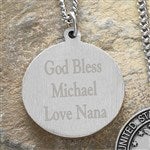 The Best Gift Ever
By
Shopper

(Denham Springs, LA) - December 7, 2012
I got this for my older brother. We've always been close and love eachother, but he's one of those guys that's much too cool to say he loves his little sister out loud. I picked it out and signed it with our parents' and my own initial. When he got it, he actually cried! I've never seen my brother cry before. He gave me a big hug. He's never taken it off since he got it.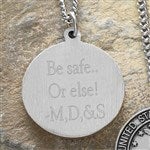 great gift
By
marie W.

(latrobe, PA) - November 12, 2012 (
See all reviews by this customer
)
I ordered this for my son after boot camp. It was top quality and a fabulous gift. My hair dresser gave me the idea as she got one for her son in the army,which thank you for sharing lets pray that the saint micheal protects all young men and women.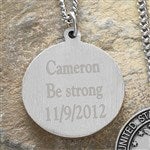 beautiful pendant
By
Shopper

(Unadilla, NY) - November 11, 2012
Bought this for my daughter even though it says mens. Unfortunatly there is nothing for woman in the Navy. Beautiful pendant can be for either male or female. Excellent quality. Better than I expected to be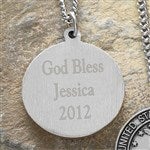 Wonderful!
By
Shopper

(Flint, MI) - October 14, 2012
I got this for my boyfriend for Christmas. It looks beautiful and just as pictured. I'm very pleased and know that he will love it just as much as I do.

Great quality!
By
Tricia Z.

(Hubert, NC) - September 18, 2012 (
See all reviews by this customer
)
I ordered this (Army) pendent for my little brother who is deploying soon. I was a little afraid because I had never ordered from this site before and didn't know what kind of quality I would be getting. It virtually took no time in shipping to me and when I opened it up I was very impressed by the quality of work. The front of the pendent is very detailed, not like a stamp of the Army symbol. The engraving in the back was engraved deep enough that I'm confident won't wear down on him. I'm thinking about ordering a Marine one for my husband.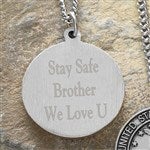 Medal w/Army Logo & St. Michael Patron of Military
By
Jane M.

(Brockton , MA) - May 15, 2012 (
See all reviews by this customer
)
I gave this medal to my nephew who was leaving for the Army. He loved the Army Logo & the personalized engraving on the back. The medal was beautiful and the engraving was much nicer than shown. This is the perfect gift for anyone joining or already in the military.

Personalization Mall received many referrals as everyone asked where did I get such a unique gift.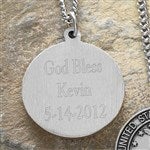 Exceeds Expectations
By
Erika S.

(Middletown, DE) - May 11, 2012 (
See all reviews by this customer
)
When I ordered this for my little brother in honor of his high school graduation and impending military service, I expected a very utilitarian piece with little detail or embellishment. I was surprised at the timeliness of my delivery and the quality is stunning. It is a heavy piece with diamond cutting at the edges and very crisp detailing. The photo does not capture the true luminescence of this piece as it catches the light. I recommend it with 5 stars.

Beautiful
By
Shopper

(Indianapolis, IN) - April 20, 2012
I bought this medallion for my son leaving into the Navy... got it a day before he left- it was beautifully made and excellent quality.. very glad I bought it.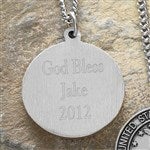 Amazing!!! <3
By
Karen S.

(Lynwood, CA) - March 31, 2012 (
See all reviews by this customer
)
This product is amazing! It arrived quickly, in beautiful packaging and the pendant itself is stunning. My personalized message in the back of the pendant looked perfect. My marine is going to love it when he comes home. <3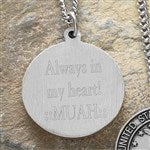 Excellent pendant
By
Shopper

(Arlington, TX) - February 28, 2012
This pendant is fantastic. It was shipped quickly to me. The engraving on the back was just the finishing touch. My son is proudly wearing this during his training.
Thank you.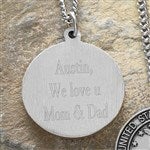 My Review!!
By
Shopper

(Odell, NE) - January 17, 2012
I was so excited to get the Army Pendant for my daughter!!!! It was nicer than I thought and not too big since she is a girl! I think it is so special!! Hope she enjoys it!!! The writing on the back is real nice too!!!


best gift ever!!
By
Shopper

(abilene, TX) - January 2, 2012
exactly as i had hoped. great quality. my husband loved it!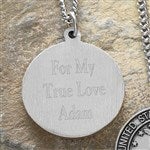 I was more than pleased with this army pendant!
By
Joanne O.

(Oxford, MA) - January 1, 2012 (
See all reviews by this customer
)
I was very impressed how quickly I received my order since it was so close to Christmas, and even more impressed with the Army Pendant itself! The Pendant was honestly nicer than I excpected and the engraving made it so much more personal. The recipient said it was his favorite Christmas gift! I just started ordering things from you and I will definitely continue to and let my friends know about you too. I know you have great quality and my orders have always been on time. Thank you!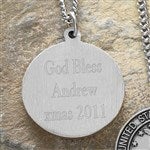 the perfect gift
By
Shopper

(Grafton, WV) - December 28, 2011
The St. Michael's Men's Army Pendant was beautiful. It was well crafted, and the chain that came with it was also well crafted. It was the perfect Christmas gift for my son who recently joined the Army and will be headed to basic training soon. The best part was being able to personalize it on the back. His name was even spelled correctly, which I've had problems with purchasing other things that were personalized. My son loved it!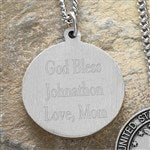 Hubby loved it!
By
Shopper

(Steilacoom, WA) - December 26, 2011
Bought the pendant for my husband who is getting ready to deploy. He loved it! It was a very meaningful gift for me to give and for him to receive. Having the back personalized made it even more special.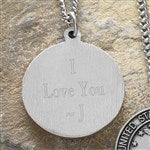 Brilliant
By
Shopper

(North Augusta, SC) - December 6, 2011
This was the most perfect gift for my Marine. He wears it all the time! It was a great way to say "I love you" and the personalized part was special. I would reccommend this for anyone!!

Gift
By
Andrea N.

(Stoddard, WI) - December 1, 2011 (
See all reviews by this customer
)
very nice!!!

Quality Piece
By
Diane V.

(Frankfort, IL) - October 28, 2011 (
See all reviews by this customer
)
I ordered this for my son for his birthday and can't wait to give it to him. I was delighted with the quality for the price. The detail is amazing.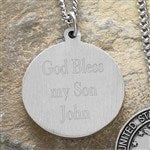 order for son's graduation
By
Shopper

(Florham Park, NJ) - October 7, 2011
Good price, quick shipping and a beautiful medal arrived!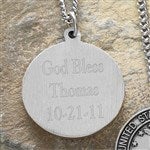 BEAUTIFUL!!!!
By
Julie C.

(Embden, , ME) - September 4, 2011 (
See all reviews by this customer
)
BEAUTIFUL!!!!

Great quality!
By
Terry U.

(Great Falls, MT) - August 12, 2011 (
See all reviews by this customer
)
I purchased this medal for my son who just finished Army Basic Training. I feel this is a high quality item and the engraving is wonderful. I will recommend you to all my friends.

Left Him Speechless
By
Cynthia C.

(Gloucester, VA) - June 27, 2011 (
See all reviews by this customer
)
We came across this website while looking for a military gift for a Parris Island graduate. He was so surprised and was literaly speechless when he laid eyes on this pendant. Thank you so much for expeditiously getting this to us as our soldier was only home for a few days before leaving for combat training. What a beautiful piece - the web does not do it justice.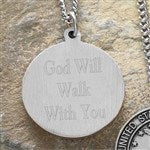 Perfect Gift!
By
Ashlee S.

(Attica, OH) - June 22, 2011 (
See all reviews by this customer
)
My brother is about to be deployed and we wanted a unique gift for him. We found this pendant and it was the perfect choice. It looks exactly like it did in the picture and is very high quality. I am sure he will love it!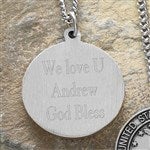 Nice Pendant
By
Genelle B.

(Kinston, NC) - June 21, 2011 (
See all reviews by this customer
)
I brought this Pendant for my boyfriend who is retired from the Air Force. We were both very pleased with the item. I had it engraved for our 1 year anniversary and I was amazed at the turn around time. I placed my order on a Thursday, it shipped on Friday and I had it on Monday. You can't ask for better service than that. Thanks for a good product and good service.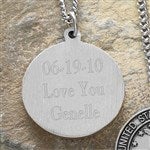 Gift for my sister
By
Shopper

(sinking spring , PA) - June 17, 2011
I bought this gift for my sister's high school graduation. She will be entering the navy. I loved the engraving and quality of the pendant.

Just beautiful
By
Mari-Anne K.

(Redondo Beach, CA) - May 30, 2011 (
See all reviews by this customer
)
We had this customized for my nephew who left for Afghanistan. He loved it and we loved knowing he'd have it with him during his deployment. Gorgeous product.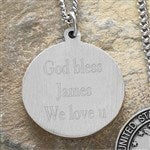 Worth the price!! Really Nice!!
By
Shopper

(Stony Point, NY) - May 24, 2011
I ordered this for my nephew and was thrilled with the quality. I liked the fact that you could engrave it. Not a ton of space...but just enough to say the right thing. It's about the size of a quarter...perfect size for a guy who may not like jewelry, but knows this is something special. Super fast shipping. Would definitely order from this site again.

gift
By
Shopper

(Nevada, MO) - May 22, 2011
This was the perfect gift for a young man being commissioned into the army. Excellent quality and beautifully personalized!

Diployed Marine Gift
By
Kareena M.

(Maricopa, AZ) - May 9, 2011 (
See all reviews by this customer
)
This was a small beautiful token that I figured would protect my Son during his deployment. The inscription on the back was my way of letting him know that he is protected and love always.

Gift for son
By
Dawn C.

(Summerville, SC) - April 3, 2011 (
See all reviews by this customer
)
Super fast personalization & shipping! Found out my son, who is currently stationed on the other side of the country, was being promoted & receiving an award two days prior to the ceremony. Ordered pendant that day to be shipped to him. He received it the day after the ceremony. He was so surprised and happy. He called and said he could not think of anything that would have meant more to him.

Gift for my Army man
By
Esther L.

(Lumberton, MS) - March 8, 2011 (
See all reviews by this customer
)
I bought this pendent for my boyfriends birthday and I'm very happy with it. The graving on the back looks good and the quality of the charm itself is excellant. Love it!

awesome
By
Kevin P.

(Fairhaven, MA) - February 1, 2011 (
See all reviews by this customer
)
Got this for my son who leaves for Basic training soon and he loves it! It is well done and actually pretty heavy duty.

Military must do
By
Sara W.

(Katy, TX) - November 27, 2010 (
See all reviews by this customer
)
This is a perfect gift for someone in the service. It's a great way to remind them that they are loved and missed. Good quality chain and pendant.