Perfect
By
Shopper

(Bella Vista, AR) - March 13, 2011
The pendant was exactly as pictured; including the engraving on the back. The product was shipped and received very quickly! I ordered this pendant for a woman and it is called a men's pendant. Not sure why (maybe due to the size of the links in the chain)? The chain appeared to be a tighter weave in the picture than what I received, however, it wasn't obvious that it was a man's chain. The size of the pendant itself wasn't too big for a woman, either. I couldn't find anything else similar to this pendant on the site for a woman, so I thought I would give it a try because it was what I wanted. I would say that it is also acceptable for a woman. The pendant can be removed from the chain and worn with their dog tags while on active duty.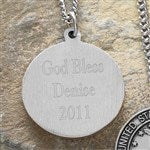 Nice!
By
Brooke W.

(Dublin, OH) - December 23, 2010 (
See all reviews by this customer
)
The pendant itself is GREAT!
Honestly soo much better than I even imagined it would be. The only thing I would change is the style of the engraving. It is engraved almost as an outline so is almost a little hard to read on the pendant.

This is definitely better quality than I have found ANYwhere though and even at a good price!

It also comes in a nice black necklace/ring box like you would get from a jeweler.

Marine Pendant
By
Davy A.

(Cumming, GA) - December 21, 2010 (
See all reviews by this customer
)
We bought this for our daughter, even though it says "Men's Pendant." It looks great and the personalization came out wonderful on the back.

I love it!!
By
Kendra H.

(Santa Rosa, CA) - November 1, 2010 (
See all reviews by this customer
)
The medallion is a little smaller than I would have liked, but I love the message. And the free engraving is always a plus!

St. Michael's Army Pendant
By
Amanda A.

(Peoria, AZ) - July 24, 2010 (
See all reviews by this customer
)
I absolutely love this website and the personalized gifts you offer! With this particular gift, though, I was a little disappointed in the engraving itself. It was very difficult to notice and to read. I believe this is because the letters were only engraved as outlines, rather than the entire letter being engraved, like you would find on a dog tag. Other than this, I was very happy with the necklace...and so was the person I gave it to. Thank you so much.

Love It
By
Tina K.

(Mechanicsburg, PA) - June 8, 2010 (
See all reviews by this customer
)
Bought this for my boyfriend who is of course in the US Navy and it looks all right, and pretty much what I expected. Not sure if it is worth $30+ but I wanted it so that is why I bought it. Also, I would agree that the engraving is not very deep or pronounced and I hope it doesn't fade!. Chain does look cheap but I just bought this so we will see how it fares after a while...

HOOAH
By
Linda C L.

(Mountainhome, PA) - February 23, 2010 (
See all reviews by this customer
)
I gave this to my son when he was commissioned in the Army as a lt. It must have meant a lot to him. The original medal fell off the chain and I had to replace it. I love it because it is religous but not overboard. The new one I had the loop soudered so that it won't come a part.

Great for the Price
By
Kelly T.

(Quinwood, WV) - January 25, 2010 (
See all reviews by this customer
)
I had this personalized for my soon-to-be husband who just finished up his basic and AIT training. Its a nice pendant and its well engraved. The only reason why I gave 4 stars is because I think the chain is just ok. I will probably purchase a separate one -- but overall (even with the chain) its a great price for a monumental event such as this. I'm certain he will love it. XOXO

Pendant quality good.. Engraving, not so much
By
Rachael G.

(Dayton, OH) - December 6, 2009 (
See all reviews by this customer
)
The pendant itself was nice, however the engraving wasn't of the best quality. If I could do this over, I would have purchased the pendant and had it engraved elsewhere.

Nice Pendant
By
Judy O.

(Corpus Christi, TX) - October 8, 2009 (
See all reviews by this customer
)
A little smaller than I expected, but was very nice; The chain was even included.

somewhat disappointed
By
Carol M.

(Dearborn, MI) - May 31, 2014 (
See all reviews by this customer
)
The design is totally different as is the wording...it says St. Michael protect us at the top and at bottom U.S. Navy...no circular border at all. United States is not written out and it just looks cheap. I just rerurned from the graduation party, I wish I would have taken a photo to share. I was stuck to give it still as I did not have time to come up with another plan. :(

ehh
By
Shopper

(Dover, DE) - January 28, 2011
The item seems kind of cheap to me. U can scratch it easy. Doesn't even seem or look like metal. I'm disappointed

Different than pictured
By
Nikki K.

(Maple Grove, MN) - October 25, 2010 (
See all reviews by this customer
)
I like the looks of this pendant and it's significance, but the actual size in the picture is misleading. It is such a small and thin pendant. The engraving is so thin that it is not very noticeable. Not pleased with my purchase but I don't have time to get another gift. Too bad for me...

nice but could have been better.
By
Donna L.

(Bradford, MA) - September 16, 2010 (
See all reviews by this customer
)
The medal was very nice and the engraving. I was dissappointed in the clasp because it opened and remained opened. I had to close it using force so I hope it doesn't continue. The box was not as nice as I expected.

Disapointed
By
Raymond R.

(Wendell, NC) - October 7, 2009 (
See all reviews by this customer
)
I purchased a St. Michael Military Personalized Pendant for my son who was gaduateing from the Marines on August 14th. I received it just a few days before his graduation I noticed that the engraving was very dull, it must have been done with a laser and it wasn't noticable AT ALL!! I brought it to a local jeweler and he couldn't do anything with it :( So I was very upset and had to buy another metal from my local jeweler. I should have done this to begin with,I bought number of items from this site and never had a problem. But there is always the first time. I recommend not to buy anything that needs to be engraved.

worse quality than i expected
By
Shopper

(Flat Rock, NC) - June 24, 2013
Item arrived in time. However it was a lot smaller than I thought it would be. Leather box is very small and not a good quality. Engraving is not deep so it will wear off quickly. If I had time I would have return this item but the person who I wanted to give it to was leaving for Afghanistan the next day so I didn't have time to get something of a better quality. Chain is also short and very cheap looking. The only thing I like about this pendant is the front design of it. However I do not recommend.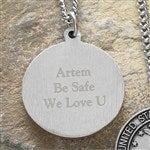 Tarnish
By
Shopper

(lake charles, LA) - February 5, 2011
I bought this for my Fiance'. He has be in Iraq. He wore this for about three weeks and it started to Tarnish.. It could have been the fact that he wore it in the shower. This is a great gift but maybe should be put away as something to keep instead of wearing it. He know keeps his key to his room on it and turned it into a key chain. The personalized message on the back of it is now unreadable.