total satisfaction
By
ken H.

(spring city, PA) - September 26, 2014 (
See all reviews by this customer
)
From the beginning of creating, to the purchase of my plate, It was as easy, and quick, as any dealing I have had, with on-line purchases, Thankyou

Great Gpa Day Gift
By
Shopper

(Tyler, TX) - September 17, 2014
Got this to give my dad to celebrate his 1st grandparents day, he LOVED it. It is proudly displayed in the dash of his pickup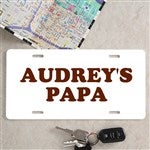 Great playe
By
Chris B.

(Versailles, KY) - September 9, 2014 (
See all reviews by this customer
)
Very well made!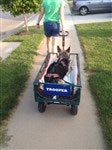 personalized plates
By
Shopper

(Canada) - May 24, 2014
we love our new personalized license plates. Thanks

Nana
By
Shopper

(Ward, AR) - May 23, 2014
I ordered this for myself! I have a silver car and thought the red license plate with white lettering would add a little color to my car. I have one 17 month old granddaughter with another due any day now, and I love my title of Nana. I met my son the other day and he immediately noticed my new license plate. I love it!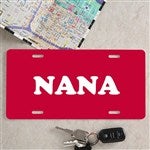 Unique gift
By
Shopper

(Smyrna, DE) - May 13, 2014
Our personalized license plate for our brother far exceeded our expectations. We can't wait to give it to him for his birthday. Good quality, will last for years.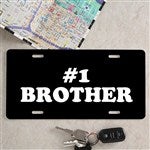 Perfect "GUY GIFT"
By
Shopper

(Chaseburg, WI) - November 30, 2013
Very professional, sturdy made, license plate for my son-in-law for his birthday. He is an avid bass fisherman and competes in tournaments therefore this gift was perfect! We could make the colors to match his truck, which makes it "that much more special." It is nice having a place to buy very special gifts.
Proud Mother-in-Law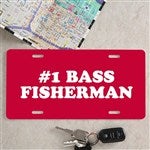 Great Gift
By
Shopper

(Rehoboth Beach, DE) - July 14, 2013
Just as good as it looks in the picture. Perfect gift!

Awesome Tag!
By
Linda D.

(Estero, FL) - June 20, 2013 (
See all reviews by this customer
)
The tag is just what we wanted. The metal material is plenty thick enough and the font and size of the lettering is perfect. Thank you very much!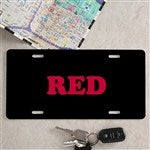 Good Quality
By
Teresa H.

(Meadville, PA) - April 6, 2013 (
See all reviews by this customer
)
Was very please with the Grandpa license plate that I purchased as a gift.
Very good quailty and I received it in just a few days with the standard shipping.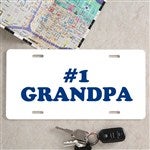 Carwarming!!
By
Shopper

(Miami, FL) - February 22, 2013
I thought it would be great if there existed housewarming parties when you buy a new car, so I made this present to my beloved friend because He was getting his first car. Now He has a bunch of friends that want to put plates on their cars too. Guess I will have to share them my secret personalized gift store, where I find the most unique presents for the most special people in my life.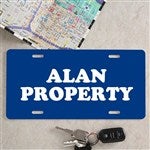 Great Plate!
By
Michele H.

(Lexington, KY) - January 21, 2013 (
See all reviews by this customer
)
The variety of colors to chose from was terrific and the cost was even better! what a perfect gift idea!

good fathers day present
By
Shopper

(Tell City, IN) - July 11, 2012
got it for my dad for fathers day present. he loved it

Better Than Expected!
By
Mallory K.

(Tinker AFB, OK) - December 11, 2011 (
See all reviews by this customer
)
I expected this to be vinyl on a plastic plate, but I was pleasantly surprised to find it was acrylic all the way! So it shouldn't fade or peel. I'm very excited to give this my husband for Christmas! And I will probably order more in the future. It is an amazing deal!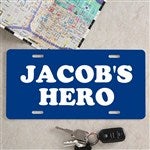 Satisfied Buyer
By
Shopper

(Helena, OK) - August 7, 2011
Plate was everything i hoped it would be. And shipping was quick. I ordered wednesday and recieved it friday morning.. I love shopping with you and will continue in the future. Thank you..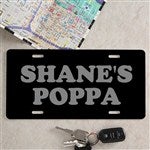 Great Gift
By
Anca D.

(Yukon, OK) - March 26, 2011 (
See all reviews by this customer
)
My husband it's a soccer fan and this was the perfect gift for his birthday. His favorite team's name looked so good on the license plate and he absolutely loved it. I chosed a dark blue background and the characters in red. I absolutely love this website, I will definitely use it in the future.

AMAZING!
By
Darrel L.

(Canaan, CT) - January 1, 2011 (
See all reviews by this customer
)
I loved it! Reading all of the great comments I thought it was maybe too good to be true! Best Christmas present ever! SO impressed! I love personilizationmall.com Not even a question about where I am getting all my presents next year!

Loved it!
By
Samantha M.

(Slidell, LA) - October 12, 2010 (
See all reviews by this customer
)
Everything I expected!

Kids Choice...
By
Jayne D.

(Avondale, AZ) - April 19, 2010 (
See all reviews by this customer
)
My 9yr.old son picked this out for his grandpa's birthday. He saw it said it was perfect and loved it.When we received it better in person. Cant go wrong with this Co...

plate
By
Shopper

(Newark, NJ) - June 29, 2014
This place was such a cool & different idea. Our Pop Pop thought it was great. Thanks for all your gift ideas.

awesome plaque
By
Michael D.

(Newark, NJ) - June 11, 2014 (
See all reviews by this customer
)
The plaque came out exactly as advertised. I'm very happy with out it looks.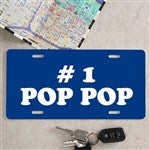 A good gift for papa's new truck
By
Jessica R.

(Yakima, WA) - December 29, 2012 (
See all reviews by this customer
)
Some papa's are hard to shop for. This was a great gift for the grandkids to get their papa and they were able to pick it all out, even down to the choice of words. We got the dark grey and it was just not as dark as the picture was shown.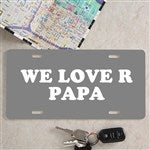 Looks just like the picture
By
Shopper

(Sugar Creek, MO) - June 21, 2012
Very nice and solid! Colors match.

Good quality
By
Jasmin C.

(Louisville, KY) - February 20, 2012 (
See all reviews by this customer
)
Purchased one for my dads Birthday and he loved it! It is of good quality and I'm sure it will last a very long time!

Personalized License Plante
By
Yvette M.

(Kansas City, KS) - June 8, 2011 (
See all reviews by this customer
)
Wonderful,
Just wish had more font colors & the ability to add pictures

Frame and Holes
By
cris G.

(Honolulu, HI) - May 31, 2011 (
See all reviews by this customer
)
just needs a lil adjustment in the holes as in didnt match up with the plate. It covered up the top of the letters when a lic frame was applied around it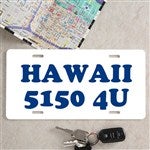 JURY STILL OUT
By
Shopper

(Kennesaw, GA) - June 21, 2012
The sample shows the letters much larger and darker. I ordered the same tag as the example with one additional letter. My letters came out smaller. I wish pictures were a little more accurate.