A little disappointed
By
Maura D.

(Clay, NY) - October 7, 2009 (
See all reviews by this customer
)
I really liked this locket but it is very heavy. I don't think it's all that practical for every day use.

Beautiful product but it doesn't stay closed.
By
Shopper

(Virginia Beach, VA) - April 24, 2013
Beautiful product but it doesn't stay closed.

Not impressed
By
Shopper

(Fargo, ND) - December 6, 2012
Half of the writing was not visible. If you tilted it just right and the right lighting you could see it but under normal conditions it wasnt readable.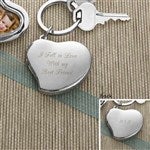 Too Heavy
By
Shopper

(Lafayette Hill, PA) - May 19, 2012
While a very nice product this is just way too heavy to be used as a key chain. I'm actually looking to remove the links and make it a paper weight.

Did not exceed expectation this time!
By
Shopper

(Chino, CA) - March 5, 2012
I have ordered other gifts from personalization mall & i loved them but sadly this one did not exceed my expectation at all! Lots of other reviews had specifically mentioned about the weight but i didn't find that a problem at all! What i didn't like was the way they had engraved it & the size of the letters were too small compared to the big locket & there also was a mistake in size comparison compared to what it shows on my review picture. ( i wish they have options to choose the style & font size )... anyway, I'm a bit disappointed with this order ...


This thing is huge!
By
Lucia M.

(Heath, TX) - December 8, 2010 (
See all reviews by this customer
)
Positives - the engraving was nice
Negative - this thing weighs a ton and is huge. Not sure my mother or mother-in-law will want to use it.

Huge, Heavy, Impractical for car keys
By
Ryan C.

(Oak Harbor, WA) - May 17, 2013 (
See all reviews by this customer
)
The title basically sums it up. I suppose in this world you really get what you pay for but wow! this is larger than my fully size car key/fob combo. Sadly my wife will not be using it as the hinge was poorly designed and frankly, prolonged use on car keys will probably damage the ignition.
Doesn't stay closed, wiggles perpendicular to the hinge, cheapy metal plating.
This is my second time posting the review, which had yet to show up over a week later.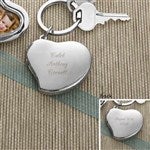 Lasts a moment
By
eric S.

(ooltewah, TN) - May 13, 2013 (
See all reviews by this customer
)
When this arrived it looked awesome. I placed a picture of my wife and daughter in it and it was a huge hit for Christmas. 4 months later the hinge on the clasp is almost broken off (won't close), the gold plating is rubbing off, and the etching is fading. Total rip off

Very unhappy
By
Shopper

(Ramsey, NJ) - December 28, 2012
This locket does not close securely, the hinges are bent so it also doesn't close flush. Not a good item at all!

Horrible
By
Katie C.

(Fort Myers, FL) - May 16, 2011 (
See all reviews by this customer
)
The product looked great and I'm sure I would love it if I ever received it! I ordered the engraved keychain on 5/5/2011 and paid extra for 1-5 day shipping and still have not gotten it. Completely ridiculous and a waist of my money. I checked my shipping adress and everything was done correctly. Unacceptable!

HUGE and HEAVY Key Chain
By
Christina S.

(Atlanta, GA) - October 24, 2009 (
See all reviews by this customer
)
It is way too large and heavy for a key chain. It is more like a picture frame than a key chain. I do not recommend buying this product unless you do not mind carrying a picture frame around all day.