Heart Key Chain
By
Sandra B.

(Warwick, RI) - November 5, 2009 (
See all reviews by this customer
)
My son purchased this item for his girlfriend, the quality is more than I expected for the price. The engraving is top notch. I would definitely recommend this product.

Great quality, fast shipment!
By
Michelle W.

(Portland, OR) - October 19, 2009 (
See all reviews by this customer
)
This was a gift for the mother's of the bride/groom and maid of honor. The locket was bigger and better quality than we'd hoped.
I ordered 4 of these on a Saturday and received them all the following Thursday...SUPER fast!!!
The quality of this item is great and I really appreciate the fast shipment.

50th anniversary
By
pamela M.

(elyria, OH) - October 19, 2009 (
See all reviews by this customer
)
I was seeking a gift for my aunt & uncle that they would be abe to use. With these not only will they be used but you can engrave on both sides and put in 2 photos. perfect gift.

Extremely special
By
Maria B.

(Carolina, PR) - October 8, 2009 (
See all reviews by this customer
)
We ordered the key ring for a dear friend of us and it was so special to have it engraved with a special message and then we got to put pictures of all of us inside. It makes a great gift!!

Exceeds expectation
By
Kathleen P.

(Branchville, NJ) - October 7, 2009 (
See all reviews by this customer
)
As always, I was very pleased with the quality of the item. It was a substantial weight and the engraving was done in quality fashion. I never doubt the quality of anything I buy from Personalization Mall. I have always been pleased!

My mom loved it!
By
Jeanette P.

(Santa Barbara, CA) - October 2, 2009 (
See all reviews by this customer
)
I ordered this key chain locket for my mother and had it delivered to her house by surprize and she loves it and it totally made her cry. It was inexpensive and worth it as a gift for that person who already has everything. It's also cool because there's a lot of room on both sides to write a personal note.

Locket for Love
By
Amanda S.

(Milford , DE) - October 2, 2009 (
See all reviews by this customer
)
Great item! I bought this for my finace' before he left to go to Iraq! I love how you can personalize front and back.

Nice Gift/Keepsake
By
Kay H.

(Baton Rouge, LA) - May 20, 2013 (
See all reviews by this customer
)
This locket keyring is very good quality with the exception of the clasp. It is a very nice weight but is difficult to keep the clasp closed. I will contact customer service to see what they can offer for this problem. The engraving is pretty and as requested in my order.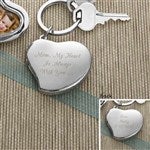 Good Buy
By
Shopper

(Churchville, NY) - May 14, 2013
Purchased this for Mother's Day and I was pleasantly surprised on the size and weight. I thought the quality was great. The frames inside the locket were easy to remove and place a picture into. Holds a good size picture, not too small as with others. I'm happy with this purchase.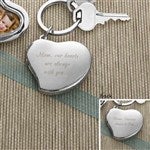 fast shipping. great size! love it!
By
Liteesha W.

(West Palm Beach, FL) - May 10, 2013 (
See all reviews by this customer
)
Fast shipping! The engraving was accurate and a lovely font not as deep as I would have hoped but still good. The item itself was larger than you woild think which made it a perfect size for photos. Overall loved it!!

Mother's Day lockets
By
Patrick A.

(Fort Kent, ME) - May 3, 2013 (
See all reviews by this customer
)
I bought two of these, one for my mom and one for my mother in law- they are beautiful. The personalization is great.

THEY ARE HUGE!! These lockets are key chains and they are heavy. Too heavy to put on your car key chain- it can damage your ignition.

Overall they are very nice- since they are so big the picture frame is big too.

Product features I don't like
By
Shopper

(Pleasant Hill, IA) - February 12, 2013
The heart and personalization are very pretty. It is just larger and heavier than I had expected.

Very Nice
By
Shopper

(Tucson, AZ) - November 19, 2012
The engraving was well done. As others have said, it is a little large. I originally thought that would be a good thing, but it's a bit clunky. It also makes a lot of noise. Beautiful though, and a very nice gift!

Great Keychain!
By
Jennifer C.

(Willowbrook, IL) - August 5, 2012 (
See all reviews by this customer
)
This is much more heavy duty that it looks. The pictures were a little difficult to cut properly. I had to print a few times, but all in all, it turned out to be a great gift! Grandma loved it!

From key ring to necklace locket
By
Shopper

(Bronx, NY) - August 2, 2012
The item was received within the time specified by the company. My mother-in-law love the heart shape locket. Although, we bought this locket as a key ring she love it so much she wore it as a necklace..I would recommend this item to my friend.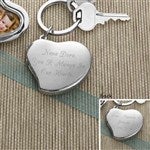 Great product, crappy gift wrapping
By
Shopper

(New York, NY) - July 9, 2012
I was extremly happy with the quality of the items I ordered. The engraving was correct and they looked great. Do not however waste your money on the gift wrapping. It was cheap and tacky. I was embarrassed to gift the items looking like that and went out to reward them myself. Super annoying since I was short on time.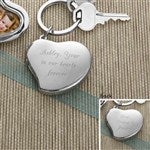 Very nice
By
Shopper

(davenport, FL) - June 9, 2012
Nice size good quality

Perfect mother's day gift
By
Shopper

(Tustin, CA) - May 20, 2012
Received in timely manner, exactly as ordered, nice unique personalized gift.

Very Satisfied
By
Alicia P.

(Jacksonville, FL) - May 14, 2012 (
See all reviews by this customer
)
I love this locket, love having the ability to personalize it. I was a little disappointed as I ordered this gift for Mother's Day and it did not arrive in time. The company was very quick to respond and refund me my shipping cost. Overall, very impressed.

A great useful gift
By
Erin K.

(Chino Hills, CA) - April 21, 2012 (
See all reviews by this customer
)
This was such a great gift! I can never find anything for my mom that she will actually use. She loves it and it made her tear up when she got it. The one thing is its a little heavy once you add all your keys. Besides that it's beautiful and a great gift idea!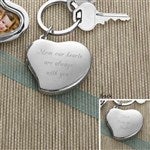 beautiful
By
Kathleen S.

(Fayetteville, NY) - February 14, 2012 (
See all reviews by this customer
)
the heart lockets turned out beautifully....my only regret is that i wish i had not odered in haste ...once you complete your order it cannot be changed and i wanted to change the message and was not able to ...so always think thru what you want the engraving to say before you place your order

Great little keepsake
By
Shopper

(Medford, NY) - January 18, 2012
I purchased this locket for my wife so she could take pictures of our little angel everywhere she goes. Locket is bigger and heavier than I expected, which is a plus! Very happy with the size of the pictures. Personal engraving adds a special touch. Found the frames that hold the pictures in place to be very flimsy. One side kept popping out, I had to bend the frame just a bit to keep it in place. Overall happy with the purchase.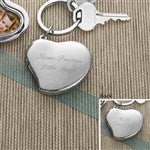 Love it!!
By
Shopper

(Houston, TX) - November 4, 2011
My boyfriend gave me this gift and i love it. its a great gift and i love that its personalized, the only thing that presents a problem are the flimsy picture frame holders dont stay in most of the time, maybe it would work better if they were on a tiny hinge or something.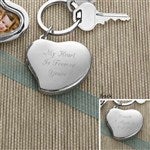 True to picture :)
By
Shopper

(Cape Elizabeth, ME) - May 11, 2011
This key ring looked exactly like pictured and of nice quality - very steardy and heavy. The only reason I gave it 4 stars is that the heart frames inside which hold photos seemed a little flimsy. Gave this as a Mother-in-law gift and she loved it. Would definitely recommend.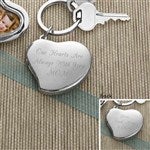 Nice!
By
Shopper

(San Francisco, CA) - May 6, 2011
It was really nice quality although a bit bigger than expected. Still worth it!

Great
By
Shopper

(ISLAND PARK, NY) - May 5, 2011
Item is really cute and engraving is the best part!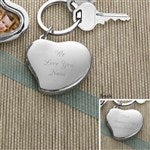 locket key chain
By
bonnie S.

(Canada) - April 4, 2011 (
See all reviews by this customer
)
The locket is very beautiful with the inscription on it. The only thing I found that I was disappointed in was the size it was too big and heavy. I bought two one for me and one for my best friend. It is a wonderful gift to give. I just hope they make them smaller.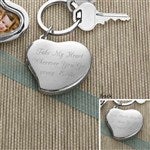 Great customer service
By
Shopper

(Mineola, NY) - March 19, 2011
I had a defective key ring, but a new key ring was shipped very quickly and the customer service was excellent!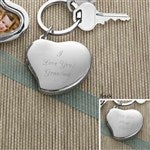 Excellent! but too big to be a key chain !
By
Shopper

(Canada) - March 18, 2011
The quality and everything is very good ! very recommended for your girlfriend!

but it is too BIG to be a KEYCHAIN!

Heart Locket
By
Laura K.

(Manteno, IL) - January 1, 2011 (
See all reviews by this customer
)
The locket came out fine. I am dissapointed that the minute we ordered we sent a note to customer service that 1 letter should be changed to upper case. We never received a response and of course it was not changed.

Great gift!
By
Tracy E.

(Wantagh, NY) - November 26, 2010 (
See all reviews by this customer
)
Beautifully done...a bit on the heavy side and larger than I thought it would be for a keychain...but still a great gift idea!

very very nice
By
Doris L.

(Bronx, NY) - October 4, 2010 (
See all reviews by this customer
)
I purchased this locket for my daughter to put her 1st daughter picture is. I was very, very happy with this purchase. I brought it as xmas gift, but i do not know if I can wait until then to give it to her. The weight is good, and the locket looks expensive and well made. I think the inscription could be a look darker, if possible, but other than that, I know she will love it, I do. I highly recommend it.

heart locket
By
CAROL M.

(HARTSDALE, NY) - May 18, 2010 (
See all reviews by this customer
)
It was a bit larger and heavier than I thought....but still nicely done

Great gift for grandparents
By
Patricia A.

(Wappingers Falls, NY) - April 18, 2010 (
See all reviews by this customer
)
4 stars b/c out of the 3 lines, the top two are closer to the top and the bottom line was low...they weren't centered. Still, my parents loved the gift from my 1st born, engraved to them from her, with her pics. Better than a necklace locket (since my mom doesn't wear a lot of jewelry) and this is something that both parents will use/see everyday.

adorable but missing something
By
Nicole B.

(Metairie, LA) - April 12, 2010 (
See all reviews by this customer
)
I love the key chain, and it would be perfect. However, I had trouble making the items go to my basket when ordering online, often having to reenter the item details. I guess that for one of the times that I had to reenter, the part that was to be engraved on the back of the heart was erased. So when I received it in the mail, the most important part (Love, Caleb) was not on the back. I thought that I even double checked it before purchase. I don't know where the mistake happened.

Great Gift for Mom!
By
Clinton R.

(Salt Lake City, UT) - April 6, 2010 (
See all reviews by this customer
)
Makes a great gift for mom!

Photo Key Ring
By
marie-celine B.

(rio rancho, NM) - April 5, 2010 (
See all reviews by this customer
)
I purchased 6 of these keyring for myself and my family as we just lost our Dad. Loved the size and was able to put in a decent picture and love you could engrave on the front and back. Great value. I love it!

Heart Locket key ring
By
Adam E.

(Greene, ME) - February 11, 2010 (
See all reviews by this customer
)
It is a great item, for a great price! I love the personalization and the quality. A+

Very nice, but it was larger than expected.
By
Ryan O.

(Santa Rosa, CA) - February 11, 2010 (
See all reviews by this customer
)
I have ordered a few things from PersonalizationMall.com a couple of times and I have to say I have been very pleased with all of the purchases. I have recently ordered and recieved the heart locket keychain and it looks great! The engraving is perfect and the quality is just as detailed. The one thing that would of made this perfect is if I had known the size of the locket. It is a little large and knowing the demensions probably would have changed my mind. But I would order again in an instant.

Pretty nice
By
Priscilla L.

(Laredo, TX) - January 20, 2010 (
See all reviews by this customer
)
The engraving is a tad small and hard to read--even if you stay within the character limit. But the silver looks shiny and attractive, and it looks like it will hold up to normal use/wear and tear. It's a little tough to open, but that's better than being loose. Thanks, PMall!