Why I like it and Why I don't
By
Shirley C.

(Broken Arrow, OK) - July 2, 2013 (
See all reviews by this customer
)
I think the box is beautiful although a bit smaller than I envisioned. The only negative comment I would make is that the engraving does not show up very well on the clear glass. I put a piece of black felt on the inside bottom and it helped show the engraving much better. Although that then covered up the pretty bottom. If you could figure out a way to make the engraving show up better then this product would be excellent!

Pretty jewelery box
By
Sana S.

(Lombard, IL) - June 28, 2013 (
See all reviews by this customer
)
I got this gift for my sister's 18th birthday. She loved it. The only reason why I took off one star is because the personalization was not clear enough, you would have to put like a dark piece of paper under the lid to see the engraving. However, it's still a really great gift because the jewelery box looks very unique and pretty.

Vintage Treasure Box
By
Dinita S.

(Houston, TX) - May 20, 2013 (
See all reviews by this customer
)
This is great item to purchase. The personalization looked great but it was much smaller than I expected it to be. Other than that it's great gift.

Cute and personal
By
Shopper

(Ben Lomond , CA) - May 17, 2013
I ordered two of the boxes and they shipped quick and were beautiful, only complaint was that one of them did not sit completly flat, it wobbled just a bit, nothing major just annoying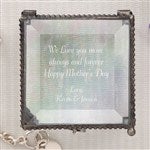 Good
By
Shopper

(Normal, IL) - April 30, 2013
This product was about a 3 out 5 (5 being best) on my expectations. I will purchase this piece again but will keep the occasion in mind. I purchase this for a bridal shower and wished the quality of this product was better. The engraving makes a difference-loved that I was able to choose what was written. I recommend putting something in this as a gift and using the jewelry box as a "gift box". I believe it to be a little expensive for its quality.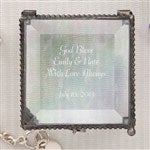 Very Beautiful Jewelry Box
By
Tasha B.

(Long Beach, CA) - March 29, 2013 (
See all reviews by this customer
)
I purchased the jewelry box to use in my upcoming wedding instead of having a ring pillow. The box is very beautiful and has a great vintage feel. The only things I didn't like was that the engraving on the top was a little spotty (some areas of the letters were so light that it looks like part of the letter is missing) and that the clasp that holds the heart charm on the front is silver instead of a matching metal with the rest of the box. I noticed that it really stands out in person when you see the bright silver clasp and the rest is a bronze color. All in all though, we are very happy with the jewelry box and would buy it again.

Good buy!
By
Shopper

(North Las Vegas, NV) - February 18, 2013
I found this jewelry box to be adorable. I'm a little dissappointed with the inscription...you can barely see it and a color change for the type may be worth considering. However, the box itself makes a great statement on its own and I would purchase this product again.

Pretty good
By
Joesph S.

(Wagoner, OK) - February 15, 2013 (
See all reviews by this customer
)
I liked that it was plastic but it was also disappointed. I bought it for my wife and she really liked it. It was beautiful and very well done.

Beautiful
By
Shopper

(Hometown, IL) - February 11, 2013
I ordered this for my husbands grandmother's 90th birthday... It is beautiful. I wanted something small for her just to say we love you and this really does the trick. The glass gives off a rainbow effect that makes this piece unique. I love it and it might be my new go to gift for the hard to shop for person.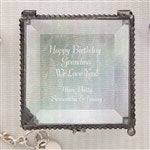 good quality small price
By
jose M.

(san jose, CA) - February 9, 2013 (
See all reviews by this customer
)
enjoyed the product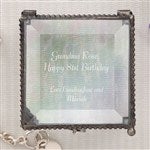 special keepsake memory
By
Shopper

(Sauquoit, NY) - January 18, 2013
It is perfect and beautiful as depicted, the writing was a little light but it is a gift I know she will cherish

Special Gift to a New Grandmother
By
Shopper

(Ellicott City, MD) - December 27, 2012
Frame was a little bent when I received the jewelry box. Other than that, the box was beautiful, and the engravement was a special, meaningful touch to the recipient.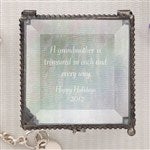 Beautiful purchase
By
Shopper

(Westerville, OH) - December 24, 2012
Love this jewelry box. Only reason I gave it 4 stars instead of 5 is because it's hard to read the inscription (very light).

Great gift
By
Shopper

(Leawood, KS) - December 21, 2012
For the friend that has everything! This is a great thoughtful gift for any ladies special occasion. It's a good size for rings and watches. Bangle type bracelets wouldn't fit but the size is perfect for sink side jewelry box. The etching is subtle which I liked.

a Gift
By
Shopper

(Ozark, AR) - December 19, 2012
I got this to give my sister for Christmas, she got it in plenty of time, and she said it was beautiful.


Cute, as described
By
Shopper

(Dubuque, IA) - December 12, 2012
Got the box rather quickly, two thumbs up shipping wise. The box is cute and comes as the picture shows.

Cute
By
Shopper

(Cincinnati, OH) - December 7, 2012
I bought this for my grandma for Christmas. It is so cute, but it was a lot smaller than i thought it would be. It's so cute though, and i know my Grandma will love it!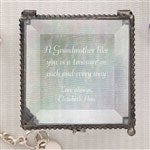 Vintage Treasure Jewelry Box
By
Lisa F W.

(Frankfort, KY) - November 28, 2012 (
See all reviews by this customer
)
I was very pleased with the look and design of the jewelry box. I was a little disappointed that the personalization on the top of the jewelry box was not noticeable. Since it was a clear top, it did not show up as well as I had hoped.

Hard to read
By
tanya G.

(anaheim hills, CA) - October 29, 2012 (
See all reviews by this customer
)
The product came just as it appeared. It was a bit hard to read the engraving due to the nature of the glass.

Small treasure
By
Mariolene J.

(Delray Beach, FL) - October 26, 2012 (
See all reviews by this customer
)
My friend LOVED her jewelry box. The fact it was personalized just for her made her love it more. It came beautifully gift wrapped and was very well received. It was a wonderful purchase.

Keepsake Vintage Jewelry Box
By
Shopper

(Jacksonville, FL) - July 31, 2012
I was quite impressed with this little gem. Getting the engraving done the way I wanted was a little tricky but eventually got the effect. (If you want all caps on a company name, you have to space out the letters--the rep did not know this, found it out for myself.) Hope this is helpful.
Thanks!

Adorable
By
Shopper

(Lubbock , TX) - July 7, 2012
I got it for my little sister. She seemed to like it but then again, she's a teenager and they don't like anything. I thought it was super cute though. It's a wee bit tiny though.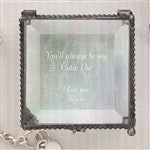 Lovely!
By
jennifer C.

(Crest Hill, IL) - June 25, 2012 (
See all reviews by this customer
)
I bought this item for my Bridesmaid. It's a little smaller than I thought it would be, but it's still very pretty and I think the quality of the item is very good. I love the customization option. I was able to include a cute little phrase (an inside joke) on the lid under her name.

Great Gift
By
Jamie M.

(Guttenberg , NJ) - May 21, 2012 (
See all reviews by this customer
)
It is very nice but a tad smaller than it looks.

Beautiful jewelry box...
By
Shopper

(Bear, DE) - May 14, 2012
Gave this to my Goddaughter for her high school graduation. She loved it. It's quite intricate in design, and elegantly engraved. My only concern was that it was a much smaller box than I thought it would be... The accurate measurements were on the product description, but I didn't expect it to be as small, as was the inscription. Nevertheless, I would highly recommend the product -- it's a perfect keepsake for a special occasion.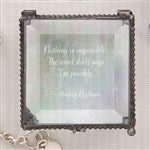 Pretty
By
Shopper

(Collegeville, PA) - April 27, 2012
I got this for my sister for her 15th birthday, that reads "There's no better friend than a sister" with my sisters' names and mine following it. My mom loves it, my sister loves it, and i love it, which means no matter what age you are, it's beautiful. I don't know if dimensions are included, but it was smaller than I expected. But looking back in retrospect, any bigger and it might be a little awkward. I absolutely love it, but the only down side of this purchase was that they sent the wrong one to my house first, but fixed it right away. So.. overall i guess it's alright!

Nice gift
By
Shopper

(ventura, CA) - February 29, 2012
This is my third purchase at Personalization Mall.com. If you're unable to find a gift for a special occasion, this is the place to shop. Their products are unique and customer service is terrific. Engraving a gift you've chosen makes it even more special. I'm glad I found this website and will use it many times in the future.

Delicate and Beautiful Gift
By
Shopper

(North Bergen, NJ) - February 16, 2012
I gave this to my daughter for her birthday. She loved it. Very good quality. It would be perfect if it was a little bigger, but it is a beautiful item.

Jewelry box
By
Krystie V.

(Hydeville, VT) - January 2, 2012 (
See all reviews by this customer
)
Arrived when expected and in great conditions!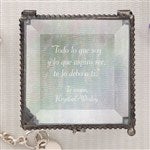 Jewelry box
By
Shopper

(San Francisco, CA) - December 30, 2011
Engraving was great but the box itself was not as pretty as in the photo. Also, thought the purchase of gift box was a waste - ribbon was too big to wrap around the box and the box itself was not anything spiel. Could have just used the box it was shipped in.

Great keepsake gift
By
Ashley M.

(Social Circle, GA) - December 30, 2011 (
See all reviews by this customer
)
I had this engraved and gave it to my mother from my daughter. She loved it.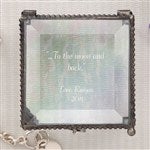 classic
By
Shopper

(Greenville, NC) - December 23, 2011
Very nice box, my only complaint is that I could not see the message very clearly.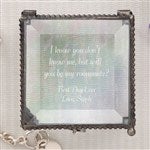 Elegant
By
Shopper

(Dillingham, AK) - December 21, 2011
Very beautiful and elegant style, however the message needs to be more dark or brighter... another way for it to be more readable, other than that I really loved it!

Birthday gift
By
Shopper

(Sunnyvale, CA) - November 19, 2011
This was a gift for a special friend. When she opened it, she cried as she was so touched by it. I love the ability to personalize the gifts and your examples of phrases are great.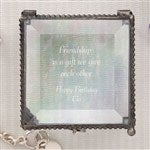 Attractive and Elegant
By
DeeAnn S.

(Oceanside, CA) - October 28, 2011 (
See all reviews by this customer
)
Just the right gift for that special someone.
Nicely pleased, and the heart detaches and
can be replaced with another charm!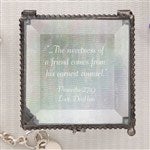 Nice Vintage Style - great gift
By
Alyssa R.

(Butler, PA) - July 6, 2011 (
See all reviews by this customer
)
This is a nice vintage style jewelry box. I got it for my best friend's 30th b-day and she absolutely loved it. I found an awesome saying the fit on it. My only complaint is that it should come in a bigger size so you can fit more on it. i really liked a friendship saying off of the wooden heart jewelry box but it would not fit on here so I changed what I put on b/c I knew my friend would like the vintage style better.

Overall, awesome product that makes a wonderful gift.!

Nice box
By
Shopper

(Surprise, AZ) - June 19, 2011
This is a nice small box.

I liked this
By
Shopper

(Pembroke, NH) - May 12, 2011
Product was of good quality and arrived in a timely manner.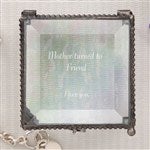 Lovely Gift
By
Patricia H.

(Katy, TX) - May 11, 2011 (
See all reviews by this customer
)
My mother in law loved this gift for Mother's Day, along with a piece of jewelry we bought her. I continue to come to your website first for most of my gift purchases.

Good Gift piece
By
Shopper

(Clovis, CA) - May 9, 2011
Bought this piece as a "going-away" keepsake for a friend at work. Box is lovely but it is very hard to see and read the etched message. Otherwise, it makes a very nice gift.