You guys rock!!!!
By
Tamarra L.

(Holloman Air Force Base, NM) - December 20, 2011 (
See all reviews by this customer
)
I have ordered 4 or 5 christmas gifts for my family from you guys and i have to say that i am so glad out found your website! You guys are very reasonably priced and made it so easy to pick out the perfect gifts. I will be telling friends and family about your website. Once again thank you very very much!!!!!

Simple and beautiful!
By
Shopper

(Rosemount, MN) - December 19, 2011
This suncatcher is simply beautiful! Excellent gift for a mother!

Stunning!
By
Kora-Lee T.

(King of Prussia, PA) - June 5, 2011 (
See all reviews by this customer
)
I ordered this as a Mother's Day gift for my Mom, from her Grandson with a personalized signature. It is just the right size and the colors are not as vibrant as the picture around the outside, but I actually preferred it that way. Come with the suction cup to hang it and will look great in your window, especially when the sun hits it. Very pleased once again and will continue to place my orders here with PM, because every comes out looking great, never cheap or poorly crafted.

Mother's Day
By
Shopper

(Burgaw, NC) - May 9, 2011
These suncathchers are absolutely beautiful! Ordered one for moms, grandmothers,and great grandmothers in the family. Everyone loved them.

This was beautiful!
By
Shopper

(Saginaw, TX) - May 8, 2011
I love Personizationmall .com for so many reasons! I ordered this product for my mother for Mother's Day. UPS said they delivered it but it had not shown up. I called Personizations and they were extremely helpful and courteous. They told me that they would file an investigation with UPS and not to worry because if the item was not found, they would replace it at their cost. They did file the investigation and the item showed up a few days later. It had been delivered to a neighbor.Personizationmall is such a great company! The sun catcher is beautiful! Everything I expected and more! My mother loved it! I highly recommend Personizationmall.com! You will not be dissapointed!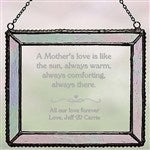 Even nicer than expected!
By
Shopper

(little ferry, NJ) - May 7, 2011
Highly recommend any purchase from Personalization Mall.com. This suncatcher is absolutely beautiful and the quality is surperb! A special cherished gift to have forever.

For grandma
By
Angela R.

(Ashland, OR) - May 4, 2011 (
See all reviews by this customer
)
My son calls his grandmother gimmie and it lets you personalize it with pretty much whatever you want. My mother loved it!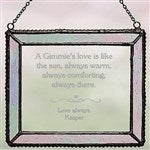 Mom Suncatcher
By
Shopper

(Arvada, CO) - March 25, 2011
My son purchased this item for me a couple of years ago for Mother's Day. It was broken by my dog. I wanted to replace it and was thrilled I could. I found the item fairly easily and the order processing was painless. The item was delivered 'very' quickly. I did tell my son that I wanted to replace it - and he just smiled...but a gift from an adult son is something to cherish.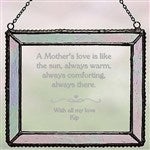 Personalized Suncatcher
By
Amanda P.

(Broken Arrow, OK) - February 21, 2011 (
See all reviews by this customer
)
Very nice gift! Had it personalized for my grandmother. She loved it! The glass looks clear until in direct sunlight, very beautiful.

More beautiful in person
By
Crystal K.

(Frankfort, KY) - December 13, 2010 (
See all reviews by this customer
)
I ordered this suncatcher for my Granny for Christmas. I thought it looked really pretty on the site, but when it arrived at my home, it was even better!! The engraving was beautifully done, the chain and the trim is a dark and iron-like, and the border has a gorgeous iridescent finish. It's small and dainty, so it will fit nicely on any window. I would highly recommend this product. It looks so much more expensive then it actually is. I plan on ordering more in the future. So adorable!!!

Pretty Edges
By
Lois L.

(Moncks Corner, SC) - May 10, 2010 (
See all reviews by this customer
)
This a pretty suncatcher with multicolored edges that change with light. It turned out beautiful.

Well...
By
Brittany A.

(Baltimore, MD) - April 26, 2010 (
See all reviews by this customer
)
It made her cry, so I guess it worked :) Great quality, nice price, said everything I wanted to say.

Very Pretty
By
Carla M.

(Vadnais Heights, MN) - January 10, 2010 (
See all reviews by this customer
)
Every year I try to find something unique for my 2 best friends for Christmas and once again I am delighted in this product as well as all others I have purchased through this website.

GORGEOUS.
By
Caitlin D.

(West Middlesex, PA) - December 21, 2009 (
See all reviews by this customer
)
Got this suncatcher for my mom's birthday and she LOVES it. Beautiful ornament, looks much more expensive than it actually was.

Perfect little gift
By
Marie R.

(Randolph, MA) - October 23, 2009 (
See all reviews by this customer
)
I ordered this suncatcher for my mother. It was exactly as shown and she was very happy with it. I would order other personalized items from this site.

Absolutely stunning!
By
Shopper

(Hopatcong, NJ) - July 26, 2014
I think this sun catcher is absolutely beautiful, although I thought it was bigger. It will still catch anyone's eye. I would have given 5 stars if it was a little bigger. But again, lovely piece to add to anyone's home! Gave it as a gift to my mother in law and she loved it also!

Nice Gift
By
Shopper

(Orrville, OH) - December 23, 2011
The engraving was a little crooked on the two that I purchased but was still nice.

My Mother in law loved it!
By
Heather B.

(Taylors, SC) - May 22, 2011 (
See all reviews by this customer
)
I will admit, this is smaller than you want it to be. But it is beautiful and well made. This was our gift to her at our wedding and she loved it. So, it was a success!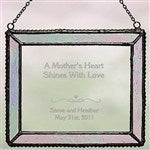 A LITTLE EXPENSIVE
By
leslie D.

(plumas lake, CA) - September 3, 2010 (
See all reviews by this customer
)
BUT VERY NICE AS WELL.

Pleased
By
Amy P.

(marengo, OH) - May 8, 2010 (
See all reviews by this customer
)
These were everything I thought they would be. There weren't to big or to small, and they were just as described.I try to order from your comany when ever I am looking for something special and personalized.I have bought from your company a few different items, such as wedding,graduation,mothers day gifts and I am sure more to come.

Nice Gift But
By
Shopper

(Leesville, SC) - December 23, 2013
This was shipped very soon, so that was a plus. BUT it was a little smaller tha I expected and the writing was not centered at all.

Smaller than expected
By
Clarissa S.

(Lemont, IL) - April 28, 2012 (
See all reviews by this customer
)
Very pretty, but much smaller than expected. Still a nice little gift.

She loved this gift from her son on Christmas
By
Dan I.

(Valparaiso, IN) - December 27, 2010 (
See all reviews by this customer
)
We hoped it might have been a little larger,but she says it is fine. The tints in the picture are much lighter on the real item, bearly noticeable. she loves it anyway and cried when she opened it up.

High Hopes Crushed
By
Jessica M.

(Kingsland, GA) - November 23, 2010 (
See all reviews by this customer
)
When I recieved Her Shining Love Personalized Suncatcher, I was crushed. The personalization and the suncatcher are beautiful, however I was unpleased with the size of the suncatcher and quality of the hanging chain that is going to support this fragile glass. I bought this as a christmas present for my mother-in-law and had to go out and buy her something else to go along with this gift. All in all not very happy.