Great little candy jar
By
Shopper

(Fort Mill, SC) - May 16, 2011
Purchased this for my Grandmother for Mother's Day this year. She has it sitting on her coffee table! It is a nice gift.

Product feature that I didn't like
By
Shopper

(Telferner, TX) - May 13, 2011
I really liked the jar - it holds more candy than I thought it would - gave one to my mother for Mother's Day - the personalization was not noticeable - it doesn't show up very well - I had to point it out to my mother that it was on the jar.

bev m
By
Shopper

(Beverly, MA) - February 18, 2011
I bought this candy jar for my granddaughter. She loved it. I filled it with her fav candy. She also loved this inscription on the jar. Received it fast & it was well packed. I would buy from this company again.

Great Gift
By
Tawana S.

(Shirley, NY) - December 29, 2010 (
See all reviews by this customer
)
This jar is an amazing gift for anyone! The ony bad thing about it was that the lettering was too light. I think that the lettering should be made in a darker color so that it can been seen when the jar is filled with candy.

Very Personal and Sweet, but smaller than I expected
By
Monique N.

(Marietta, GA) - September 30, 2010 (
See all reviews by this customer
)
I think if personalization mall puts the dimensions on the page we will have a better idea of what size we are getting so in case we want to choose something else on the site. When planning gift buying and we can't touch the item, giving the dimensions are helpful.

Personalized Candy Jar
By
Dana H.

(las vegas , NV) - April 12, 2010 (
See all reviews by this customer
)
Beautiful jar, fast fast delivery. I ordered and received merchandize in LESS than a week. I would definately order again.

Great, except....
By
Emily B.

(Cordova, TN) - January 6, 2010 (
See all reviews by this customer
)
It's a little smaller that I expected other than that I love it. It serves it's purpose.

Beautiful
By
Jamie G.

(Camp Hill, PA) - December 4, 2009 (
See all reviews by this customer
)
I ordered 7 jars and each one came to me flawless. They look exactly as they do online. The affordability of this item is incredible, too.

Personalized Candy Jar
By
Melissa S.

(Bedford, VA) - October 1, 2009 (
See all reviews by this customer
)
Very nice product. Just a little pricey for a candy jar, but overall good. Was a birthday gift, recipient liked a lot.

Very neat idea for a gift, but could be better
By
Shopper

(Kearney, MO) - November 18, 2013
The only issue/flaw I have with this item is that the white used for the lettering/message is so light that even when I filled it w/ candy it isn't the easiest to read. Otherwise, good quality gift, and a very neat idea for a daughter's gift.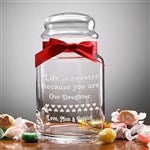 CANDY JAR
By
Laura N.

(New Prague, MN) - February 19, 2013 (
See all reviews by this customer
)
I Purchased the Candy Jars for my Kids Valentines Gifts, thought they where Great Gift Ideas, but am not Happy with the Printing on the Glass.. You need to use either Black Ink or make the White Writing Darker. You Can't read them very good due to how light the Frosted Writing is. I even tried putting Paper in the Jar's like other Customers recommended, but thought they looked too Tacky that way. Other than that the Purchase was good.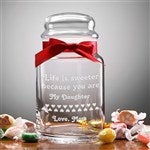 Etching
By
Lorraine M.

(Murray, UT) - March 12, 2011 (
See all reviews by this customer
)
The white etching on the jar is very hard to read. I had to put a sheet of metallic paper behind the words before filling the jar.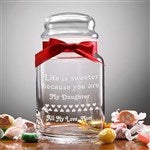 Hard to Read
By
Shopper

(Canandaigua, NY) - February 8, 2011
Loved the idea of the jar but when it came it was a little hard to read. Maybe when it is full it will be easier.

Can't Read
By
Sarah K.

(Pasadena, MD) - February 24, 2012 (
See all reviews by this customer
)
What a wonderful candy jar! Just the right size and made very well (nice tight lid) I ordered it for my granddaughters to give to their mom who is expecting another baby. I was SO disappointed that you can't read what was engraved on the jar. I even had it filled with candy and my daughter couldn't even read the wonderful message that was engraved. Very disappointed.

ok product...
By
toni B.

(toms river, NJ) - December 14, 2011 (
See all reviews by this customer
)
it was smaller than i thought and i can barely see the letters. i purchased two of these, one came with candy in the jar and the other came empty (??) the products on this site are inconsistent at best...


Would not buy again
By
Shopper

(Highland Park, NJ) - July 1, 2011
i was looking for a gift for a favorite teacher. I have loved everything I have ever bought at personsalization mall in the past. I found this item to be cheap looking at not of high quality as other items.

Not worth $20.00
By
Crystal B.

(Lafayette, LA) - December 18, 2010 (
See all reviews by this customer
)
It is small and looks cheap. You can barely read what it says. I've never been unhappy with anything from their site before so I was expecting more.