cute gift
By
Heather N.

(South Hadley, MA) - December 9, 2012 (
See all reviews by this customer
)
This was definitely a cute gift, although the preview wasnt quite as accurate as i hoped it would be.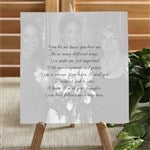 So cute
By
Shopper

(San Clemente, CA) - December 8, 2012
I love this. I made it with a photo of my daughter and I. It is so cute and just what I was looking for. I read how big it was but in my head I was still picturing it to be bigger but other then that no complaint so far.

Perfectly Personal
By
Lisa L.

(Mandan, ND) - December 7, 2012 (
See all reviews by this customer
)
My Aunt had emailed us a picture of he beautiful snow-covered yard and was obviously very proud of it. I wanted to do more than just print and frame it, I wanted to make it special. This allowed me to do that. Although there were several verses to choose from, I also was able to write on it what I wanted making it even more unique and special. LOVE how personal one can be in their gift-giving with Personalizaion.com!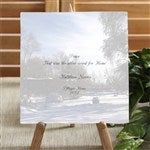 picture for my daughter
By
Susan G.

(Encinitas, CA) - June 21, 2012 (
See all reviews by this customer
)
Even though it was a little small, it turned out great.

Awesome just wish it was a little bigger
By
Kara P.

(Lake Charles, LA) - May 9, 2012 (
See all reviews by this customer
)
love the idea of this gift... Picture is very clear, i just wish it was a little bigger

Great for a keepsake gift.
By
Shopper

(Avonmore, PA) - December 27, 2011
I bought it for a gift for christmas. Everything looks good on it. The picture is a little to light but I guess it must have to be so you can read the words or poem you pick out.

satisfactory
By
Shopper

(Beaver, OH) - May 10, 2011
the product looked very nice but part of the picture that i cropped to put on the front of it was cut off and on the side of the canvas which i was not pleased about.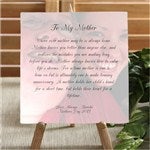 writing too dark
By
Shopper

(Astoria, NY) - April 3, 2011
i liked the gift it was bit small but the photo came out exactly as stated
my only promblem was that the writing was too dark against a light colored photo
the writing did not seem dry although it did not come off. i wish there were different colored
writings. that would have made it perfect

Wedding gift
By
Erin H.

(Platte City, MO) - March 29, 2011 (
See all reviews by this customer
)
I got this to display @ our Wedding, with a passage from one of my husbands favorite authors on it. I wish I had paid more attention to the actual SIZE, but I know he will want to have it for his desk @ work after, so it will be perfect for that...Very pleased with quality of pic and looks professionally done.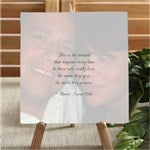 Overall Good
By
Shopper

(Paragould, AR) - February 4, 2011
I like this personalized canvas, I just wish that there was an option where I could order it in a larger size. This canvas is fairly small. It would be great to set on an office desk or something like that. Overall, I am pleased with this canvas and it was what I expected.

Nice!
By
Cynthia K.

(Gatesville, TX) - December 16, 2010 (
See all reviews by this customer
)
Wow...I loved this! It's smaller than I thought it would be, but overall, the quality is perfect! It was hard to get all I wanted to say onto the area allowed, but I managed and it turned out beautifully. One area of caution, where the canvas bends around, it's a small bit of the background picture and then white canvas. I wish the bended part would have been all continuation of the background photo. I didn't purchase the easel, but now wish I would have. I suggest you buy the easel.

Nice gift!
By
Rebecca S.

(Port Ewen, NY) - April 22, 2010 (
See all reviews by this customer
)
I bought this as a gift for my mother for Mother's Day. The canvas came out exactly as described. I would've liked the picture to be a bit clearer, but I chose black and white, and it is possible that the colored canvas may come out better. Either way, I love it and I know my mom will too.

Cute Idea!
By
Melissa S.

(Canton, OH) - April 15, 2010 (
See all reviews by this customer
)
Cute idea but I ordered a black and white picture and it was too faded to really see the picture beyond the words. Wish I would have left it color.

A perfect little piece of personalized art
By
Patricia S.

(Buckeye, AZ) - February 11, 2010 (
See all reviews by this customer
)
This was a wonderful gift, that brought my mom to tears. She was absolutely amazed! The quality of the canvas photo and poem is great. It is really the perfect gift for someone that already has everything!


ok but not great
By
nancy S.

(riverhead, NY) - December 17, 2009 (
See all reviews by this customer
)
I thought this was a perfect gift for my mother-in-law, so after I recieved it it was a little smaller than I had imagined, and the picture in the background was very faint. I would of liked it more noticable.

Christmas Gift
By
Sue D.

(Citrus Heights, CA) - December 12, 2009 (
See all reviews by this customer
)
I know my mother is going to be totally thrilled with her very personal christmas gift. It is a wonderful idea. Thank you for the opportunity. I am delighted with the result.

Unique gift
By
Starlett M.

(Elyria, OH) - December 5, 2009 (
See all reviews by this customer
)
A small, but very nice quality canvas, very unique gift
and very personal since you can add your own words. The
picture is light, but nice.

Beware of Dimensions
By
Alan P.

(Schaumburg, IL) - October 19, 2009 (
See all reviews by this customer
)
I like the quality of this product. Good value but a bit smaller than I expected. Just pay special attention to dimensions listed in the description before you buy.

Very nice
By
Robin D.

(Crowley, TX) - January 25, 2013 (
See all reviews by this customer
)
great idea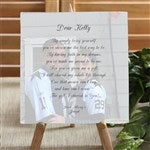 Unique but not perfect!
By
Mina Y.

(McLean, VA) - March 17, 2010 (
See all reviews by this customer
)
I was thrilled to find something like this, to produce a memorial for someone I loved who had recently died. The poem that was engraved on the front came out beautifully but the background picture is so light and washed-out that almost no one recognized it was even a picture of the deceased! It is also very small- just be sure that is the size you want before you order it... that was my own fault for not looking more carefully. In other words, great idea but the photo background needs some serious work.