For My Son(A new Father)
By
Jessica S.

(North Richland Hills, TX) - June 21, 2010 (
See all reviews by this customer
)
My son said when he open his gift for fathers day, it was so beautiful he had tears in his eyes. His wife said that would be impossible to top. Thank you so much.

Pay attention to the details
By
Luanne D.

(Eielson AFB , AK) - December 21, 2009 (
See all reviews by this customer
)
The personalized canvas art is a beautiful piece of art as a whole. However, it was a lot smaller than I anticipated it to be. Apparently I missed the size dimensions on the order page and it looks much bigger in the picture than it really is. Also, my photos isn't centered quite the way I would like it to be. It isn't bad, and as I said previously it's a beautiful piece of sentimental art, but I thought a real person would look at the photo before printing it on the canvas and center it better. I was wrong. What you see is what you get when you upload the photo. No matter how many times I resized my photo or played with it, I still got the same look when I previewed it. And since the preview page says that the look is only an estimate, I figured someone would look at it and center the photo better. I'm not unhappy with the overall piece, but I will pay more attention to these small details before ordering again. With these small tweaks, this could easily be a 5 star item!

very cool
By
chriss A.

(Nampa, ID) - July 17, 2012 (
See all reviews by this customer
)
Bought for my dads birthday. He loved it

arrangement not the best
By
Trish H.

(Bay Village, OH) - December 18, 2009 (
See all reviews by this customer
)
The lettering is only block, I would have liked some form of cursive and the lettering is right in the middle of the picture. I would have liked to see the lettering around the picture. I don't know what your limitations are though. The idea is precious.

Not great
By
Shopper

(Gilbertsville, PA) - February 21, 2012
Picture was light in color even though the submitted picture was great. My daughter did not have time to send it back to be redone so we had to give the present anyway. I was also disappointed that you couldn't orient the lettering more appropriately. The lettering only centers and even though there was plenty of dead space off to the right, the wording wrote right over her face.

cheaply made
By
Shopper

(Mars Hill, ME) - December 21, 2011
The picture was very hard to see...you have to look hard to notice that there is a photo behind the words. The canvas is also loosely stretched and is a little uneven. I was disappointed with the quality of this product.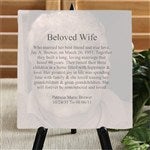 Writing difficult to read
By
Kimberly S.

(Bridgeport, WV) - September 17, 2010 (
See all reviews by this customer
)
The writing on the canvas is written in black. The black ink is very light and difficult to read depending on the lighting in the room.

Disappointed
By
robin B.

(round rock, TX) - June 17, 2010 (
See all reviews by this customer
)
The picture was okay - but the writing is so light you can barely read it.

VERY DISAPPOINTED as this is a Father's Day gift from my little girl.



not so happy
By
Joanna L.

(Vienna, VA) - December 24, 2009 (
See all reviews by this customer
)
The wording is faded making it difficult to read. The canvas is not pulled very tightly making it feel somewhat cheap. I have bought other items and was more satisfied with the quality of the other things. I would not recommend buying this product.

Think about this one... cheap stocking stuffer only
By
Gloria A.

(Iselin, NJ) - November 30, 2009 (
See all reviews by this customer
)
Be sure to eagle-eye the colors in your photo before you do this one - what you see onscreen may not arrive in the mail. If there is black or darkness in the background or in clothing, the copy you select won't print in a readable fashion. I was offered a re-do for shipping price only, but it still looks bad and that's truly all it's worth. Forget it or stuff it in a stocking.

Dissapointed
By
Elaine V.

(Bellingham, MA) - October 9, 2009 (
See all reviews by this customer
)
This looked really nice online but I have to say I was disappointed in the final product... the picture is so light and the words are so prominant you can't really see the picture. I know it's supposed to be a wallpaper of sorts but even from a distance the picture is not that great. I wish you could have used your judgement on the position of the words too... it was right on their faces. Was a father's day gift but lesson learned.