Proud mom. Fired up COACH.
By
Catherine G.

(Plano, TX) - July 18, 2011 (
See all reviews by this customer
)
This high quality product was the perfect gift for my recently graduated son. Starting the first COACHing job of his future with this personalized COACH's whistle. He'll have it for years to come as his COACHing career takes him to playoff games and championships. When he opened the gift, he placed it around his neck....blew the whistle and said "again, do it again. This time faster. No mistakes. Again." A tribute to his own coaches in his formative years. Recommend without reservation!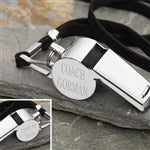 he loved it
By
kelly W.

(natrona heights, PA) - June 26, 2011 (
See all reviews by this customer
)
my son got this for my husband for fathers day. He loved it. My husband coaches him in baseball & ice hockey. So my son got #1 dad on 1 side & #1 coach on the other. He uses it for every practice.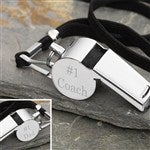 Perfect Gift for Our Son-in-Law
By
Evelyn E.

(New London, CT) - May 21, 2011 (
See all reviews by this customer
)
Our son-in-law coaches several junior basketball teams. His birthday is in May and Father's Day follows in June. It is often hard to select gifts for both of these occasions that are affordable and outside of the usual necktie and tools categories for a "young" dad. We ordered this whistle, a clipboard, and a water bottle for his birthday gift. He was so-o-o-o-o excited and absolutely LOVED it!! It was of personalizationmall.com's usual high quality in terms of material and workmanship. We are thrilled that we chose this gift and very highly recommend it, along with the clipboard and water bottle.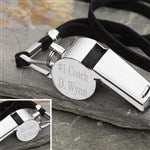 Great coach gift!
By
Holley G.

(Sandy Springs, GA) - May 9, 2011 (
See all reviews by this customer
)
I ordered this for my son's coach whom he adores! The engraving is very nice and you can do both sides. She loved it! However, I'm not sure how loud it whistles.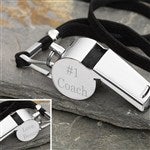 Pityful!
By
Shopper

(Linden, CA) - May 5, 2011
This is the MOST disappointing item i have bought online, EVER! I do no recommend this item to anyone. The sound is annoying and does not even sound like a whistle!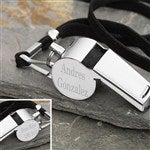 Fantastic
By
Eyvonne K.

(APO , AE) - April 17, 2011 (
See all reviews by this customer
)
The school's Booster Club ordered these whistles for each coach. The whistles were beautifully crafted. The teacher-coaches loved them! The whistles serve also as a lasting tribute to the teacher-coaches since the high school is closing after this school year. Beautiful product and worksmenship is awesome!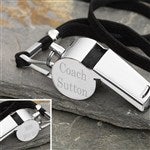 coach's gift
By
Shopper

(northvale, NJ) - March 22, 2011
What a great token of appreciation for our Coaches they were thrilled.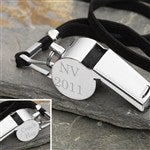 Whistles look great!
By
Julie R.

(Amissville, VA) - March 20, 2011 (
See all reviews by this customer
)
Gave this for an end of the season Coach's gift. They looked great and really were a nice surprise!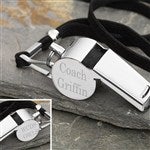 Just What I Expected
By
Shopper

(Las Vegas, NV) - February 27, 2014
The whistle was exactly what I hoped, based on the pictures and descriptions. We gave it to my daughter's coach, and he loved it.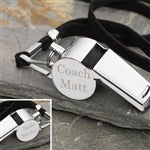 MEMORABLE GIFT
By
tina M.

(houston, TX) - January 24, 2014 (
See all reviews by this customer
)
I ORDERED THIS FOR A COACH AND SHE WAS SO EXCITED ABOUT THIS SHE DIDNT EVEN WANT TO USE IT ! VERY MEMORABLE!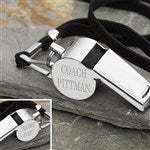 Great memento
By
Shopper

(Menno, SD) - January 20, 2014
Me and my siblings ordered for my dad who has been a ref for 36 years. It looks great but I'm not sure it could actually be used for a high school sports game. It could be used at a practice or middle school event though.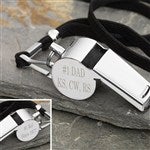 Quality Gift for a Coach
By
Christine T.

(Eagleville, PA) - December 10, 2013 (
See all reviews by this customer
)
When the whistle arrived, I was impressed by the presentation and quality. The personalization was perfect! Whistle is sure to please any coach!

perfect
By
Shopper

(Rockmart, GA) - November 22, 2013
Coach loved this gift. "Spot on", were his words. Great customer service and quick delivery.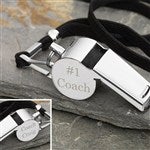 perfect gift
By
Shopper

(Seabrook, SC) - November 19, 2013
I purchased as a Christmas gift for my boss who not only lifeguards on our campus but is a football coach at a local school. I really think he will love this!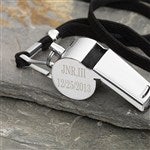 Recipient loved his gift!
By
Lynn N.

(Iron Station, NC) - August 5, 2013 (
See all reviews by this customer
)
We purchased this whistle for a young man who worked with us during the summer while awaiting the school year to start so he could begin his new career as a Physical Education Teacher & Coach. He absolutely loved his personalized whistle!
The quality and beauty exceeded my expectations.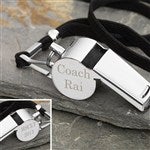 Kudos
By
Shopper

(Mason Neck, VA) - August 4, 2013
Kudos for an awesome product. The personalized whistle was the perfect gift!!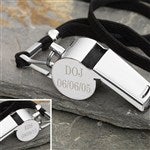 Disappointed
By
Shopper

(Holland, MI) - July 28, 2013
I thought the whistle I ordered would sound like a typical referee whistle and it doesn't at all, very disappointed.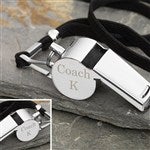 End of Elementary School Appreciation
By
Pamela F.

(Irvine, CA) - June 23, 2013 (
See all reviews by this customer
)
Our family engraved this whistle for our elementary school crossing guard. He loved it! It is really difficult to find crossing guard gifts so this one was especially nice to give this year. The whistle is of high quality and weight. The engraving makes it look very high profile. I will be purchasing more of the whistles for our soccer coaches this year. Highly recommend to others! Thanks!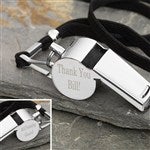 Thank you!
By
Shopper

(Pocahontas, AR) - June 20, 2013
My dad really loved this, it was a great Father's Day gift,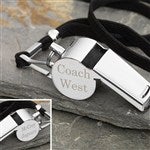 My kids coach loved it!!
By
Claudia T.

(Jersey City, NJ) - June 11, 2013 (
See all reviews by this customer
)
My kids coach loved the whistle, good quality and it looks great.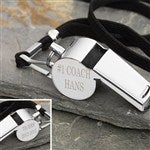 Grea product
By
Shopper

(Newton, NH) - February 17, 2013
The whistle looked exactly like i requested..it shipped really fast and tge pruce could not b beat.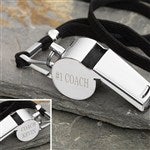 Ms.
By
Shopper

(Denver, CO) - February 11, 2013
Very nice!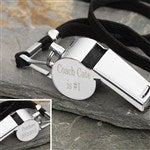 Coach whistle
By
John M.

(Westerville, OH) - February 4, 2013 (
See all reviews by this customer
)
I will be presenting this whistle along with a cap with "COACH" embroidered on it to my old football coach at our 50th class reunion. I'm very happy with the whistle and the ingravings. I had 1963 VIKINGS on one side and COACH WILSON on the other. I believe that he will treasure it. Thank you very much, John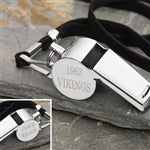 great gift
By
Maria C.

(West Chester, OH) - December 30, 2012 (
See all reviews by this customer
)
Bought this for Daddy who just signed up to be our daughter's coach. What a nice gift. He loved it.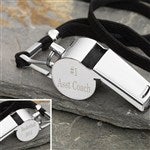 Love it!
By
Tonya C.

(Marengo, OH) - December 16, 2012 (
See all reviews by this customer
)
My husband is going to love this whistle for Christmas. He is a football coach and it is so personable!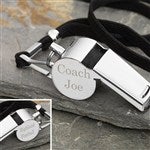 Personalized Whistle
By
Donna H.

(Worcester, MA) - November 30, 2012 (
See all reviews by this customer
)
The whistle looks real classie........can't wait to see my brohter's face on Christmas morning. Thye personalization makes all the difference.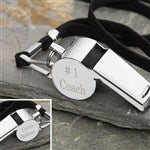 Great gift for coach!
By
Shopper

(Burbank, CA) - November 17, 2012
This product is so nice and the engraving with the special little note is a perfect momento to a fun and amazing season. The coaches loved it and the parents thought it was such a great gift idea.

It's always good to say thank you to your coach and this engraved whistle is the perfect way to do it.

Perfect coach gift!
By
Heather S.

(Fort Leavenworth, KS) - October 22, 2012 (
See all reviews by this customer
)
I cannot wait for the girls to give their soccer coach these personalized whistles! They look perfect and are an affordable price.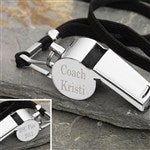 great item
By
jennifer M.

(moreno valley, CA) - October 21, 2012 (
See all reviews by this customer
)
these are great way better then I expected. great gift for any coach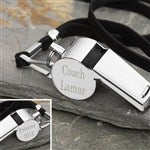 Chic piece for coach
By
Shopper

(Jersey City, NJ) - August 7, 2012
Purchased whistle for our fav coach, personalizing it gave it a nice touch to a chic upgrade to the classic whistle we are all use to. Durable material, nice shine, Engraving came out just as pictured in the preview screen!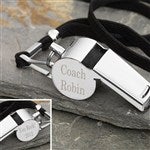 Coaches whistle
By
Lisa M.

(Abilene, TX) - August 2, 2012 (
See all reviews by this customer
)
I ordered an engraved whistle for my son who recently obtained a position coaching. It came so fast and the item and engraving were gorgeous! He absolutely loved it thank you do much! I will definitely order additional products soon!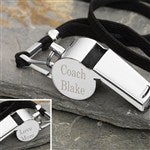 New Customer
By
Meghan V.

(Concord, CA) - June 23, 2012 (
See all reviews by this customer
)
When the whistle showed up, it looked exactly as I hoped it would. I will use this company again for future personalization gifts.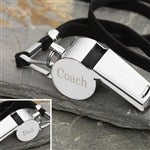 very nice good quality
By
Shopper

(vacaville, CA) - June 3, 2012
We purchased this whistle for our crossing guard at our elementary school. He has been there crossing the students along with my daughter K-6th. She will be graduating and we thought it would be a nice gift that he could use for years to come and remember her by. He always looked out for her and the kids. He Will be missed greatly. SO DON'T FORGET YOUR SCHOOLS CROSSING GUARDS!!!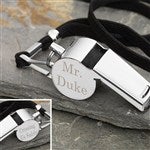 Great process
By
Shopper

(Blackstone, VA) - May 14, 2012
I ordered my item and had it shipped to me in less than the predicted shipping time. The item was done exactly as I wished. Everything with this order went wonderfully. Thanks so much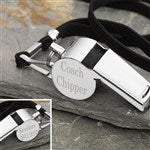 He Loved It!
By
Shopper

(East Windsor, CT) - February 22, 2012
I gave this as a gift to a football coach and he loved it. It was very nice quailty and the box made it look more specialty store bought than an online store. Great job!

I will definitely get something else in the future!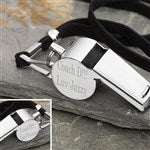 loved it
By
SHELLEY R.

(CHICAGO, IL) - February 13, 2012 (
See all reviews by this customer
)
this was a gift that was reasonably priced and well worth it.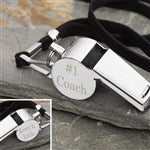 A whistle blower
By
Shopper

(Philadelphia, PA) - February 10, 2012
Nice presentation in the box included. Engraving was correct and very nice.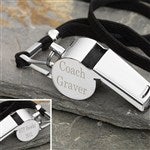 Very satisfied
By
Jennifer J.

(Edmond, OK) - January 17, 2012 (
See all reviews by this customer
)
I was very happy with the entire experience with Personalization Mall. Shipping was quick and the whistle and engraving look great. I was pleasantly surprised by how nicely packaged it comes in its own gift box. Perfect gift for my son's volunteer basketball coach. I hope he loves it!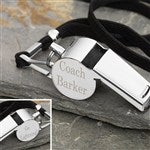 exact
By
Danielle H.

(Kansas City, KS) - April 13, 2010 (
See all reviews by this customer
)
It looks exactly like the display. Very satisfied and I liked how you could put something on both sides. PERFECT GIFT!

A Perfect Coach Gift !
By
Carol S.

(Seattle, WA) - November 9, 2009 (
See all reviews by this customer
)
I have Four Kids in soccer & I'm always the one who gets to put together the coaches end of the season gifts. My kids have been with the same soccer coaches now for a few years & I wanted to do something a bit more personal & special. These whistles were perfect ! The engraving came out really nice & the pkging was very expensive (not cheap) looking. This was the best buy I've ever made online.