Nice gift for a dad who is also a coach
By
Mary F.

(Grand Forks, ND) - February 15, 2010 (
See all reviews by this customer
)
Came a little scratched, but other than that a nice whistle and chain.

Looks great!
By
Jaclyn R.

(St. Robert, MO) - December 9, 2009 (
See all reviews by this customer
)
The whistle looked just like it did in the preview. I bought as a gift so I'm not sure how well it works, but it was shipped fast and I'm happy with it.

I purchased 5 of these for coaches
By
Clara B.

(Perkinsville, VT) - November 9, 2009 (
See all reviews by this customer
)
The coaches thought they were great! Made such a wonderful gift.

Looks Nice But...
By
Shopper

(little egg harbor, NJ) - May 12, 2012
The Good: Easy to order, personalize, and follow tracking. Looks very nice and product comes quickly very nicely packaged. The not so good: The whistle is lame. I bought this for 4 football coaches and I emailed the seller before I purchased it, asking about the whistle because of another review from a buyer. Well, the other buyer (not the seller who said the whistle was normal)was right. It sounds (not looks) like a plastic whistle that came in a cereal box.

Coach Ward's Whistle
By
Phil P.

(Lancaster, NY) - January 19, 2012 (
See all reviews by this customer
)
A little disappointed in the quality of the product.The edge of the whistle was scratched and the engraving was off centered. If not for the fact that it was a gift that needed to be given as soon as possible by a bunch of kids to their coach, I would have returned it.

Looks nice, doesn't work well
By
Jennifer B.

(Norwalk, CT) - December 27, 2010 (
See all reviews by this customer
)
The whistle looks really nice, engraving came out well. My boyfriend really loved it but the sound of the whistle it is very weak. Looks great but the quality of the actual whistle is poor.

Novelty ONLY
By
Elizabeth S.

(Felton, PA) - September 8, 2010 (
See all reviews by this customer
)
This whistle is a great quality gift whistle, but it is made for novelty usage only. To hang on a wall or to sit on a desk, this is a wonderful gift. However, for my gym teacher fiance, he laughed at this whistle. He told me people "make fun of those whistles." The volume is low and muffled sounding.

Nice for decoration, but not for coaching
By
Heather S.

(Syracuse, NY) - March 23, 2010 (
See all reviews by this customer
)
I purchased this for my fiance who is a physical education teacher and coaches track and football. The engraving and look of the whistle were nice, however when you blow the whistle it does not work for coaching. So it will make for a nice (expensive) decoration, but I was expecting him to be able to use it.

#1 Coach Personalized Whistle
By
Denetra F. T.

(Pittsburg, CA) - December 17, 2009 (
See all reviews by this customer
)
I ordered this whistle for my husband for Christmas. It was packaged very nice and the engraving was perfect. The only thing was that it was already tarnished and turning a goldish color. That was disappointing

Great Whistle, Didn't come in Great Shape
By
Tiffany B.

(Fayetteville, GA) - October 6, 2009 (
See all reviews by this customer
)
The Whistle is really pretty and shiny and the inscription came looking nice and sharp. The person I got it for is a head coach and was excited to have something so nice like this to use. My only issue is that it came with scratches on it that shouldn't have been there. Fortunately he loved it so much and didn't want to bother with the hassle of returning it he just kept it. And he loves it :-) Next time I would hope for no scratches though.

Disappointed
By
Shopper

(Holland, MI) - July 28, 2013
I thought the whistle I ordered would sound like a typical referee whistle and it doesn't at all, very disappointed.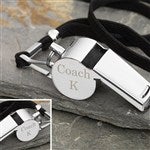 Not useable on the field
By
Kristen M.

(Webster, MA) - August 20, 2012 (
See all reviews by this customer
)
I was so excited about the whistle! It is beautiful and appeared to be good quality. Upon recieving the whistle (which was purchased for a football coach) I tested it, and no sound came out. customer service was amazing and getting me a replacement whistle free of charge. When the second one came in, it made noise but not a real whistle sound it was a sad and weak sound like a broken squeaky toy. It is unfortunate that that they could not find a whistle to engrave that makes actual sound. I gave the gift anyways, however, he will not be using it on the field at all for its poor sound quality.

#1 Coach Personalized Whistle #3778
By
Nubia M.

(Orlando, FL) - May 14, 2010 (
See all reviews by this customer
)
When purchasing a gift, I look for quality, performance and appearance. The whistle came in a nice gift box and it seems to be a decent item for the sale price I paid. I have NOT TESTED performance/quality being that it was purchased as a gift. I was very pleased with the engraving. It was clean and precise.

However, it has a tarnished spot where the mouth piece meets the barrel. Ironically, right across from the manufacturer's sticker that states "Non Tarnish". I was informed and I quote: "these are solder marks. They are in an area the can not be polished. All of the whistles have these marks where the mouth piece meets the barrel."

I would have to say that for the price, the over-all appearance, gift box and the engraving - it's worth the investment (as long as you don't turn the whistle over). But, I would not purchase another one as a gift. The mark makes it look like a cheap whistle with nice engraving.

Can't read engraving
By
Shopper

(Baton Rouge, LA) - November 25, 2012
Not worth the money - engraving is way too light.

Pityful!
By
Shopper

(Linden, CA) - May 5, 2011
This is the MOST disappointing item i have bought online, EVER! I do no recommend this item to anyone. The sound is annoying and does not even sound like a whistle!