reflections frame
By
Shopper

(Minneapolis, MN) - December 15, 2011
Product came very quickly...in plenty of time for my daughter's graduation...and my sentiment was executed beautifully!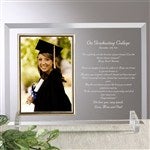 Graduation Poem Reflections frame
By
Arlene T.

(Raleigh, NC) - November 30, 2011 (
See all reviews by this customer
)
I purchased this frame to give to my daughter as a personalized momento for her college graduation. My husband and I composed our own poem to make it more personal and special. The directions to do that were simple and clear. We were v ery pleased with the results. It also came in a timely manner and we had the option of purchasing the gift box as well. The price was reasonable, compared to the price of a deploma frame with her school insignia which cost over $100. I'm sure my daughted will be delited with this frame.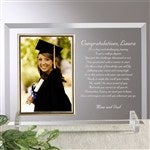 Beautiful frame and engraving
By
Shopper

(West Palm Beach, FL) - August 15, 2011
Fast, economical, beautiful. I definetly recommend.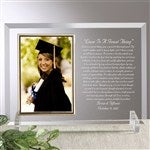 Beautiful frame but horrible shipping
By
Shopper

(Kingwood, TX) - June 6, 2011
The frames were beautiful (the writing was a little small) but half of the items came broken in pieces due to really poor packing. New ones were shipped (too late for the event though) and the packaging was drastically better! I sure wish that would have been done with the first package!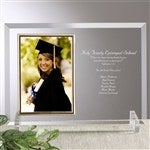 Quality of product could be better
By
Lisa M.

(Monroeville, PA) - May 27, 2011 (
See all reviews by this customer
)
Well, the first one I received had to be returned because the corner of the glass was chipped off. There is a sticker on the picture area which states please remove film from brass before displaying, but there was no film on the brass and the brass was sooo scratched up it looked like a used frame. I called customer service and they sent out another one in two days, but the brass was still the same. Sticker stating remove film BUT no film - scratched up - looked used. The engraving was beautiful but the quality of the item would not impress anyone and it was bought for a graduation gift.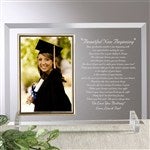 Great Product
By
Shopper

(South Haven, MI) - April 15, 2011
You guys at personalization Mall did a FANTASTIC job with my frame. I used the graduation poem frame but made it my own with my own words and it is going to be a fantastic gift for my fiance. Thank you so much!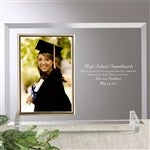 Love It!!!
By
Samshun H.

(Manteca, CA) - May 25, 2014 (
See all reviews by this customer
)
I ordered this for my son's high school graduation. It's a really sentimental gift. He loves it! Definately will order from this site again.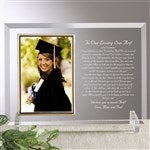 Reflection Frame
By
Ahmed B.

(lauderhill, FL) - May 23, 2014 (
See all reviews by this customer
)
Beautifull product! The glass frame is amazing and priced very nicely. Beat thing I've order here! Only $30 I believe and fits pictures perfectly. The personalition poem fit and was nicely workers and looks amazing in person. Highly recommended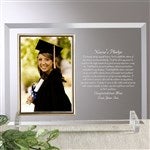 EXCELLENT
By
Linda A.

(Richmond, TX) - May 15, 2014 (
See all reviews by this customer
)
EXCELLENT QUALITY, SERVICE AND SHIPPING. THANK YOU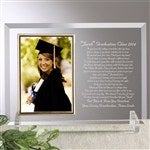 Beautiful but..
By
Danny & Liroan W.

(Miramar, FL) - May 13, 2014 (
See all reviews by this customer
)
This has to be one of the nicest and most beautiful sentimental gifts I have ever given to a teacher, unfortunately the engraving was so light you kinda strain your eyes to read it. I would def. buy it again though.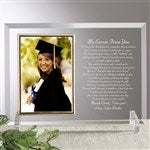 Love It!!!!
By
Samshun H.

(Manteca, CA) - May 10, 2014 (
See all reviews by this customer
)
I ordered this for my niece for her graduation. I know she's going to love it. It's a very sentimental gift. Would definately order from this site again! Thank you very much!!!!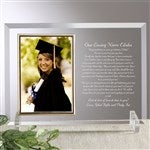 Overall love it
By
Shopper

(tallahassee, FL) - May 7, 2014
The frame is really nice only thing I wish the writing would b darker to be seen... It's too light and hard to read but overall nice and the graduate loves it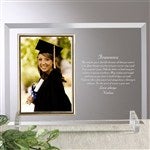 Pleased Beyond!!
By
Mark V.

(Scottsdale, AZ) - April 27, 2014 (
See all reviews by this customer
)
I ordered two separate frames, with. special poems for each of our granddaughters.We were so pleased when they arrived! Also very fast too! We love them, & can not wait to give them to our two ganddaughters, who are both graduating from high school! Thank you, & we will order from you again!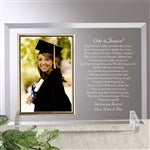 2014 Graduate
By
Shopper

(Liberty, TX) - April 15, 2014
I purchased this item for my Goddaughter as her graduation gift. I love the way it came out. I ordered a frame previously from this company, and I would do so again. I used a Marilyn Monroe quote and a few words of inspiration on this frame.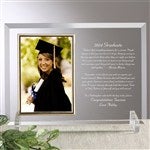 My First Born is Graduating HS 2014!
By
Lisa M.

(Accokeek, MD) - April 15, 2014 (
See all reviews by this customer
)
I was very impressed with the frame when i saw it online but once I recieved it I was not so impressed! The writing is VERY SMALL!!! the only way to read it is with a piece of dark paper behind it and a magnifying glass! There should be a minimum line space of about 10 so that the writing can be larger! Also in the picture the writing starts at the top of the page and with my frame it starts about an inch from the top which is why the writing is all crammed together and small. The craftsmanship is good but the over-all affect of the piece was lost with the small writing! I am debating whether or not to return and get my money back or request for a new one! Thanks for reading!
~ Sad Mom of 4 Children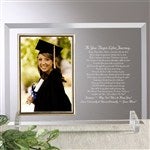 Great product
By
Amaris A.

(Austin, TX) - March 2, 2014 (
See all reviews by this customer
)
I used this gift as a gift for my grandparents at my wedding instead of for a graduation. I found a grandparents poem to engrave on the frame. It looks even better than the picture in person. I will definitely order from this site again.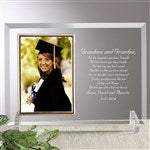 Beautiful Gift and Wonderful Company!
By
Shopper

(FRANKFORT, KY) - December 15, 2013
What a great experience! The frame is beautiful and my daughter was so happy when she opened it following her college graduation and proudly displayed it to her guests! The ordering process was very easy since I could preview the "poem" and edit with ease until I had it perfect. I did have to work with customer service but it was a great experience! Somehow, the wrong frame was shipped. The customer service representative was wonderful! She immediately corrected the problem and was a delightful person! I received both the original and replacement orders in about 3 or 4 days after ordering which was much sooner than the stated shipping time. I highly recommend this product and company!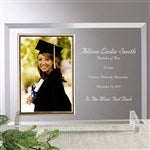 I HAVEN'T SEE IT YET, BUT MY SISTER LOVED IT! IT WAS THE SPECIAL ITEM I NEED IT!
By
Shopper

(SAN DIEGO, CA) - October 21, 2013
I CAN'T SAY MUCH, CUZ I HAVEN'T SEE THE ITEM YET. I CAN ONLY GO WITH WHAT MY SISTER TOLD ME. SHE SAYS THAT SHE LOVES IT VERY MUCH AND THAT IT'S BEAUTIFUL.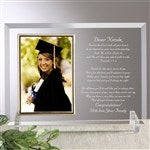 Graduation Frame with poem
By
Shopper

(Covington, GA) - August 24, 2013
The frame arrived quickly and looks very nice with the clean and clear writing. I would definitely recommend this item.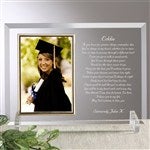 RAVE REVIEWS FROM THE RECIPIENT AND OTHERS!
By
Crystal M.

(New Castle, DE) - February 2, 2013 (
See all reviews by this customer
)
This was an excellent gift by all aspects. The item was packaged excellently and received in a timely manner. The frame and personalized wording was beautifully done! The only reason for the 4 stars instead of 5 is the use of the white etched lettering was somewhat hard to read unless placed against something dark like the box it was packaged in. I would suggest the lettering be etched using black or gold dye so it can be read more easily. But regardless of this, it went over very well with my daughter for one of her grad school gifts. Thank you for such excellent service and quality work.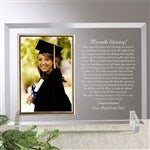 for my manager
By
Huda R.

(Canada) - August 19, 2012 (
See all reviews by this customer
)
Even tho the frame was meant to be for graduates, I used it as a thank you present for my manager. It was beautiful as always... hope my manager likes it =)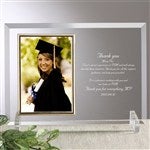 Beautiful
By
Amy N.

(Lakewood, CA) - June 9, 2012 (
See all reviews by this customer
)
This item came out better than the pictrure. The font was perfect and easy to read. One thing you should add for this item is a stand for it so it can be displayed on a table and have different color fonts to choose from. Otherwise, it was perfect. I love it !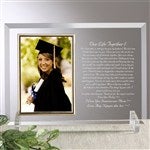 Graduation Present
By
Shopper

(Rio Rancho , NM) - May 9, 2012
I bought this for my daughter who is a 2012 HS grad. I really liked how I was able to personalize the top line, choose from several different poems and sayings and add my own little touch for the ending sentiments. The only thing that is off is the space for the picture is larger than a 4x6, but I'll just add a colored background behind the picture. Otherwise I'm extremely satisfied with the gift and I know she will be too!!!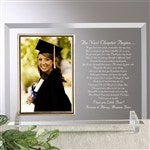 Great product !
By
Shopper

(Richmond Hts., OH) - January 27, 2012
I'll defintly come back and refer this site to my friends. I also order a gift kit since i wanted to have a fitting box for the gift. But I don't like the cover printed with its website.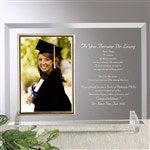 Excellent Service
By
Theona H.

(Baker City, OR) - May 4, 2010 (
See all reviews by this customer
)
I can't believe they were able to do what I wanted so fast!
Very beautiful item and was shipped in very secure packing. Couldn't get better!!

Absolutely Beautiful!
By
Teresa W.

(Newport, ME) - April 28, 2010 (
See all reviews by this customer
)
I ordered this for my boyfriend's daughter who is graduating from college. I personalized the message and it brought tears to his eyes when he read it. He couldn't believe the quality and workmanship of this frame and can't wait to give it to his daughter now. I will definitely order from your company again!

Hard to read the poem
By
Shopper

(Chatham, NJ) - August 6, 2014
Disappointed!!!!! Last year I purchased a canvas picture frame with this same poem that had a picture I selected muted in the background. I loved it and so did my daughter that I gave the frame to. I wanted to get the same thing for my other daughter leaving this year for college but you no longer sell that product. So I purchased this one. The poem is very difficult to read but it was better than nothing.

Beautiful Sentiment
By
Louise S.

(Plainview, NY) - April 20, 2010 (
See all reviews by this customer
)
I got this for my daughter. I especially liked that I was able to edit the words. The writing is a little small, but overall I loved this product!

Excellent! exceeded our expectations
By
NORMA S.

(CHULA VISTA, CA) - May 26, 2010 (
See all reviews by this customer
)
I was looking for a gift for our son who will be graduating from high school next month. I wanted something unique, and I stumbled accross this website. Not only did I find what I was looking for, I was able to personalize it. Delivery was fast and when we opened it, all we could say was, wow! It was better than what we expected. We're sure he will love it :) Thanks personalizationmall.com for making a gift to our son something he will cherish for the rest of his life,
Sam & Norma


Great Work
By
Sharhonda L.

(Baton Rouge, LA) - December 22, 2010 (
See all reviews by this customer
)
This frame is perfect for any occassion, the web site does not show any justice for the frame, it's nicer than I expected once I received and the price was worth more than what they are asking. Will buy again!

Graduation Poem Reflection Frame is fantastic
By
Shopper

(Olympia, WA) - January 23, 2011
Frame looks classy. A gift my daughter can cherish forever.
Great to have the option of putting your own poem on it.
Faster then expected delivery. Overall great shopping experience.

Graduation Poem Review
By
Mark D.

(Troy, PA) - August 30, 2010 (
See all reviews by this customer
)
Very impressed with quality and shipping time, will buy again!

Thanks personalizationmall.com !

Very disappointed
By
Shopper

(Canada) - September 3, 2011
The frame has no back , it is just a piece of glass. The glass is completely transparent and the words are in light white colour and very small. I cant read a word at all!!!!!!!

The Best Graduation Gift Ever
By
Ruth B.

(Appomattox, VA) - June 11, 2010 (
See all reviews by this customer
)
This picture frame was a great graduation gift. My daughter love it. She thought the words was so beautiful it made her cry.I highly recommend this Reflection frame she will be taking this frame off to college with her.

Outstanding Service!!
By
Terri A.

(Saugus, CA) - April 14, 2010 (
See all reviews by this customer
)
This company is first rate....I wish all businesses operated this way. Very convenient, expedited service, and a quality product. I was thrilled with the frame when I received it and I know the recipient of this gift will truly cherish it!! Thanks for offering such wonderful products!! I'm sure I'll be back for more!

Not just for Graduation
By
Libby C.

(Shelbyville, IL) - October 27, 2009 (
See all reviews by this customer
)
When a friend lost her fiance, I wanted something for her to commemorate him. I couldn't find anything I liked from the memorial section, but found this and it worked so well. I used it as a "in memory" and then used a poem called "His Journey's Just Begun" by Ellen Brenneman. It was perfect for the occasion, and she treasures the frame. I've since used the same design for a friend who lost her father, and for my grandmother when she lost a child. It was too fine print for my grandmother (90 year old) to be able to read, but still very lovely.

Expression of Love
By
Brenda B.

(Belleview, FL) - December 14, 2009 (
See all reviews by this customer
)
I find this to be the perfect way to express yourself for any occasion. As an artist of words, I was able to show my love and pride through a personal poem written for my nephew's graduation from college. One of a kind sentiment that will never break, burn, get wet, or lose it's meaning over the years. A great way to reach out and touch the one's you love.

Great Gift for a Great Price
By
Shopper

(Harvest, AL) - June 24, 2012
Thank you for a unique gift. The frame was very beautiful and I appreciate that I could personalize the poem or quote. A few comments: I wish there was a choice in font size because the font used was too small; I wish there was a choice in color of the lettering to make it easier to read; the gift box came with the website address on it.

Overall, it was a great gift at a great price. My niece seemed to really like it. I'm sure I will be a repeat customer.

ok
By
thomas S.

(Havre de Grace , MD) - March 10, 2010 (
See all reviews by this customer
)
it was a very nice piece of art the only thing that i didn't like was the picture frame because the frame was all the way straight one of the pieces didn't line up

Great product
By
Shopper

(Roy, UT) - May 6, 2013
I would have given this product 5 stars but although I loved the quality of the glass and the etching I was disappointed in the gold rim around the picture frame part it makes it look cheap. Other than that loved it!