Awesome
By
Sara P.

(Gobles, MI) - July 1, 2014 (
See all reviews by this customer
)
The directors chair is perfect and great quality!

My Actor nephew LOVES his Director Chair!
By
Tara K.

(Westport, CT) - June 22, 2014 (
See all reviews by this customer
)
Very good quality, easy set-up. Perfect gift for my nephew who acts in many musical theater plays.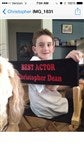 Happy Customer
By
Shopper

(CONCORD, CA) - June 3, 2014
I was pleased with my purchase. It seems to be good quality. It arrived well packed and simple to assemble. I love what I chose because it is a unique gift. I'm always looking for something different. Plus it is personalized and the cloth seat and backrest are replaceable.

Ms
By
Shopper

(Garden Grove, CA) - January 20, 2014
We purchased this as a gift for my father/grandfather. He LOVED it! He has just about everything he needs so its hard to shop for him. this was a fun gift but we weren't sure if he'd like it. He was so happy with the chair, the quality, the size and the thought. it was the perfect gift! thank you!

Graduation Gift
By
Victoria K.

(Eastpointe, MI) - June 5, 2013 (
See all reviews by this customer
)
Lovedit in the picture & this was the perfect gift for our graduate, he's an insirping actor in high school, now going to Michigan State, This is to inspire him even more to become the actor-director i know he can become... this is even nicer in person & alot heavier then I thought it would be.. very impressed...
Love it!!!!!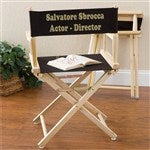 Top Knotch
By
Shopper

(Berne, IN) - April 21, 2013
I purchased this director chair for an auction. I put the fraternity and university name on the chair. It brought an unbelievable amount of money. I was thrilled as the money went to a wonderful cause.

Great Product
By
Melinda H.

(Catonsville, MD) - December 12, 2012 (
See all reviews by this customer
)
Bought this for my Dad for Christmas and the personalization came out perfect. the chair itself is very nicely constructed and I think my Dad will love it!

Good Quality - Fast Delivery
By
Shopper

(Coconut Creek, FL) - June 25, 2012
This chair is lightweight and very easy to assemble. This was a graduation gift for a film major and he was very pleased with his "first" director's chair.

High Quality Chair
By
Shopper

(Fredonia, NY) - April 7, 2012
This chair exceeded my expectations. Well-made and strong, very high quality. Embroidery was excellent. Order time to arrival at my house was 4 days!! Astounding!!! If I need anything else personalized, I'm getting it from here!!!

Director's Chair is Impressive
By
Geraldine H.

(Valdosta, GA) - July 30, 2011 (
See all reviews by this customer
)
I ordered the director's chair for a local fundraiser for our high school football team. Needless to say, it was a hit! The wood is lighter than shown,but that in no way takes away from it. It is sturdy and well-made,and the custom imprint looks great. It was very popular at the auction, and I could have easily sold several more. This chair would be perfect in an office, or even at home in a den or "man cave"!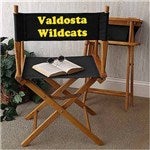 Nice looking and a great deal
By
Shopper

(Lutherville, MD) - July 28, 2011
I was looking for a birthday gift for someone who has everything and spotted this chair. The wood frame looks solid and the canvas seat and back are good quality material. Although the lettering is painted rather than embroidered, it's still a great gift. Since I took advantage of a sale price, I got a good bargain, too!

Sturdy and nice looking!
By
Caren M.

(Martinton, IL) - April 12, 2011 (
See all reviews by this customer
)
The quality of this director chair exceeded expectations. I ordered it in black with silver lettering and it looked great! The black does pick up pet hair, though.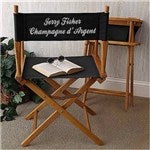 Great quality
By
Marly H.

(Glenview, IL) - April 9, 2010 (
See all reviews by this customer
)
This was purchased as a gift for my brother. Immediately upon opening the box, he was thrilled. This chair reminds us of the one our dad had over thirty years ago - very sturdy, good quality wood, and just the right height. Great quality and good price.

Well built
By
Jennifer O.

(Baltimore , MD) - March 16, 2013 (
See all reviews by this customer
)
we bought this chair to double as a computer chair and to accent our home movie theater. First, the chair was shipped the very next day we ordered it. Second, the chair is very well built and makes it worth the money. But the only issue we have is the lettering doesn't sit straight. It's not horribly crooked but it is noticeable.

Great Gift!
By
Shopper

(Marlboro, NJ) - June 28, 2012
Bought it more as a prop/decorative item for my son's room and he thought it was great! We were honestly nervous when we opened the box and realized we had to actually put the seat and back banner on ourselves, but it was pretty easy. Anyone who loves the movies or the theatre, will love this gift. In my opinion, it's not for the big and tall man, but it's great for a college student or teen.

Very Nice Chair
By
Joyce B.

(Chicago, IL) - July 12, 2011 (
See all reviews by this customer
)
I bought this as a gift for my son. He loved it!! The one thing that I wasn't too thrilled about was the color of the wood. Yes, I read that it said "natural colored wood" but I expected it to look just like the picture,which to me looks darker. The chair I received was a very very light wood.

Pretty but painted
By
Billie M B.

(Marana, AZ) - October 23, 2010 (
See all reviews by this customer
)
Nice item for the price but the lettering is painted. Living in AZ I don't give it a year before the intense sun/heat melts it off or oxidizes the color. I opted for red on black with the cursive writing. Chair is sturdy and easy to erect with good solid rubber stoppers on the bottom to prevent slippage on tile. Very compact and travel friendly. Looks great, but when replacement time arrives I will opt for embroidered lettering in lieu of paint (which they don't offer). Also, there's a limitation on lettering amount, which is an added frustration if you have a long company name.

Not as sturdy as I had hoped.
By
Tonia M.

(Pearl, MS) - September 14, 2012 (
See all reviews by this customer
)
I ordered 2 chars and I received my chairs faster than I had anticipated which was great. Upon setting it up, however, they were not as sturdy as I had hoped it would have been. I am not a large woman, (5'5") and my concern is sitting and exiting the chairs repeatedly, that at some point it just might break because it is not sturdy. It does look good though. I think I would use it more for just marketing my brand and not for the practical use that I had hoped. Probably better to just stick with a metal chair that can be purchsed for $10.