How to fix the loose cushin problem
By
Shopper

(Hacienda Heights, CA) - May 25, 2012
I purchased this watch box for my fiance since he recently bought a watch. He is very picky, so I was a little worried when I made the purchase. When he got the box, he liked it except for the fact that the cushions are loose so the watch does not stay put in the box. I fixed the problem quickly by added foam pads on the sides of the cushion. You can't even see the foam pads on the top view, so it looks perfect now. I finally saw the smile I wanted to see on my fiance's face. So if the loose cushion is your concern, it's really not a big deal. Aside from the fact that they are lose, the quality of the cushion is great. We recently purchased another named brand watch box and had to return it because of the poor quality of the cushions. The leather on the outside also looked nice, and the engraving really gave it a great finishing touch! I am a happy shopper on this website and will recommend this item as long as it's on sale :)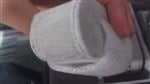 Classy look
By
Shopper

(Egg harbor twsp, NJ) - March 6, 2012
I bought this for my man along with 5 watches to go inside...I love the personalization and the leather,but I have two complaint it dosen't close all the way and I would recommend that the watch holders itself fit more snug,but overal I like it and my gift to him is complete.

Nice
By
Shopper

(Las Vegas, NV) - February 20, 2012
I bought this for my boyfriend as part of his Valentine's Day gift. I knew that it wouldn't be the best quality in the world, but it was ok. There weren't any defects or anything like that.
The pillows provided could be a little fuller, but that's just me being picky. :)

Decent for the price.

Cute for a boyfriend :)
By
Tatiana E.

(Miami, FL) - February 13, 2012 (
See all reviews by this customer
)
My boyfriend has a bunch of watches and I wanted something to keep them organized in. So I got him this watch box for his birthday and he absolutely loved it :) The personalization on the top of the box looks great. The only issue with it is that it is a little small so it's a good and bad thing. It won't take up too much space but hope that his watches fit there.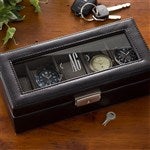 A little overpriced for product
By
Shopper

(deer park, NY) - December 13, 2011
This gift arrived very quickly but I was slightly disappointed with the quality. I love the clear top- but is is plastic.. The engraving seemed very light (It would have been more noticeable if it were glass)... If I had paid under $50 I would not even be complaining- but for 70 I expected a little more.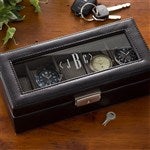 Nice Engraved Watch Box
By
Shopper

(Malverne, NY) - October 16, 2011
Beautiful and just as shown in the picture. Shipped very quickly. Exceeded my expectations! I love it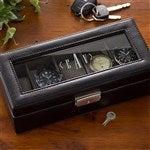 Great Gift for a Great Man in ur life..
By
Shopper

(Bakersfield, CA) - September 26, 2011
A very elegant gift for ur partner.. Beautiful leather.. The only drawback is the latch.. U have to b very careful while closin it.. It's not a easy close.. Except that this is a perfect gift for the perfect person..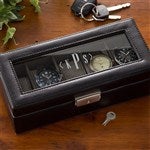 A Very Classy Gift for the Man in your Life!
By
Shopper

(Slidell, LA) - September 23, 2011
I purchased the monogrammed leather watch box for my son after purchasing one previously for my husband. Although they are slightly different they are both a very attractive way to store and display their watches. Even the biggest watches fit neatly and securely. The monogramming makes it special. The watch box is an excellent value and would make a beautiful gift for any gentleman.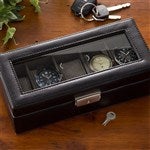 Satisfactory
By
Heather Y.

(Fort Myers, FL) - September 2, 2011 (
See all reviews by this customer
)
This was along the lines of quality that I expected and delivered in a timely manner.

Features I liked and did not like
By
Shopper

(Ithaca, NY) - June 27, 2011
It looks nicer than I expected. I do not like that the middle initial is bigger than the first and last initial.

Better in person!
By
Mildred R.

(Bronx, NY) - June 21, 2011 (
See all reviews by this customer
)
When I ordered the watch box, I thought it was very nice looking, and I liked that I could add a monogram. However, when it arrived and I had it in my hands I knew it was well worth it. It is very classy and just the right size in addition to very affordable. I highly recomend this gift especially if you are buying for someone like my husband, who has everything.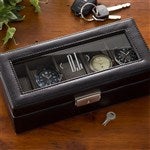 organization
By
Shopper

(Dallas, TX) - February 21, 2011
This was a very useful product. I bought it for my husband cos he had so many watches laying all over the house. This was a good way to have them organized without me having to bring them to him everytime I saw them around the house. Good product but I got a two day delay for "express shipping". I was happy with it except I couldn't give it to him on the day it was meant for. I had to give it to him two days later.

Nice Quality
By
Nicholas A.

(San Diego, CA) - January 3, 2011 (
See all reviews by this customer
)
Ordered this as a gift and was impressed with the quality. Paid around $55 for it...make sure you get it on sale.

leather watch box
By
ANN G.

(CLEARWATER, FL) - May 3, 2010 (
See all reviews by this customer
)
this box had my husbands initals, was shipped and given to him within 3 days. I ordered it on sunday pm and had it wed am, things remembered wanted 5 business days to do almost the same thing. I found this web site by stumbling apon it and I was nervous ordering from a site I had never heard of but I gave it a chance and I am so glad I did. The only complaint I might have about the box is I wish the pillows inside for the watches were just a little larger, since these are all men's watches they are just a little small,but other that that I am 100% happy I ordered from this company and will be using them from now on, the box is beautiful.

Great product
By
Stephanie T.

(Enterprise, AL) - March 8, 2010 (
See all reviews by this customer
)
I'm currently in Iraq and bought this for fiance's bday, said it was nice and looked great.

Nice Gift for watch collector
By
casie W.

(bardstown, KY) - December 30, 2009 (
See all reviews by this customer
)
The watch box was nice and exactly as explained except the lock on front was alittle to cheap looking. It was suppose to be bronze but it was bright gold. Otherwise the box was great and boyfriend loved it.

Good Quality, Monogram could be darker
By
Tiffany W.

(Mesa, AZ) - December 20, 2009 (
See all reviews by this customer
)
This box is definitely of good quality. It will look great with all my husband's watches. I think he will really like it. My only disappointment was the monogram, which I thought should have been darker, more bold. It was kind of like, more like gray color than a nice bold white. I almost think if I had known this, I might have gotten it done myself. I still give this product 4 stars though because it is a great purchase and my husband will still love it.

Great Value!
By
Catherine K.

(Tulsa, OK) - October 21, 2009 (
See all reviews by this customer
)
I ordered this box and had it personalized and it was delivered to me within the week. Great value for the price.

Great Looks, But Flimsy Watch Holder
By
Shopper

(Jacksonville, FL) - January 8, 2013
I purchased this watchbox as a Christmas present for my boyfriend. Looks-wise, it's very pleasing. It looks just like the picture. However, when it comes to holding the watches, I'm not too sure I'm quite as pleased with this product. My boyfriend tends to have big-faced watches, so we were kind of pressed for room in regards to having these types of watches sitting side-by-side. We had to alternate the watches accordingly (small-faced watch, big-faced watch, small-faced watch, etc). Also, after we put in all 5 watches, we had a difficult time actually closing the box. The holders aren't stable so his watches would kind of "rattle" around in the box. I give this product a 3/5 stars.

Initials not centered
By
Shopper

(Reston, VA) - February 10, 2012
I love the box its very good quality but the initials are not in the center... they are too far left. Annoying. :/

monogram watch box
By
Brenda S.

(Coral Springs, FL) - July 24, 2011 (
See all reviews by this customer
)
This is the very first time I was disappointed with my purchase. The box appears larger in the picture, and although the outside was very well done, the inside seemed quite small and not as detailed as I expected. It was still a success though, and I will continue to purchase from personalizationmall.com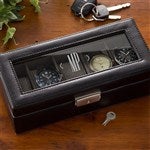 Not as nice as I expected.
By
Leonor P.

(Brooklyn, NY) - January 2, 2011 (
See all reviews by this customer
)
I liked this watch case a lot. I had wanted to purchase it but needed the perfect occasion. I purchased it for Christmas for my brother who collects watches. The engraving detail is nice but the quality of the actual watch holders is not as nice as I would like. It's a nice case overall and has the lock detail, but also, the lock is not as nice quality as I expected. I was a bit disappointed in the item and found it to look a little cheap.

Somewhat disappointed
By
Kristin L.

(Whitesboro, NY) - December 31, 2010 (
See all reviews by this customer
)
The quality and look of the watch box is great. However, it was smaller than I thought it would be in total size, and some watches with larger faces didn't fit in it which was disappointing. I've purchased many items from Personalization Mall, and have always been more than pleased. This item was disappointing for the price I paid, but I will continue to be an avid Personalization Mall shopper!

Just ok
By
Katherine D.

(San Luis Obispo, CA) - December 20, 2010 (
See all reviews by this customer
)
A little disappointed in the quality - the lid wobbles and the lock doesn't line up well. I don't believe this will stand the test of time (no pun intended)

Not really worth the money
By
Carrie S.

(Omaha, NE) - June 17, 2010 (
See all reviews by this customer
)
I have ordered from this site many times and have been more than pleased with my purchases. So, sadly to say, I was very unimpressed and quite disappointed with this leather watch box. The engraving is quite cheap-looking. Also, the edges are frayed and the clasp is broken. I would not suggest that anyone buy this. It looks much better in the picture than in real life.

Disappointed for Anniversary
By
Kara H.

(Pace, FL) - January 4, 2010 (
See all reviews by this customer
)
I personally think the price is to high for this product. It is a nice/cute box but not worth the price. I was hoping to be more thrilled when I opened the box and I just wasn't. I have seen other products from this company that I thought were great and worth the money, but I am disappointed with this product. The gift was for an anniversary present for my husband. I bought two very nice watches for it and the box just didn't live up to the expectations. Unfortunatly, my husband thought it was nice but wasn't really impressed either. There are defects on the glass - maybe some etching material got on it and you can not get the blimishes off. The watches are great - the box not so much.

Not worth it
By
Andrea A.

(Arvin, CA) - December 5, 2012 (
See all reviews by this customer
)
I bought this watch box after reading all the wonderful reviews but I received it and it's quality is not worth the price. The box feels really cheap and mine was actually not even aligned well. The watches I intended it to fit dont fit, even though its adjustable its not meant for men XL watches. Very tacky and not worth $70. It was personalized and therefore non refundable. Look for a better watch box.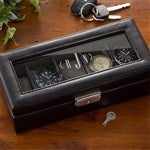 Flimsy lock
By
Julie H.

(Alpharetta, GA) - June 27, 2012 (
See all reviews by this customer
)
The lock on the watch box is very cheaply made, this seems like a lot of money to spend for such a poor quality item.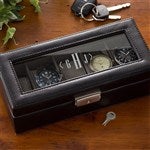 Doesn't showcase the watches enough
By
Shopper

(San Jose, CA) - January 8, 2012
I was excited to get this product however it has fallen short of my expectations. It holds 5 watches just as it says and the monogram is nice, however the thick sides prevent it from showcasing the watches enough, which in my opinion is the real value for a watch case like this one.

Also the watch rounds inside (pieces you wrap your watch around), are not big enough for the size of the box so the watches move around inside the box.

box is beautiful, inside not so much
By
Shopper

(Miramar, FL) - December 2, 2011
The outside of the box is very nice but when you open it the pillow things that you place the watch on don't really fit, they are way too small and are cheaply made which is a shame becuase it takes away from the product. I am trying to find new inserts now before the holidays to improve the problem but is harder than you would think.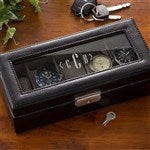 nice, too expensive
By
Shopper

(Jefferson Hills, PA) - January 21, 2011
with postage, came to $80.00, nice but not for that much money

Mediocre
By
Kenyata R.

(Detroit, MI) - June 28, 2010 (
See all reviews by this customer
)
The leather is nice. The engraving, however, is too light. The engraving should be the main focus of the product since it is the reason for the purchase (i.e. personalization). The lock sticks when the box is closed & must be forced into place. The compartments & the watch holders are too small considering that this is a gift suggested for men.

Not what I was expecting
By
Gayana A.

(West Bloomfield, MI) - February 2, 2010 (
See all reviews by this customer
)
This watch box was not what I expected...It looks like someone took leather and began glueing it piece by piece. It has scratches, and looks cheap. Very dissatisfied with this product.

Poor Quality and Craftsmanship
By
Sandy T.

(Williston Park, NY) - December 21, 2009 (
See all reviews by this customer
)
I read some positive reviews before I purchased this item. Although,I received it very quickly, the leather is poor, the clasp is not secure and the stitching is terrible. I would have returned the item if it weren't "personalized". Since, this site only posts thier positive comments, this is probably a waste of time. Hopefully, PersonalizationMall.com will be honest with their consumers in the future.

Wast of money
By
Shopper

(Australia) - December 8, 2011
Total waste of money. It cost me more for postage. I purchased 2 items valued at just over $100. And it cost over $100 for postage. When I received the items I was expecting a really nice gift box that I purchased but it looked cheap. I was also expecting some weight with the gift but it is very light. The removable holders inside the box are too small for a males watch, so the watches sit loose and each watch face hits the other when the box is moved. If you have valuable watches I DO NOT recommend this watch case.