Xmas 2011
By
Nancy O.

(Miami, FL) - December 29, 2011 (
See all reviews by this customer
)
I was very happy with the product, prize and how fast it was done and delivered. I look forward to placing an order soon. The most important is how happy the guys were when they received their glass, it was priceless! Thank you very much. Happy Holidays!!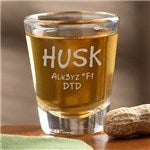 everyone wants one
By
Shopper

(mechanicsburg, OH) - December 27, 2011
all the kids want one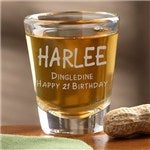 Love it!
By
Natalie C.

(louisville, KY) - November 22, 2011 (
See all reviews by this customer
)
My fiance' has a shot glass collection and he will be a daddy for the first time before christmas and i thought hed LOVE this :)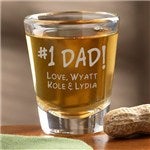 a gift for dad
By
Shopper

(south barre, MA) - October 16, 2011
I purchased this from the kids to their father. It was very nice and they all loved it. I think the coloring of the words i placed on it should be more visible but otherwise its a great item.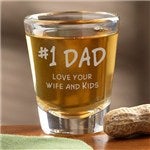 AWESOME GiFT...!!
By
Shopper

(Alameda, CA) - July 13, 2011
omg...!! my husband loves his shot glass i got for him for fathers day... awesome personalized gift!!!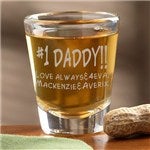 Was not too impressed
By
Lillian W.

(Charleston, WV) - June 14, 2011 (
See all reviews by this customer
)
I ordered this for a Anniversary gift for my husband and was disappointed. I think the lettering should be in black because I had to look at the glass close to see what it said.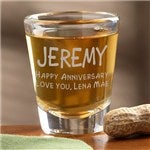 Love It!
By
Amber W.

(Stoneville, NC) - June 13, 2011 (
See all reviews by this customer
)
I purchased this for my husband as part of his Anniversary present. Love it!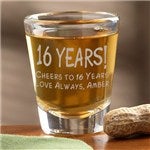 Nice Little Gift
By
Kathy T.

(Pleasant Valley, NY) - June 6, 2011 (
See all reviews by this customer
)
Nice engraved shot glass. Bought it for my niece who will be running a marathon in Vegas for a great cause. Cheers!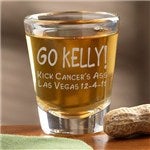 Awesome gift for my husband!!!
By
Maria L.

(Clifton, NJ) - March 11, 2011 (
See all reviews by this customer
)
My husband loved it very much!! I bought this as a gift for his birthday and he liked it a lot. This shot glass has a excellent quality and a good price too.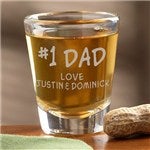 Great Buy
By
Ericka F.

(Woodland Hills, CA) - September 21, 2014 (
See all reviews by this customer
)
This item looks great. It was a birthday gift to myself and I love it. Arrived well before expected and is a great addition to my collection!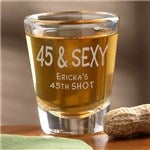 birthday gift
By
Shopper

(Waterford, CT) - August 5, 2014
was very pleased with finished product. came out exactly as shown on the website. would order again.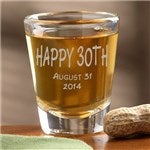 Beautiful
By
angela T.

(issaquah, WA) - June 27, 2014 (
See all reviews by this customer
)
the shot glass turned out really awesome.. my dad loved it.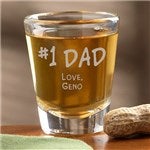 Looks Great
By
Brandy V.

(Saint Louis, MO) - June 18, 2014 (
See all reviews by this customer
)
This was a father's day to my husband from ours sons. He loved it. It looks just like the pic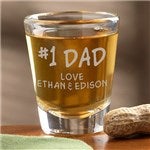 Excellent
By
Shopper

(Binghamton, NY) - June 17, 2014
Fast delivery accurate purchase excellent price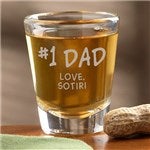 Amazing Gift - He loved it
By
Ann Marie O.

(Salt Lake City, UT) - January 26, 2014 (
See all reviews by this customer
)
60th Birthday in the remote town of Island Park, Idaho. I needed a memorable present to be delivered to cabin #1 at Robins Roost Groceries / Gas, where we had escaped for his Birthday Snowmobile trip.

I only had 10 days to order and receive this personalized gift. It arrived Tuesday (Monday was a Holiday) and I did not need it until Friday evening. Amazing turn - around time.

Very high quality wrapped in a very classy draw string velveteen bag. Thank you. He cherishes them and wishes to display them in a curio.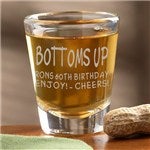 shots shots shots
By
Shopper

(pikesville, MD) - February 27, 2013
i got this for my bf on valentines day and he loved it. he doesnt let even me drink in it. it is so cute and i looks just like the pic displayed. pring is a little light but no biggie..it still looks pretty sexy!!! #dedicated personalization mall shopper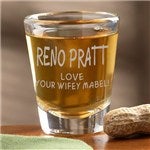 Perfect
By
Shopper

(Yelm, WA) - January 9, 2013
Got this for my brother for Christmas, he loved it. A great gift for guys, and it came out perfectly. Normal sized shot glass, and the font was easy enough to read.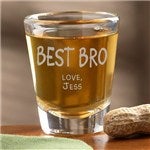 Do Not Order This, You Will Be Disappointed
By
Silvia R. T.

(Houston, TX) - December 12, 2012 (
See all reviews by this customer
)
I ordered eleven (11) of these for all my Sergeants at work and one for my son in law (11 @ $12.95 each = $143.00). I was so disappointed. The only thing that is readable is the #1; The #1 is huge. I couldn't even see the employee's name on the shot glass. The Font is so small, the Width of the font is so small, the Ink is so light. I am truly disappointed. I am so embarassed to have to give them this gift, I went out and bought each and everyone of my Sergeants something else. The example photo of this shot glass is very deceiving.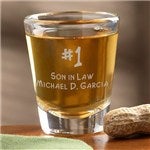 love
By
Caitlin P.

(Stuart, FL) - December 10, 2012 (
See all reviews by this customer
)
This is the 3rd one that I have ordered and every time the person completely loves it.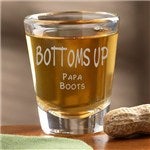 shot king
By
Shopper

(Commerce, CA) - October 30, 2012
great shot glass and my son loved it. He truly is the shot king! sure loves his shots, especially now that he has his very own personilized shot glass..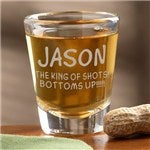 Perfect fun, sentimental gift!
By
Shopper

(San Diego, CA) - September 21, 2012
My new husband and I ordered 2 of these - one personalized each for my new mother- and father-in-law. They were of absolutely perfect, beautiful quality upon arrival AND they arrived quickly! My in-laws love them, and break them out for a fun little "happy shot" upon almost every Sunday visit now. ;)I will definitely be ordering from this website again! Excellent products.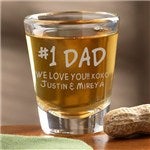 Easy To Use
By
Brian B.

(Chester Springs, PA) - September 3, 2012 (
See all reviews by this customer
)
Easy to order and received exactly what I wanted, great experience.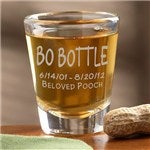 GREAT GIFT!!
By
Erin O.

(Beloit, WI) - June 22, 2012 (
See all reviews by this customer
)
I will definitely be a life time customer. Thank you so much for such great quality and prices!!!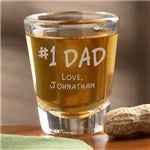 A drink on me
By
Maggie A.

(Astoria, NY) - June 21, 2012 (
See all reviews by this customer
)
Great gift. Excellent for shots. Love the craftmenship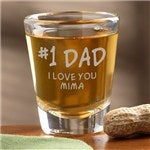 Very Nice
By
Shopper

(Colleyville, TX) - September 9, 2011
So I got this for a friend of mine who just made it into the Pi Phi sorority at the college she goes to, and thought it would be an interesting little addition to a care package I was sending her. When my order came in, I was VERY surprised with the level of precaution they took to make sure that it got here safely. It was very well packaged and the velvet case added a nice touch. However, the only thing holding it back from 5 stars, is the actusal color of the font they use for the engraving. I expected a silver or gray that was visible with or without contents in the glass itself, but found the writing to be almost invisible when it was empty and still quite difficult when it was full. It didn't turn out as vivid as the picutre in the example photo, and that was really the only disappointment. Otherwise, it's great quality and overall, a unique gift for anyone.

Pallbearer Gifts
By
Shopper

(Patterson, MO) - August 9, 2011
I order these for the eight men that served as pallbearers for my fathers funeral...they turned out great and the guys really liked them..my only complaint is that there are not enough choices for the style of lettering...but otherwise this glass makes a great gift.

21st Birhtday shot
By
Shopper

(Morris Plains, NJ) - February 7, 2011
I ordered a personalized shot glass for my girlfiend who is turning 21 next month and I loved the product when I got it in the mail. It's perfect!

Nothing to complain about
By
Shopper

(Ypsilanti, MI) - December 12, 2011
Very good buy, I got a few of these for my friends as they turned 21, they really liked them and they were not too expensive. I would recommend them to anyone.

cute
By
haley N.

(cherry hill, NJ) - December 6, 2009 (
See all reviews by this customer
)
I gave this as a second little present to my bf on his birthday. He loved it, he couldnt believe I went to so much trouble personalizing a gift. Little did he know, it was a piece of cake on this site. Highly recommended.

Daddy's Pride
By
Denise P.

(miami gardens, FL) - December 21, 2009 (
See all reviews by this customer
)
Not only did my son's father love what was inscribed in the shot glass, every time he takes a shot its a toast to being a great dad.

What I expected
By
Stacy S.

(Goffstown, NH) - January 19, 2010 (
See all reviews by this customer
)
This is a nice glass, and was what I was expecting. I am glad it is dishwasher safe.

Looks just like the picture
By
Shopper

(Sugar Creek, MO) - June 21, 2012
Excellent quality! Packaged really well so it didnt break!

love them
By
Elizabeth B.

(Somerset, NJ) - November 24, 2009 (
See all reviews by this customer
)
very cute item! I got these for my 3 brothers from my daughter and they're so cute!!!!

Awesome
By
Marissa F.

(Darien , IL) - December 1, 2009 (
See all reviews by this customer
)
LOVE IT!!!! I will be ordering more of these for gifts!!

Font color
By
Shopper

(Elk Grove Village, IL) - February 17, 2011
The font on the glass is very faint, unlike the advertised picture. If the writing was darker, I would of been much more pleased.

I had higher expectations
By
Deanna D.

(Stillwater, MN) - March 5, 2011 (
See all reviews by this customer
)
Looked cheap.

personalized shot glass
By
Shopper

(Abilene, TX) - October 3, 2011
This personalized shot glass makes for a cute collector's item. I ordered this for my boyfriend and it looks great with all the other unique shot glasses he has.

engraving needs to colored
By
Shopper

(Bartlett, IL) - February 20, 2011
The quality of the glass was nice..but the engraving was white/clear and wasn't so visible on the glass! The glass would of got 4-5 stars if there was an option for the engraving color or if done in any color other an white/clear!


WHAT U SEE IS WHAT U GET!!!
By
Lisa M.

(Indian head, MD) - October 8, 2009 (
See all reviews by this customer
)
I am happy with the item that I recieved. The only problem with this item is that the writing is only offered in white. On the picture they show it was brown liquid in the glass so you can see the writing better, but when I recieved the glass it was harder to see the words. And since the glass is sitting in a china cabinet with other collected shot glasses, its hard to read. So if you plan on drinking clear liquid in the glass it will be hard to see the writing. I also had a problem with the words I wanted to write but once the representative called I was able to explain why I said what it said on the glass, I was able to put on the glass what I wanted. So all in all I got what I asked for. My suggestion would be to offer different writing color! THANX!!!

Lil crooked
By
Carol C.

(Toms River, NJ) - January 23, 2010 (
See all reviews by this customer
)
I bought this shot glass for my sister's birthday. She collects them and I thought it was a neat idea. When I received it I was kind of disappointed as the letters appear crooked and are hard to see. I wouldn't exactly say it was cheap as far as shot glass prices go either. I expected something nicer judging from the picture of the product. I will give it to her and let her decide what to do with it. Also I would like to suggest in the future to offer colored letters.