NICE GIFT
By
Brenda W.

(Rock Falls, IL) - January 5, 2010 (
See all reviews by this customer
)
I do like the glasses. They are really neat. The only thing is you should have color options and maybe use the same font size for all the lines. The top line is easy to read but the other 2 lines are kind of hard to make out. You should offer color options or use a darker color glass that makes the lettering come out more.

creative but expensive, bad colored ink
By
Shopper

(Midlothian, VA) - February 5, 2012
Of course having a personalized shot glass is exciting and awesome that you only have to buy one, but after shipping & processing it becomes a very expensive shot glass. I looked online and found a coupon code which reduced the price some, however it was still pricy. the ink is white which makes the letters kind of hard to read if you hold up, but against the background you can still read them. overall, i am satisfied but would have preferred it to be a little cheaper.

Decent item
By
Shopper

(La Crescenta, CA) - November 15, 2011
Exactly what it looks like in the picture. However, the letters are a lot lighter, giving a low contrast between the glass and the writing. It would look a whole lot better had the personalization been darker/heavier.

Also, it comes in a black bag that says 'personalizationmall.com' which is ok to use as a holder, as long as you don't mind the receiver knowing where you shop & how much you spent.

personalized shot glass
By
Shopper

(Abilene, TX) - October 3, 2011
This personalized shot glass makes for a cute collector's item. I ordered this for my boyfriend and it looks great with all the other unique shot glasses he has.

Was not too impressed
By
Lillian W.

(Charleston, WV) - June 14, 2011 (
See all reviews by this customer
)
I ordered this for a Anniversary gift for my husband and was disappointed. I think the lettering should be in black because I had to look at the glass close to see what it said.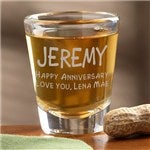 I had higher expectations
By
Deanna D.

(Stillwater, MN) - March 5, 2011 (
See all reviews by this customer
)
Looked cheap.

Font color
By
Shopper

(Elk Grove Village, IL) - February 17, 2011
The font on the glass is very faint, unlike the advertised picture. If the writing was darker, I would of been much more pleased.

Lil crooked
By
Carol C.

(Toms River, NJ) - January 23, 2010 (
See all reviews by this customer
)
I bought this shot glass for my sister's birthday. She collects them and I thought it was a neat idea. When I received it I was kind of disappointed as the letters appear crooked and are hard to see. I wouldn't exactly say it was cheap as far as shot glass prices go either. I expected something nicer judging from the picture of the product. I will give it to her and let her decide what to do with it. Also I would like to suggest in the future to offer colored letters.

WHAT U SEE IS WHAT U GET!!!
By
Lisa M.

(Indian head, MD) - October 8, 2009 (
See all reviews by this customer
)
I am happy with the item that I recieved. The only problem with this item is that the writing is only offered in white. On the picture they show it was brown liquid in the glass so you can see the writing better, but when I recieved the glass it was harder to see the words. And since the glass is sitting in a china cabinet with other collected shot glasses, its hard to read. So if you plan on drinking clear liquid in the glass it will be hard to see the writing. I also had a problem with the words I wanted to write but once the representative called I was able to explain why I said what it said on the glass, I was able to put on the glass what I wanted. So all in all I got what I asked for. My suggestion would be to offer different writing color! THANX!!!

engraving needs to colored
By
Shopper

(Bartlett, IL) - February 20, 2011
The quality of the glass was nice..but the engraving was white/clear and wasn't so visible on the glass! The glass would of got 4-5 stars if there was an option for the engraving color or if done in any color other an white/clear!


Do Not Order This, You Will Be Disappointed
By
Silvia R. T.

(Houston, TX) - December 12, 2012 (
See all reviews by this customer
)
I ordered eleven (11) of these for all my Sergeants at work and one for my son in law (11 @ $12.95 each = $143.00). I was so disappointed. The only thing that is readable is the #1; The #1 is huge. I couldn't even see the employee's name on the shot glass. The Font is so small, the Width of the font is so small, the Ink is so light. I am truly disappointed. I am so embarassed to have to give them this gift, I went out and bought each and everyone of my Sergeants something else. The example photo of this shot glass is very deceiving.