FAST, fabulous, and fun!
By
Kristin S.

(Conroe, TX) - October 21, 2009 (
See all reviews by this customer
)
Cheesy title for a review, but I just don't know what else to say! First, I was shocked with the speed of processing and delivery of my purchase. But the quality is great, just like the price. I plan on giving these to my brother and sister-in-law at their wedding shower to use on their first trip together- their honeymoon. This website makes it so easy to create such meaningful, quality, personalized gifts.

Wow! Very nice, very nice indeed!
By
Michael C H.

(Clinton, MD) - October 19, 2009 (
See all reviews by this customer
)
Wow! Very nice, very nice indeed! Definately not expected. High quality tag! Thick plastic! Very nicely done. Excellent value for the money! Will definately recommend to others!

Love These Tags!
By
Shopper

(Tonawanda, NY) - May 13, 2013
The tags are GREAT! Bought for my daughter and future son-in-law for their shower. The tags are sturdy, and a nice size so you can see when luggage is on carousel. Love that the names and information are printed on back, just wished that the font was more block styled. Could not believe how fast they got delivered to my house! Will be buying another set for my niece who is also getting married.

Shower gift
By
linda V.

(andover, MA) - March 22, 2013 (
See all reviews by this customer
)
A group of us have planned to give the bride their luggage. We are attaching these tags with her new name on the Mrs. tag. We are very excited about this gift.

So cute!!
By
Kylie F.

(State College, PA) - March 22, 2013 (
See all reviews by this customer
)
I got these for my best friend's wedding/birthday and they turned out great! I thought they were going to be cheap plastic but they are very heavy-duty! I only wish the words were engraved so that I didn't think there would be a chance for it to wear off...but at the same time, I doubt my friends will use these much beyond their honeymoon, so it may not matter! Very happy with this purchase!

nice but could be better
By
Shopper

(Tequesta, FL) - February 5, 2013
these came very fast. they are nice but kinda cheap looking/feeling. the custom text on the back feels like it can come off easily/

Fun luggage tags
By
Elaine M.

(Waterford, NY) - September 17, 2012 (
See all reviews by this customer
)
I know these were meant for the newlyweds, but my husband and I are celebrating our 30th anniversary with a big trip and I thought these were perfect. I'm not a huge fan of such ornate print - makes things hard to read - but our luggage will get where we need them if they are lost (heaven forbid!) - and I bet we don't have any problem finding our luggage at the airport!

love it
By
Autumn P.

(fort worth, TX) - September 11, 2012 (
See all reviews by this customer
)
first thing i bought with married name on it!

Order Early, new brides will love this.
By
Shopper

(Eden Prairie, MN) - June 29, 2012
The bride to be really loved these tags, especially when she saw her soon to be new name on it. I also got the Mr and Mrs pillow cases (from another vendor as they were embroidered) because feedback said the they were crowd pleasers (not my experience). The tags were the winner winner!! The expedited shipping fees are obscene and should be avoided if possible. It doubles the price of the item. For the, now double, price I hope the tags hold up.

Nice and large
By
Chrysta N.

(Centreville, VA) - July 23, 2011 (
See all reviews by this customer
)
These tags are durable and large. My only complaint is that the red sript on the back (with our names and address) was probably not the best selection for this tag. It's so curly and light that it's a bit difficult to read. Perhaps bold block lettering in black would have been a better choice.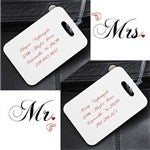 Cute, but practical?
By
Shopper

(Newark, OH) - June 22, 2011
These are really cute, but my only complaint is that they seem to be made of some kind of material that may break as bags are tossed around like yesterday's laundry at airports. I think I'll look for some kind of rubber cover to put them in so we can prevent them from breaking.

Otherwise, great product. very cute.

Surprised when I received them
By
Maria M.

(Yonkers, NY) - April 18, 2011 (
See all reviews by this customer
)
I was expecting a more durable material, seeing that these are luggage tags. These tags are nice but they have somewhat of a "tile" substance, leading me to believe that they will easily break during handling.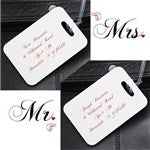 Cute and Fun!
By
Shopper

(Aliso Viejo, CA) - April 4, 2011
These were very cute, I bought 3 pairs: One for myself and my Fiance to use on our Honeymoon, and 2 other pairs for couples getting married to use as gift name tags to jazz up the gift wrap, and they can then use them as luggage tags later for travel! The fronts were great, my only suggestion is that they use black ink for the names and addresses, it would make the lettering stand out much more. But they are totally worth the cost! Love em!

Great Unique Gift
By
Lynn D.

(Canada) - December 10, 2010 (
See all reviews by this customer
)
I purchased the luggage tags as part of a fun bridal gift and love them. However when I ordered them, the website would not allow me to enter all the postal code in capital letters. Therefore it looks a little odd with a mixture of small and caps.

Great gift idea but blurry print
By
Lindsay W.

(Largo, FL) - February 18, 2014 (
See all reviews by this customer
)
I love these luggage tags just wish the print/font with the info of the traveler was more clear to read. Feel it may be a little blurry in the cursive.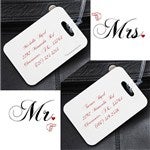 Will do the trick
By
Diana C.

(San Antonio, TX) - September 6, 2011 (
See all reviews by this customer
)
The luggage tags are plastic - wish they were leather or something more durable looking. However, I was going more for the "wow" effect since I got these for a travel themed bridal shower and they did just the trick. Allows you to put plenty of contact information.

Useful not classy
By
Shopper

(Mitchellville, MD) - May 20, 2011
Product was a little different than I expected. Not a very classy product in my view but still quite useful. The bride loved seeing her new name in print.

1 thing I didn't like.
By
Shopper

(Garden Grove, CA) - April 18, 2011
The luggage tags are a nice idea for the honeymoon. But I was disappointed the there was 2 colors of ink used for the names and addresses. The second color looks like it's faded.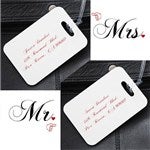 OK
By
CYNTHIA D.

(NEW CASTLE, PA) - January 4, 2010 (
See all reviews by this customer
)
The luggage tags were nice but putting them on is a different story. The plastic string is not long enough to go around the tag so how do you attach them to the suitcase? We had to buy rings to attach them. Not sure I would recommend.

happy couple
By
Shopper

(Carneys Point, NJ) - March 10, 2012
I purchased these for a couples shower. We used these as place seating cards for the happy couple at their "couple honeymoon destination shower"! They are fun and looked great on the honeymoon luggage. Happy sailing!!!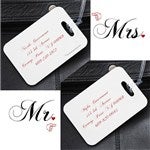 Great gift idea...
By
Magdalena S.

(Chicago, IL) - October 7, 2009 (
See all reviews by this customer
)
Cute gift, great idea... but because of the material the printed information is easily scratched off... Maybe there should be some type of quality control for your products?

Disappointed
By
Shopper

(Murfreesboro, TN) - September 6, 2011
I was very disappointed with the luggage tags I ordered. I paid to have them delivered quckly which cost much more than the tags. When they arrived they were smudged. It appears that they had been put together for shipping when they were still wet.