Great!
By
Shopper

(Modesto, CA) - April 13, 2014
I am happy with the way I was treated by this company. I got my product in good time and gave me their phone number if I had quistions. I will buy more stuff from them in the future.

Perfect gift
By
Shopper

(San Antonio, TX) - March 7, 2014
It is not as heavy as reg dogtags.Image and personalization were great.

great
By
Shopper

(Clinton, MD) - December 28, 2013
the shipping was really fast. the quality was really good. it was exactly what I ordered

A great gift for a soldier
By
Shopper

(Centerburg, OH) - December 16, 2013
My brother leaves for the Army in January and I wanted to get him something for Christmas that he could take with him to basic. These personalized dog tags were the perfect gift! Hopefully he can look at them and be reminded of the support he has from his family. I am really satisfied with how they turned out. The packaging is really nice too.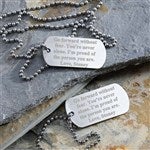 Lovely item!
By
Shopper

(New York, NY) - August 24, 2013
These are terrific! Stylish and fun. Received quickly. I am delighted. Recommended!

Beautiful! Exactly what I hoped.
By
Shopper

(West Mifflin, PA) - May 20, 2013
Great quality.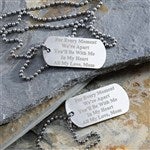 Just what I wanted
By
Shopper

(Ashland, NH) - April 19, 2013
Perfect gift for my husband, quality seems good, personalization was done very nicely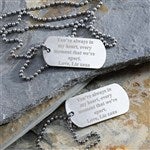 Awesome gift!
By
Shopper

(South Bend, IN) - April 2, 2013
I bought this for my son who's preparing to enter the Navy. It arrived very quickly, looks great and he wears it everyday! He loves it and so do I.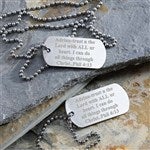 they were perfect!!!
By
Shopper

(Richmond, UT) - February 10, 2013
I got these tags for as a gift and they were pefect!!! shiooed fast no problems!! and they look amazing!!! and my Army man LOVED them!!!!!

One happy daddy!
By
Shopper

(Joplin, MO) - November 29, 2012
I got these for my dad. He deploys Dec 6th. I didn't meet my dad until I was 15 and I hate having him leave. I got these for him because I wanted him to be able to know that we all care about him at home. I'm glad I could give him something so special. :) thank you!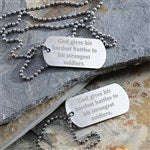 Great Gift!
By
Shopper

(Watertown, CT) - September 28, 2012
Since my friend is going on her second tour of duty and in between Iraq and Afghanistan she became a State Trooper, she has mostly gotten medals from us to keep her safe. This time we wanted something different. Something she could look at and think of us and know that we are here awaiting her safe return. She can hang these in her room and they can be visible for her at all times.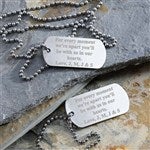 Great quality
By
Shopper

(Yonkers, NY) - August 19, 2012
I ordered the dog tag as a gift to my boyfriend and I absolutely love them when I received them. The quality is amazing and it looks so good. This makes a great gift for anybody, I would definitely recommend it.

thank you
By
melissa O.

(SAINT PAUL, MN) - July 31, 2012 (
See all reviews by this customer
)
thank you for making the dog tags perfect! I have one and my fiance who is deployed in afghanistan is wearing the other one!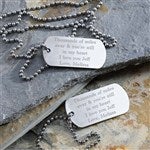 Perfect timing
By
James T.

(Parkton, NC) - April 27, 2012 (
See all reviews by this customer
)
I ordered these as a gift for soldier and it came right in time through the mail so I could ship it. I was so ecstatic about it and it made me so proud to do something like that I will be shopping here again


Love these!
By
Shopper

(West Islip, NY) - March 12, 2012
I bought these for my boyfriend who is in the army. I wanted to get him a little gift to give to him at his graduation ceremony. They came out beautiful with the engravings and I can't wait to give them to him. The price is reasonable and the product is great! I also ordered a silver picture frame with engravings on it to give him on graduation day that came out beautiful as well.

Great product!!
By
Deborah W.

(Fort Benning, GA) - December 10, 2011 (
See all reviews by this customer
)
Purchased this for a friend of mine with words of encouragement on it. She LOVED it. It was beautiful and exactly what I was looking for.

Great gift!
By
Kayla H.

(Jamestown, CA) - December 6, 2011 (
See all reviews by this customer
)
Bought this for my boyfriend for his birthday. He loves it! Haven't seen him wear it yet since he is stationed in NM, but I'll be seeing him for Christmas, so I might see him wear it then. *smile*

Perfect for a Deployed Daddy for Fathers Day
By
Shopper

(Raeford, NC) - June 19, 2011
I sent these to my deployed hubby as a Fathers Day gift. I engraved them with a message from our kids, and he loves them. He wears them with his GI dog tags, his buddies thought they were a great gift idea. Shipping was a breeze, arrived at his APO in less than a week. Always a great gift idea on this site, previously sent the pocket watch, also a hit!

BEAUTIFUL!!
By
Carmen J.

(Knnoxville, TN) - January 31, 2011 (
See all reviews by this customer
)
These dog tags are beautiful,,, I had a special message engraved to give my sweetheart for valentines day. They look very nice and I know he will cherish them forever!!

Great gift idea!
By
Amanda J.

(Neola, IA) - January 9, 2011 (
See all reviews by this customer
)
I got these dogtags as a gift to my fiancé for graduting basic training. It was just the simple gift that I was looking for. They came on time and look great. Great experience and got me excited to buy more in the future!

Dogtags great for people with dementia
By
Elizabeth L.

(San Diego, CA) - December 21, 2010 (
See all reviews by this customer
)
I got these dog tags for my mom, who has dementia. Engraved on them I had her residence and my contact number. (She lives in assisted living.) She feels so much more secure, because she feared getting separated from her caregivers and not knowing where she belonged. Having the second tag is nice; I'm keeping it in case she loses her first one. Thanks, Personalization Mall!

Great gift
By
Darleen P.

(Landing, NJ) - August 9, 2010 (
See all reviews by this customer
)
My daughter purchased the tags for her boyfriend who was going away to college . . .It was a great gift, excellent quality. Would definitely purchase again or recommend

For a GREAT soldier and EXCELLENT DAD
By
Britney H.

(Ellenwood, GA) - July 17, 2010 (
See all reviews by this customer
)
My dad is deployed in Afghanistan and I really wanted to find something meaningful for him for Father's Day that was also indestructable (almost lol) and not too cumbersome to keep with him. This was the second of two gifts I sent my Dad (the other being the poem box). Great quality and excellent gift from a Daddy's Girl.
PS. My Dad was so suprised when he got this, and for a man who has been to war multiple times and so forth and not easily suprised, it made me cry that he loved it so much. He keeps one with his gear and wears the other around his neck with his other military issue dog tags. Thank you personalization mall for helping me create a meaningful gift for the number one man in my life.

Excellent Quality
By
Rhonda W.

(Albany, OR) - May 9, 2010 (
See all reviews by this customer
)
I ordered this for my boyfriend who is going overseas soon. I received my order sooner than expected and I'm very happy with the quality of the product. Just what I asked for and a perfect gift!

dog tag reveiw
By
Denis U.

(Lincoln, IL) - April 2, 2010 (
See all reviews by this customer
)
the item was made of a good quality material. It wasnt a weak flimsy metal! It was a sturdy and solid material! I have no compaints at all. I received the item in a timely manner.

Great Gift for a Soldier Overseas!
By
Michelle J.

(Birnamwood, WI) - March 15, 2010 (
See all reviews by this customer
)
This is such a great gift for a soldier overseas. My soldier absolutely loved it. He took it off the chain and stuck it in his boot. I think it's a special personal item they can have with them during deployment. The quality and presentation were very classy.

Note: One of the chains is a necklace, while the other is a bracelet length.

A Gift for my Soldier
This is perfect!

Beautiful Work, Horrible Cleaning
By
Jennifer B.

(Worcester, MA) - February 22, 2012 (
See all reviews by this customer
)
Beautifully carved and well laid out. However, the tags arrived extremely oily and were in no way cleaned before being shipped. Because I don't have the proper tools for cleaning and polishing, it took me hours to get them to a state where I was willing to give them to my husband. Very disappointed about that.

Marine
This isnt goodbye it's see you later. Semper Fi. OORAH !

very thoughtful gift...more for looks then wear?
By
Shopper

(bluffton, IN) - April 16, 2011
These are very thoughtful gifts when personalized with your own words to your loved one. However the letters are not very deep and are very light making them hard to read without tilting the dogtag side to side. I purchased these as a gift to my fiancé before he left for Iraq. I'm slightly worried they may not be durable enough for everyday wear without the lettering wearing down and metal bending. I would recommend these for sentimental gifts. They are truely adorable, just not for everyday wear. I will know better in 12 months how they hold up when my fiancé returns home with them.

I would probably pass the next time
By
Shopper

(San Dimas, CA) - April 11, 2011
I have bought so many things from personalizationmall.com and will continue to do so...all of their products are affordable, unique and I love how fast they are to complete an order, I could go on and on about how much I love this company. However, these tags, mmm, the engraving was very light. You need to angle the tags when reading them for them to show. It isn't engraved deep where you can feel the engraving, the letters are smooth on the surface, which look nice...but you need to look hard to see them. While I would purchase previous items over again...this purchase is one that I will not purchase again. Sorry!

a little disappointed
By
Norma V.

(Lakeland, FL) - January 28, 2011 (
See all reviews by this customer
)
the wording is hard to see you have to tilt them at angle to even read what it says i was disappointed they could make the engraving deeper so it can be read