God Bless America..beautiful item!
By
Shopper

(Fulton, NY) - December 7, 2012
of all of the items I have purchased thru this site in the past 2 years this is the absolute most beautiful piece ever. the color is MORE vivid than it appears. I have ordered slate pieces before and was not near as impressed as I am with this one. It was purchased as a Christmas gift for friends and I am thinking of buying another for myself!

Amazing Quality
By
tabitha J.

(bonaire, GA) - November 30, 2012 (
See all reviews by this customer
)
This product far exceeded the quality I expected. Sturdy and beautiful. Received my order just days after I ordered. Will order from personalization mall again!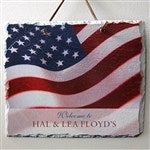 Excellent Product!
By
Cathy R.

(East Tawas, MI) - November 28, 2012 (
See all reviews by this customer
)
This is a Christmas gift for my brother and his wife...both are retired military veterans. I'm sure they are going to love it for their home's entrance. The quality of the product is excellent and the plaque looks exactly as you see it online. I am also impressed with several features of this company and their online site: the website is easy and quick to navigate; the ability to preview your choice; and the fast delivery of a well-packaged purchase. I will order from this company again in the future!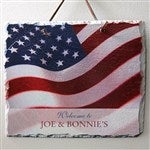 Stars & Stripes family name slate plaque
By
Paul P.

(Houston, TX) - May 19, 2012 (
See all reviews by this customer
)
Item was shipped and received promptly and is of excellent quality.

The Perfect Gift
By
Ellen M.

(Harrison, NJ) - February 27, 2012 (
See all reviews by this customer
)
I brought this for my neice & her new husband who just returned from Afghanistan, and they are moving into their first house on base. They absolutely loved it, and thought that it was the perfect house-warming gift for a soilder & his wife. This is my second order from Personalization & I'm satisfied with their products, service & delivery. There's nothing like receiving something that's been personalized just for you. It makes the gift that much more special. I will be ordering again in the near future.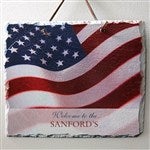 GOD BLESS AMERICA
By
Shopper

(GARFIELD, NJ) - February 26, 2012
I live In NJ. I sent this to my Son & Daughter In-Law Who live In AZ. When They called me to say they Received it, I could Hear how happy they were . My Son Said. "DAD, What a GREAT GIFT".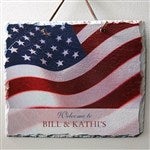 fantastic
By
Shopper

(Mount Juliet, TN) - September 25, 2011
The young couple we sent this gift to were very pleased and honored as he is an Army Veteran.


amazing plaque
By
Shopper

(Garnerville, NY) - August 28, 2011
So much bigger than I thought!! Its amazing! Thank you!! Such good quality

Patriotic Beauty!
By
Jean C.

(Plaistow, NH) - July 31, 2011 (
See all reviews by this customer
)
This plaque is a wonderful acknowledgment of the greatness of America. I have mine placed on a metal scrolled picture frame holder with other patriotic items on a distress black entrance hall table. I couldn't be happier with this purchase. I plan on keeping it there well after Veterans' Day.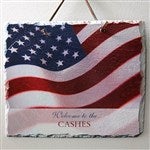 Awesome product
By
Shopper

(corfu, NY) - May 7, 2011
The quality and appearence is outstanding.

Love IT!
By
Brenda W.

(Waterloo, IL) - September 27, 2010 (
See all reviews by this customer
)
I absolutely love my stars & stripes plaque, the quality is excellent and it is just beautiful. I am a renter so do not have a flag pole, this will be my display for each and every flag day.

The Quality is amazing for the price
By
Eloy S.

(Missouri City, TX) - July 16, 2010 (
See all reviews by this customer
)
This is a great!!! company. The delivery is faster than I could dream of. I love the personal touch on gifts and personal items that is provided.

Love this sign
By
Tracie W.

(Lewis Center , OH) - July 13, 2010 (
See all reviews by this customer
)
This is the third slate plaque I have purchased. I now have a plaque for my front door for summer, fall and spring. I can't wait to buy one for winter. They are very sturdy and look fantastic!

Gorgeous color!
By
Angela S.

(Ward, AR) - April 27, 2010 (
See all reviews by this customer
)
I ordered this, not too sure that I would like it, but I am blown away! I was afraid it would be bright, but the colors are beautifully muted--it almost looks aged or antiqued. I believe it would go with any decor, not just patriotic. It's sturdy for sure, but not too heavy. Everybody who sees it wants one! Great gift idea!

stars and stripes slate
By
Lorna M.

(Martinsville, IN) - April 3, 2010 (
See all reviews by this customer
)
I love this. Is too heavy for my front door, made of slate, heavier than expected. But is absolutely beautiful. Hung it up in the middle of my front porch window. Goes perfect with my americana porch. Highly recommend to purchase items from Personalized ...... high quality merchandise. Not first time in purchasing items from them. You will not be disappointed!!

5 Big Stars
By
Dawn N.

(Chandler, AZ) - March 8, 2010 (
See all reviews by this customer
)
1st...PersonalizationMall.com is 'off the charts' Great! I have been a customer for a several years and they never fail to EXCEED my expectations. I placed my order on Sunday afternoon and it arrived Thursday afternoon & w/o rushed shipment on my end! WOW, that's impressive! This plaque is wonderful! I am a REALTOR and present this to my clients on the day they close on their new home! My clients have been thrilled and so have I. Wonderful Quality & Great Gift for anyone!

GORGEOUS
By
Suzanne C.

(Sayville, NY) - February 25, 2010 (
See all reviews by this customer
)
Item was even better then expected! Great size and spectacular quality not to mention super fast service and shipping! VERY happy <3

Ordering & you sending to by brother, very convenient.
By
Janice S.

(Gahanna, OH) - February 3, 2010 (
See all reviews by this customer
)
I like ordering on you Per. Mall. My order was sent to my brother in S.Carolina, my request. He loved his birthday gift so very much. It's fast & arrives just like the picture. Very convenient and a lot to choose from on your Web Site. Thank you. Janice Seymour

Beautiful
By
Shopper

(Burton, OH) - November 12, 2013
My boyfriend and I bought this for a Christmas gift for his son and daughter in-law. His son is in the Army. His son's wife loves anything patriotic. They will love it.

Just what I was looking for.
By
James E.

(Vero Beach, FL) - July 11, 2011 (
See all reviews by this customer
)
I wanted a plaque for my front door, with a suitable slogan. This fit the bill!

Great gift
By
Shopper

(Kettering, OH) - March 25, 2011
I havent been able to see this in person yet but I bought it online for my father and he said that he loves it! I made it say Welcome to Grandpa ***'s Shed and he has told me that he really likes it.

The plaque arrived VERY quickly after I placed my order - sooner than I thought it would.

I love this site!