Just like it looks online!
By
Jontel J.

(Danville, VA) - April 19, 2014 (
See all reviews by this customer
)
Such a beautiful item! Looks just like the picture online, actually even better! Such fast shipping i am 100% satisfied happy customer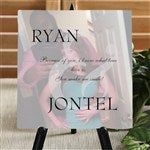 Very nice keepsake
By
Lisa S.

(Watertown , MA) - January 24, 2014 (
See all reviews by this customer
)
Make sure your picture is high quality and large enough, and this pretty canvas will do it justice. Very cute keepsake I bought for an engagement party. Bought the easel too, and it was actually slightly larger than I thought it would be. Nice lettering and photo reproduction, and I like that you can personalize it any way you like. Highly recommended as a unique gift.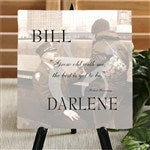 Great
By
Shopper

(kansas city, MO) - January 21, 2014
Didnt get it the first time it was sent. They resent it at no cost. Thanks so much love it!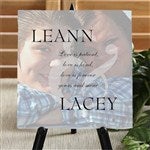 You Made My Day!
By
Marla B.

(Saint Petersburg, FL) - October 26, 2013 (
See all reviews by this customer
)
I ordered this canvas so I could display it on my desk at work. I LOVE, LOVE, LOVE this picture on canvas!! The quality is superb and it came out perfectly. I receive so many compliments on it and, of course, they are followed up with, "Where did you get it?" I decided to create my own phrase to be displayed on the picture. I referred back to our first date so I could capture the moment on a memorable piece I could treasure forever. I received it a day earlier than expected. I would highly recommend this item as something for yourself personally or to giveaway as a gift.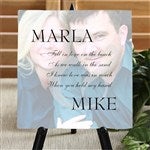 Great product!!!!!!!!!
By
CHERYL G.

(VALLEY PARK, MO) - June 3, 2013 (
See all reviews by this customer
)
I loved this! We displayed it on our cake table at our reception and guests raved about it! As for the people commenting that it is smaller than they thought, the measurements are included in the description so....I knew the size was small, just a matter of some people not paying attention to detail. Actually, I found the size to be perfect. This as an 8x10, would be too "in your face". The smaller size is just right. Would highly recommend!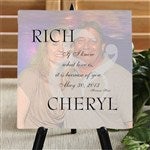 "Grow old with me the best is yet to be"
By
Susan B.

(Fall River, MA) - June 3, 2013 (
See all reviews by this customer
)
It was just perfect... the quality of the canvas, the wording and picture....
I gave it as and engagement present to my son and fiancé..and they just loved it....
I have ordered before from Personalizationmall.com and will continue to do so.....
thank you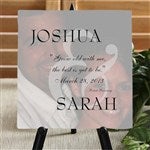 Nice quality
By
Angelina E.

(Wappingers Falls, NY) - April 27, 2013 (
See all reviews by this customer
)
I ordered this for a friend who is getting married in June. I hope she likes it as much as I do. The only thing is, her fiancé's name is covering his face. Still looks nice though.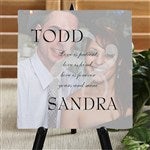 A great gift
By
Shopper

(Upper Darby, PA) - April 2, 2013
I bought this as a wedding gift for my brother and his wife to be. While the wedding was unfortunately cancelled, the gift was beautiful and is a memory of their relationship.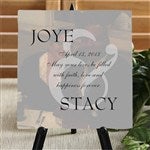 Just Beautiful!!
By
Shopper

(Upper Darby, PA) - March 29, 2013
I bought this gift as a wedding gift for my brother and his new wife. She loved it even though the wedding was eventually cancelled. It is a great gift and will be loved by anyone who receives it.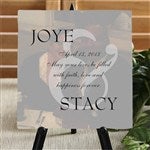 Art Canvas
By
Shopper

(Kansas City, MO) - February 20, 2013
This was so perfect! My Boyfriend just loved it! Its the perfect size to set on a bedside table. Great price and the Quality was just awesome! Great job Personalization Mall!!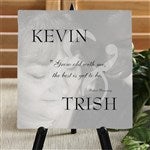 because of you
By
Lashay P.

(Baltimore, MD) - February 19, 2013 (
See all reviews by this customer
)
i loved it but it was to small didnt look like the pic on the computer i thought it would be bigger then it was no stands like on the detail pic or nothing i was disappointed and if i know it was this small i would nt have got this but its okk its here now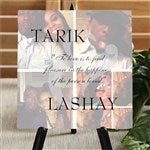 My Wife Loved It
By
Sean S.

(Euless, TX) - February 14, 2013 (
See all reviews by this customer
)
I ordered this for my wife for Valentines day and I want to thank PMALL for coming through.... The picture was flawless. I copied some text from the provided "quotes" and pasted that into the custom part to add my own touch. Thank you. My wife loves it.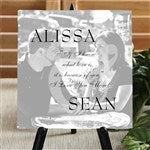 Canvas picture
By
nicole B.

(hurricane, WV) - February 9, 2013 (
See all reviews by this customer
)
I assumed it would be like an 8x10 and when it arrived in a tiny envelope I was shocked. It's like a small square 4x4 maybe. I couldn't believe. So be aware it will be tiny!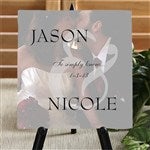 Canvas
By
Shopper

(Bayonne, NJ) - February 4, 2013
My canvas print didnt trun out exactly as pictured and expected. It wasnt centered and my picture was smaller than what I wanted on the canvas. It didnt fill out the whole thing like i originally wanted and sent and you can see the white borders.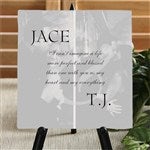 Not satisfied
By
Shopper

(Winooski, VT) - September 23, 2012
It was very tiny, when you look at the picture on the site it shows that it is much Bigger! I had ordered it in sepia and it came in black and white! as far as the Esel dont spend the 12 dollars get your own its pretty cheaply made for the price. I think 50 dollars for the box ,easel and small little canvas art was too pricey.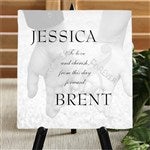 Beautiful!
By
Lisa M.

(Henrico, VA) - August 28, 2012 (
See all reviews by this customer
)
I chose one of my daughter and soon to be son-in-law's pictures of their engagement pictures and had it put on this with their names and the quote off of their wedding invitation. I loved this! They love it as well and will display it on the table at the wedding. Not very big but is what the size states. Very pleased.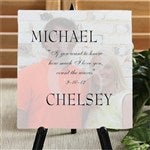 Great Anniversay Gift
By
Fran H.

(Tampa, FL) - August 10, 2012 (
See all reviews by this customer
)
Bought this for my husband for our 25th anniversay. Used a quote from a song from our wedding. SUPER EASY to download picture and order!!!! Arrived quickly, on the day it was promised. LOVE IT!!!!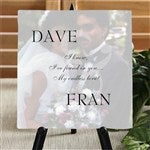 beautiful
By
Louise F.

(Marietta, GA) - July 28, 2012 (
See all reviews by this customer
)
recaptures our wedding 30 years ago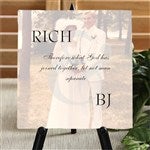 Simply Adorable
By
Stacey D.

(Davie, FL) - June 20, 2012 (
See all reviews by this customer
)
I purchased this for my in laws 20th wedding anniversary. I placed a beautiful photo of them along with one of the pre-written quotes personalizatonmall.com has available. My mother in law had tears in her eyes and loved it. Its a small but big gift of love. Would definitely order again!!!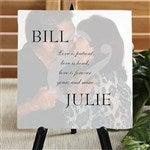 Great little gift!!!
By
Jeri A.

(Gig Harbor, WA) - May 5, 2012 (
See all reviews by this customer
)
Love it! Love it! Love it! I cannot wait to present it to the Bride at her shower! Easy order process and quick delivery...Thank you Personalization Mall, I always look here first before I buy gifts!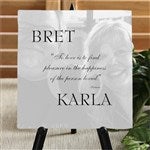 AMAZING
By
Pam A.

(Dayton, TX) - March 23, 2012 (
See all reviews by this customer
)
This was one of the most amazing gifts I have given. It has received so many compliments and my husband was thrilled.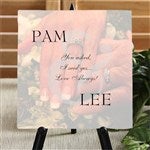 Perfect
By
Elizabeth H.

(Torrington, WY) - March 23, 2012 (
See all reviews by this customer
)
This was perfect for us! Absolutly loved that we could use a line from our song! Good quality and would recommend.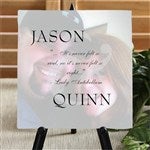 1st wedding anniversary
By
Silvia C.

(Peoria, AZ) - March 2, 2012 (
See all reviews by this customer
)
I was so excited & HAPPY with the canvas order I received today. With my husband being overseas right now and not being able to celebrate our 1year wedding anniversary this month of March, I know my husband will be surprised and extremely happy when he opens his package. Thank you so much! I will definitely keep using Personalizationmall for years to come!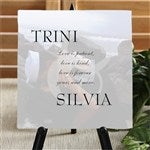 SMALL WITH big PUNCH!
By
Terrell B.

(Grovetown, GA) - February 21, 2012 (
See all reviews by this customer
)
I'm so happy I took a chance on this product.
It's not cheap looking. it's different & my Husband really liked it.
I'll probably let him take it to a future office later , purchase a Larger
one later for home. I really appreciate how easy they make it to order also.
I will be using this site again for sure.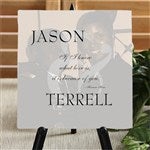 Awesome !
By
Heath D.

(Roland, OK) - February 21, 2012 (
See all reviews by this customer
)
I got the because of you portrait for my wife and she loved it , so for any husbands looking for a good gift for your wife , she will love this ! Very easy to get the ball rolling on it real quick and easy ordering fast with the shipping as well , very pleased !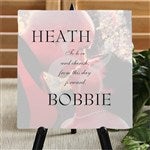 great,beautiful ,amazing!!! i love it!!!!
By
Shopper

(homestead, FL) - February 5, 2012
very nice and fast service ,i bogth this for valentines day,for my husband,im relly happy ,you guys did excelent job!!! thankkksss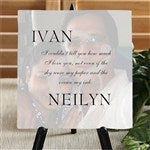 Great gift!
By
Shopper

(Missoula, MT) - February 5, 2012
This was a great gift and I got a great reaction from my fiancee. She loved it! I would have liked to do some more editing when creating it. The editing program was fairly restrictive. In my opinion, the easel is a must, it looks much greater on a desk, dresser, or coffee table rather than the wall.

Overall, I recommend this item for any occasion!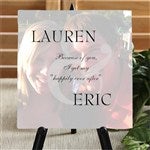 I love this gift.
By
adriana C.

(savannah, TX) - February 4, 2012 (
See all reviews by this customer
)
I not only love this gift, had many and was difficult to choose just one.
My friends have seen it and want to know where to buy it, to buy them too.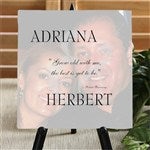 Very cute!
By
Ashley M.

(Vincennes, IN) - February 4, 2012 (
See all reviews by this customer
)
Love the product. Bought it for my husband for our first valentines day together as a married couple. Received product very quickly! Very satisified

Wonderful
By
Shopper

(Boston, MA) - September 25, 2011
Ecxellent amazing gift. I give 4 stars because it is very very difficult to chose and adjust the photo. I think there must be an easier way. Also, they sent me a slightly different photo from the one I cropped. They immediatelly replaced of course. Very professional company!!

check
very good

Perfect gift !!!
By
Shopper

(Houston, TX) - December 6, 2011
This canvas is a beautiful gift. I purchased it for my husband on our 1st wedding anniversary. I was concerned about its quality but it was absolutely perfect. The picture was beautiful and canvas quality was also very good.
The only disappointing thing was its size. It was not what I expected but that was may be because I dint see its size in the description and just went with what the image looked like. My bad !!!

Because of You Photo Canvas Art
By
Shopper

(CEDAR CITY, UT) - December 24, 2011
This is a wonderful gift for any occasion. I was slightly disappointed by the size but all in all, it's beautiful.

Great, but tiny
By
Abigail C.

(Baltimore, MD) - January 11, 2010 (
See all reviews by this customer
)
This item turned out great! But I didnt read the size of it, and was surprised to open a box and find a 5X5 canvas (Which is my own fault). Other than that it was absolutely perfect and made a wonderful wedding present for a friend!

Liked the product. Shipping was a dissapointment
By
Shopper

(Brooklyn Park, MN) - December 29, 2011
I am happy with my item, however I paid the extra $20 for express shipping. The item arrived 2 days late. I contacted customer service and they did reimburse me very quickly which I was very happy with. I may order from personalization mall again, but only pay for standard shipping.

6 year anniv
great


grandchildren
By
Shopper

(o,fallon, MO) - January 8, 2011
very excited to have a canvas of both grandchildren together. Good job

Wonderful Gift Idea
By
Xai V.

(Hickory, NC) - October 27, 2010 (
See all reviews by this customer
)
I received my gift in 3 days! it was great! I loved that i was able to personalize it to make it even more memorable! The price was great for the quality. I had my doubts since it was shipping the next day of how good it would turn out but I am not disappointed at all! I only gave it 4 stars because I wished the size was a little bigger. Other than that - EXCELLENT WORK!!

Great gift for a couple
By
Aimee L.

(West Falls, NY) - August 17, 2010 (
See all reviews by this customer
)
Very nice quality for the price. Check dimensions just FYI it is on the smaller size. I wish they made it in a few different sizes. Also when cropping your photo be aware that the edges fold over so if heads are near the top they may be cropped out.

I really liked this and I would definitely order it again if I had an occasion to. The delivery was super fast too. I ordered it on a Mon night and received it on Thurs.

Cute!
By
Shopper

(Ladson, SC) - February 7, 2011
I really do love this....but it is a little smaller than I thought it was going to be......I wish it was a little bigger....but I do love it and it was great turn around time! Thank You!!!