Great looking clipboard
By
Christine B.

(Canada) - June 13, 2011 (
See all reviews by this customer
)
Quality is great, and it turned out just like the personalized preview. Can't wait to give it to the teacher, I know she'll love it.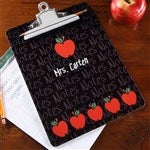 Clip board
By
Shopper

(Sayreville, NJ) - May 14, 2014
His teacher loved it!!!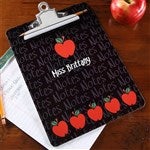 Love it
By
Natalie G.

(syracuse, NY) - February 9, 2014 (
See all reviews by this customer
)
Its perfect! The quality is exceptional.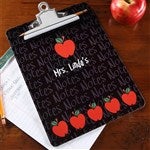 Very cute and fun design-good quality
By
Barbara C.

(Metairie, LA) - May 18, 2012 (
See all reviews by this customer
)
I bought this for 2 of my childs teachers and they are much better quality than they appear, they are thick
holds a regular size sheet of paper, 8.5 by 10 and its probably very useful for any teacher.

Love it....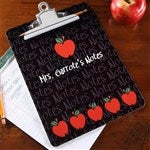 Trish
By
Trish B.

(Cherry HIll, NJ) - December 4, 2010 (
See all reviews by this customer
)
Excellent quality, loved it!

Professionalism
By
Shopper

(Bellefontaine Neighbors, Mo, MO) - June 4, 2011
"Thank You", for the standard of professionalism and the quality that your gifts represent. I have come to expect nothing less than the excellence that your web site offer. The prizes are reasonable which are a big factor with todays economy. I tell everyone that, there's a web site that has a selection for white, blue and no collar gifts, at blue collar prices. You get what you see with no hidden fees or suprises, we all know that there are no perfect people however if you are looking for the perfect gift, this is the only web site that you need to visit. Any other site would be a gamble

Rhonda

Teacher LOVED it!
By
Shopper

(Rockaway Beach, MO) - December 16, 2011
We personalized the clipboard for our son's 5th grade teacher. She was soooooooo tickled, not only for the style, but also for the personalization! We've ordered literally dozens of products from Personalization Mall over the last few years and have never been disappointed with any of them. A class act!

GREAT GIFT!!!
By
Robin W.

(Jackson, NJ) - October 9, 2009 (
See all reviews by this customer
)
Great gift for a teacher!!! They Loved it!

Teacher's Love It
By
Alan C.

(Fort Mohave, AZ) - May 5, 2010 (
See all reviews by this customer
)
This item was perfect for the occasion and was well received. All the children loved it too!

Perfect teacher gift
By
Courtney M.

(Sterling Heights, MI) - June 2, 2010 (
See all reviews by this customer
)
Bought this for my student teacher to start off her career in an organized manner and she loved it!

Great gift idea for teachers
By
Brittney B.

(San Angelo, TX) - May 3, 2010 (
See all reviews by this customer
)
I got this gift for my soon-to-be sister in law since she was about to graduate from college and become a school teacher. It was so cute that I am going to order me one too!

Clipboard for Teacher
By
Shopper

(Jeffersonville, IN) - December 27, 2011
Product is exactly what we ordered & my daughter loves it. Problem was with the shipping.

Awesome clipboard
By
Shopper

(Culver City, CA) - March 1, 2014
Great quality clipboard. Better than expected!

I'm in love!!!
By
Shopper

(Sandersville, GA) - January 27, 2014
Okay, anyone can purchase an ordinary clipboard to have in their classroom, BUT this clipboard isn't ordinary! It's even better than I expected, and I've gotten so many compliments on it! Must buy!

Clipboard
By
Shopper

(Muenster, TX) - May 4, 2014
This is a gift for my son's teacher! It looks great! It's so glossy and shiny! We couldn't be happier with our purchase!

Excellent Gift
By
Shopper

(Ennis, TX) - April 9, 2014
I noticed that my son's teacher did not have a clipboard, so I bought this one. She loved it and since I had her name put on it made it special.

Nice Size, Good Quality
By
Valerie G.

(Bronx, NY) - July 3, 2013 (
See all reviews by this customer
)
I purchased this as part of a gift (along with a totebag) for my son's 2nd grade teacher at the end of the year. The clipboard is sturdy, a good size and is a quality item. The imprinted name looks great. I would definitely purchase this item again.

Her teacher LOVED it!
By
Jinae C.

(Rio Rancho, NM) - May 18, 2012 (
See all reviews by this customer
)
Well-done & the product is obviously high quality!

Perfect
By
Shopper

(PHILADELPHIA, PA) - April 21, 2012
Good-bye present for student teacher....perfect because her name is unusual!!!

clipboard
By
Shopper

(Raymondville, TX) - December 22, 2012
fast service

cute, nice quality
By
Michelle D.

(Houston, TX) - July 22, 2012 (
See all reviews by this customer
)
looks like a good, sturdy clipboard. this is a gift for a new teacher, so I'm anxious to see what she thinks.