Can Holder
By
Kate B.

(Canada) - December 26, 2011 (
See all reviews by this customer
)
Perfect gift for the person who is hard to buy for. Great quality item.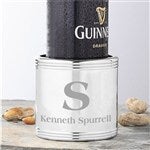 Good gift for a guy
By
Shopper

(Kew Gardens, NY) - July 30, 2011
I wanted to get something for my brother's 21st birthday and this turned out to be the perfect gift.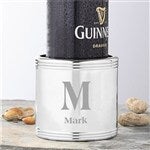 For my husband
By
Guiliana T.

(teaneck, NJ) - February 11, 2014 (
See all reviews by this customer
)
i love it!! and he love it too, the quality was great and loved the lettering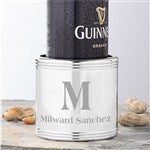 Might not fit a can
By
Tracy J.

(Marlborough, MA) - August 17, 2012 (
See all reviews by this customer
)
I purchased this for as a gift for my step father. I put a can of diet coke in it, and it fits very very tight. It was hard for me to get the can out. I was under the impression this was a cooler to set your can in and pull out for a drink and set it back in. It seems to be more of a can koozie. Who wants a metal can koozie?!?
I hope he likes it and finds a use for it!!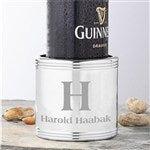 My Husband loves it!
By
Shopper

(Windsor Locks, CT) - August 7, 2013
The personalized can cooler is very nice. Looks just as good in person and it was a great price! The cozy inside looks a little tight but I haven't seen him use it yet...maybe it's too nice to use. :)

Very awesome!!
By
theresa S.

(Senoia, GA) - July 14, 2013 (
See all reviews by this customer
)
As with all other past purchases, our items are amazing! The ONLY negative for these silver can coolers is the cheap rubber koozie on the inside. It doesn't fit perfectly with the silver, so it looks silly. However, it might stretch out when a can is put into it. Overall, very happy!!

adored this item
By
Cynthia M.

(Savannah, GA) - October 31, 2009 (
See all reviews by this customer
)
first time using this company loves it

SO Different!
By
Jessica V.

(Galveston, TX) - November 16, 2009 (
See all reviews by this customer
)
I bought this for my father in law for christmas. I am sure he will love it!

Engraving awesome, too tight for can
By
Ashley C.

(Bernalillo, NM) - January 7, 2013 (
See all reviews by this customer
)
The engraving on the outside is really great! It looks wonderful and the canister itself is of good quality. The insert inside of it that insulates your beverage is too small. It is not the same circumference as the canister and you have to crush the can in the center to get it out. I think we are going to remove this insert and cut one of our other cozies to the height to fit in here so that it isn't such a pain to use. I did give it four stars because the quality and engraving on the outside is really awesome.

pleased
By
Lenora L.

(Bastrop, LA) - May 24, 2010 (
See all reviews by this customer
)
I ordered this for my husband. Monogram. shows up well. Nice item, would have liked it to have been taller. But all in all happy with it.

Nice idea but functionality not there....
By
Shopper

(Champaign, IL) - January 27, 2013
I really love the look of this can cooler however, the rubberized inner lining is far too small for a 12oz pop/beer can. I tried putting a pop can in it and had to literally crush the sides and yank it out to attempt to get it out...It will absolutely not fit a can but may fit a beer bottle or something with a smaller diameter...Dissappointing but overall, it looks great! I just hope my husband can actually use it!

Great Gift for the hard-to-shop-for
By
Andrea L.

(Portage, IN) - June 1, 2012 (
See all reviews by this customer
)
I ordered three of these after returning a less expensive version of the same product from a different online store. The product I returned from the other store had dents and had small pits everywhere and the engraving was super-light.

I was pleasantly surprised to my order from this store. The metal finish on all three coolers is flawless, the engraving is correct on each (all three were different names) and stands out nicely, and my order was shipped very promptly. The one complaint is the foam interior is smaller than the metal portion, so it tends to move around and could easily be pulled out. But it is still miles ahead of the competition. Would order these again!


Husband loves it! Wants 'B' version for 'Buddy'
By
Shopper

(San Clemente, CA) - February 21, 2012
Husband really liked this one. A little big for bottle but he tried that too and likes to use it that way too. Commented it would be cool to have one that had 'B' for Buddy when a buddy of his comes over to watch sports. Took off one star because the foam insert doesn't fully fill out the inside.

Very Nice
By
Mary S.

(Tybee Island, GA) - December 21, 2009 (
See all reviews by this customer
)
The can cooler was even nicer than I expected.

Great gift idea
By
Shopper

(Monroe, NY) - February 26, 2011
I bought this as a last minute gift idea for my boyfriend this past Valentine's Day. We decided not to go huge this year for gifts, since we spent a lot on each other for the Holidays, so this was the perfect price. He is a huge football, hockey, and baseball fan so I figured this would be a great idea. He loved it! He actually thought it was a clever idea. Definitely recommend this to other customers seeking last minute or any other type of gift idea!

EXCELLENT GIFT
By
dianne G.

(Canada) - November 22, 2010 (
See all reviews by this customer
)
I agree with all of the above comments. The personalized mug is for my 85 yr old mother to keep her water bottle cold in. She now has her cold water handy in a beautifully engraved holder that reminds her how special she is.
The cooler came well packed and is much nicer than viewed. You will not be disappointed. It is B-E-A-T-I-F-U-L. GREAT GIFT!!

can cooler
By
Shopper

(Cochran, GA) - December 11, 2011
I am extremely pleased with the personalized can cooler. I bought it for a friend who carries around a plastic bucket with ice in it to keep his can cool. He brought it to a dinner party at my home. I decided to get this for him so next time his drink will be cooler and he will look classier at my dinner party.

GREAT FATHERS DAY GIFT....
By
glenda R.

(brooklyn, NY) - June 14, 2012 (
See all reviews by this customer
)
Cant wait to my dad opens this up,he gonna love it!! too cute

You will not be disappointed.
By
Shopper

(Murfreesboro, TN) - May 13, 2012
The coozie is awesome it holds 12 oz cans and bottles. It is shorter than most foam coozies, but the quality is great and secure holds the beverage of choice. This product was delivered quickly and we look forward to doing more business with you.

Great gift for a man
By
Irma E.

(Dallas, TX) - January 22, 2010 (
See all reviews by this customer
)
I love the sleek design of this can cooler.However, as I suspected, my son-in-law will be using this as a pen/pencil holder on his desk at his office. It really is very pretty and the engraving is perfect.

just as promised
By
WENDY C.

(LAFAYETTE, LA) - January 18, 2010 (
See all reviews by this customer
)
looks great

Verry nice
By
Donn W.

(La Mirada, CA) - May 12, 2010 (
See all reviews by this customer
)
Bought this for my dad for a father's day gift. Hope he likes it. The letter and name engraved are very nice.

can cooler
By
Carolyn H.

(Kenosha, WI) - June 11, 2010 (
See all reviews by this customer
)
I ordered this for my son for Father's Day & was very pleased with the quality & the personalized engraving. It was just as I had hoped it would be. I'm very happy with this purchase.

Better then pictured
By
Jennifer J.

(Everly, IA) - May 20, 2010 (
See all reviews by this customer
)
Was not sure of what to do for a great friend and an usher at our wedding. When I seen this cooler, it was exactly what i needed. It is a little classy but not to feminine for a man! Very thick and the engraving was perfect!