Looks Great
By
Jaclyn B.

(Lehigh Acres, FL) - February 18, 2010 (
See all reviews by this customer
)
I love how the custom doormat turned out! I got it as part of a housewarming gift for my brother and his fiancee. It looks great and I was able to put a funny saying on it--they thought it was hilarious. The color was more a brick red rather than a bright red, which I actually liked better, but it appears more bright red online.

It's Great!
By
Rich and Carol B.

(Merritt Island, FL) - December 19, 2009 (
See all reviews by this customer
)
We are receving compliments from neighbors. My only drawback would be I wish it came with some sort of outer rim decoration. Other than that, very pleased.

Dreat
By
Jacqueline V J.

(Huntsville, OH) - December 10, 2009 (
See all reviews by this customer
)
fast ship

Great Mat,but could be better
By
Phil S.

(N. Hollywood, CA) - November 2, 2013 (
See all reviews by this customer
)
Fun Idea to personalize the mats. May I make a suggestion to have a pre-set border around the mat to make it a bit more classier and also one classic gothic
or modern basic type to choose from? Anyway glad I found you all and will use you again and tell my friends as these kind of gifts are good for any occasion!

super fast shipping!
By
Shopper

(Homewood, IL) - December 11, 2012
Was very impressed with how quickly my item arrived! It was literally here within a couple of days after ordering. The item was packaged very well. The backing on the rug is nice. My only problem with it is the color. I ordered a red mat (the color swatch shows a dark red color) and it is actually more like a burnt orange color. I am using it as an indoor entry mat. Would have loved it if they would have had a dark purple to match the theme in the living room(that would've been perfect), but they didn't so I chose the red. I was quite disappointed to find that it wasn't a dark red at all & it looked orange which really didn't match anything in the room. If the color would have been right I would have given it 5 stars. Again, truly impressed with the shipping time, especially for an item that was customized.

THIS GIFT WAS JUST RIGHT!
By
Shopper

(ARLINGTON, TX) - December 6, 2011
The recipient pf the gift says it is just right for outside his bedroom door where he and his best friend (new dog) hang out and have fun a lot! The color choice, thank goodness, doesnt clash with the hallway decor.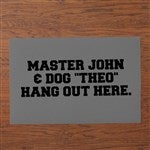 personalized doormat
By
Temika W.

(Atlanta, GA) - January 2, 2011 (
See all reviews by this customer
)
Bought this as a Christmas gift for my husband in honor of his new office. It was a big hit! The quality is decent for the price...I wasn't sure that the doormat would hold up outside exposed to the elements so we'll just keep it inside the door.

color
By
Patricia M.

(Philadelphia, PA) - December 27, 2009 (
See all reviews by this customer
)
Love the doormat and the personalization but , was unhappy with the color.....the red looked better on the website then it did on the mat.

Not bad
By
Ami E.

(El Paso, TX) - October 2, 2009 (
See all reviews by this customer
)
The product wasn't bad, exactly as depicted in the picture. It was a bit flimsy considering the price but was a decent buy.

Good enough
By
Julie L.

(Independence, OH) - October 8, 2013 (
See all reviews by this customer
)
i needed a personalized mat as a joke and this was the least expensive thing I could find. It's not something that I would "use" as an everyday thing b/c it's not seemingly very durable, but it works for my purposes. It's about what I expected.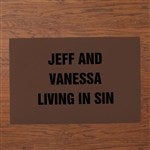 workshop
By
Christine G.

(Edison, NJ) - December 30, 2012 (
See all reviews by this customer
)
The welcome mat I purchased is more of a novelty item rather than a functioning floor mat. I was disappointed in its thickness and when I pulled the mat out of the packaging, the rubber backing started crumbling all over. I expected a better quality product for the price.

Not bad
By
Naima H.

(Kirkland, WA) - December 8, 2012 (
See all reviews by this customer
)
If you're looking for a mat for wiping soil and mud off your shoes, this is NOT what you're looking for. This is a lovely mat to be placed on the inside of your main entry door because the material is thin and its surface is smooth.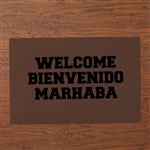 great rug
By
Shopper

(Vancouver, WA) - May 4, 2012
love this rug great for my trailer and welcoming guest very fast shipping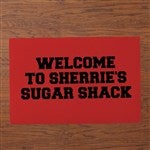 It was OK
By
Shopper

(Clayton, DE) - December 26, 2011
I think the thickness could have been better. I will re-think before purchasing this item again.

Color
By
Karen S.

(Topeka, KS) - December 5, 2009 (
See all reviews by this customer
)
I ordered the blue mat. The color was not very close to what is shown on the website. This blue is much darker and with the black lettering, the letters do not show up very well. I would recommend a lighter color.

just plain
By
Stephanie L.

(Oceanside, NY) - April 10, 2012 (
See all reviews by this customer
)
cheaply made. very thin. not really what i expected. would not get again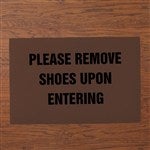 Letter Coloring a Disappointment
By
JoAnn C.

(Dale City, VA) - December 22, 2010 (
See all reviews by this customer
)
I bought a blue mat and had it personalized for my nephew. The problem is, the personalization was done with "black" lettering. It doesn't show up very well since the carpet is a deep blue. If the lettering had been done in a brighter color to show up more on the mat, I would be more satisfied. As far as shipping, the product itself, and customer service, I was very satisfied, and will shop here again.

Not the color
By
Melanie R.

(Ithaca, NY) - June 4, 2010 (
See all reviews by this customer
)
I love the idea of this item however it is not red..it is orange. The color states it is red and the picture shows it as red. It was replaced and a new one sent. Both are orange. The mat itself is very nice the color not so much. The description needs to be changed to red. I am not at all happy with this purchase but I am VERY pleased with your company. I have ordered from you for many years and have always loved what I've purchased. I will continue to order from you. Your customer service is excellent too.

Color problems.
By
Crystal D.

(Bessemer, AL) - March 10, 2010 (
See all reviews by this customer
)
Although this was a cute rug, unfortunately I was unable to keep it - I had ordered a red rug, which looks very bright red on the website, but was actually more of a burnt orange once I got it. Disappointing, but otherwise would have been a nice rug.

Huge disappointment
By
Shopper

(Spring, TX) - March 30, 2013
This item was a huge disappointment. The quality and material is cheap and is not intended to be an outside doormat. It is flimsy and is already starting to fade. I've had this item for less than a week. Would not recommend this item.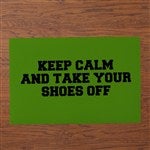 My First Disappointment
By
Shopper

(Prunedale, CA) - November 28, 2011
I have ordered multiple gift items from Personalization Mall and loved every one of them. This mat, however, is my first disappointment. I wish I would have read Cathi M's review. This item is so thin and "foamy" that I would be concerned about putting it down for someone to walk on. Obviously, we won't be giving it as the intended gift if was. It is not up to the quality I have experienced in my past purchases. Too bad it cannot be returned. I would gladly accept a credit toward another item.

doormat
By
cathy M.

(lincoln, RI) - July 30, 2010 (
See all reviews by this customer
)
Very cheap looking mat. I would not recommend this item as it is also very thin.