Good Product
By
Shopper

(Sophia, NC) - January 3, 2012
It was very beautiful.

The perfect gift
By
cheryl C.

(brooklyn, NY) - December 9, 2011 (
See all reviews by this customer
)
I love, love , love this item and I know my girlfriend would love it also, I bought it for her as a Christmas and Thank you gift,she has been a rock for me during this tough year i've had. The craftmanship is superb and it came in record time, I used one of the verses provided the words were perfect; the only thing that bothered me some was that the words were a little to small, but other than that this is an excellent gift. I also purchased the friendship rose bud vase and I feel the same way about it, I am very pleased with all my Purchases at Personalization Mall and I will continue shopping. Thank you for a great experience, alo this was my first time and it won't be my last.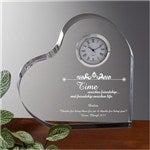 heart clock
By
ELMA B.

(TAMARAC, FL) - September 30, 2011 (
See all reviews by this customer
)
love the clock was a bit dissapoointed that the fonts were so small but am still satisfied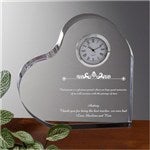 Great Gift idea for a sendamental person
By
Shopper

(Longmont, CO) - June 3, 2011
My sister in law loved this gift so much. She lives in Arizona and I thought it would be the perfect gift. It really was! It was a great deal for the money. My only reservation was about how expensive the shipping was on this website. "Personalization.com" The more you spend the more the shipping is. Make sure you are checking the total before you ship. Just to make sure that is how much you wanna spend on shipping. Other than that it was totally worth it.

Beauty of Friendship
By
Shopper

(Glen Cove, NY) - April 26, 2011
I loved this Friendship clock. It's perfect for my friend of 58 years who lives so far away to show how much our friendship means to me. Beautiful gift for that special friend!

Beautiful retirement gift!!!
By
Patty K.

(Davie, FL) - March 31, 2011 (
See all reviews by this customer
)
I ordered this as a retirement gift for a good friend in my office. It was from our whole group. The sentiment was just perfect. It was so easy to personalize it. I was a little disappointed with the size. I read the measurements, but was just picturing it to be a little larger. But still beautiful, and perfect for what we wanted it for....

clock
By
IRIS B.

(GREAT NECK, NY) - October 4, 2010 (
See all reviews by this customer
)
I love this but the letters came sooooooooooo tiny, can not even read it,
i did send it to my friend but hope she will be able to see what's writen there,
thank you.

Smaller than it appears
By
Talithea P.

(King George, VA) - August 24, 2010 (
See all reviews by this customer
)
It is a very nicely created piece, however it was very small. It appeared to be larger in the picture shown, but other than that, it is a beautiful product.

Engagement
By
Helena K.

(Watertown, MA) - August 10, 2010 (
See all reviews by this customer
)
I used this as an engagement present by entering all my own information. Not sure how the clock works yet! It was much smaller in size than I had expected but overall it is still a very nice gift.

Simple gift yet very touching.
By
Johana S.

(Alexandria, VA) - July 28, 2010 (
See all reviews by this customer
)
Happy with the product I received.

THE PERFECT GIFT FOR MY BEST FRIEND
By
Kathryn C.

(Roxboro, NC) - July 27, 2010 (
See all reviews by this customer
)
This is a gift for my very dear friend that has just lost her husband to cancer. I do hope she will like this small little toaken of love and friendship from me.
I think it turned out really pretty, but I can't figure out how to set the clock and it wasn't set correctly when I received it.

Time for Friendship
By
Shirley B.

(New Carrollton, MD) - June 10, 2010 (
See all reviews by this customer
)
This item is very beautiful. My only issue was that I could barely read the inscription and the clock was smaller than I expected. I love the concept and design and it's a great gift.

Nice For The Price
By
Alan C.

(Fort Mohave, AZ) - May 5, 2010 (
See all reviews by this customer
)
This item was perfect for the occasion and was well received.

worth the money
By
Leslie C.

(Riverside, RI) - November 7, 2009 (
See all reviews by this customer
)
I purchased this clock for a friend that lives over 2500 miles from me. The clock is a little smaller than I expected, but being able to have something engraved on it means the world to me. Well worth the money.

clock
By
Sheileen D.

(Las Vegas, NV) - October 23, 2009 (
See all reviews by this customer
)
Very nice. However, when the clock stops you must have a professional change battery. Wish it was easier for the person who received the gift.

Font
By
Shopper

(Clyde, NC) - August 2, 2012
The font on the heart clock was so small, it was extremely difficult to read. You almost needed a magnifying glass. I was not happy with that.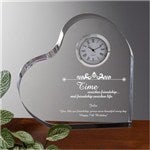 its was ok
By
Shopper

(west babylon, NY) - February 3, 2012
its pretty, but small. the print is hard to see and they dont give you enough room at the bottom to write your own message. when i gave it to my 61 year old coworker for retirement, she had to wear her glasses and read it with a magnifying glass!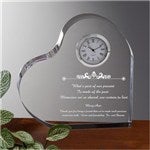 Nice But....
By
Shopper

(Philipsburg, PA) - December 15, 2011
Its really nice but the writing is very very small and can barely read it

Friendship Heart Clock
By
Shopper

(Harrisburg, PA) - December 6, 2011
This is a quality product; however, I was very disappointed in the personalization. I wrote a personal text for the heart and kept to the maximum # of words allowed. Although the product itself could be rated 5 star, my rating is only 3 star since the personalization is almost impossible to read without a magnifying glass. I don't know what the font size is but it looks like 6 or 8pt. And, of course, on the clear acryllic you need to struggle to read it. I would strongly suggest the guidelines be redefined to half the number of words allowed and the font size be increased to twice the current size. Another modification that could be made to make this item more appealing would be to add a backing. I added black construction paper to the back of the heart before giving it as a gift and it did help the recipient to read the tiny script. Unfortunately, when the preview was shown to me for review prior to ordering, it looked great. I realize now that it was magnified on the computer so it was very easy to read.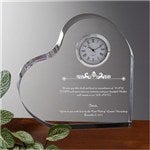 A little disappointed
By
Diane S.

(Gainesville, GA) - August 22, 2011 (
See all reviews by this customer
)
After purchasing numerous wedding, baby, Christmas, and birthday presents for years, this is the only item that I have been disappointed with. The sentiment under the clock is great; however, the personalization on the bottom is so small, I don't think the gift recipient will be able to read it! I had read the other prior reviews and thought they didn't know what they were talking about, especially since I could read my "preview" just fine. When the clock arrived, I excitedly opened it up only to have all of those previous reviews start flashing in my head. I could hardly see it and I will know better next time to trust the reviewers. The clock itself is a lovely idea for a dear friend, and I know the thought will be appreciated after I read the additional personalization to her! I think the sample greeting would work well without additional personalization. I will still order from your company, and may order another clock without the additional personalization.

not quite sure
By
Hilda T.

(Buckhannon, WV) - December 16, 2010 (
See all reviews by this customer
)
Clock is very beautiful but am disappointed because the message does not show up on it. Am trying to figure how to put a back on it.

Engraving
By
Lisa D.

(Quincy, OH) - March 11, 2010 (
See all reviews by this customer
)
Clock is very nice quality, however the extreme small font size of the engraving and the Script style used make it very difficult to read. Would not choose this product again for that reason.

very small
By
MARY GRACE H.

(fLORISSANT, MO) - May 17, 2011 (
See all reviews by this customer
)
When it arrived I was very surprised at how small it actually was. Also the letter on the very botton you need a magnifing glass to read it. I still gave it to my friend but was not very happy with it overall.
I would not suggest this item for the price that I paid for it.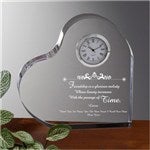 Not so pleased
By
Shopper

(Snellville, GA) - May 10, 2011
I was expecting a lot more. I purchased this for my mother and edited it to match her. When I got it it was so small and the writing was so small she had to put on her glasses. The picture is kind of false advertisement smh.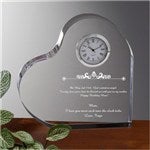 Friendship Clock
I think this a wonderfull gift to give to your best friend.