Cute idea to organize crayons
By
Shopper

(Canada) - January 3, 2013
My nieces loved these crayon holders. Rolls up into a cute crayon purse.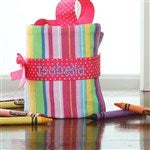 Cute & Handy!
By
Jewel Y.

(Elkhart, IN) - September 8, 2012 (
See all reviews by this customer
)
This Personalized Crayon Roll-Up is so cute & handy!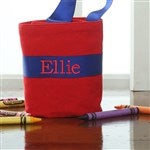 Smaller than expected
By
Shopper

(north miami, FL) - August 31, 2012
Its smaller than I thought it was but my niece still loved it and she is 4. You. An wash it and use it over and over.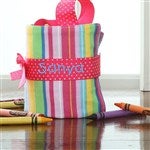 Names were way too small
By
Christine P.

(Estero, FL) - April 11, 2012 (
See all reviews by this customer
)
Morning, I liked the look of the gift but the names were a lot smaller than viewed online. I really didn't appreciate that especially with this being for little girls. I'm not sure if I want to order any more from Personalization due to this issue.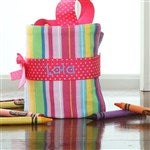 Cute roll up!
By
Shopper

(Caldwell, KS) - February 27, 2012
Roll-up case is Very cute! Was a hit with our 5 yr old. Style I received does not have a bow on the personalized ribbon.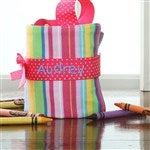 Great travel idea
By
Shopper

(Wheaton, IL) - January 31, 2012
Purchased for my 3 grandchildren to use when travelling. They enjoyed filling them up & were able to roll & fasten themselves. They are 3 & 5 years old.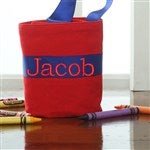 Cute
By
Emily R.

(Kailua, HI) - August 18, 2010 (
See all reviews by this customer
)
For some reason, I was expecting it to be a little bigger. Once it arrived it felt a little insignificant for a birthday gift. Maybe they could make one for the jumbo crayons?

crayon roll
By
Rhonda B.

(Roselle, IL) - December 23, 2009 (
See all reviews by this customer
)
It was just a bit smaller than I thought. However the quality was better than I had expected. I am overall very pleased with my purchase!

Very cute:
By
Shopper

(Canada) - February 26, 2011
Bought this for a 3 years old that loves to draw things. She learn real quickly how to putthem in the pouch roll-up case and roll it up toclose. she also learned to be neat and tidy by using one crayon at the time and playcing it back neatly. She said that it will travel with her into the airplane on their near future travel. all was well made and the crayons perfect too. the name looked lovely also. only flaw no pink bow ;as in the picture and it would be nice for aittle girl.

Nice
By
Shopper

(festus, MO) - February 13, 2011
It was cute. Only came with 24 crayons when the description states 32 crayons. It is a bit smalled than it looks online. Overall Im still very satisfied with it. Very cute and was loved at the party. Just need to change the description to make it accurate.

Disappointed in the product
By
Shopper

(McKinney, TX) - March 12, 2013
I was very excited about this gift for our granddaughter. When it arrived I was disappointed. It is very small in size and seems a little cheesy/cheap to me. It was not worth the $20+ I paid. I have ordered other items from here and never been disappointed before.

its ok
By
Joan Danyelle D.

(Fayetteville, NC) - December 20, 2009 (
See all reviews by this customer
)
I thought this was going to be a lot bigger. It is a cute idea but for the price I thought it was going to be bigger. And I was actually hoping the slats where you put the crayons were bigger. I wanted to put the big fat crayons in it for now because my daughter is going on two. Still a nice idea but was disappointed in the size.

Pink crayon case
By
Jennifer W.

(Moore, OK) - January 8, 2010 (
See all reviews by this customer
)
I felt that this was a very cute idea. I bought it for a friend's 4 yr old daughter for her birthday. It was a little smaller than I expected and there was no bow on it like the picture shows. I think it was a bit overpriced but very cute!

Creative
By
Debra W.

(Berlin, MA) - October 7, 2010 (
See all reviews by this customer
)
This is very good to have for a toddler. Easy for them to handle and it won't fall apart like a box will. Upon receiving mine, the velcro was coming off and had to resew it back on. Poor stitchery around the velcro but in all, good product

Great portable product for on the go families.
By
Jaime P.

(Mason, OH) - December 11, 2009 (
See all reviews by this customer
)
I have been looking for an item like this for a while so I was very happy to find it on Personalization Mall's website. Very thick, sturdy canvas material seems like it would withstand a wash cycle pretty easily. Plenty of room for crayons to fit snuggly. It is smaller than I imagined - meaning - I was picturing plenty of room to fold an 8.5 x 11 paper pad inside but that is not the case. It would however fit a few sheets if you let them stick out a bit.

All and all a great product for my daughter to be able to take with her while we are out and about. The embroidery is wonderful.

Tiny
By
Shopper

(Laredo, TX) - December 11, 2011
I don't know why I expected this to be bigger (maybe at least 7 or 8 inches tall), but it was tiny. One of the images showed it containing two rows of crayons, so I thought it would be as tall as two crayons, at least. But literally, it is the height of one crayon. It was a bit disappointing to be so excited about it and then receive it and know I will be giving this teeny, tiny present to a child. It is very pretty, and the embroidery is nicely done. Just be aware of how tiny it is before expecting to give it as a gift.

Birthday Present
By
Shopper

(Gibsonia, PA) - June 24, 2012
The item is cute, but very small and cheap looking. Not at all what the picture looks like. Should be better quality for the money spent.

Crayon holder is very colorful
By
Shopper

(Seven Mile, OH) - January 28, 2011
The crayon case was very colorful and good quality fabric. It was a little expensive though. You would sell more if you lowered the price some.

Fabulous
By
Shopper

(Baldwin, NY) - January 2, 2012
The children loved the colors and enjoyed keeping their crayons organized. Since there are twins and three others keeping track is less chaotic. Perfect gift.


Great gift!
By
Tonya D.

(Charleston, SC) - December 8, 2010 (
See all reviews by this customer
)
This present was for my God daughter who turned 2. It is a great gift as we all know crayons get lost or roll off the table & get broken. She loved it & the monogramming was lovely! Thank you

Have bought 5 of these
By
Kimberly N.

(Simpsonville, SC) - December 17, 2010 (
See all reviews by this customer
)
I have ordered this item 5 times and every child has loved it! The striped one is much cuter than the plain red one. I'm sure I will order more in the future as needed!

Great gift!
By
Shopper

(Orland Park, IL) - June 29, 2013
The item is just as pictured - bought it as a gift for my little nephew - he loved it!

handy
By
katherine C.

(Lake Placid, FL) - January 14, 2014 (
See all reviews by this customer
)
Great gift.

Cute
By
Sara A.

(Valencia, CA) - January 8, 2012 (
See all reviews by this customer
)
This is a cute, practical gift! A fun way for kids to keep their crayons on the go! The personization is great! Would definitely buy again!


Great gift!
By
Shopper

(Kaneohe, HI) - September 21, 2012
This crayon case is exactly as pictured. It's bright and colorful and I can't wait to give it to my god daughter for her birthday. She loves anything arts and crafts and now she will have a cute case to take crayons with her to color on the go!

Daughter(5) loves this for her crayons
By
Tia R.

(Edwardsville, IL) - December 28, 2009 (
See all reviews by this customer
)
The fabric is beautiful. The stitching with her name is really cute too. It turned out much better than I thought it would. She puts her favorite crayons in it and I don't have to help her search for her special color all of the time. Thanks!!

Great gift!
By
Chantal L.

(Canada) - January 5, 2010 (
See all reviews by this customer
)
I was so happy when I received this, it was a Christmas gift for my nephew and it was great. Good quality and it came with crayons. Would buy it again.

Great Child Gift
By
Jessica T.

(Baton Rouge, LA) - December 27, 2013 (
See all reviews by this customer
)
This is a well made carry case for crayons. Only complaint is the name was kind of small.

such a great present for a little one!!
By
Anna M.

(Lubbock, TX) - December 13, 2009 (
See all reviews by this customer
)
I have two daughters that are young d and this is a fun present! It makes it special when they see their name embroidered on their crayon holder. I know this will help keep our crayons in place. It is also packaged nicely with a box of crayola crayons.

Cute, cute, cute
By
Marilyn Z.

(Connersville, IN) - March 26, 2010 (
See all reviews by this customer
)
Ordered two for great-nieces. Easy carry handle and fun for little fingers to put crayons in slots. Colorful and personal with name printed on velcro wrap-around closure. Would buy again.

beautifully cute
By
Christine D.

(Franklin Square, NY) - April 23, 2010 (
See all reviews by this customer
)
The crayon roll up is adorable. Its about the size of a large mug and is perfect for resturants(think how many other kids with colds touch those resturant crayons before your little one) and airplanes.

Loved it!
By
Deborah S.

(Port Saint Lucie, FL) - January 20, 2010 (
See all reviews by this customer
)

Excellent quality product! My niece loves it. Makes coloring fun. Keeps crayons neat and organized. Rolls up nice and tidy.
She knows it is hers, because it is personalized with her name on it. And it comes w/ Crayola crayons.

Adorable
By
Terri R.

(Cypress, TX) - March 4, 2010 (
See all reviews by this customer
)
My granddaughter will love carrying her crayons in her new pink case.