great product/great service
By
Karrie T.

(Wallingford, KY) - October 2, 2009 (
See all reviews by this customer
)
This product was better than I expected. Good quality. I purchased 3 for birthday gifts and all 3 loved them! They were shipped very fast! Overall great service and product! I will definetly order from here again!

Seemed to enjoy the gift
By
Shopper

(Dalton, GA) - September 6, 2014
bought this as a birthday present for my great newphew who is 7.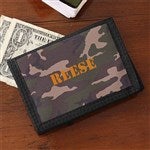 Great boy's wallet
By
Shopper

(North Babylon, NY) - November 11, 2013
Well made wallet for boys. I was disappointed that the camoflage was only on the front of the wallet, and the rest of it is black. Also, there is a pocket inside for change (?) or what have you, but there is nothing to secure it shut. Therefore, if the wallet is tipped or pulled it out upside down, anything in that pocket would fall out. Overall, quick service and a nice gift idea for boys!

You Got It!
By
Shopper

(Bronx, NY) - October 10, 2012
Just what I wanted. Thank you!!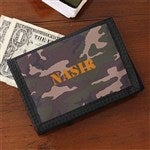 BIRTHDAY GIFT
By
Shopper

(Westport, MA) - August 6, 2012
I GOY THIS FOR MY GRANDSON AND HE THOUGHT IT WAS GREAT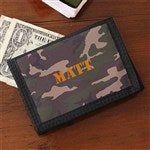 Bday present for teen boy
By
Patricia E.

(Statesville, NC) - May 15, 2012 (
See all reviews by this customer
)
Looks very nice, and his name stands out. The slots on the wallet seem small, but then again I guess they do not carry much at that age.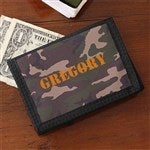 Camouflage Personalized Wallet
By
Shopper

(Chapel Hill, NC) - April 16, 2012
I really like the wallet. It is perfect for a 10 year old boy. My only disappointment is that I thought that the name would be embroidered and not just stamped on the wallet. Although for a 10 year old, I guess it will be perfect. I will use your company again. Thank you for the prompt delivery of the wallet.
Mary M. Mahan

kiddo wallet
By
Shopper

(Arvada, CO) - December 2, 2011
just as it looks..... my 9 year old is gonna love it.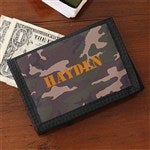 Camouflage wallet
By
Shopper

(Sand Springs, OK) - March 27, 2011
I was very impressed with the speedy service, shipment, and delivery. The wallet was pretty good, but I have seen a better quality for children. The personalization was done well, so I give it four out of five stars as a gift for my six-year-old grandson's birthday.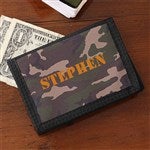 great gift
By
Jennifer N.

(York, PA) - December 29, 2010 (
See all reviews by this customer
)
I bought this wallet for my 10 yr old step son that is all into video games and technology. He's not the easiest person to shop for but he was happy with this gift. It's a good idea to emphasize saving and responsibility at a young age and he's able to add pictures to his wallet. Overall great gift got here just in time for christmas.

Perfect for my grandson
By
Joann K.

(Flemington, NJ) - December 26, 2010 (
See all reviews by this customer
)
Nice product.

A cool wallet
By
Cynthia M.

(Bethel Park, PA) - May 3, 2010 (
See all reviews by this customer
)
I thought this wallet was very nicely done. The camofluage coloring and personaliztion were superb! I did have to fill in the top of the seam with a black marker cause it was a white line and looked 'un-finished', but after touching it up you couldn't tell and it looked nice. I got it for a boy's 5th birthday and although I thought it was a great gift, he didn't seem thrilled and would've rather had toys. I do think as he grows he may pull it back out of the drawer and be happy to use it as his first wallet.

Nice sturdy wallet
By
Maria B.

(Downers Grove, IL) - February 24, 2010 (
See all reviews by this customer
)
It looks great, fast shipping, just what I wanted. I only wish that it had a zippered pouch for change.

SUPER CUTE!
By
HOLLY V.

(POMONA, CA) - July 26, 2010 (
See all reviews by this customer
)
I ordered this for my nephew and when I got it I was surprised at how nice it was. I would have given it 5 stars if it didn't have a defect, there was dried glue or something on the inside but they are sending a new one out immediately.

Camo is only on the one side with the personalization
By
Shopper

(Pinellas Park, FL) - February 16, 2012
This item came across as cheap. Yes, this would usually be for a youngster I would think. I wasn't at all impressed with the quality of the printing nor the fact that the camo was on one side; all other sides were black. I was disappointed with this item as Personalization Mall has done nothing but impress me in the past with their amazing products and the quality of each.

Cheap wallet
By
Shopper

(Shorewood, IL) - December 12, 2011
Ok for a child, quality isn't great.

Very dissappointed
By
Kristin D.

(Denham Springs, LA) - December 2, 2009 (
See all reviews by this customer
)
I was so excited to get these wallets in. I ordered three of them as a Christmas present for my nephews. Well needless to say, they are EXTREMELY cheap looking. Maybe I should have known by the price, but I am actually debating on even giving these as gifts. I would not recommend this product at all!!

Poor Quality! Very Disappointed...
By
Angela A.

(Agoura Hills, CA) - February 3, 2010 (
See all reviews by this customer
)
This was a gift for our Nephew who is fortunately only 2 1/2 so I was still able to give it to him as a gift. Otherwise I would have had to send it back. The edges are very sloppy and don't line up. The black trim around it was coming apart. His name was not level it is slightly slanted. There is a hard piece behind the name but it wasn't centered so it stuck out on one end & not the other. Very disappointed, especially since it was almost $20 after the shipping!!