Loveeeeeeee... but
By
Yanique M.

(Brooklyn, NY) - February 26, 2011 (
See all reviews by this customer
)
I recently purchased this item for my wedding. It was very elegant with smooth lines. However, the monogram at the back was rough,you could feel every grain used to engrave it. But maybe I'm too picky. Despite my knit picking my cake should look exquisite.

Nice and simple
By
Shopper

(Nashua, NH) - February 15, 2011
Overall I am very pleased with the cake topper. It shipped very quickly and was packaged very nicely. Giving it four stars because it's a little heavier than expected and the engraving of the wedding date isn't quite as clean as I would have liked it. Our names and initial are perfect.

Wedding Cake Topper--Bigger than Expected
By
Shopper

(Cadiz, OH) - February 1, 2011
This item was purchased for our wedding cake topper. It is very nice and came very quickly. However, it was a bit larger and heavier than I expected. I was concerned that it would be small, so this was good. I am not sure if the weight on the cake will present issues.

beautiful cake topper
By
Deidre V.

(KIngston, GA) - November 30, 2010 (
See all reviews by this customer
)
The etching is gorgeous and my daughter loves this for her wedding cake. Only problem is that it's bigger and heavier than I thought it would be but we just need a support under it for the cake. Great keepsake. I would recommend.

Cake Topper
By
Donna W.

(Miromar Lakes , FL) - September 12, 2010 (
See all reviews by this customer
)
I thought this item was very cute, a bit small but cute no the less. I ordered this for a friends daughter that just got engaged and thought it would be cute on a table.

BEAUTIFUL CAKE TOPPER
By
Michele G.

(Springfield, MO) - July 6, 2010 (
See all reviews by this customer
)
I purchased this cake topper for my wedding cake. Overall, I was pleased with the quality and engraving. Now after seeing it in person, I wish this item had a base to it, so it would sit on top of the cake without toppling over. It needs to be secured really well on the big day. The really isn't as large as some people make it out to be though. It fits a 6"-8" cake perfectly. There isn't too much room for any other decorations on the 6", but overall it is a very classy and simple cake topper great for any wedding. FAST shipping on Personalizationmall.com's part.

Pretty but flawed
By
Tiffany B.

(Bismarck, ND) - April 19, 2010 (
See all reviews by this customer
)
Overall the topper is beautiful but if you look at the back up at the top where the heart was cut there is what looks like what a rock chip looks on a windshield it is very small, but not something I was expecting. This is going to be my gift to the couple I just really hope it doesnt bother them as much as it bothers me. Overall I was very pleased with personalization mall for their fast service.

Very Satisfied !!!
By
Donna M.

(Willshire , OH) - March 12, 2010 (
See all reviews by this customer
)
I am so pleased with this cake topper. I ordered it for my daughters wedding coming in June of this year. I have not showed it to her yet but I am sure she will be Very Pleased. The only reason I gave it 4 stars was because I wish you could order it TOTALLY personalized. I Would order another one that would let me use her theme quote. " I have found the one whom my soul LOVES " with the word LOVES on the back like this one has the initial.

If you do have the capibility to do the above PLEASE let me know ! THANK YOU

Absolutely Beautiful
By
Trisha G.

(Summerville, SC) - March 7, 2010 (
See all reviews by this customer
)
I looked high and low for a cake topper and found this one. It's absolutely beautiful and can't wait for it to be on the cake. Thanks!

Loved IT!
By
Keisha L.

(Oakland, CA) - February 17, 2010 (
See all reviews by this customer
)
I saw this and knew I had to have IT! It's different and a keepsake that will last forever. Thank you!

Cake Topper
By
Marina A.

(Canada) - January 28, 2010 (
See all reviews by this customer
)
I am pleased with the quality of this item - and plan of purchasing more from you in the future. Thanks!

Nice buy!
By
David D.

(Greensboro, NC) - December 14, 2009 (
See all reviews by this customer
)
I would give it 4 stars. It looks like it's made of crystal which is not the case. But overall I am happy with this cake topper and how it came engraved!

Elegantly beautiful!!
By
Megan L.

(Brightwood, VA) - November 19, 2009 (
See all reviews by this customer
)
I did not want the traditional, cheesy couple cake topper for my wedding, but rather something more elegant. I had looked everywhere but couldn't find one I liked. Then we found this web site. This cake topper is absolutely beautiful!! I was surprised by the superb quality and how quickly we received it. It looked great on our cake and we received so many compliments. Plus, now we have a beautiful memento from our wedding to display! The only reason I am giving this 4 stars instead of 5 is because it was a bit difficult to get the topper to stay upright on the cake. Our baker had to use clear plastic picks to balance the topper and keep it upright.

Very Nice Cake Topper
By
Lisa N.

(Hahira, GA) - October 21, 2009 (
See all reviews by this customer
)
My daughter loved this cake topper.

Very nice keepsake
By
Gennifer J.

(Newport News, VA) - October 16, 2009 (
See all reviews by this customer
)
I loved the preview feature & the fast shipping! Upon arrival, I expected it be heavier, but the lucite is lighter than glass. The engraving was ok - I expected it to look more professional. I thought it was slightly at a diagonal, but don't think most others noticed. Overall, I'm happy with it & the couple celebrating 70 years together were very pleased with it.

Beautiful
By
G Z.

(Santa Clara, CA) - October 11, 2009 (
See all reviews by this customer
)
This is a nice gift, it's beautiful and, maybe it's better if move the initial letter higher that not to be coverred by the front letters when you look at it from the front.

This is a great product!
By
Simoa A.

(Ozone Park, NY) - October 9, 2009 (
See all reviews by this customer
)
We were looking for something different that we
could keep as a momento after the wedding and
this was perfect. I liked everything about this
topper especially the quality. We are very happy
and would gladly recommend it.


Very pretty
By
Krystin K.

(Auburn Hills, MI) - October 8, 2009 (
See all reviews by this customer
)
This is very pretty and reasonable for the price paid. I can't wait to see it on the cake! It is a little heavier than some other toppers but it is much prettier than what I could find in stores.

Hmm...
By
Shopper

(Wilmington, CA) - June 28, 2012
It was okay, could've been a bit better if they were a little better trying to do it, but still used it.

Like it but too heavy for a cake
By
Julie E.

(Coon Rapids, MN) - January 23, 2012 (
See all reviews by this customer
)
This is a beautiful piece; unfortunately it is too heavy to be a cake topper.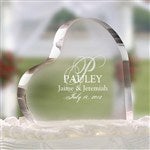 From a distance . . .
By
Karen B.

(Webster, TX) - September 27, 2010 (
See all reviews by this customer
)
I was so looking forward to receive this cake topper in the mail. It's heavier than I thought it would be. I hoped the engraving would have looked better. If I didn't feel for myself that it was laser etched, I would think it was just painted with white paint. Overall, it looks nice . . . From a distance.


Very nice product but too big
By
Cassandra D.

(Canada) - July 8, 2010 (
See all reviews by this customer
)
We really like the look and quality of this cake topper but the overall dimensions are simply too big. The length and width are as described, but it is quite a thick and heavy piece. We're a bit nervous about the weight on our cake.

Beautiful, but not sturdy
By
Leigh Ann P.

(Indianapolis, IN) - May 3, 2010 (
See all reviews by this customer
)
I would suggest this item simply as a gift, but DO NOT suggest actually using it as a cake topper. I purchased this for a bridal shower cake I made. I was very impressed when I received the item, it was very beautifully made and makes a lovely keepsake! However, there is no base to set the topper in, so when it came time to put it on the cake it kept wanting to fall over! I finally thought it was stationary, but 5min. later it fell completely off the cake and the shifting of weight caused the whole cake to shift and fall! I was very disappointed!

Momogram was a let down
By
Sue U.

(Secane, PA) - March 18, 2010 (
See all reviews by this customer
)
The monogramed letter on the back did not match the quality of the overall image of the item. The item was not as appealing to the eye as I would have liked.

Blurry
By
Carissa E.

(Brainerd, MN) - February 15, 2012 (
See all reviews by this customer
)
We ordered this as our wedding topper and everything turned out really blurry. It's hard to read the date. I actually wish we'd chosen a different topper. Had it turned out the way it looks online, it would have been perfect.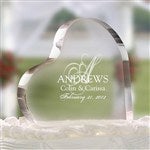 Not worth the money
By
Amber G.

(Glen Burnie, MD) - October 2, 2009 (
See all reviews by this customer
)
We were very surprised how fast it was delievered so that is why we are giving it 2 stars. However, the quality of the product wasn't worth the money. The writing on the glass is simply sprayed on with white paint, not etched at all. The paint it's self is spotting and makes it look cheap and cheesy. There are little "bubbles" in the paint everywhere. Just looks bad. Wouldn't recommend this to anyone. Unless in a extreme hurry, because it did ship fast.

Disaster
This cake topper was absolutely beautiful, but it is WAY TOO HEAVY to sit on a cake. After multiple tries to dig the heart way down into the cake, it eventually tumbled off the side and ruined the icing on its way down. We never did get it to stay on top of the cake (5 or 6 different people tried).

Not at all centered!
By
nicole R.

(Wappingers Falls, NY) - February 11, 2010 (
See all reviews by this customer
)
I fell in love with this cake topper and ordered it for my wedding. Well thank god I shopped early for a cake topper because when I recieved it, the names and information were not centered! It looked absolutely horrible! I couldnt even believe they sent it out to me like that! It was quite obvious to anyone who even glanced at it. I called them immediately and they sent me out a new "corrected" one...well this one was a little better but still obviously not centered. At this piont I had to take a picture attach it to an email and describe how it was centered, even though it was clear. ridiculous. I am waiting to see what they send me the 3rd time around. Well third times a charm..thats what they say right!?