Excellent wedding gift!
By
Shopper

(Harding, PA) - June 10, 2014
Got this for my fiancée as part of his wedding gift, he loved it! Great keepsake for our wedding!

Golf balls
By
Shopper

(CARTHAGE, TX) - May 26, 2014
My husband loved these! He's always playing golf and he thought this was an awesome gift!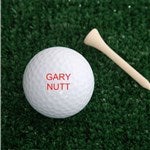 Great Gift
By
Patricia L.

(Meadowlakes, TX) - May 7, 2014 (
See all reviews by this customer
)
I bought this golf ball set with the golf towel for a friend from church.
He purchased a new home, so this was the perfect housewarming gift for him.
He just loved them both, and expressed sincere warmth for the thoughtfulness of not only thinking of his favorite pastime, but also the personalization of these items.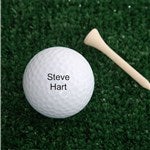 Extremely Satisfied
By
Shopper

(Brooklyn, NY) - December 31, 2013
This is a perfect Gift for an avid Golfer. I brought this for my father and he absolutely loved it.

Double Take
By
William D.

(ROCHESTER, NY) - December 28, 2013 (
See all reviews by this customer
)
I was so pleased with my first purchase of a box of personalized golf balls that I purchased two more, one for each of my golfer sons. Great Christmas gift for them.

Happy with my purchase!
By
Terri F.

(Laverock, PA) - September 23, 2013 (
See all reviews by this customer
)
I was very happy with my purchase and the recipient was excited about the gift as well.



They're great!
By
Brenda D.

(McHenry, IL) - September 6, 2013 (
See all reviews by this customer
)
Bought these for my boyfriend's birthday and he loves them. He still hasn't stopped talking about them and he couldn't wait to go golfing to show his buddies. Would buy these again in a heartbeat!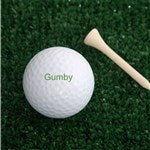 Very nice present
By
Shopper

(Oakland, MD) - February 18, 2013
My husband has just started playing golf. This product was part of his Valentine's Day gift. I had his initials put on the golf balls. My husband was very pleased with the gift.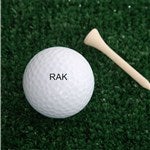 Gift for grandson
By
Shopper

(MIDLAND, TX) - December 8, 2012
I bought these golf balls for my grandson. He will be excited to see his name on them, and maybe it will help him keep up with them!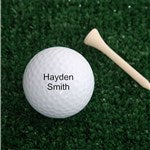 Xmas gift for my son
By
Shopper

(Draper, UT) - December 5, 2012
As always professionally well done and great service and dependable.

As described
By
Shopper

(Glasgow, KY) - February 21, 2012
The golf balls I ordered were just as described and the initials look just like they do in the picture shown. The person receiving the the set of golf balls was very pleased.

Great golfer gift
By
Brenda M.

(Houston, TX) - February 4, 2012 (
See all reviews by this customer
)
These are excellent balls and just the perfect gift for a golfer that has everything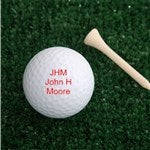 golf balls for tom !
By
Carol A.

(Saratoga Springs, NY) - January 5, 2012 (
See all reviews by this customer
)
Loved the concept. It was all very easy & arrived right on time.

Great gift
By
Steven H.

(Walnut Creek, CA) - November 11, 2011 (
See all reviews by this customer
)
The service was great, the printing was stellar. Overall it was a great transaction for an excellent product. Thanks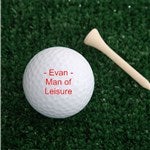 Just FORE the fun of it
By
Shopper

(Cincinnati, OH) - October 21, 2011
I ordered these golf balls for a friend who's laid up in the hospital right now. They were terrific and a great big hit with my golfer fan. Loved everything about them: the choices I got for personalizing them, the quality of the balls and the price. 3 time winner! I'll be back to order more "stuff".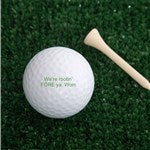 Just as advertised
By
ADRIANNE W.

(BIRMINGHAM, AL) - June 29, 2011 (
See all reviews by this customer
)
I was very please w/my order. Despite, them being a little costly (after the personalization)....but it was worth it!

Fun and Functional Gift
By
Shopper

(Bayville, NJ) - June 19, 2011
These Golf Balls arrived just in time to be given as a gift. They were a birthday gift and the Personalization was perfect!

awsome
By
jennifer M.

(clarksville, TN) - January 21, 2011 (
See all reviews by this customer
)
Was a little scared when placing order...but loved it...everything looked Awsome.

EXCELLENT!!
By
Julia T.

(Netherlands) - October 7, 2010 (
See all reviews by this customer
)
Good, old-fashioned service. Excellent product! Ordered named Callaway golf balls and they were delivered within a week to The Netherlands!!! I will certainly recommend to everyone!

Many thanks!!

Callaway golf balls
By
Dawn F.

(Houston, MN) - July 23, 2010 (
See all reviews by this customer
)
I ordered these for my brother in law for his retirement. Although I do not play golf, I thought they looked great. I have ordered several items from personalization and have never been disappointed. They always do an excellent job.

Cute Gift for Any Dad/Grandpa
By
Melissa D.

(Hazelwood, MO) - May 22, 2010 (
See all reviews by this customer
)
We purchased these for my daughter to give to her G-pa for his first ever Grandfather's Day. We think he will love them. The print is sharp and the balls are good.

personalized golf balls
By
William H.

(Dallas, TX) - December 31, 2009 (
See all reviews by this customer
)
My son is very excited with the personizalized golf balls.

given as gift
By
Shopper

(Fresno, CA) - April 5, 2013
Golf balls looked great, but font for name was really small. Not sure if I could have changed size.

Great Gift for the Gracious Golfer
By
Lana C.

(Frankfort, IL) - December 31, 2012 (
See all reviews by this customer
)
I purchased 2 dozen personalized golf balls for my new guy after I discovered he initials his regular balls with permanent marker for identification. Turns out Nike Mojo is his favorite brand and he absolutely loved the gesture.

FAST service
By
Shopper

(Windsor, CA) - July 22, 2012
We ordered and received our personalized golf balls in 4 days. Very fast service! The imprint came as ordered, neat and legible. Ink needs to be darker.

Great Service
By
Shopper

(Draper, UT) - January 26, 2011
Great service like always. Fast delivery. Great product. I used this company before and will use them again.

Monogram Golf Balls
By
Jacquelyn M.

(Avondale Estates, GA) - July 21, 2010 (
See all reviews by this customer
)
Was expecting the type font to be a little bigger, that being said, the product was shipped and delivered timely. Status information regarding purchase was communicated constantly until shipment receipt. Good purchasing experience. This purchase was a gift and as a gift, the receiver was delighted to have golf balls that clearly could not be claimed by others.

A little sad...
By
Kristen B.

(Maple Grove, MN) - June 11, 2010 (
See all reviews by this customer
)
I have never had a poor experience with personalizationmall.com, but I ordered these and they came super fast (which is great!) but when I looked at my product, the first letter of the name I had put on was slightly smeared/faded on EVERY ball. I was sad to see that, but it's not really enough of a big deal to go through the whole return process. I realized that they are printing on a very bumpy surface, but I think mine was messed up and quality control didn't catch it.

Personalization was too small
By
Rebekkah P.

(Redington Shores, FL) - April 6, 2014 (
See all reviews by this customer
)
This is a great gift idea for any golfer, however, the point of this gift is to be able to read the personalization on the golf ball. The pictured font is quite larger than the font on the golf balls I ordered.

Print too small
By
Shopper

(Collinsville, OK) - December 27, 2013
When ordering product the example displayed the personalization MUCH bigger than what we received. The gift was for an elderly man. Bummed.

I was disappointed
By
Shopper

(Stow, OH) - December 20, 2013
I was disappointed in the size of the font for the balls. I got two different personalization and one is barley readable. If I had known, I would have gone somewhere else. A few days after I ordered them, I was at Dick's and see that they do personalization on golf balls. I would recommend looking there first because you may be able to see how it would look instead of just ordering them and being disappointed when you get it.

A bogey
By
Shopper

(Naperville, IL) - December 8, 2013
While it's helpful to have the preview screen to see your personalization, the size is misleading. The lettering is MUCH smaller on the actual golf ball received. In the preview it appears that the lettering covers almost 50% of the viewable surface, but actually covers only about 1/3. My suggestion is to do the letters all in uppercase and in black so the personalization is easy to read. My order was a gift and I was a little embarrassed giving it, since it looked "cheaper" than what it was. When you give a gift, you hope to select something that has more "sizzle" than the actual dollar amount you paid.

Not too personalized...
By
Shopper

(Benton,, AR) - October 23, 2012
Was so excited to be able to purchase personalized golf ball for my daughter's recent wedding, to put on the groom's table. However was soooo disappointed when I received them. The personalization was SO small that I thought they had forgotten to put the names on them when I first looked at it!! My 12 year old said, "No Mom, here it is!" Way too small and not worth even having personalized. I even paid like $22.00 extra to have them rushed...not worth it! If the print had been larger, they would have been great!

Great idea but letters too small.
By
Megan T.

(Paducah, KY) - November 30, 2010 (
See all reviews by this customer
)
I bought these for my boss, an avid golfer, and I know he'll love them but I wish his initials were bigger. I know golf balls don't have much room for personalization but I think they could've been a bit bigger. Nonetheless it's a great idea and I think he'll love it!

Writing too small
By
Shopper

(Holiday, FL) - December 7, 2013
I feel the writing was too small. I know they're golf balls and they are small to begin with, but I feel they could have made the writing bigger. It is not was it looks like on the picture. I ordered the Nike golf balls and all you can see is the Nike emblem all over it with my message lost in the mist. I would say it's not worth the amount of money you're going to spend on them. They're a good idea, but they need to make the writing bigger to make it worth it.

Was not impressed
By
Lorrie R.

(Seffner, FL) - November 12, 2013 (
See all reviews by this customer
)
I have ordered a lot of items from Personalization Mall, and all that I have ordered I have been delighted with. The golf balls with the initials were not what I expected. The initials were very faint green and really did not stand out. I have really been happy with all my other orders and was really excited about this one. To my dismay I was not impressed. The picture does not come out like the item I received.

Disappointed in the Personalization
By
Mindie C.

(Vancouver, WA) - September 20, 2013 (
See all reviews by this customer
)
I order these personalized golf balls for a birthday golf party. The golf balls are very nice, and everyone like them, but the personalization was super tiny. You can barely read the message. The golfers had no idea the message was even on there. If I would have known it would be so small, I would not have paid the money, and just bought golf balls from a store.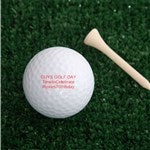 Too small
By
Shopper

(Siloam Springs , AR) - July 23, 2013
The personalization was too small to read! The sample photo is very deceiving.

Personalized golf balls
By
Marcia S.

(Blue Island, IL) - June 4, 2013 (
See all reviews by this customer
)
I was very disappointed when I got these. The personalization was so small that I thought at first they hadn't been printed. If I had known I would probably not have purchased them or had them printed in a bolder color then the blue I picked out.

Product printing
By
Marcia S.

(Blue Island, IL) - May 30, 2013 (
See all reviews by this customer
)
I received the golf balls last week. They are a birthday gift. I found the printing on the golf balls WAY TOO SMALL. At first I didn't even think they personalization was on them. Even with my glasses on I can't read it. So I am very disappointed.