How this product turned out
By
Leah B.

(Chicago, IL) - January 20, 2012 (
See all reviews by this customer
)
I love this vanity tray. It looked exactly how it did online when I opened the box. The lettering is perfect and I really like how you can preview it. The only reason I didn't give this product a full 5 stars is because I didn't like how the silver rods were loose and had the ability to spin around; it makes it seem a little cheap. Other than that, it's great! It fits all of my perfume and creams even without covering the monogram.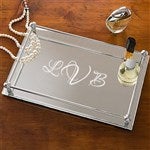 JUST HAD TO BUY MORE THEN 1
By
ShaVonne J.

(Pittsburgh, PA) - January 6, 2011 (
See all reviews by this customer
)
The vanity tray is so perfect that I had to buy 1 for me and another as a gift to someone special. It came as described, in 2 days (very fast shipping). I have been looking for a large mirrored vanity tray for a while now and this one is the perfect size. It looks great on my dresser. Sometimes I used it to display jewelry and other times perfume. I love this company and will continue to purchase from them. I'm very pleased with the items received thus far.

GREAT GIFT!!
By
Jessica M.

(Rosharon, TX) - December 28, 2010 (
See all reviews by this customer
)
Gave this as a Christmas gift. They absolutely loved it!! It was very beautiful. My only complaint was the monogramming was a little on the light side.

Love it!
By
Patricia E.

(Bakersfield, CA) - December 26, 2010 (
See all reviews by this customer
)
Received this mirror yesterday and I am so pleased! Saw some for lots more money, but glad I made this purchase. My vanity just needed something to make it stand out, and it looks so pretty with my perfume bottles sitting on it!

Initial Impression Mirrored Vanity Tray
By
Blanca L.

(Katy, TX) - September 20, 2010 (
See all reviews by this customer
)
This vanity tray is simple but very elegant.

Very Pleased
By
Tina K.

(Mechanicsburg, PA) - June 8, 2010 (
See all reviews by this customer
)
I got this as a gift for mom for mother's day. She loved it. It arrived very quickly and was everything I expected it to look like. One thing I will mention are the four posts that you see in the pic were not very secure; in other words you can grab hold of one and turn it to try and secure it in place but it just keeps turning. Does not seem to affect the overall look but it did have me wondering as far as stability is concerned. Monogram is beautiful though.

small but pretty
By
Danielle H.

(Kansas City, KS) - April 26, 2010 (
See all reviews by this customer
)
Before buying this product I looked over the comments and kept seeing that most people said it was smaller than they imagined. That is a fact. It is still very pretty and looks like it does in the picture. However, it is smaller than I imagined and have to limit some of what I wanted to put in it.

Thanks
By
Phyllis D W.

(Pampa, TX) - October 9, 2009 (
See all reviews by this customer
)
Glad to get a replacement for my prior mirrored vanity tray.Wish you had one in a larger size .My old one was broken up in Tornado in May 09.

So-So
By
Shopper

(livermore, CA) - April 17, 2012
I thought this would be a nice elegant gift for my bridesmaids but I was a little disappointed that the silver knobs looked cheap. Two of the four rods rotate and make funny noises making it seem even cheaper in quality. I'm trying to figure out how to get them to stay put. The mirror is clean & the etching is well done.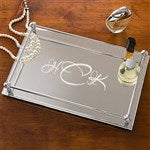 Poor quality
By
Darlene F.

(Montclair, CA) - January 23, 2013 (
See all reviews by this customer
)
Quality poor. Two of the side rungs rotate and the other two are stationary. Customer assistance states that one or two of them always turns and that's just the way it comes. Not happy with explination and no other help was offered.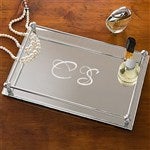 Monogramming is too light
By
Angela K.

(Memphis, TN) - December 10, 2009 (
See all reviews by this customer
)
The tray is smaller than I expected. The monogramming is too light. It is nothing like I expected. Part of the "I" is not fully etched. It still looks like an "I" but it does not look like the artist took his time whether it was hand done or by a machine. Very disappointed with this item.